meleliza


Member since 5/4/11
Posts: 835
Skill: Intermediate



Date: 4/1/12 4:36 PM

I'm working on Vogue 8409. While the finished bust measurement is 42 1/2" and my bust currently measures about 41", I think that it actually needs a bust dart to fit properly around my bust. My unaltered muslin gets some pulling from the shoulders and diagonal drag marks underneath, all of which point at my bust.

The apex marked on the pattern is 1 3/4" higher than my actual bust apex. However, the Empire waist of this hits exactly where it ought to be, so I can't imagine that just lowering eerything is the answer either

Trouble is, when I went to add the dart to make an fba, I simply can't figure out how to do this without altering the neckline and pleats! Or how to true it all up.

Grrr - how is this supposed to be an "easy" pattern?

Here is a link to photos of the muslin. After an hour, I still can't figure out how to insert the photos into here. SOrry. http:

[email protected]

/6890181826/in/photostream/

------
Melanie

Elona


USA
Member since 8/24/02
Posts: 10080
Skill: Advanced
Body Type:




In reply to meleliza

1 member likes this.



Date: 4/1/12 5:13 PM

Here's how you post a photo link from flickr, for example, in your message:

First 'Copy' your flickr URL.

Then type your message until you get to the place where you want to put your image, look up at those oval dots above the message space, and click on the blue one with http:// in it.

Paste your flickr URL into the box that shows up.

The next thing that will happen is that another box will open right away asking you what you want to call this image. In your case it might be something like

problem muslin

.

Click OK, and voilą, your image is encoded. It will be in clickable red print.

To be sure you have done it right, hit the 'Preview' button below the message box to see what your post will actually look like. If it looks good in Preview, then go ahead and click on 'Post Message.'

If it looks bad, you can drop right back down to your message box and make corrections before posting.

PS: One fitting problem I see is that you have too much length between your shoulder blades and your upper hips. This is often called a swayback, but it's just that the pattern is longer in this area than you are.

Here

is one woman's solution, which many of us here have to use.

-- Edited on

4/1/12 5:18 PM

--

------
Elona

meleliza


Member since 5/4/11
Posts: 835
Skill: Intermediate



In reply to Elona

Date: 4/1/12 7:02 PM

Thanks for all that! I sometimes find sewing pattern review is really unorganized and user un-friendly. Your explanation is really helpful.

I agree about the sway back, and I figuered that would probably be an issue. I think it's a relatively simple fix, though, becuase there's a waist seam right where I need to adjust. I will pin that up and repost.

I also thought I should address the bust issue first, which is a highly complex adjustment. The usual FBA methods greatly interfere with the low v neckline and the center front pleats. I dumped the kids on my husband this afternoon and after consulting my mom, I puzzeled out adding another pleat and made a few more muslins. It's dark now, but I hope to post some updated pictures tomorrow. But wow, that was stressful and difficult. Now I need a drink!

------
Melanie

a7yrstitch


Texas USA
Member since 4/1/08
Posts: 7516
Skill: Intermediate



In reply to Elona

Date: 4/1/12 7:11 PM

Elona, do you suppose that meleliza's fitting problem is complicated by her amazingly great posture and carriage through her shoulder line?

---------------------------------------------------------

I'd like to save your link to make it easy for others to find so I'm adding an earmark.

Adding future search term.

swaybackthread

------
I have no idea what Apple thought I was saying so be a Peach and credit anything bizarre to auto correct.

meleliza


Member since 5/4/11
Posts: 835
Skill: Intermediate



Date: 4/1/12 9:10 PM

Interestingly, once I addressed the bust issue, the back looked much better, though it still needs a few fixes. I guess it's not a huge surprise. I could tell that the bust drag marks were pulling on the back too. Again, I will take fresh pictures in the morning and post them.

------
Melanie

Elona


USA
Member since 8/24/02
Posts: 10080
Skill: Advanced
Body Type:




In reply to a7yrstitch

Date: 4/1/12 11:25 PM

Quote:
Elona, do you suppose that meleliza's problem is complicated by her amazingly great posture and carriage through her shoulder line?

It's a problem we should all have!

------
Elona

meleliza


Member since 5/4/11
Posts: 835
Skill: Intermediate



Date: 4/2/12 9:36 AM

So yesterday I totally redrafted the bodice. It took two attempts, but I think I found a solution to the FBA that didn't mess up the neckline or the first pleats. The right front is the first attempt that I don't like. The extra pleat is too far over and adds fullness at the armscye rather than the actual bust. I'm working from the left front, the side where I've also narrowed the shoulder and folded the seam allowance under. I think that side works really well and I'm ever so pleased I managed to figure out how to do it! I couldn't find a solution anywhere and drafted it myself:

And now, here's the side and back view. The back is better with the bust taken care of, but I notice that the side seams sway forward and the waist band isn't even. I still need to do something to the sway back, right? I think raising the waist in the back, but I also think I need to take the sides and back in a little too.

Funny, I didn't notice those drag marks on the side looking in the mirror. I think the camera exagerates things. But, that does seem to show that the skirt is not hanging straight. And the bust really does fit nicely now.

------
Melanie

Fictionfan


Vermont USA
Member since 5/19/06
Posts: 1323
Skill: Advanced
Body Type:




In reply to meleliza

Date: 4/2/12 4:49 PM

You've nailed the left bodice piece! It looks great. As for the rest of the dress, you don't have a sway back so that is not the correct next step. I think the bodice length is just too long for you. The reason the front waist seems to be at the right level is due to the fact that the bodice is too long for you, so the extra length you would have needed for the FBA is already there. If you had not needed the FBA, the waist would have been obviously too long in front as well as in back. Or, if the length had been perfect to start, the waist seam at the front would have been riding too high until a FBA fixed it.

In the pictures in your last post, there is extra length at the side seams in the front as well as the back. Fold out the extra length and it will probably look great. Ideally, you would have folded out the extra length before messing with the FBA or any other width adjustments, but this will work just fine considering the fantastic job you did getting that bodice piece to fit! I wouldn't worry much about getting it squared up and on grain until you (or a fitting buddy) have folded out the extra length. You can draw the lines in where they need to be once you have the length right for your body.

I find it very helpful to mark clearly where the waistline is from the pattern onto my muslin so that when I try the muslin on, I can see right away how and where the length is off. Also, since I took Susan Khalje's LBD class (video equivalent is on craftsy.com couture dress), I learned to mark the grainlines, too, so that I can see how they are distorted and how to get the landmarks in proper position.

HTH

------
Fictionfan

meleliza


Member since 5/4/11
Posts: 835
Skill: Intermediate



In reply to Fictionfan

Date: 4/2/12 6:31 PM

Thanks! It took some work, I can tell you!

I agree about the extra length - it seems to extend past the side seams. (So maybe I'm short in the torso and not a sway back? So confusing!) I have pinned that up at the top of the waistband. But to make the side seams hang straight, I had to pin up the skirt a smidge as well. Then, I still needed to deepen the back darts to take up the excess fabric. I'm pretty pleased with the resulting fit, but I'm happy to hear some final opinions before I dive into my delicate fashion fabric.

I'm actually currently following Susan Khalje's couture dress class on Craftsy. Someone here recommended it and I'm learning a ton. I had already made up my muslin before watching her course, but I've really taken to heart the fact that fitting is just about practice and experience. While working on this muslin, I took apart another dress that didn't fit in the back and worked on that too.

harsh lighting seems to accentuate the folded and pinned spots, but here's the best that I have. Again, I only fitted the left side.I haven't touched the hem either. There's plenty of lenght to work with in the hem.

-- Edited on

4/2/12 7:40 PM

--

------
Melanie

Nancy K


Member since 12/28/04
Posts: 9914
Skill: Advanced
Body Type:




In reply to meleliza

Date: 4/2/12 9:24 PM

Next time you take pictures for fitting, keep your arms down. Holding them up like that adds it's own problems. A garment always has some wrinkles in movement, it's just life. Take a picture straight on front, straight on side, back and remaining side.

You have too much length int he back as someone already pointed out. I also think that your shoulder slope isn't the same as the dress. You can add a fba with a side dart and either leave it there or rotate it into the pleats, dividing the amount between all the pleats. The gaping at the armhole maybe that you have a too large pattern in the upper body and need more of an fba.

------
www.nancyksews.blogspot.com
Printable Version
* Advertising and soliciting is strictly prohibited on PatternReview.com. If you find a post which is not in agreement with our Terms and Conditions, please click on the Report Post button to report it.
Online Class
Clone Your Favorite Garment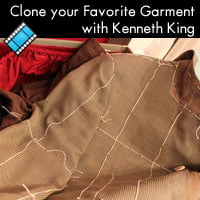 Online Class
Pattern Work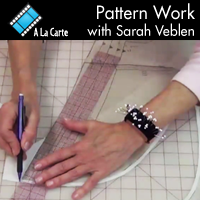 McCall's 6929

by: chimommy68
Review
Contest Sewing Bee Round 2

by: carrie1858...
Review
Sewing Workshop Odette and Ivy Tops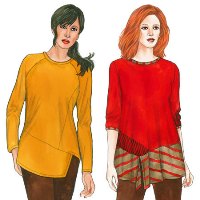 Pattern Details
Paradiso Designs Anna Handbag Pattern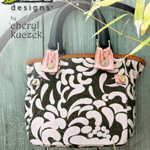 Pattern Details