marjoriekh


Virginia USA
Member since 8/28/10
Posts: 550
Skill: Intermediate

1 member likes this.




Date: 4/21/12 12:04 PM

(I looked around to see if this had been addressed, but didn't come up with anything. If you know of a thread or other link, please post it.)

Last night, cutting out some solid color tropical weight woven wool for a gored skirt, I was trying to work around a tiny flaw in the fabric, and realized that the simplest solution would have been to use a without-nap layout, turning two of the pieces around.

I hesitated, and finally worked out another cutting layout with nap, because, though I couldn't discern any difference between the two fabric orientations, I didn't want to risk it. The wrong side of the fabric had a twill-like diagonal weave line, and this made me wary, though I held the right side to the light every which way, and examined it closely with a magnifying glass.

I realized that I have not used a without-nap layout in years, except with linings and such that won't show.

Am I being overly cautious and wasting fabric? I'd like to buy some solid-color linen and rayon wovens for summer skirts, and I can make do with much less if I intend to use a without-nap layout.

Is there any way to be really reasonably

sure

, when examining a fabric, that there is no 'nap' or other factor that would preclude turning some pattern pieces around?

-- Edited on

4/21/12 12:05 PM

--

------
marjoriekh

stirwatersblue


Kansas USA
Member since 12/13/08
Posts: 5367
Skill: Intermediate
Body Type:


2 members like this.




Date: 4/21/12 12:25 PM

Wow, I seldom ever DO use the with-nap layout! Leaving aside my wholesale irresponsibility, I will tell you that I use gads and gads and GADS of linen from Fabrics-store.com, making full dresses that are worn in bright sunlight, and have never but NEVER had an issue with things looking "off." (And just to shock you EVEN MORE, I also don't pay any attention to right side/wrong side with the linen, and put my pattern pieces face down/face up however will use the least amount of fabric! I know!!)

------
~Gem in the prairie

PattyE


Michigan USA
Member since 9/7/10
Posts: 2520
Skill: Advanced
Body Type:




Date: 4/21/12 1:13 PM

Hi - With wool I would always use a with-nap layout, unless you're using boucle, challis, or crepe.

I don't think you ever need to use with-nap for linens.

------
Stash: 202.625 yds. @ 04.17.16

rmusic1


Member since 7/3/10
Posts: 1209
Skill: Advanced Beginner
Body Type:




Date: 4/21/12 1:34 PM

I've made three projects out of wool using a without nap layout. It was the best way to fit the pattern pieces in to the available room. In the case of a coat project, I would never have got it to work otherwise!

All three projects were made using a wool type where there was no difference from any direction. The wool types were a tweed, a herringbone and a mix of wool and synthetic. I'd say as long as you have carefully checked in good day light that there are no changes from any direction, then go for it.

marjoriekh


Virginia USA
Member since 8/28/10
Posts: 550
Skill: Intermediate



Date: 4/21/12 1:41 PM

stirwatersblue-- I am

shocked, shocked!

I must start using more linen. (It was looking at the Fabrics-store.com website that prompted my question.)

PattyE -- Thanks for the wool guidelines, I'm making a note of them. There was something in the back of my brain like this last night, but I've forgotten about 3/4 of all I ever knew about sewing.

------
marjoriekh

marjoriekh


Virginia USA
Member since 8/28/10
Posts: 550
Skill: Intermediate



In reply to rmusic1

Date: 4/21/12 1:50 PM

One my problems last night was that I was working at night, so I couldn't check by daylight. (Sure, I could have waited 'til morning.

) However, now that I am looking at my cut out pieces, I am still not sure, so it was probably best that I stuck with the with-nap.

I've got a herringbone in my stash, and am going to check it out...

------
marjoriekh

beauturbo

California USA
Member since 5/2/09
Posts: 5411
Skill: Advanced



In reply to marjoriekh

Date: 4/21/12 5:28 PM

I always lay a pattern for without nap, if I can, unless some reason I can't, just since it most times takes so much less fabric to make something that way.

But, I think the only way to tell each time for sure, really is just visual clues. Of course stuff with a real physical, you feel it with your hand kind of nap, like corduroy, velvet, furry stuff, it is just easier to tell.

But I think good light, and stepping way back from the fabric and then walking around it, and looking at it from different angles, even with not a woven in kind of nap and more just a visual print does help a lot. So just eyeballing it, is just sort of the final test.

Most times if I am not sure, how I want to cut it, (or some possible one way weave, or twill or print issues, that I might not notice just a first) I will even take that fabric out on the back porch in outside light, and drape the length of it, across a deck railing or such (or at least the living room couch) and when I do that, I have it open and twisted and the mid mark so each half of the fabric is next to the other half, but one half now turned around in the other direction. And maybe live with it that way for an hour so so, and walk around it a bit. I think if any nap issues printed or woven about it, are going to pop out visually then, then you would just see it, more that way before hand even.

Might be kind of had to even do that in natural light at some fabric store, but maybe try to do that with a fabric, just draped across a bunch of other bolts of it, as close to any real glass window in there, that you find. And then walk around it, and also way back from it. Sometimes nap and print issues don't jump out at you, until you get a bit further away from some fabric, and not just up real close too.

marjoriekh


Virginia USA
Member since 8/28/10
Posts: 550
Skill: Intermediate



In reply to beauturbo

Date: 4/21/12 8:52 PM

This is one of the problems with getting fabric online -- you can't really examine it beforehand. I try to err on the side of caution, but that gets expensive over time.

I do agree that a good look, including at a distance, and taking your time are the way to go. When I was a teenager and in my 20s, I never bought anything without handling it first, and I remember using mostly without-nap layouts then. (That was before I got into knits.)

------
marjoriekh

JEF


Virginia USA
Member since 7/27/05
Posts: 3064
Skill: Intermediate
Body Type:




Date: 4/21/12 9:30 PM

majoriekh.

I am with you - I virtually always use a with nap layout! I probably need to break out of that, especially with things like linen and cotton. I'll be watching this thread for more insight from others. Thanks for raising the question.

JEF

------
"The trouble with quotes on the Internet is that you can never know if they are genuine." --Abraham Lincoln

annsew65


Member since 4/9/02
Posts: 1311
Skill: Advanced
Body Type:




Date: 4/22/12 6:19 AM

I usually use the "with nap" layout. I guess if you have ever done it wrong, you get twice shy about doing otherwise. I was taught that if there is any question, you drape it over your shoulders and look at it in the mirror. If one side looks different from the other, strictly use "with nap" cut out. Even gabardine, which is a form of twill, will show up differently.

I don't sew with linen that much, but I wouldn't think it would have to be done "with nap" since it is usually a plain weave.

------
Sewing in Wild, Wonderful West Virginia
Sewing Room Pics:
http://picasaweb.google.com/annsew65/MySewingRoom#
Printable Version
* Advertising and soliciting is strictly prohibited on PatternReview.com. If you find a post which is not in agreement with our Terms and Conditions, please click on the Report Post button to report it.
Online Class
Fun with Fitting - PANTS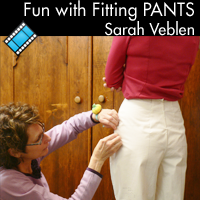 Online Class
Clone Your Favorite Garment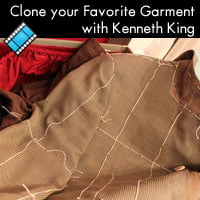 Simplicity 2217

by: LynneH
Review
StyleArc Coco Jacket

by: Vancouverg...
Review
Sewing Workshop Chicago Jacket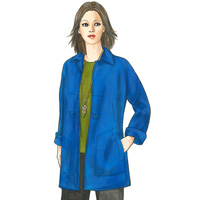 Pattern Details
Petite Plus 303 Pattern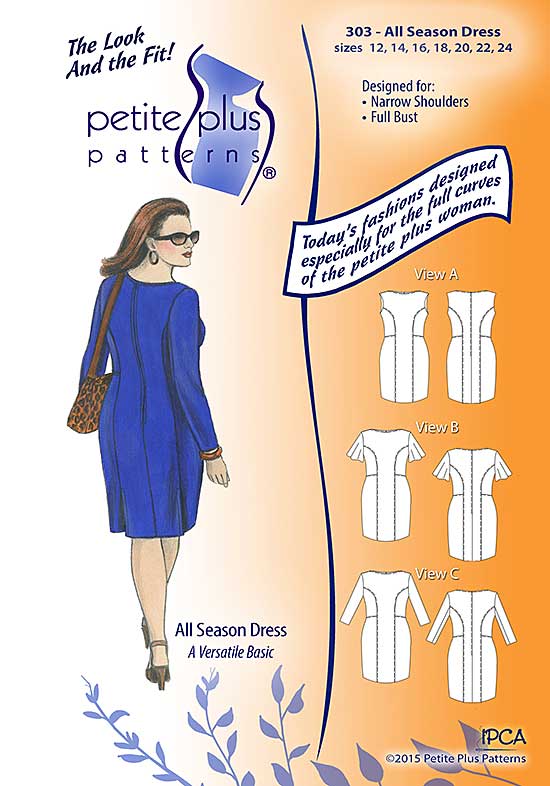 Pattern Details