Larisa


Virginia USA
Member since 7/15/05
Posts: 5509
Skill: Intermediate



Date: 4/24/12 8:35 PM

DS has been getting headaches....found out that today, one of the other eyeglasses places was having free eye exams....made appts for BOTH kids since DD wouldn't cooperate in January and they said they weren't able to get a completely accurate visit since she kept saying EVERYTHING was blurry....

well, turns out DSs glasses are fine - they adjusted them for him for free and they fit more snugly and he said they felt better....

DD, on the other hand, is slightly near-sighted in both eyes. Doc said she NEVER says kids need glasses unless they really do, and DD needs them (she's -.50 in both eyes). DD is actually ecstatic that she gets to have glasses now.....

and that's why I'm asking if they are really that strange.....do kids WANT to get glasses these days?? Or is it just that DD is the only member of the family that hasn't had to get glasses??

The place we had the exam done had a 2-fer special...eye exam and 2 pairs of glasses for $69.95....our regular place has a full pair for $36.95....I will be dropping DS off at school then taking DD up to get fitted for a pair of glasses, and then going to the elementary school to do copywork...

but seriously...ecstatic over needing glasses??!!???

------
research associate in the field of child development, married to an engineer

I am woman, I am invincible, I...am...TIRED!!



SexiSadi


South Carolina USA
Member since 5/10/05
Posts: 2638
Skill: Advanced





Date: 4/24/12 8:40 PM

Yes, they're really that strange. My oldest is 7, and she absolutely can't WAIT to get glasses and braces. It's an attention thing, i'm sure.

------
http://theramblingsoftcm.blogspot.com/
Numbers for 2013:
Yards in stash: 606.25
Yards in: 22.75
Yards out: 10.50

Numbers for 2012:
594.00 yards in stash
4 yards in
10.25 yards out

Numbers for 2011:
601.25 yards in stash (I'm sure this number is off by a few yards)
Yards in: 137.50 (Seriously? I'm over 100, and it's only JULY? Ugh!)
Yards out: 88.75

beginagain


Kentucky USA
Member since 10/30/06
Posts: 325
Skill: Intermediate



Date: 4/24/12 8:43 PM

My younger sister and I both wore glasses. When my youngest sister had her eyes tested, she kept telling the doctor she couldn't see. My mom guessed what was happening and told the doctor she didn't want to be left out. She figured that glasses were a "big girl" thing. When she finally did need glasses, she hated them.

------
If you wait for the perfect time to start, you'll never start.

sagittmama


Arizona USA
Member since 3/17/11
Posts: 46
Skill: Intermediate



Date: 4/24/12 9:19 PM

I didn't get glasses until college but remember telling my parents I had hard time seeing in high school and the board further away from me. They didn't think much of it. Then finally, they caved to take me to get my eyes checked, sure enough I needed glasses. It was a pretty minor adjustment but nonetheless, it really helped when I got 'em. Plus my headache came less frequent. I find it hard to believe it's attention thing.

------
Risa

www.risashoebox.com

Larisa


Virginia USA
Member since 7/15/05
Posts: 5509
Skill: Intermediate



Date: 4/24/12 9:58 PM

Thanks for the feedback. I knew last year that it was attention because everyone else wears glasses. However, she has said off and on that things looked blurry.
SO....I will run her up tomorrow morning for the inexpensive frames/lenses combo which will take a week or so to come in.
THEN....in June, she goes back to the orthodontist for a follow up....she's had adult teeth come in behind her baby teeth and there isn't enough room for her adult teeth to come in properly.....basically, the follow up is to determine if her teeth that are in the process of coming in have come in enough to support spacers to help pull her teeth where they need to be in order for them to come in straight instead of behind the baby teeth....argh.....

If the doc says yes, then she will end up with both glasses and braces within the course of the summer.....lovely, huh?

------
research associate in the field of child development, married to an engineer

I am woman, I am invincible, I...am...TIRED!!



Doris W. in TN


Tennessee USA
Member since 2/9/04
Posts: 8923
Skill: Intermediate



Date: 4/24/12 10:34 PM

Quote:
My oldest is 7, and she absolutely can't WAIT to get glasses and braces.



LOL This brings back memories. When I was in third or fourth grade, all the really cool kids had glasses and braces. I wanted both really badly, but qualified for neither. I remained a nerd.

Since then, as an adult, I have had braces and glasses. Getting old is heck. And I'm still a nerd.
-- Edited on 4/24/12 10:34 PM --

------
iPad's auto-correct is my enema.

Franksdottir


Member since 4/25/08
Posts: 3292
Skill: Advanced Beginner





Date: 4/24/12 11:01 PM

Well, maybe I am weird, but I always wanted glasses but had perfect vision. I finally got reading glasses when I was 47, and now I have really fun, colorful ones. Maybe it was that everyone else in my family had them that made me want them, I don't know.

DH has spectacularly bad vision, and DD has eyes shaped just like his, so I always told her how cute she would look if she needed glasses. I would buy her those kid sunglasses, and after the lenses fell out she would wear the plastic frames without any lenses. She had one orange pair which she wore constantly, including to school. So, when it turned out that she did need glasses for real (third grade) she was very pleased and wore them faithfully.



------
Barb

sarah in nyc


New York USA
Member since 1/8/05
Posts: 1837
Skill: Advanced



Date: 4/24/12 11:13 PM

My kid was so happy to be able to see that I never had to fight him about wearing glasses.

------
sarah in nyc
www.sewnewyork.blogspot.com

sewbluetiful


Missouri USA
Member since 2/8/07
Posts: 401
Skill: Intermediate





Date: 4/24/12 11:41 PM

I have heard of this,, a long time ago,, a fairly popular girl in school started wearing what she called "attitude" glasses,, glasses with "plain" lenses,, nothing was wrong with her eyes, she just wanted to be stylish,,

------
Mickie

http://sew-something.blogspot.com/



Member since 12/31/69



Date: 4/24/12 11:47 PM

Until my sister and brother got involved with telling me how terrible girls in glasses were, I was happy to just see and liked my glasses and even then it took 2 years of harping on me before I gave in. I got them when I was 5, although I needed them before that (back in the days when kids didn't get tested until they started school).

Years later, when I started wearing them again I begged for a pair for 2 years. I finally had to buy my own at 18 and was shocked that trees didn't look like the ones on PBS. Now, I always wanted the black plastic Buddy Holly frames and my mom refused to get them. Guess what, my first pair I bought were those. I still get a pair every time I buy glasses, and have them on now.

Since then, while I wear contacts most of the time and I am blind as a bat, I'm glad I can see at all.
Printable Version
* Advertising and soliciting is strictly prohibited on PatternReview.com. If you find a post which is not in agreement with our Terms and Conditions, please click on the Report Post button to report it.
Online Class
Clone Your Favorite Garment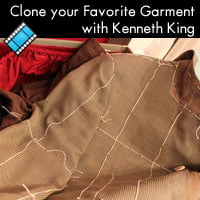 Online Class
Beginners Guide to Sewing Jackets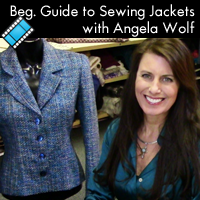 Butterick 5391

by: Rosie who...
Review
Favorite Things Ballet Slippers Pattern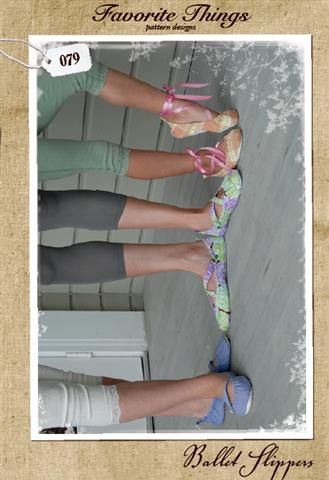 Pattern Details
Christine Jonson Slit Skirt & Pencil Skirt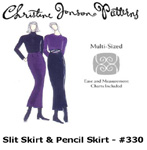 Pattern Details
Vogue Patterns 2481

by: Jonni Ange...
Review