AWard1220

Member since 9/27/10
Posts: 8

1 member likes this.




Date: 4/29/12 12:08 PM

Hello all, I'm new.

I own my mom's Bernina 830, a Brother PRW420 and a new Husqvarna 875Q. I spent a lot of money on the Husqvarna and it is now in service for the second time.

The customer service at Joann's told me that they couldn't reproduce the problems, and implied that I'm whining since the problems I have are minimal. I have bobbin tension issues, the eyelet function made 6s rather than circles and the buttonhole stopped working. The work area light was intermittent, it required reboots to adjust the stitch length, etc.

I explained that after spending so much money, I didn't expect to have to bring it back so often. The first time was due to the thread jumping off the hook (a design flaw, in my opinion).

My sewing time is about 4 hours a day average, more on a lot of days. I don't feel that the machine is up to that level of use and that the duplication of the problem will be possible with just 5 minutes of use.

I will be selling my Brother 420 due to intermittent problems after use for a long period of time. It would work fine for regular use, I feel sure...but I am not a regular user, apparently.

I was fuming after dropping my machine off yesterday. I tried to elicit some sympathy from the woman, that after spending that much money...one would expect to have a functional item. But, no. The blank gaze was implacable. >sigh<

The first remark I got was "do you sew in a barn?" due to the fact I had dust all over it. Well, since I actually USE it...it does show signs of wear. The internals are spotless. I change needles every 8 hours and was told that Organ needles aren't acceptable. I explained that the user's manual didn't specify manufacturers and that line of insinuation stopped.

I don't get it...wouldn't these people WANT to help?!? I spent a LOT of money and don't have a machine to show for it. This upsets me, am I over-reacting?!?

Next thing: should I be looking into something more like a Janome HD1000 or 3000, or the 6300? Do I need to switch to something more robust? I also saw a manufacturer named "Tuffsew", anyone have any experience with their products?

Thank you for reading my novel. I'm just amazed at the inability to have a consistently usable sewing machine because I don't just sew a hem every 6 months...argh!

tgm and Kittys


Wisconsin USA
Member since 3/8/10
Posts: 8364
Skill: Advanced Beginner



In reply to AWard1220

2 members like this.



Date: 4/29/12 12:57 PM

WELCOME to PR!

What about contacting the main customer service for Viking? See what they have to say. Maybe it will have to go to the main Repair Center ??? Let us know what they say.

I do not think you are sewing too much.... that is just a silly comment on their part.

------
The Girls... Baby & Mittee girl >^,,^<
Here comes the big 60! OH MY!
The sewing workers are:
Hello Kitty Kate (green), Hello Kitty Valerie (computerized), Dottie Kenmore, Bubba Kenmore the traveler,has case does travel.

Be still and Know that I AM God +



Fictionfan


Vermont USA
Member since 5/19/06
Posts: 1322
Skill: Advanced
Body Type:


1 member likes this.




Date: 4/29/12 12:57 PM

I am not familiar with the machine you have. The problems you are having made me wonder, though. If it is computerized, it is possible that the computer components could have been affected by a surge of higher than usual current or by a dip to low current followed by a surge to normal levels.

For the first computerized sewing machine that I got about a decade before I ever had need to use a computer, at a time when the vast majority of the world did not have personal computers, I did not know about using surge suppressors, so I never used one. It managed to survive, but the components back then were simple and perhaps more durable compared to today's machines. For the newer machines I purchased in the last few years, which have more sophisticated technology in the computerized parts, I was strongly advised to use a good quality surge suppressor and preferably a back up device to protect against the lows.

As for the people servicing your machine to say that your problems are minimal, I totally disagree. The buttonhole doesn't work??!? Under no circumstances is that an acceptable state for any sewing machine! Maybe they only work with quilters who never, ever sew garments? And Organ needles are no good? Does the manufacturer say that or is it just that shop, who probably doesn't sell that brand of needles? (I've never seen any at my local Joann fabrics.)

As for durability, perhaps you should consider an industrial machine? I don't know if that would solve your problem, but they are designed for day-long sewing, and the parts are generally cheaper than home machines.

ETA: When I was considering purchasing a new machine about 7 years ago, the first person I spoke with was our local sewing machine repair person. I asked him what machines or brands seemed to be more often in his shop and which he saw fewest of. At that time, all the major lines were sold in the area, and he had been a salesman for a couple decades before retiring to own a repair shop. He told me that the Viking higher end machines were the ones that he saw the most under warranty. The plastic parts broke, the timing got off, and a lot of little things that would render the machine unusable for the sane and competent user. He said that the Janome and Pfaff machines were the ones he saw least of all for repairs, and never under warranty. That was before Pfaff became part of the conglomerate that is now Singer Viking Pfaff, and the Pfaff dealer did her own servicing, so he would not have seen many Pfaff machines. I don't know if that helps you decide what to do now, but I thought I'd pass it on FYI.
-- Edited on 4/29/12 1:12 PM --
-- Edited on 4/29/12 1:16 PM --

------
Fictionfan

sewfrequent


Texas USA
Member since 6/27/03
Posts: 3532
Skill: Intermediate

1 member likes this.




Date: 4/29/12 1:06 PM

As nice as the computerized machines are, they can be finicky and picky too about threads and thicknesses. I just instinctively choose not to subject my expensive machines to certain types of work such as heavy stuff..jeans...leather..webbing...dense intersections/seams bc while it may do it, it does struggle and appears to not be made for that sort of thing. It is nice to have an all-metal machine also..whether vintage or new. I am familiar w/ the HD1000 and it is stout but there are plastic gears in it also and it is maybe a little deceptive bc the exterior is metal. for your heavy use (daily for hours at a time), you would prob have better luck with a vintage model or one of the straight-stitch only 9" machines such as janome 1600p, juki 2010, brother 1500s, viking mega-quilter, etc. those machines would keep up with you better than any other that I know in new...berninas included. They do just have the single stitch and no free-arm. The 6300 has a .65 amp motor which is actually smaller than the HD1000's...it is a tough machine as is the 6500/6600 but in the power-department, you will find very MIXED reviews. I have one, and I like it very much and would recommend it but mine does thud going over just moderately thick seams and yes i do use the correct needle size for the task. I know of no other new machines to recommend that would fare better than the sapphire. One machine to meet all of your needs may be a stretch--unless you forego some of the nice perks of auto thread-cutter, needle up/down, etc... and go vintage. ..you could keep the sapphire for "light duty". I know..for what you paid...but it could save some headaches if you don't bail out of it first.

isakswings


Utah USA
Member since 8/22/08
Posts: 410
Skill: Advanced Beginner



In reply to AWard1220

1 member likes this.



Date: 4/29/12 1:07 PM

No, you are justified to be upset. You are not over-reacting. I am close to buying the Sapphire 835 and for me, that is a lot of money. I would be very upset if I had to bring it in for servicing and the dealer was not being at all helpful or accusing me of using it inappropriately! The 875Q is an expensive machine. You paid a lot of money and IMO, they should be bending over backwards to make sure you are happy. Can they refund your money or give you a new machine? Perhaps yours is a lemon?

As for the other machines you listed, I cannot offer feedback about them, since I have no knowledge about them.

The suggestion to call Viking directly might be a good move as well. Hang in there and I am sorry you have this aggravation!



------
I'm fairly new to sewing but I am finding it to be fun and rewarding!

AWard1220

Member since 9/27/10
Posts: 8

1 member likes this.




Date: 4/29/12 1:42 PM

Wow!
Thanks to all of you for answering so quickly!

I read some previous posts about viking/husqvarna problems and fired off a novel about these issues asking for a refund. At this point I feel trapped!!

Do you think that the 830 is the best one for daily use and denim usage?

Yeah, big surprise - they don't sell the organ needles. I got them at what's now wawak.com (great prices for stuff like that, BTW) in bulk since I tend to eat needles like Doritos apparently.

When I sent the email, I included the maintenance and products used so they could see there was no 3rd party items used.

Now, I'm out a sewing machine for about 2 weeks. Can someone have sewing machine withdrawals..??LOL!

I dearly love to sew and have discovered that I seem to be able to make patterns...tough to lose the main cog in this process!! I'm not as confident using a serger as a sm replacement...

Oh - as for the rest of the kind suggestions:

1) it is plugged into a surge protector. That's important out here in the country. That's an invaluable thought, too...even surge suppressors have tolerances. If the machine has a lower tolerance than the SS, then it'd be upset. Thanks!

2) Oh, I'm fine without bells and whistles. I learned to sew on the 830 and only bought a new machine two years ago (the Brother). Seems like I am buying these ##*$%^ things like paperbacks!! NOT a healthy habit...

I found reviews on the tuffsew - yipes. Will avoid that trap!
I've been combing eBay and this site all morning...err...afternoon. Using the machine at the store won't tell me what I need. I need to spend a couple of days with the thing and stores aren't big on rentals.

You guys have no idea how much I appreciate the input!! This is invaluable!!
-- Edited on 4/29/12 1:51 PM --

Restart06


USA
Member since 10/29/06
Posts: 2496
Skill: Intermediate



Date: 4/29/12 2:06 PM

Gee, I wouldn't say you sew too much. I would love to be able to spend that much time. A sm imho should be able to handle more time than that per day, plus anything you throw at it. Stay with it, contact the manufacturer's customer service and keep at it. Maybe you will have to upgrade, (I am not familiar with your machine), but don't give up hope. Maybe during this resting period you can cut out all those projects you have been wanting to make! Of course that 830 Bernina you have access to will handle everything you will probably do.

------
There is no easy way! quote from my Grandfather
Sharing is caring!








MagnoliaHoney

Kansas USA
Member since 8/16/10
Posts: 245
Skill: Beginner

1 member likes this.




Date: 4/29/12 2:26 PM

I don't know where you are from, but I find ebay is most expensive then craig's list.

I see sewing machines on Craig's list a dime a dozen.

If you can do basic maintance of a machine, I would shop on Craig's list for a vintage all metal. I would go with bernina or elna. As my first machine, and get a all metal basic zig zag vintage as a back up for when the bernina or elna is in the "shop". You can get a lot of the basic zig zag machines-kenmore, dressmaker, and many other "no names" from the 50's and 60's for 20 to 40 dollars. I have a "dial n' sew", it's all metal with a very hefty motor. VERY heavy machine. It's a champ, it's my back up. to my bernina.

I probably will never buy a "new" machine, as far as I can tell even of the big names, they have went to so much plastic they just aren't that good. I'm working on having a good collection of vintage ones though-next on my list is a elna! lol But, I almost bought another no name yesterday came with the all wood cabinet for only 20 dollars, and seemed to be a elna knock off (probably made in the 1950's!). But, I was 20 minutes too late in calling! Stupid phone wasn't working! UHG! Had the cams to change stitches and every thing, cute too!

Any way, I live in Wichita, Kansas. I go to a local fabric store, and they have ALL vintage berninas. They run ALL day every day! (except Sunday's, the shop is closed on Sundays). Other then that there is myriads of women that come in the store all day using the machine from open to way after closing-often there is classes that go into the night at the store, and they have had all night sew ins too. And the machines hold up awesome! They do their own basic maintenance, and take the machines for real work ups to the local repair shop. The local repair shop sells vintage machines as well as new machines. The vintage ones have been maintenance, and come with a one year warranty!

I'm still a beginner as you can see, so I don't know a lot. But, the shop owner I spoke to said she mainly reccomends vintage berninas and elnas to people. But, when I couldn't find any locally at the moment (I have since then though), I showed her some on Craig's List and she told me things to look for. I took her the one dial n sew I bought and every one in the shop agreed it was a great machine, even the repairman commented on it. I did buy it from a local man who is a retiree that likes to collect and restore vintage machines. But, since then I've been a bit more confidant in going and looking my self.

If they want to sell the machine, they will let you use it as long as you want and test it as much as you want. Otherwise like I said the machines are a dime a dozen on CL so just move on to the next one on the list, they are usually posted daily. I check several cities (as I travel and wouldn't mind stopping in for a good machine! haha), and they are just every where for very good deals.

So I concur I would go all metal, vintage, industrial if possible. It's a lot cheaper, and seems to me better machines.

I have started collecting them though, cause I sew a lot, and invite friends over to sew too, so I am making kind of a sewing club, so my friends can just come over and sew and every one have their own machine-I mean heck if I can get good machines that every one loves for 20 to 40 dollars why not? I will say I've spent more on my bernina, and plan on spending more on a elna. But, again the cheap ones are just for back ups for me, or for my friends to sew on. lol But, I've been pretty happy with them even for their cheap price! And they keep up!

I would avoid Joann's like the plague. They don't care they are big enough they got enough customers I don't think many of them care or even sew themselves much to know much.

At my local repair shop every one who works there sews, including the men, quite a bit and have vast knowledge!

------
Visit my blog http://www.heathersprairie.blogspot.com

elizajo


Louisiana USA
Member since 4/15/05
Posts: 1267
Skill: Intermediate



Date: 4/29/12 2:32 PM

I have my mom's vintage 830 and use it for my general sewing. It has never let me down, it always has good tension and has never stopped running. Every time I start pining for needle down, triple zigzag, or an auto thread cutter, I decide I'd rather stick with reliability. I also remind myself of the box of presser feet that I've bought over the years..... then I shop for some fabric!

I don't routinely sew 4 hours a day like you do, but I've had quite a few all day quilting sessions on my machine and it has held up fine. As far as buttonholes, I had to train train myself to use the 5 step buttonhole feature because my old machine used cams. My Bernina makes really nice buttonholes.
-- Edited on 4/29/12 2:38 PM --

------
Elizabeth

MagnoliaHoney

Kansas USA
Member since 8/16/10
Posts: 245
Skill: Beginner

2 members like this.




Date: 4/29/12 2:37 PM

Exactly Elizabeth.

I was coming back to say, I think your bernina you already have sounds like it should be able to handle your sewing and I would be using it as my main machine, and looking for another one or two as back ups. As since you sew so much, I probably would take it in yearly to a reputable repairman (not joanns) for a good over all maintance. (that's what the women in my local shop say they do yearly). Then you would have a back up while ones getting it's yearly check up! ;o)

------
Visit my blog http://www.heathersprairie.blogspot.com
Printable Version
* Advertising and soliciting is strictly prohibited on PatternReview.com. If you find a post which is not in agreement with our Terms and Conditions, please click on the Report Post button to report it.
Online Class
Bust Adjustments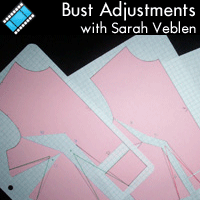 Online Class
Break your Serger Out of the Box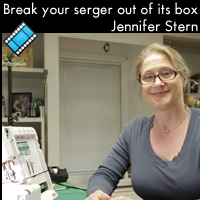 Simplicity 5946

by: Modiste Ma...
Review
Serendipity Studio 129

by: amandajewl...
Review
8 1/2 inch LEFTY Dressmaking Shears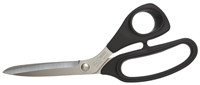 Pattern Details
Jamie Christina Mission Maxi Paper Pattern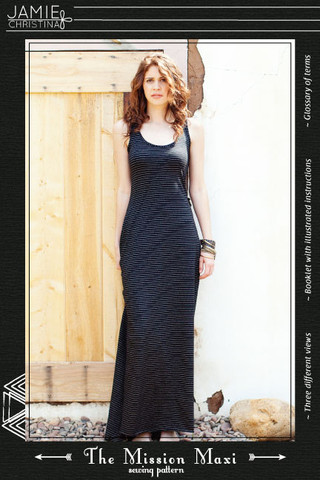 Pattern Details