quiltingwolf


Member since 12/15/02
Posts: 7480
Skill: Intermediate



Date: 5/15/12 4:13 PM

Anyone heard of it, using it? My doctor suggested it to me cos of the sadness I still have over losing my dog and some other things. As I told her I'm not taking anti-depressents. I looked it up of course and seems people get mixed results. It's rather expensive. But if it works it would be well worth it. As it apparent doesn't have the nasty side effects of the regular prescription drugs. Anyone tried this? results? I did order a half months supply from Amazon (cheapest place I could find)

-- Edited on

5/15/12 4:14 PM

--

------
quiltingwolf.blogspot.com

stirwatersblue


Kansas USA
Member since 12/13/08
Posts: 5499
Skill: Intermediate
Body Type:




Date: 5/15/12 5:55 PM

My husband and my dog both take it--but they take it for liver support, not as an antidepressant. I've never heard of it used for that before. My dog's medication is by prescription, and she's had great results getting her liver values back down to normal... but I haven't noticed any difference in her mood!

------
~Gem in the prairie

AliceM


Member since 4/30/05
Posts: 1568
Skill: Advanced



Date: 5/15/12 5:56 PM

Have not heard of it, but one thing that really works for my DD is fish oil. Lots of other health benefits and no side effects.



Member since 12/31/69

2 members like this.




Date: 5/15/12 7:12 PM

I tried to treat my depression holistically for years, with mixed results. Like prescriptions, sometimes it's finding what works and what doesn't for you.

I opted not to take it because of my anxiety. I joke and kid about it, but I have it bad enough that some days I have to take that to just come out of my bedroom, much less do anything else. I choose to live with it most days and take it only when I absolutely have to.

I will say that I did not get my depression under control until I got a low dose of Zoloft. The only side effect I have from it is a headache if I don't take it, or take it at a different time (like today, I took it early instead of in the afternoon like usual), and I fought against taking one for years.

While I completely understand not wanting to take a prescription, as a word of caution for others, not getting help when you need it can lead to many problems. Without my Zoloft, I'd still be counting down the days my kids were adults so I could kill myself and I would rather have a headache then have those thoughts.

nicegirl


District of Columbia USA
Member since 5/10/06
Posts: 1727
Skill: Intermediate

1 member likes this.




Date: 5/15/12 7:25 PM

I'll second the fish oil. Exercise is also as effective as a mild anti-depressant. Two hard workouts most days keeps me even-keeled, though when that stops working I'll go back for meds. As SewDucky points out, they are worth it.

------
http://theslapdashsewist.blogspot.com
=================
2007: purchased 115+, sewed 105+
So close to parity, yet so far

Trying again in 2008
Yards purchased: 133
Yards sewn: Somewhere around 95

2009? I give up

Miss Fairchild


USA
Member since 8/24/02
Posts: 7936
Skill: Advanced



In reply to quiltingwolf

1 member likes this.



Date: 5/15/12 7:54 PM

Have you had your Vitamin D levels checked? You live in the Northeast, so that's why I'm asking. SAM-e isn't for everyone; some people can't take it if they have manic or anxiety episodes. I was taking it for a while but then realized I needed to get with the program and find out exactly what was wrong with me. My doctor did a Vitamin D test and found the answer. I also had my serotonin level checked as well and am taking 5-HTP, and that has certainly helped! Both of these were found out through a simple blood test.

If you still continue to work with SAM-e, take it in the morning with a meal.

I feel your loss about your dog; our furry friends are our best allies in a crazy world.

------
"Play the cards you are dealt, but choose who is sitting at the table"..AARP magazine

SEE MY ETSY SHOP HERE: http://www.etsy.com/shop/AuntMaymesAttic
My blog: http://auntmaymesattic.wordpress.com/

quiltingwolf


Member since 12/15/02
Posts: 7480
Skill: Intermediate



Date: 5/16/12 12:02 PM

Well I had ordered it off amazon and I got a note today saying the card I gave them (health savings cc) isn't going through. Even though I'm supposed to be able to use it for over the counter meds. I took that as a sign. I'll see how things go.

------
quiltingwolf.blogspot.com

Doris W. in TN


Tennessee USA
Member since 2/9/04
Posts: 9795
Skill: Intermediate



In reply to quiltingwolf

Date: 5/17/12 0:25 AM

FWIW, my experience after losing The Best Dog Ever three years ago.... I was very depressed, did not want to get out of bed or do anything, and I had never been like that before in my life. He really was a great dog. One day I realized that while I did not want another dog, I

Needed

another dog. I had one in less than a month. With the house training, etc., I had no time to be sad. It worked for me.

You might also want to get the Vitamin D level checked.

------
iPad's auto-correct is my enema.

quiltingwolf


Member since 12/15/02
Posts: 7480
Skill: Intermediate



Date: 5/17/12 9:07 AM

I do want/need another dog is other family members that are standing in the way. They don't understand what having a dog means to me. Problem also being though right now we really can't afford a pet.

------
quiltingwolf.blogspot.com

beauturbo

California USA
Member since 5/2/09
Posts: 5551
Skill: Advanced



In reply to quiltingwolf

Date: 5/17/12 4:38 PM

I think if you have a chemical in balance, then taking some pill, might help. So, I think its good they have those things. If not, and you really are just missing your dead pet instead, then even though that might numb that out a bit, you would maybe be also just numbing out some other stuff (good and bad feelings) too instead. Maybe decide if that is what you want or not. Some things just hurt, and having a pet die is always bad. Even getting another one, is not really an exact replacement at all, for the one you no longer have. Just because people and pets are not exactly just all that simple and interchangeable, with each other, just like that at all either.

I think the real issue might be that you want another one, and your family does not. In fact you said that. Possibly taking some pills might make you resent that less, or miss your gone pet less, and taking them, to make it easier for your family to live and be around you, because then maybe they won't have to deal with you wanting something they don't want quite as much or as vocally maybe, and keeping on trying to get them to see it in your way instead. I can see good and bad things about that.

But actually, from my personal point of view, mostly bad I think. But if you always want to have a pet, and can't for some reason, I don't think taking some pills is going to stop that for long either. Especially if you ever stop taking the pills. Because the desire to bond with and spend time with a pet, if you have that, or have had that in the past before, is pretty strong, and I don't think just taking some pills for a while, is ever going to stop that desire at all.

I would try working on your family to get them to see things more your way first I think. Negotiate. Maybe it can't be a dog right now, but I think everyone can afford some fish or a hamster or something. Also tell them you feel it's so important to you, and you don't want to have to take drugs to numb that desire for a pet out, and that you realize when you take drugs there can be side effects. And those side effects may effect your other family members too. If your antidepressant you take if you don't really need it, causes you to loose your sex drive or gain a bunch of weight, that might effect some other family members somewhat. And even in a way they might not like much. Also, if you feel you are not depressed, but only pinning for a pet and that bond, you might resent your family even more later, if you just try to "pill that away". I would actually try to use those two things, as bargining chips, to try to get your family to come around to your way of thinking, about how important having a dog is to you if you really even have to. I don't know if it would work or not, but it might, and maybe worth a try. Good Luck!
Printable Version
* Advertising and soliciting is strictly prohibited on PatternReview.com. If you find a post which is not in agreement with our Terms and Conditions, please click on the Report Post button to report it.
Online Class
All About Buttons and Buttonholes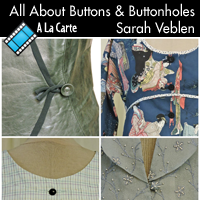 Online Class
Create a Jacket Muslin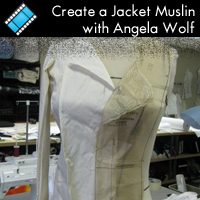 Butterick 5390

by: SewWil
Review
Contest Sewing Bee Round 1

by: Griffsu
Review
Sew Chic Phantom Jacket and Pant Pattern (ln1106)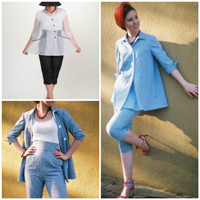 Pattern Details
Petite Plus Patterns Yoked Blouse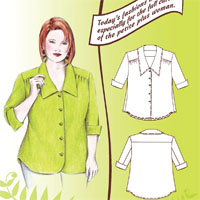 Pattern Details