nancy2001


Advanced
AL USA
Member since 12/3/05
Posts: 6432



Date: 5/23/12 9:24 PM

Today, I received my brand new Featherweight, purchased on ebay for $159, and there was good news and not so good news. The good news is I oiled and lubed the 64 year old machine and then plugged in a brand new electronic controller and managed to get truly excellent stitch quality.

The bad news is that when I inspected the wires inside the sewing machine itself, I noticed a small area where the copper wiring was bare. I understand this can be dangerous and needs to be corrected. .

How complicated it would be for me to rewire the sewing machine (not the controller) by myself? Several years ago, I rewired two electric table lamps, but that was fairly simple and didn't require any special tools or techniques. Would the wires in the sewing machine have to be soldered? If so, rewiring is definitely not a job for me.

Also it looks as if the wires are packed in quite tight and not simply strung along as they appear in the schematic diagrams. That makes it seem even more difficult.

I've ordered David McCallum's Featherweight and I book, but it hasn't arrived yet. Does that book cover the rewiring of the machine itself, or is the wiring information limited to the controller?

If I took the machine to a sewing repair shop, about how much would it cost just to have the internal rewiring done? I plan to clean off the grease and debris before I brough the machine in. As I mentioned before, the 221 sews beautifully and doesn't need adjusting -- it simply needs to be rewired.

------
No sewing project is ever a complete success nor a total failure.

pknord

Intermediate
TX USA
Member since 9/1/11
Posts: 513



Date: 5/23/12 10:58 PM

Do you have any electrician friends? I'd start there. Most sewing machine repair places also sell new machines, and unless you find one with an OSMG, they may not know how to do what you want done. Is it possible to wrap the bare area with electrician's tape?

------
Pat in Rockport, TX
"As ye sew, so shall ye rip."
http://community.webshots.com/user/pknord
http://www.quiltingthoughts.blogspot.com/

LynnRowe


Advanced
BC CANADA
Member since 3/9/09
Posts: 9171





Date: 5/23/12 11:31 PM

CONGRATS on your beautiful new baby!!! Gorgeous stitches, too!

Dave does not tell you how to rewire the actual machine, for liability reasons. What I would do is email him and send him a photo of the bare wire; he can tell you if there's something you can do safely yourself.

He's terrific at responding to calls for FW help and will tell you if this is something you need a qualified tech to deal with.

PS: Looking at your wiring pic just now, didn't notice the link first reading...I suspect Dave may tell you this is fine and normal. I'll have to go look at a few of my FWs, but as far as I recall, yours looks exactly like all of mine.
-- Edited on 5/23/12 11:37 PM --

------
I heart Panzy, Pfaff Creative Performance, the sewing machine love of my life!
And Baby (Enlighten serger), Victor (BLCS), Rupert (Pfaff 2023-knits expert) Ash (B350SE-Artwork), Kee (B750QEE-Panzy's BFF), Georgie (B560-Kee's baby sister) and the Feather-Flock!

Most of all, I heart Woo (HimmyCat). Until we meet again, my beautiful little boy. I love you.

bellsew


Advanced
WA USA
Member since 10/14/03
Posts: 390



Date: 5/24/12 0:20 AM

The copper wire has to be bare where it wraps around the bakelite terminal pins. Is there any other places it is bare? In the pic I could only see a little copper under the pins.

nancy2001


Advanced
AL USA
Member since 12/3/05
Posts: 6432





Date: 5/24/12 3:22 AM

Pknord, thank you for the suggestions. My husband actually does have an electrician friend. And I do live only two minutes away from a shop that specializes in the repair of old Singer sewing machines, including Featherweights, but I understand his prices are high.

------
No sewing project is ever a complete success nor a total failure.

nancy2001


Advanced
AL USA
Member since 12/3/05
Posts: 6432





Date: 5/24/12 4:18 AM

Lynn, thank you so much for your comments and suggestions. I will take your advice and send Dave an email. I ordered his manual from the Quiltropolis website, but it hasn't arrived yet. And thank you for offering to check your babies wiring so you can see if it looks like my Featherweight's. I do appreciate that.

My little baby will look even prettier than she does now after I get her cleaned with WD 40 and shined with carnauba wax. I can't believe how tiny she is, how quiet she sounds, and how many things she'll be able to do.

I've ordered several neat vintage attachments for her from ebay: a zigzagger with eight stitch patterns (this fascinating video shows the zigzagger in action on a Featherweight in this Singer TV commercial from the 1956!), a blind stitch attachment, a buttonholer with ten templates including eyelet, and a modern 221 walking foot. I've also discovered I can use all my very favorite, modern Viking guide feet (edge joining, 1/4" quilting, 1/4" foot, 5/8" seam guide foot) simply by attaching the ankle shank from my old Viking 1010-- I'm not a vintage purist.

Ebay has an LED light bulb that will fit into the 212's light fixture and I might order it. And I've already ordered a hand crank that sews one stitch per turn so I can sew during Mobile's thunderstorms this summer. I'm also thinking about Dreamworld's Sew Steady extension table from Nancy's Notions (I wonder if they named the website after me -- LOL).

------
No sewing project is ever a complete success nor a total failure.

nancy2001


Advanced
AL USA
Member since 12/3/05
Posts: 6432





Date: 5/24/12 4:20 AM

Thank you, bellsew. I believe those are the only spots.

------
No sewing project is ever a complete success nor a total failure.

Denise L Perry

Advanced Beginner
VT USA
Member since 9/4/08
Posts: 113





Date: 5/24/12 8:27 AM

Before you do too much with WD40, I would check in with the Yahoo group, Vintage Singers. That seems to be a "no no". Apparently it leaves a sticky film when it dries and will lead to big problems. This blog is invaluable for information on all things Singer vintage as well:
http://vssmb.blogspot.com

Hope this helps! I have a featherweight that I just love. I also have a 301, 99K and just got a 1910 66 treadle. I like them so much more than my "modern" machines. Good luck with your new baby!

LynnRowe


Advanced
BC CANADA
Member since 3/9/09
Posts: 9171





Date: 5/24/12 8:53 AM

I pulled out several of my FWs and compared them to your photo...exactly the same. Just ensure the big white slug stays well away from the gear teeth; I check mine whenever I do tummy oiling. You can just gently shove it over if it's too close.

The wiring is bare copper at the pins, and if that's all the bareness you have, you're good to go.

-- Edited on 5/24/12 8:53 AM --

------
I heart Panzy, Pfaff Creative Performance, the sewing machine love of my life!
And Baby (Enlighten serger), Victor (BLCS), Rupert (Pfaff 2023-knits expert) Ash (B350SE-Artwork), Kee (B750QEE-Panzy's BFF), Georgie (B560-Kee's baby sister) and the Feather-Flock!

Most of all, I heart Woo (HimmyCat). Until we meet again, my beautiful little boy. I love you.

lisalu


Advanced Beginner
GA USA
Member since 10/5/08
Posts: 2174

1 member likes this.




Date: 5/24/12 9:24 AM



Not to make light of your situation, but I just finished re-wiring my 201 (with zero electrical skills, I don't know AC from DC). When I successfully completed the job - and by successfully I mean that after several tedious hours of venturing into the unknown territory of a sewing machine motor I eventually had it back together and running again - I made my DH promise to Get The Net if I ever indicated that I might attempt such a thing again.

Having gotten that off my chest, all I can say is good luck with your venture. If you've rewired lamps or anything in the past, maybe you can pull off without almost losing your mind like I did. But on the bright side, if I can do it, I'm sure ANYONE can do it!
-- Edited on 5/24/12 9:37 AM --

------
Jim (Singer 301), Margaret (Singer 201-2), Betty (Singer 15-91), Bud (Singer 503), Kathy (Singer 221), Liz (Singer 221 Centennial Edition)
http://runningstitches-mkb.blogspot.com/
Printable Version
* Advertising and soliciting is strictly prohibited on PatternReview.com. If you find a post which is not in agreement with our Terms and Conditions, please click on the Report Post button to report it.
Serging Ahead with your 5 Thread Serger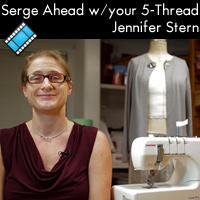 Clone Your Favorite Garment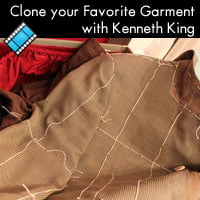 Kwik Sew 3420

by: BrendaJoyc...
Review
Sassy Bag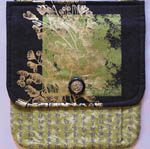 Buy Now
Victory Madeleine Paper Pattern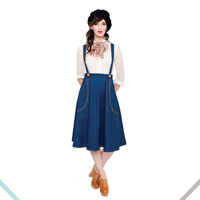 Buy Now
Vogue Patterns 1329

by: Erica B.
Review