LuceLu


New York USA
Member since 8/4/06
Posts: 1688
Skill: Advanced Beginner

1 member likes this.




Date: 6/11/12 7:31 AM

Okay, I spent 2.5 hours in my sew room yesterday and was totally at a loss of what to make. My shape is changing (weight went up and is now in process of going down), most of all my previous patterns are not fitting d/t change in measurements. I was RTW 14-16, now am up to 18-20, waist size has grown --thanks to perimenopause, stress and undisciplined diet.

I don't even know where to start. Part of me thinks--make something non-fitted like a quilt or something but.. I am commitment shy. Plus I looked at one I was thinking of making and it says it needs 57 fabrics! Background needs at least 6.5 yards. The quality cotton at Joanns is running close to $12/yd these days without a sale. Maybe I should check the online sales..... Well, maybe I can put that off but the thought of all that cutting.....

So then I try to get online for strip sets and my old computer is hiccuping. I get that straight and then my internet is hiccuping. I view a few different jellyroll sets on Etsy.... Too much ahead planning need I am thinking.. then, hmmm, things are too quiet so I put on Spaces from Netflix... get a little engrossed....

Put aside the quilt pattern book. Take out a tank pattern from Simplicity to have a look and start thinking... Do I want to trace this or just cut it? What fabric should I use.... Do I have anything suitable for wearable muslin.... What color am I missing in the closet? Oh gosh, I don't even know what size or alterations I'm going to need now. Should I ask dH to measure me or just make some measurement adjustments on PMB and print out a shell to match it against....

Asking dh to measure? Do I want to open that can of worms? Check the email. Oh look! Vogue patterns has a new exclusive pattern for sale! I must have it. I'll also subscribe to the magazine as Robin is now the new editor. Okay, time to start dinner!

So I don't know if I should invest time in fitting/pattern work and get a group of TNT's while I am losing weight (am down 7 lbs so far); Or work on technique and forgo the pattern work until I am closer to goal and just make alterations to what I have as I lose and pick up what I need inexpensively at sales and at thrifts. Or maybe I am being unreasonably optimistic in my weight loss prospects as I am in my upper 40s.... I really need some gentle friendly direction and FOCUS!

------
Be true to yourself. Push your boundaries. Do everything with love in your heart and a grin in your head. Move a little, eat good food, enjoy good health. Spread sunshine.

blue mooney


Member since 12/21/02
Posts: 2025
Skill: Intermediate



2 members like this.




Date: 6/11/12 7:37 AM

Personally, I wouldn't work on fit again until I was done losing. If you want to work on clothing, what about a knit top? You should be able to wear that through many pounds of loss.

Or forget about clothes and make something like a bag or wallet. Even a scarf - nice accessories brighten up the wardrobe, and don't require near the amount of commitment a quilt does!

------
--Robyn
sewing blog: http://bluemooney.wordpress.com/
other artwork blogged here: http://robynjorde.com/blog/

Miss Fairchild


USA
Member since 8/24/02
Posts: 7936
Skill: Advanced



In reply to LuceLu

1 member likes this.



Date: 6/11/12 9:58 AM

It seems to me you want to keep your skills up and you are desirous of making something for yourself because (underneath the horse pucky, there is a pony in there...) it gives you pleasure. I would do the latter: Work on a technique but don't forgo the pattern work. Make those patterns, but make them simple and easy to alter so that when you finish with your weight loss, you will have them. Also, buying something at a thrift shop to redesign/repurpose is a lot of fun, as well as helps to save the planet. I just finished a beautiful blouse out of a damask tablecloth.

Another point, don't ask DH to measure. It's too hard on you; I know it is on me, and I would never even consider it. If you have PMB, take a few measurements and make a fitting shell and go from there. That way, you still have your focus for making something and you won't be discouraged. If you're interested, there's an excellent book out by Don McCunn, called How to Make Sewing Patterns (NAYY) that shows you how to measure yourself--yes, it can be done!

------
"Play the cards you are dealt, but choose who is sitting at the table"..AARP magazine

SEE MY ETSY SHOP HERE: http://www.etsy.com/shop/AuntMaymesAttic
My blog: http://auntmaymesattic.wordpress.com/

SheBear0320


Manitoba Canada
Member since 4/8/08
Posts: 5584
Skill: Advanced

2 members like this.




Date: 6/11/12 10:05 AM

When I'm at a loss I usually turn to bags, hats or something for around the house.

As someone who has been losing weight slowly but surely over the past 3 years, I can definitely relate to what you are going through. In the beginning I was of the philosophy that I wouldn't bother sewing for myself until I got down to the weight I wanted to be. However, now it's a case of I absolutely have to have something to wear so I do take the time to fit the pattern to my current weight and try to pick patterns that I can alter (to a certain point) as I lose weight. I also have changed my thinking and feel it is important to look good and feel good about yourself while on the weight loss journey.

I've lost 75 lbs so far and want to lose another 50 to 60 -- in the meantime I need to have something to wear to the various functions I have to attend as well as to look presentable when I go out to work with my clients or attend their competitions.

Knits are great -- I started out making them snug/very close-fitting -- that way as I lost weight they became close-fitting, then fitted and now some of them are getting a little loose and could be taken in. My most recent patterns have been starting at a 16 or a M/L depending on the pattern (when I started I was enlarging an XL or using a 22 with adjustments).

Good luck with the weight loss and hope you are able to overcome your sewing paralysis.

------
Sheila
"sewing very slowly to fill an empty closet"
Stash Tally: net +38.5 yds (2014)
2015 Stash Tally: 106.5 yds out/122.875 yds in (net +16.375 yds)

2016 Stash Busting:
43.0 yds sewn/donated (as of 09/21/16)
53.25 yds purchased (as of 09/21/16)


heathergwo

California USA
Member since 11/14/11
Posts: 958
Skill: Advanced Beginner

1 member likes this.




Date: 6/11/12 10:37 AM

I agree with all of the above posters.

A bag, tote, purse, whatever you want to call it is a fun distraction and will give you that finish a project satisfaction. Plus, you'll be sewing, which in itself is a great stress reliever!

As for making clothes for yourself... I would hold off for a little while at least, to see if you continue to lose weight. Then when you hit a good milestone, make something for your self that you can size down later.

Also, what bout makiing something for someone else, like DH? You could still make garments, keep up your skillls an avoid the topic of weight loss for awhile.

Good luck!

PS - Send a little will-power and determination this way... I need to shave off some lbs before a wedding in Sept :-)

------
Brother Innovis 1250D
Babylock Enlighten
Singer Curvy 8763
Brother 1034D
Janome 385.19606
Brother 2340CV

MissLadyAudrey


Georgia USA
Member since 12/2/11
Posts: 75
Skill: Beginner
Body Type:




In reply to LuceLu

1 member likes this.



Date: 6/11/12 11:13 AM

Best wishes on losing weight....

There's a Holiday sew a long that just started. Do you have any family members / friends that you wanted to make something for the holidays? It's just a thought, but it would get you sewing and some simply projects will get your mojo up. Not sure about you, but I made a scarf for a friend - then, I had to make one for me. HTH.

I just started sewing a few months ago, but I'm also losing weight / inches and my measurements are always changing. I take my own measurements. I use a measuring tape, some yarn to mark my waist and necklines, and my mirror. It works!

------
Needles Up!
http://sewreinventedaudrey.blogspot.com/

JEF


Virginia USA
Member since 7/27/05
Posts: 3071
Skill: Intermediate
Body Type:




In reply to LuceLu

1 member likes this.



Date: 6/11/12 11:23 AM

Not sure what your weight loss goal is but it is not unrealistic! You can lose weight/get fit at any age (with the normal caveat about real medical issues).

Get thee to a thrift store and buy several things that fit you nicely now. Consider it a charitable donation because you are going to give them right back as soon as they don't fit

In the meantime, what about sewing a cheerful pillowcase? As a quilter I know you've got lots of good fabric to choose from.

JEF

-- Edited on

6/11/12 11:26 AM

--

------
"The trouble with quotes on the Internet is that you can never know if they are genuine." --Abraham Lincoln

Melody


Michigan USA
Member since 2/7/02
Posts: 1109
Skill: Advanced
Body Type:


1 member likes this.




Date: 6/11/12 1:21 PM

I know where you're coming from. I just recently decided not to sew because of the weight gain/loss. Luckily, a good portion of the clothes I've already made are knits. I've only made one garment since I've started this latest fitness regimen and it's a woven jacket (

Simplicity 2443

). It's my hope that it'll only fit this summer and I'll have to donate it at the end of the summer. I'm planning on making the dress to go with it, and again, it's a knit. I'll be able to make easy adjustments as I go down in weight (fingers crossed). I'm a big proponent of knitwear for that reason. Don't go crazy with the measurements. Make a couple of simple knit garments and enjoy your sewing and weight loss journey.

------
Melody

Ugh, really?

a7yrstitch


Texas USA
Member since 4/1/08
Posts: 7517
Skill: Intermediate



In reply to LuceLu

3 members like this.



Date: 6/11/12 2:39 PM

Alright ladies, how about making one or two snazzy, get up and go, walking or fitness garments? Something with color that fits. Maybe with princess seams for an extra opportunity to take it in once or twice.

With princess seams front and back, you can sew center and back fronts together at the shoulder line. Separately sew front and back outer panels together at shoulder line. Then stitch your outer panels to your center panels. Taking in an inch in four to six weeks will be a breeze.

And put together your side seams so they will be easy to take in later too. Earlier I thought you might think I was a little strange to suggest replacing darts with gentle gathers so as you shrink you are not left with an oddly placed fixed dart line. It was nice to see on another thread that some prefer the gathers to a dart anyway.

Maybe there should be a new contest category next year for clothing sewn in anticipation of alterations. Alterations for weight loss, alterations for growing children. Alterations for clothing that we might donate to make it easy for the next wearer to have a nice fit. Alterations to accommodate specific long or short term physical needs.

If you want to sew with expensive fabric, set aside extra for fresh facings or bias trim. Stitch it up for now. Do not take it in. Once you've under grown the garment, set it aside for a later size down and recut the fabric later.

It's never too late. I don't want to hear it, I don't want to think it. I'm a little behind schedule but cling to the inspiration that around 56, my grandmother once and for all conquered the weight demon.

Maybe we are getting older and have to be more creative in losing weight and maintaining muscle. But, we should also be more knowledgeable about ourselves. Perhaps we can start processing through what does not work faster to hone in on what does work.

Not quitting here! But, not quitting anything else while I'm waiting.

------
I have no idea what Apple thought I was saying so be a Peach and credit anything bizarre to auto correct.

LuceLu


New York USA
Member since 8/4/06
Posts: 1688
Skill: Advanced Beginner

1 member likes this.




Date: 6/11/12 4:09 PM

Oh gosh, thanks so much for everyone's reply! It makes me feel so good. I did buy some clothes a few weeks ago from JCP, Lane Bryant, and Target-- a pair of jeans, capris, shorts and some tshirts. Stuff that will get me through the next month or two until I am ready to fit in my smaller clothes. The last time I lost a bunch of weight I had gotten rid of my bigger clothes. Now I know better and will just store them. It's not that I wish to be unsuccessful and gain weight back, just practical. I'll just hold on to them for a couple years -- won't bother anyone sitting in my crawlspace.

My husband is also losing weight and getting fit so we are working together on it which makes life much easier.

I think I have figured out where to start. I have a blog I started a while ago that I have neglected. I think I will pick up where I left off there. I am reviewing the art of sewing handbooks. The last chapter on sewing is a variety of garment types. I think I will start with the first one and work my way through. I'm not going to try to make it fit perfectly or anything, just work on them and document the progress. They will be like test garments or samples.

The thing is, over the past year I haven't done much sewing or projects because of a variety of changes in my personal life. I have my chronically ill mother living with me, my husband had returned home from working out of state for an extended time, my job changed and my work hours increased, we inherited a dog, and my teen nephew came to stay with us for the school year. My son started college (which we are paying for w/o loans so far). This has not surprisingly coincided with my weight gain. So btw stress and sometimes what seems like overwhelming responsibility, I have not sewn and feel like I am losing my skills and not growing/creating; so I want to get moving on a project that will help me increase my skill level and give me some satisfaction.

I thank everyone for their advice and input.

------
Be true to yourself. Push your boundaries. Do everything with love in your heart and a grin in your head. Move a little, eat good food, enjoy good health. Spread sunshine.
Printable Version
* Advertising and soliciting is strictly prohibited on PatternReview.com. If you find a post which is not in agreement with our Terms and Conditions, please click on the Report Post button to report it.
Online Class
Break your Serger Out of the Box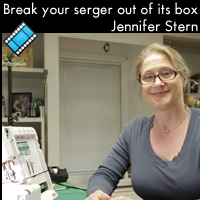 Online Class
Beginners Guide to Sewing Jackets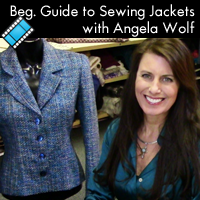 Burda 7866

by: grays08
Review
Jamie Christina Miz Mozelle Dress Paper Pattern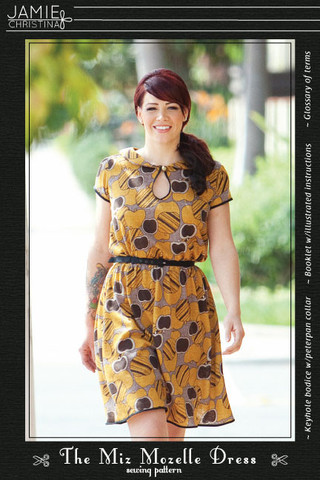 Pattern Details
Christine Jonson Double Collar Princess Jacket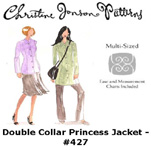 Pattern Details
Burda 7053

by: SewWil
Review