Kristine Kay


Michigan USA
Member since 4/3/07
Posts: 192
Skill: Advanced



Date: 7/20/12 2:59 PM

This morning when I woke up, my husband told me about the tragic events at the movie theater in Colorado. He headed off to work, and I found myself immediately headed to my sewing room. To my vintage 1926 White Rotary, which smells of sewing machine oil and reminds me of simpler (safer) times. Times when you didn't have to worry about gunmen in schools and theaters. Times when you could kiss your children good-bye, sending them to what you believe is a safe and harmless place. I lost myself in the steam of the gravity feed iron and the beautiful cotton sundress, trying to both grasp the news reports and tune them out at the same time.

After breakfast, my kids and I headed out to run errands (library, Costco, and Joann's of course). Can I tell you that I paused for more than a few minutes considering whether or not I should actually put my CPL (concealed pistol license) to use today, as I suddenly feel so very vulnerable. I acquired it to appease DH, and rarely ever carry my pistol, but find myself thinking, "If it can happen in a movie theater, it can happen anywhere."

Joann's was a welcome distraction, finding lots of pretties to soothe my anxiety. A 99 cent pattern, some cute cotton for my daughther, and some colorful rayon to brighten my mood... Yes, I did remember to pick up the necessary lining and notions that mitigated my trip! I'm eager to start these new projects and immerse myself in a world where I can actually control the outcome.

I'm still so very sad for the losses suffered by thoses families in Colorado. I want to cry for the Mom who was looking forward to making her daughter's wedding dress or some flannel pj pants for her son. I worry for the potential future security changes, like the "lock down procedures" we've had to practice ever since Columbine. It's all so scary, frustrating, and sad.

Thanks for letting me vent. My iron is heated up and ready for my return...

Kristine in Michigan

------
When life gets you down... Just Keep Sewing!
www.kbdesigns74.blogspot.com

threaddy


Wyoming USA
Member since 4/22/09
Posts: 2945
Skill: Advanced



Date: 7/20/12 3:38 PM

In Switzerland every military age male is required to have a gun and know how to use it. Bear spray would work too!!!!! Maybe

that is the answer...a movie full of bear spray owners!

------
"The problem is not that there are problems. The problem is expecting otherwise and thinking that having problems is a problem." Theodore Rubin
"Life isn't about finding yourself. Life's about creating yourself." George Bernard Shaw
Dan 9:24-27

Bernina vintage and computerized, Bernina and BL sergers , BLcoverstitch (a stray Pfaff and Viking followed me home too)

Welmoed Sisson


Maryland USA
Member since 4/26/03
Posts: 272
Skill: Advanced

7 members like this.




Date: 7/20/12 3:49 PM

It is very sad. And yet, when I hear about things like this, I like to focus on the extreme rarity of these things. Millions of people went to the movies last night and every night in perfect safety and comfort and enjoyed their show. I don't want to lock myself in a hermetic bubble because some wackaloon decides to do something like this. And I remind myself of the old saying: "Ships in harbor are safe, but that's not what ships were built for." This country is still an extremely safe place to live.

--Welmoed

------
View my sewing projects: http://thereshesews.blogspot.com

Miss Fairchild


USA
Member since 8/24/02
Posts: 7936
Skill: Advanced



In reply to Welmoed Sisson

Date: 7/20/12 3:56 PM

Well said, Welmoed.

Edited to add: I'm reminded of the McDonald's tragedy in San Ysidro, CA in 1984 where many children were killed while attending a birthday party. This behavior has been going on for some time and we tend to forget that it has.

-- Edited on

7/20/12 4:20 PM

--

------
"Play the cards you are dealt, but choose who is sitting at the table"..AARP magazine

SEE MY ETSY SHOP HERE: http://www.etsy.com/shop/AuntMaymesAttic
My blog: http://auntmaymesattic.wordpress.com/

Elona


USA
Member since 8/24/02
Posts: 9853
Skill: Advanced
Body Type:




In reply to Kristine Kay

Date: 7/20/12 5:20 PM

One of the very worst incidents of this type in the U.S. was the

Bath School Disaster

in Bath, Michigan, in the--you'd think--more peaceful and rural days of 1927.

The

Unruh Killings

in Camden, NJ in 1945 claimed 13 lives.

In a quiet suburb of Santa Barbara, CA, in 2006,

Jennifer San Marco

a postal worker, killed a neighbor and then six of her co-workers at the postal station.

If you google the phrase 'mass murders USA,' you will come up with a surprising number of mass murders, and it turns out that the phenomenon is not exclusively recent, and it is neither urban nor rural. It primarily related to mental illness, especially paranoid schizophrenia.

However, it is true that the number of mass murders has increased in the last twenty years or so, and it should be noted that the treatment of mental illness has radically changed in that time.

Beginning in the 1960s, as an outgrowth of the Civil Rights Movement, people who had been confined to mental hospitals were 'deinstitutionalized' and--because of lack of funding and organization for treatment--were pretty much on their own after that. They were left, essentially, to wander the streets. There was no longer any mechanism (and no incentive) to follow and vigorously treat their illnesses.

That situation continues to this day. Because of legal constraints regarding civil rights, even those who are a danger to themselves and others cannot be held against their will or involuntarily committed unless they have actually been charged with a crime. Hence, mentally ill people who may be dangerous but keep a low profile until they explode are essentially invisible until it is too late.

As has been pointed out, these outbursts of violence are fairly rare, so most Americans are indeed generally safe, but it is a pity that for the mentally ill who are known by their family or friends to pose a danger (and there is always someone who knows something), there are no preventative measures that can be taken.

------
Elona

tgm and Kittys


Wisconsin USA
Member since 3/8/10
Posts: 8616
Skill: Advanced Beginner



In reply to Kristine Kay

Date: 7/20/12 6:01 PM

I was stationed in Denver at Fitzsimmons in the 70s & I felt pretty safe. ... I am just still feeling some shock over this. .... Hard to believe some NUT would go to this extreme for who knows why!

As other's have pointed out we cannot live in fear. There are drive by shootings all the time too but we still go to the store, post office, get gas....... We have had 8 bank robberies in the area in the past 6 weeks, I still go to the bank. ......

I am glad that sewing has brought some comfort today....

------
Remembering my most loved BFF (Best Furry Family, a very close friend, family)...The Baby my kins, my Abigail ..11/2/03 - 3/7/16

She's my Baby & I'll love her if I want to, love her if I want to.... you would love her too she's the Baby ... the kins ...sung ..just one of her songs..
I miss you an awful lot my Baby ...Ab-i-gail she would come running when I would say her name like that...

Lord please take care of my much loved kitty. +
Thank you Lord for loaning me the much loved Babykins. +


maryl


Massachusetts USA
Member since 6/24/05
Posts: 537
Skill: Intermediate



Subject: Colorado... again?! Whats the world coming to? Date: 7/20/12 10:08 PM

So sad. So incredibly sad.

The question is how to prevent the next one. I don't see how arming regular citizens would have helped in this situation. The movie theatre was dark. Had another guy started firing at the shooter--who was dressed all in black and had on bullet-proof equipment--it would just have confused things, and the good samaritan himself would probably have been shot by the police.

The killer bought all of his guns--an AKA-47 clone, plus a shotgun, plus two other guns--legally, at local gunstores.

I can't see any way around the fact that it is too easy to get guns. Our country is flooded with guns. I don't have any answers; I just know we have to start dealing with that issue.

Karla Kizer


Member since 4/8/02
Posts: 8292
Skill: Advanced



In reply to maryl

5 members like this.



Date: 7/20/12 10:48 PM

Quote:
The killer bought all of his guns--an AKA-47 clone, plus a shotgun, plus two other guns--legally, at local gunstores.


I think Sudafed purchases are watched more carefully than gun purchases. Four guns in a 60 days, no problem. But keep an eye on that woman with the Kleenex and the history of decongestant purchases...she's up to no good.

------
"Never try to teach a pig to sing; it wastes your time and it annoys the pig." -Robert Heinlein and Ann's father. Thanks for the reminder, Ann.

Where are we going, and what am I doing in this handbasket?

Matthew 25:40 (New International Version)
The King will reply, 'I tell you the truth, whatever you did for one of the least of these brothers of mine, you did for me.'





Elona


USA
Member since 8/24/02
Posts: 9853
Skill: Advanced
Body Type:




In reply to Karla Kizer

Date: 7/20/12 11:03 PM

This is true. I was raised in a hunting family, and have spent a fair amount of time in gun shops and shooting ranges, and my sense is that those who sell weapons (often retired law enforcement themselves) have

excellent

radar for those who are unstable or up to no good. Yet they will happily and legally sell weapons even to those who 'smell' wrong to them. The guy in Colorado bought multiple weapons, all legally, because even though he no doubt radiated full-bore nutso, he had an absolutely clean record and no association with questionable groups. In legal terms, there was no reason

not

to sell to him.

However, closer control of legal sales will not solve the problem of shootings, although we wish it were so.

Any person who is determined to buy a weapon can do it illegally with such ease that people would be stunned. Your 13 year old son is never going to admit this to you, but he knows pretty well where to go and whom to see in his town to buy unregistered weaponry.

------
Elona

threaddy


Wyoming USA
Member since 4/22/09
Posts: 2945
Skill: Advanced



In reply to Elona

1 member likes this.



Date: 7/20/12 11:12 PM

hmmm...I know, make insanity illegal! That'll stop 'em.

ETA I don't mean to make fun in a horrific tragedy but I just don't think any laws would have helped in this situation. The kook will get the weapons no matter what and when the good folk are left without means of self defense it would make matters worse...IMO. The reason I mentioned the bear spray is Wildlife Defenders found that bear spray is 98% effective in bear encounters whereas a gun is 56% effective.

The problem with reporting people who look a bit off is this would turn us into a huge Big Brother society...maybe we would call each other "Citizen" or "Comrade"

I am not sure there is a real answer to this. I just do not think you make the world completely safe without making it almost intolerable to live in.

-- Edited on

7/21/12 5:23 AM

--

------
"The problem is not that there are problems. The problem is expecting otherwise and thinking that having problems is a problem." Theodore Rubin
"Life isn't about finding yourself. Life's about creating yourself." George Bernard Shaw
Dan 9:24-27

Bernina vintage and computerized, Bernina and BL sergers , BLcoverstitch (a stray Pfaff and Viking followed me home too)
Printable Version
* Advertising and soliciting is strictly prohibited on PatternReview.com. If you find a post which is not in agreement with our Terms and Conditions, please click on the Report Post button to report it.
Online Class
Beyond the BoatNeck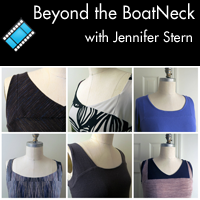 Online Class
Beginners Guide to Sewing Jackets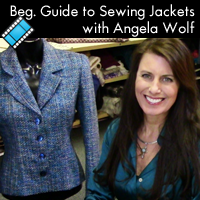 BurdaStyle Magazine 05-2011-101A

by: SewWil
Review
Christine Jonson Three Tees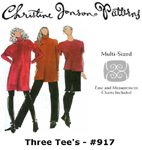 Pattern Details
Islander Sewing Systems Men's Easy Shirt Pattern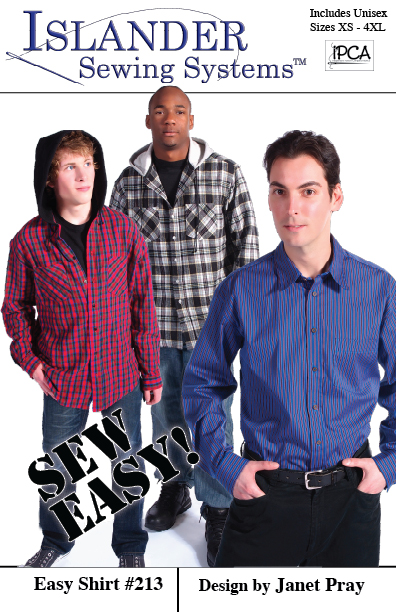 Pattern Details
Vogue Patterns V2948

by: Judy Walke...
Review