solveg


Beginner
Minnesota USA
Member since 2/16/12
Posts: 366



Date: 8/6/12 1:46 AM

So I've made several things now, and most are huge for the first muslin. I mean, unwearably huge. I am big.. I wear a 2x shirt in rtw clothing and an 18 in pants.

I follow the back of the pattern. I have good measurements....I've taken them many times and they're consistent. I look at the ease and make sure it's just a few inches.

I just made a BATHROBE. I made a 2X, and the waist SHOULD have been 3 inches too small. The robe was so big that the right side of the robe covers up half of the left pocket.

My hips are two sizes smaller than my chest, and I carry most of my weight in my stomach. Is this what's throwing me off? That my extra weight is not "width"?


rmusic1


Advanced Beginner
UNITED KINGDOM
Member since 7/3/10
Posts: 1003

2 members like this.




Date: 8/6/12 2:41 AM

hi Solveg

You sound like me, in that I carry my extra weight on my tummy as well. What I always do is cut a pattern according to my bust and hip size (which are two different sizes), and then alter the waist so that it will fit me.

I once (and once ONLY) made the mistake of cutting out a coat all in the same size as my waist. My thinking was, oh, it will be nice to have a little extra ease for when I am wearing a big jumper. It was awful! everything looked like it was hanging off me. I had to unpick all the seams I had neatly sewn together, recut to the right size, and sew it all together again.

Another word of advice, your tummy is not your waist (stating the obvious, forgive me). So you may need to grade out/adjust in a different area.

Some patterns are drafted oddly, I have come across some where I have really had to to take in at the waist, by as much as 8cm (how an earth did they figure that?), so it is not always you.

I recommend using a fitting dress pattern to help you work out what you will have to alter as standard. I use the one I made often to figure out changes to sleeve length etc. It is worth the effort. Keep trying, and good luck.

blue mooney


Intermediate
Member since 12/21/02
Posts: 1873





2 members like this.



Date: 8/6/12 7:45 AM

unfortunately, your body measurements are only the beginning. To get your garments fitted more to your liking, you need to also know how much ease you want....and there are two types of ease 1) wearing ease and 2) style ease.

Wearing ease is just the amount needed to enable you to move comfortably in your clothes, while style ease varies depending on whether the item is supposed to be closely-fitted, oversized, etc.

HERE is a page that shows Butterick's ease charts for the different type of fits.

The best way to decide on the size to give you how much ease you want is to measure an existing garment and then compare to the finished garment measurements. This can be a problem if you don't have a garment that fits, but you can break it down into different measurements. Maybe you have a blouse where the bust fits nicely but the waist does not. Take the garment measurement at the bust, subtract your actual bust measurement, and then you know how much ease you like at the bust. You might need to measure a different garment for the waist.

Here are some other references for ease:
CWU
Nancy Zieman
Threads

This all sounds like a lot of work, but if you stick with one pattern company for a little while, you'll quickly learn what size(s) you like to start with for that company. Typically, the Big 4 add lots of ease.

------
--Robyn
sewing blog: http://bluemooney.wordpress.com/
other artwork blogged here: http://robynjorde.com/blog/

Marie367

Intermediate
Ohio USA
Member since 5/28/11
Posts: 2579





Date: 8/6/12 9:34 AM

Robes are meant to have alot of ease in them. Patterns are kind of goofy with sizing anyway but yes it is probably you tummy. I had the same problem. I wear a 16/18 in RTW bottoms but a 14/16 in tops. The first few patterns I made were huge because my tummy. If I measure, I should be using a 20-22 size pattern which is way too big. I use an 18 in pants/skirts and adjust the pattern for my abdomen. I use an upper bust measurement for the top sizing. This is working much better. I can use a 16 in a knit top pattern but usually have to adjust the neckline. I have just started working out cotton tops-I have a broad round back and a skinny neck-I guess according to patterns and the patterns I have tried do not fit right yet. It sounds like you need to go down to a smaller size and adjust from there but then again that might not work for every pattern. Fitting is so hard anyway and each pattern company (and each pattern) is different making it is hard to say for sure what you need for each pattern. Looking at the ease as well as the pattern measurements help-I am no expert; after a year, I am still trying to figure this out. I am the type of person who does not like to do a muslin but I have to now. You can measure patterns against your RTW clothing that fits well to get an idea too. Get a good book on fit-I also buy some of the patterns with fit help built in-like the Palmer patterns from McCalls and the Amazing fit by Simplicity. I gained alot of info from the New Mexico State University extension office. I think someone posted this in a pants thread here on PR but not sure. I downloaded it and bookmarked it Pattern alteration
Hang in there. HTH


MNBarb


Intermediate
Minnesota USA
Member since 4/3/10
Posts: 1540

1 member likes this.




Date: 8/6/12 9:53 AM

Your RTW sizing and description of yourself is identical to my daughters. It's difficult to fit through shoulders when bust and tummy are a bit bigger than "ideal" but not impossible.

I made some tops for DD this summer and it was so helpful to do some draping. Do you have anyone in your area to help you with some elementary pinning and fitting?

It's been said a million times but the high bust measurement is a good place to start when choosing size.

sfshaza is my hero when it comes to fitting and pattern adjustments. If you haven't looked at her reviews or her blog I'd recommend them.

Someone recommended, and I agree, that a shirt with shoulder princess seams or a simple knit top will be less frustrating and will be more likely to yield nice results that something really complicated.

------
Barb
"I have not failed. I've just found 10,000 ways that won't work." Thomas Edison
"I not only use all the brains I have, but all I can borrow." Woodrow Wilson

Sewliz


Colorado USA
Member since 6/22/04
Posts: 4434





Date: 8/6/12 10:08 AM

The sizing increments on the pattern envelope usually follow a "rule". A garment is designed to fit from one size to the next size up. If you choose a 2x then you will get a robe that fits 2x to 3x.

------
Liz

thefittinglife.blogspot.com

solveg


Beginner
Minnesota USA
Member since 2/16/12
Posts: 366

2 members like this.




Date: 8/6/12 11:50 AM

Oh! I didn't know that 2x theoretically went up to 3x. I mean, it makes sense, but I just never thought about it.

Thanks for all the info and support everyone. I have 2 books on fit that I'm using... one is specifically for plus sizes. I just wish I could get a closer starting point. But, on the bright side---better too big than too small, right?

I have a dress form at home. I may sucker someone into making one of those packing tape dress forms so I can drape. No one I know sews.

Bluemooney, thanks for all the links. I struggle with ease because I think it's intentional by the designer, so I'm not sure how to predict its impact.

Or maybe (now HERE'S a revolutionary idea), just MAYBE I should lose some weight.
-- Edited on 8/6/12 11:54 AM --

beauturbo

Advanced
California USA
Member since 5/2/09
Posts: 3676





Date: 8/6/12 1:17 PM

Maybe because you are even starting out with the wrong size of paper pattern. If I bought paper sewing patterns by just the measurements on the back of the envelopes, I would be buying a few sizes to big for me, actually for most kinds of garments.

I don't think there is any real hard and fast rule on what size to buy though, even though after been sewing for a while, you can kind of just tell by type of garment which of maybe narrowed down to one or two sizes of them, it's best to buy each time.

It probably does depend on your body shape though too. For example, I happen to always be (at least in porportion to what the pattern companies think is standard for their sizing) and larger in waist, hips and butt, than upper body, chest and shoulders, and rather small boned. So because of that, I buy patterns so that they fit my shoulder size instead, which for me is most times a size 12. And most things fit pretty well with no alterations, even though waist, hips and butt would exceed those measurements listed on the back of the pattern envelopes. If I really bought by real physical body measurement, even at the bust, I would be buying more like size 14 or 16, and everything would be hanging off of me wrong (and huge and sack like) from the get go, and I would never be happy in sewing anything.

But, your issue is sort of the opposite as mine, as you are larger porportion wise (by someone's standard chart only) on top part of body, v.s. lower part of body. Still I think maybe you could go down a size or two , especially if you do not have shoulders like a Football player. Maybe just try that, and go for fitting of the shoulder's better in at least one size smaller (and maybe even two) that way once, (especially if not a skirt or pants pattern with a tight waistband to it) and even just see what happens.

AdaH


Intermediate
Iowa USA
Member since 11/21/09
Posts: 2484





Date: 8/6/12 3:27 PM

Blue Mooney is right on. You have to figure out how much ease you want in your clothes. What are your limits when it comes to ease. I learned that I will not like any garment if there is more than 5" of ease in the bust. If it is a blouse then I like 3", if a shirt then 4 to 5" is it.
Be aware that anytime a comercial pattern uses sizing such as Small Medium Large then the ease is going to be huge. I always go down one size when the sizing is based on Sm Med Lg.

------
Ada


Elona


Advanced
Member since 8/24/02
Posts: 8562







Date: 8/6/12 3:32 PM

It's worth noting that no one is just one size. That's where multisized patterns like Burda come into the picture: You follow their instructions exactly (they are quite specific) and trace off a semi-customized pattern according to your measurements at various places on your body.

Second, I always, always recommend one of those DIY dress forms to those who are having real difficulty fitting themselves. Gosh, it's a timesaver! One caution here, though: Taped forms are necessarily a bit larger than yourself, because the tape represents additional layers outside your body. The neck and shoulder area, from which the garment hangs, will represent those bony areas pretty accurately, but people often get a little shy when it comes to taping the softer, fluffier parts.

For areas below the bosom, I advise taping as tightly as you can stand it--though it is possible to commit razor surgery and reduction on paper tape forms that turn out too large.
-- Edited on 8/6/12 3:32 PM --
Printable Version
* Advertising and soliciting is strictly prohibited on PatternReview.com. If you find a post which is not in agreement with our Terms and Conditions, please click on the Report Post button to report it.
Online Class
Sew a Designer Unlined Jacket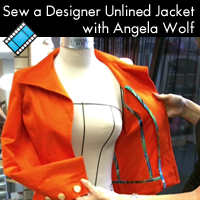 Online Class
Altering Jackets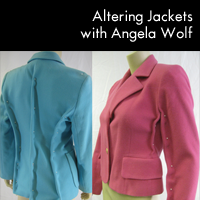 Other Gertie's pencil skirt

by: KAHooke
Review
EvaDress B30-7816

by: XandraReyn...
Review
You Sew Girl Zip Away Shopping Bag Pattern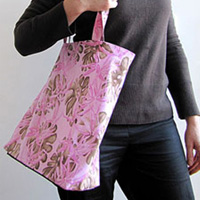 More Info
Sewing Workshop Tahoe Pants Pattern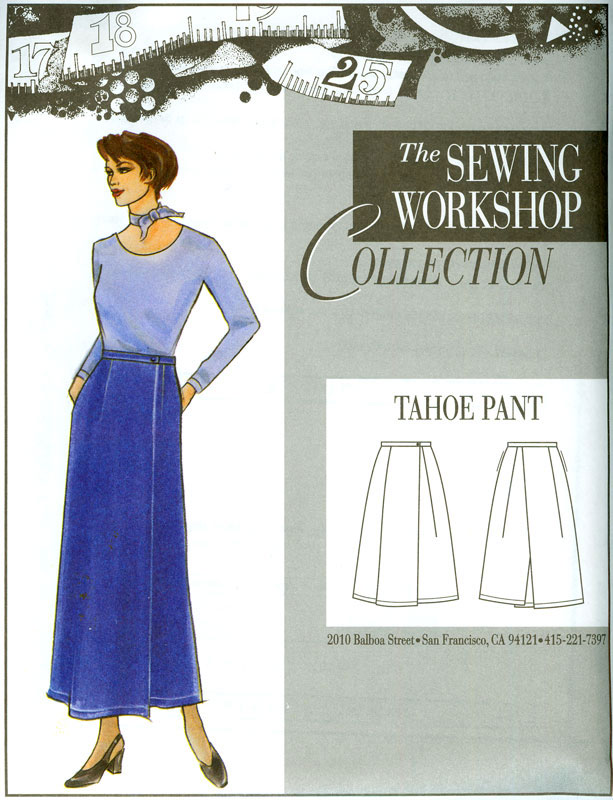 More Info