stirwatersblue

Member since 12/13/08
Posts: 4521
Skill: Intermediate
Body Type:




Date: 8/18/12 1:35 PM

I love box pleats and could probably make them in my sleep.
But I'm working on a project now that calls for "stacked box pleats" to make an ornate period ruffle, and I just can't wrap my brain around how I'm supposed to manipulate the fabric. To make matters more complicated, this doesn't appear to be a common term/technique outside a small, specific area of costuming? Yes? No?

I am hoping that someone here on PR either knows exactly how to do this, and can explain it to me (!), or can figure out what's going on in this brief tutorial (relevant section quoted below), and this diagram: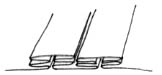 Quote:
In some cases, where extra fullness is desired, you can do "double box pleats", also called "Stacked Box Pleats", shown to the right. This type of pleat requires five inches of fabric to create one inch of pleating. It will make the fabric spring out even more from the seam, and produce deeper pleats. It also creates more bulk at the seamline. This type of pleat is very handy for creating small neck and wrist ruffs--if one edge of a 2-inch-wide band is pleated in this fashion, the other side will produce very nice figure-eight ruffles.



Here is a great photo of how the finished product should look--hopefully that's helpful! You can see how the loopy, figure-8 ruffles are really box pleats... sort of.

Anyone make sense of this?

Thanks!!

------
~Gem in the prairie
JJane

Canada
Member since 10/30/10
Posts: 3039
Skill: Advanced Beginner



In reply to stirwatersblue

Date: 8/18/12 6:06 PM

I have never done this but think I understand the diagram.

It looks like all that is happening is that you are adding an extra fold or tuck under the box pleat.

Try drawing a diagram for a two inch box pleat. You would have two inches for the pleat that sits on the top of the fabric. Call this wide piece A. On either side of A, you need a 1 inch peice to fold under A to make your pleat. Call that B. B meets in the center under A. You have another inch that sits under this fold until the top fold (A) ends and the fabric begins. Call these peices C. Usually C just flows into your fabric until you start your next peice in a single box pleat. You would be done at this point if you were making a single pleat.

So now what you do is add two more inches to each side to make the double box. Make another fold where C lines up with the edges of the A fold (1 inch). Fold it under on both sides (1 inch) and let them meet in the middle. Call these peices D. Now there should be another inch - peice E that acts exactly the way C would in a normal box pleat, meaning all the upper folds cover it for an inch until it just flows out.

Does that make sense? If not - try working it through on a peice of paper. That's what I sometimes do with my window toppers when trying to figure out my folds and pleats

As with any box pleat, marking the folds accruately will be the key. I would mark top and bottom peices to get the folds accurate.

If the fabric is really bulky it might be hard to keep the pleats all the same size. You might have to play around to get the exact sizing needed. You may also have to baste in parallel lines to get your folds accurate if the peice is long ( I am thinking like a window treatment here where the topper could be 12 or more inches long) in order to get them to hang straight.

Maybe this is obvious to you and you are looking for a different kind of help??

Anyway, you have given me a stellar idea for my next window treatments!! Even if I don't help you - you helped me!


------
Canadian Jane, now Jjane, much shorter and easier to use.
Lizz

Member since 10/10/03
Posts: 316
Skill: Advanced
Body Type:




Date: 8/19/12 3:22 PM

I have made these only once before so my help may be shaky. As I recall I made a wide box pleat and then took the folded sides of the pleat and tucked them in until they touched in the center of the pleat. Now there were two folds on each side of the pleat. There are five layers of fabric for each pleat plus the fabric to which the pleat is sewn and maybe a facing. If you are suing a "beefy" fabric this can lead to a very thick seam. I remember that I basted each pleat as I folded it to prevent slippage.

HTH