Holmar


Ontario Canada
Member since 10/11/09
Posts: 47
Skill: Advanced Beginner



Date: 8/18/12 9:19 PM

Hi everyone,

I am looking for a sewing pattern for jammie bottoms (adult sizes) without side seams...does anyone know a pattern I can try? I did try drafting my own pattern, it wasn't bad...but the legs seemed to be too wide...I'd like a slimmer fit in the leg. I was happy that I managed to get the crotch depth perfect...I'm very short waisted...4'11 3/4" tall...so I do have to hem them up quite a lot!

------
My Girls
Janome machines: PRL 18, 3160QDC, Four DLG Serger, CoverPro 1000 CPX
Singer machines: Featherweight 221 (1951), 99 K (1956)




"And Though She Be But Little...She Is Fierce"

simplystitches

Member since 2/12/06
Posts: 2450

2 members like this.




Date: 8/18/12 10:24 PM

Try

M 3370

. I've been using it for years.

These do run a bit fuller top to bottom but it's quite easy to fix. Use the front grainline and transfer it to the imaginary side seam. Fold out the amount that you want to narrow them down the entire length. I

think

I folded out 2" but I've been using the pattern for so many years I don't remember exactly. As a caution I did this after a muslin and knew that I could remove width all around.

Debbie

Maia B


Illinois USA
Member since 10/27/10
Posts: 5305
Skill: Advanced Beginner

2 members like this.




Date: 8/18/12 10:51 PM

I'm a PJ fanatic, and I use See and Sew 4006 for kids and Simplicity 9871 for adults for pj bottoms with no side seams.

S9871 is very easy to modify, and all sizes are included.

I use that pattern to make pjs, pant slips for under skirts and dresses, and simple pants for the whole family. It's easy to add pockets, if desired.

------
🌸 Plenty of machines, mostly Berninas 🌸

PatW

Tennessee USA
Member since 4/13/09
Posts: 107
Skill: Intermediate

2 members like this.




Date: 8/19/12 8:48 AM

I use the Louise Cutting one-seam pants pattern. Once you've made a muslin for your own figure, the pants take less than an hour to make and are very comfy.

iBaloo

Member since 7/2/12
Posts: 46
Skill: Intermediate



In reply to Maia B

1 member likes this.



Date: 8/19/12 10:45 AM

Quote: Maia B
I'm a PJ fanatic, and I use See and Sew 4006 for kids and Simplicity 9871 for adults for pj bottoms with no side seams.



S9871 is very easy to modify, and all sizes are included.



I use that pattern to make pjs, pant slips for under skirts and dresses, and simple pants for the whole family. It's easy to add pockets, if desired.

Good to know.

My wife just bought 9871 because she wanted a "no outer seam" design.

I have a few modifications to make, no material drawstring (cord instead) and the addition of a pocket.

------
Brother SE400 & 3034D, it's a start :)
I really don't want to become a klepto-machine-iac.

Elona


USA
Member since 8/24/02
Posts: 9966
Skill: Advanced
Body Type:




In reply to Holmar

2 members like this.



Date: 8/19/12 12:45 PM

Another vote for the

Louise Cutting One-Seams

. Man, this is a fine pattern! There are wide and narrower legs in the envelope, and the instructions for custom fitting and construction are superb.

Another plus is that they will work for men, too.

------
Elona

Karla Kizer


Member since 4/8/02
Posts: 8319
Skill: Advanced



1 member likes this.




Date: 8/19/12 1:16 PM

I used a regular, proven pattern with side seams and elastic/drawstring waist, but placed one pattern piece over the other, matching the side seams, and taped the two together. I put the straight of grain down the overlapped side seam (a la the LC One Seam pants). The result was a perfect duplicate of my DD's favorite Old Navy pajama pants, circa year 2001.

------
"Never try to teach a pig to sing; it wastes your time and it annoys the pig." -Robert Heinlein and Ann's father. Thanks for the reminder, Ann.

Where are we going, and what am I doing in this handbasket?

Matthew 25:40 (New International Version)
The King will reply, 'I tell you the truth, whatever you did for one of the least of these brothers of mine, you did for me.'





renren


Member since 7/20/05
Posts: 4036
Skill: Intermediate

1 member likes this.




Date: 8/19/12 1:52 PM

Simplicity 2290

Also, someone did a review of a pattern in which she did what Karla describes in the previous post -- I'll post a link if I can recall the review. It was really clever.

I found the person's review (it was MNBarb) and this is the link:

review

It's essentially what Karla already said. I was remembering more detail.

The Sewing Workshop Valencia Pant also is a one seam (no side seam) pant.

Louise Cutting based her One Seam pant on some $1700 pants she saw back in the 80s (early 90s?) on a buying trip to NY. I noticed she has improved the pattern to include how to alter it (per description on her site).

Also, in a video by her which I watched she describes the one seam pant and says she began experimenting with it after she returned to Florida from the buying trip. She based her experiments on some Burda patterns which were new in the US market and which included several one seam pant patterns. (This is all from memory but I'm pretty sure I have the details right having rewatched the video about 6 weeks ago.)

Back then it seems that some of these sewing instructors/educators were promoting Burda patterns in what looked like a business arrangement. Roberta Carr is one who comes to mind but there were others.

Good luck with your pj bottom project. Sounds like fun.

-- Edited on

8/20/12 10:03 AM

--

------
ren

2016/2015 (by month)
ydg out: 2016 (10.125, 2.5, 9.75,1.5,9.75,15.75,4.5,0,0,0,0,0)ytd 53.875; 2015(11.125, 13.5, 0, 13.125, 12.625, 5.625, 11.5, 12.125, 11.875, 9.375, 2.5, 13.875) ytd 117.25
ydg in: 2016 (0,0,0,0,0,0,0,0,0,0,0,0) ytd 0; 2015 (9, 0, 0, 1, 0, 17, 6/13/38.75, 12, 0, 0, 0, 0) ytd 84.75; sd/lin/gd/jaf.com/sb/fm/sw
projects: 2016 (4,1,16,1,8,7,3,0,0,0,0,0) ytd 40; 2015(6, 10, 0, 12, 11, 3, 6, 7, 7, 9, 3, 9) ytd 83
UFOs out: 2016 (2,0,4,0,0,1,0,0,0,0,0,0) ytd 7; 2015 (1, 3, 0, 1, 4, 0, 0, 0, 2, 5, 0, 1) ytd 17
UFOs in: 2016 (1,0,0,0,0,0,0,0,0,0,0,0)ytd 1; 2015(2, 0, 0, 0, 0, 0, 0, 0, 0, 0, 0, 0) ytd 2
cuts of fabric used up: 2016 (3,2,3,0,4,6,1,0,0,0,0,0) ytd 19; 2015 (0, 2, 0, 3, 5, 0, 3, 4, 1, 2, 1, 2) ytd 23


Holmar


Ontario Canada
Member since 10/11/09
Posts: 47
Skill: Advanced Beginner



Date: 8/19/12 4:55 PM

Thanks so much everyone for your great ideas and pattern suggestions...I didn't know that there were so many "no side seam" patterns out there. I now have a few patterns to choose from...including Kwik Sew 3144...but I'm very interested in the Louise Cutting one seam pant...I had not heard of that pattern company before...it has some very good reviews...is that pattern on tissue paper...or heavy paper like Kwik Sew? Simplicity pattern 9871 sounds like it will be a good one to use for my husband and our sons! I will be making jammie bottoms for my husband, sons and daughter-in laws for Christmas...I'll be very busy...lol...but I love to sew!

------
My Girls
Janome machines: PRL 18, 3160QDC, Four DLG Serger, CoverPro 1000 CPX
Singer machines: Featherweight 221 (1951), 99 K (1956)




"And Though She Be But Little...She Is Fierce"

elizajo


Louisiana USA
Member since 4/15/05
Posts: 1268
Skill: Intermediate

1 member likes this.




Date: 8/20/12 11:02 AM

I have the Valencia pattern by Sewing Workshop, which is very similar to the Cutting Line Design pattern, and use it all the time for making PJ pants for my daughter and I. It sits at the true waist and has a separate waistband, which I actually prefer to a cut-on.

I have found that I prefer the firmness of regular cheap non-roll elastic run through the waistband with safety pin to the expensive sew-through elastic that is recommended in both patterns. I distribute most of the gathers to the pants back and stitch the elastic vertically in two places about 4 inches from center front. This secures the elastic from twisting and keeps the front flat.

I usually make my PJ pants from quilting cottons that I find on sale. Because of frequent washing, I found that french seams look and feel better than serging. The fit is excellent-- on weekend days that I stay home to sew, I often wear them with a button down shirt.

A few weeks ago, I bought two pieces of quilting fabric on sale for $1 a yard at WalMart and two matching V-neck t shirts for $5 in the clothing department. Cheap, but very comfortable.

------
Elizabeth
Printable Version
* Advertising and soliciting is strictly prohibited on PatternReview.com. If you find a post which is not in agreement with our Terms and Conditions, please click on the Report Post button to report it.
Online Class
Create a Jacket Muslin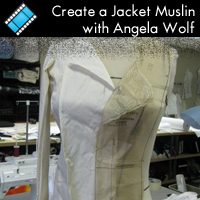 Online Class
Sew a Designer Unlined Jacket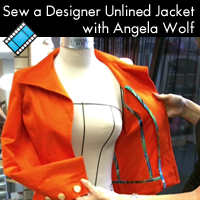 Vogue Patterns 2481

by: Jonni Ange...
Review
Jalie 3131

by: daniellema...
Review
SewBaby Fleece-Easy Baby Wardrobe Pattern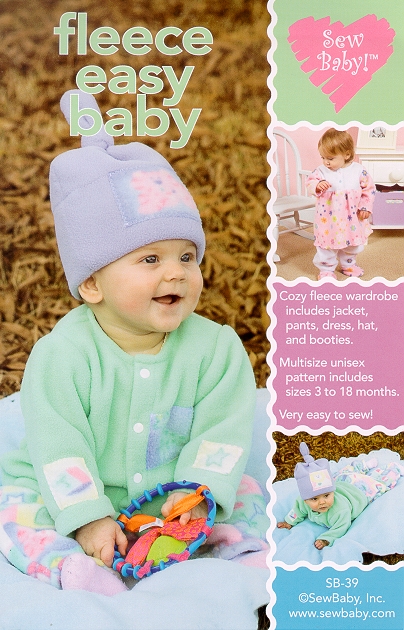 Pattern Details
BIRTH OF A BUSTIER - A CD Book by Kenneth King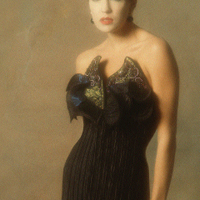 Pattern Details