Gigi Louis


Advanced
Member since 4/4/02
Posts: 7876



Date: 4/25/05 3:48 PM

This afternoon I decided that I'd take a few hours off and Go Shopping! In a Brick-and-Mortar Store! There are two malls near my house. Neither is one of my favorites but they're closeby.

First on my list were a couple of pair of athletic fashion shoes - you know the ones that look like sneakers but aren't really athletic shoes? I went to two Macy's stores and Dillard's. Frankly, I got pretty darn sick of hearing "sorry, we don't have your size"! I go through this all the time. *This* is why I buy most of my shoes from Zappos.com! I was so frustrated I even said that to the saleslady.

Disgusted and empty-handed I hit two stores that I never go to (they are at the far ends of the mall): JCPenney's and Sears. At JCP I hit pay-dirt and found the turquoise/white Skechers mules I wanted. Feeling pretty good I marched all the way to the opposite end of the mall to Sears, buying some black licorice for sustenance on the way, and really hit the jackpot with chocolate brown/pink Skechers sneakers.

And the big retailers wonder why sales are down. Sheesh!

Sigh, I do feel better now, after my rant. I still need a couple of pairs of pumps. Off to Zappos.com I go!

NancyDaQ


Advanced
NM USA
Member since 1/12/02
Posts: 3838



Date: 4/25/05 4:38 PM

Yeah, and these are supposed to be the "better" stores!?!

I shop bricks and mortar stores, but almost never the big dept. stores. I have better luck at smaller places (Ann Taylor, Talbots and Casual Corner) or even the off-price spots like TJ Maxx and Ross.

------
Now blogging at http://sewwest.blogspot.com

sosoatsewing


Advanced Beginner
OH USA
Member since 9/22/04
Posts: 1249





In reply to Gigi Louis



Date: 4/25/05 4:42 PM

Gigi

Let me guess..you are a size 6, 6 1/2, possibly a 7? I am a 6 or 6 1/2 depending on the shoe, and I have the same problem...they never have my size in stock! There are always however, plenty of 5's, 8's, and 9's....

------
Brother CE-500PRW, Singer 347,Singer 413, Singer 66, Singer 404, Singer 4622, Electrogrand,
Kenmore 158.17570, Kenmore 158.10400,
Viking Huskylock 901.... and several others

A seam a day
Keeps the blues away

Susan Dryer


Advanced
Member since 8/24/02
Posts: 139



Date: 4/25/05 4:47 PM

Anyone with a foot outside the confines of "average" probably has a challenge finding shoes to fit in brick and mortar stores. Even my not too large (8) and not that narrow (AA) feet are tough to find in a mall or in any of the smaller places.

Dillard's and Macy's do not carry much to fit my feet save the basic pump in black smooth leather, maybe in brown, an athletic shoe or two, and perhaps a loafer or two. Not very inspiring even if the shoes happen to fit comfortably. If money were not object--with our casual lifestyle I cannot justify spending more than a moderate amount for shoes-- I could shop at Nordstroms at the mall way across town, but I limit my shoe shopping there to sales. I love Zappos!

Bra makers are now eliminating a number of sizes so finding lingerie that fits at a moderate cost is also getting tough. Try finding a 32DD for less than $45 or so. . .if it fits in the one style carried.

Hilary


Intermediate
Member since 12/21/02
Posts: 551

1 member likes this.




Date: 4/25/05 4:50 PM

ok, soso, *where* on earth do you shop?! I wear a size 5 or 5&1/2 and it is soooooo hard to find shoes in my size-the stores carry so few cute styles in small sizes (and 7's through 8's or so have miles of styles!) its rare that I find anything remotely stylish!!

It's funny how perspectives vary! It must be another Murphy's law(the shoe size law)! LOL!

Gigi, your shoes sound cute! I have you to thank for introducing me to online shoe shopping-Zappo's rocks!


Hilary
-- Edited on 4/25/05 5:52 PM --

CarolynGM


AR USA
Member since 3/9/03
Posts: 2847
Board Moderator



Date: 4/25/05 4:59 PM

I share your shoe shopping frustration. I wear a 10 or 10.5 AA to AAAA depending on the shoe. Dillard's carries brands that make those sizes, but they don't stock 10 AA and up at all. I order all my shoes online or drive 3 hours to shop at 2 stores that do carry my size.

------
Carolyn


sosoatsewing


Advanced Beginner
OH USA
Member since 9/22/04
Posts: 1249





In reply to Hilary



Date: 4/25/05 5:03 PM

Hilary,
5"s and 5 1/2's are all over where I live. My friend wears a 5 1/2 and boy does she get some great buys! Since it is a small size there are always plenty marked down on the clearnace racks every season...while there is not a 6 1/2 in site..


On the other hand, my mother wears a 4 1/2, and can't find shoes unless she orders from Naturalizer, a few other places, or mail order...I think the one place she used to buy alot ofshoes mail order was called Cinderella Of Boston. She has also begun buying some in the children's dept. since girls' shoes are more grown up in style now. My 7 yr old DD wears the same size as her grandma...grandma passes her down shoes...I think I have the only second grader in town who has a collection of upper end shoes, including the most awesome strappy gold sandals that of course, don't fit me!
-- Edited on 4/25/05 6:04 PM --
-- Edited on 4/25/05 6:06 PM --

------
Brother CE-500PRW, Singer 347,Singer 413, Singer 66, Singer 404, Singer 4622, Electrogrand,
Kenmore 158.17570, Kenmore 158.10400,
Viking Huskylock 901.... and several others

A seam a day
Keeps the blues away

DebbyS


Intermediate
MD USA
Member since 7/29/03
Posts: 473

1 member likes this.




Date: 4/25/05 5:04 PM

This is why I stopped buying shoes at the department stores - try to find someone to help you, then stand around for 10-15 minutes and they come back empty handed.

Now I shop at DSW and Off-Broadway and those kinds of stores. I see a shoe I like, then scan the boxes beneath it for my size. If it's not there I move on. I also wear a 6 or 6 1/2 and they seem to be the first to go. I never see any of that size on the clearance racks.

Debby

------
~

Debby

viciouskittie


Advanced Beginner
NC USA
Member since 12/24/04
Posts: 176

1 member likes this.




Date: 4/25/05 5:05 PM

i wear size 5 in womans and a 2 1/2 in girls..and its tough to find shoes...and its sometimes even harder because i dont wear leather or suede...even though they are cheap shoes, payless has become my best friend...but as i sit here and think about it, i wear flip flops in the summer or my mary janes and sneakers in the winter...i dont know why i have a closet full of shoes....ok so besides ranting about my feet..i really wish the cattyness at work would just end..its so bad to see grown woman whispering and talking trash about each other...its like you wonder what they say when your not around..ive gotten to where i just walk away from the discussion and not be a part...but right now thats my only rant..

Maija


Intermediate
IL USA
Member since 11/24/03
Posts: 52

1 member likes this.




Date: 4/25/05 5:08 PM

For the past 10 years, if I wasn't working in libraries, I was selling shoes in department stores, most recently at Nordstrom (now I'm in libraries for good, thank heavens).

If the salesperson reports, "We don't have your size," and sends you on your way, IMO she's doing a bad job. She should try to fit you in the same style, different color, if possible. She should then volunteer to do the following: Call other stores in your area and ask them to hold the shoe so you can pick it up there OR have it transferred directly to the store you're in. Assuming this is a major chain, she can easily retrieve all the stock information via the cash register.

Many salespeople don't volunteer this info because it's a lot of work, and means they might miss a customer who's ready to buy something already in stock (most shoe people are on commission). So if you really want something, you might have to ask if they can transfer from another store. A lot depends on the culture of the company - At Nordstrom I'd do 3-4 transfers a day, and fill about the same number for other stores.

This won't work if the shoe is well and truly sold out, and will not be restocked (end-of-season clearance, etc.). But I only ran into that situation once or twice a week, really.
-- Edited on 4/25/05 6:11 PM --
Printable Version
* Advertising and soliciting is strictly prohibited on PatternReview.com. If you find a post which is not in agreement with our Terms and Conditions, please click on the Report Post button to report it.
Sew a Designer Unlined Jacket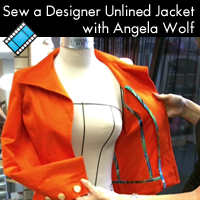 Restyling with Exposed Zippers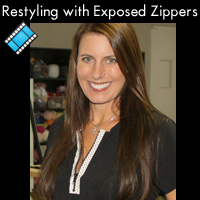 BurdaStyle Magazine 07-2011-105

by: marie elis...
Review
New Look 6150

by: Lori9999
Review
Christine Jonson Travel Trio Three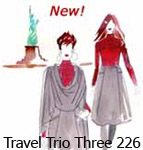 Buy Now
DVD - Will this fabric work for you?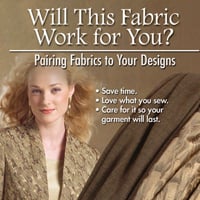 Buy Now