bicrafty

Georgia USA
Member since 6/30/12
Posts: 64
Skill: Beginner



Date: 9/7/12 8:20 PM

It's awful! I an captivated by office wear. I loooooove blazers and jackets. I looooove beautiful trousers and pumps and all things black or silky.

But I don't have an office job. I stay at home during the week with my two-year old. My main outings are the library, park, or grocery store. I just got a weekend job where there is a dress code that includes jeans.

My husband is two inches shorter than me and though there are no outward issues, I know that inside it bothers him a little. So I've silently vowed to never wear high heels. Kitten heels are okay, though, for the posture influence.

It's so suffocating to have a closet full of t-shirts, jeans, sneakers, and flip-flops. And those mostly from the cheapest stores available. I even have a hard time dressing for church or similar occasions because I have NO dress clothes. I mean, it's clothes. They're there and available and easy. I'm not being ungrateful for my clothes, just unsatisfied.

Does anyone have any advice or ideas or tips on how to make a workwear look casual enough for a stay at home mom?

Speech girl


Member since 5/11/03
Posts: 2665
Skill: Intermediate
Body Type:






Date: 9/7/12 11:05 PM

What about a blazer made from a more casual fabric like denim, canvas, linen etc. i made a blazer from a stretch canvas with a print when I was a SAHM--I used it as a light jacket. Also, consider denim trousers. I have made a pair once using a burda trouser pattern and lightweight denim. Or linen trousers, or finewale corduroy. Or tencel--anything washable. Cotton poplin blouses (maybe in darker colors since you have a 2year old)
Rayon challis may be a good fabric for you too, it's soft, yet not too dressy. Or rayon jersey, soft and silky and a knit dress can be dressed up or down. How about nice sandals, flats, and boots to dress you up a bit?
What about making a nice tailored outfit for dressier occasions?



------
Kim
formerly mikkim
http://girlwithatimemachine.wordpress.com/

Julia C


USA
Member since 7/1/07
Posts: 1246
Skill: Advanced Beginner
Body Type:






Date: 9/7/12 11:11 PM

I know with small children around you have to wear something easily washable, however, I think some of your issues may be related to not feeling you look nice. You may find you just need to do a slight upgrade to your wardrobe. Joining either the mini-SWAP contest or sew a long is a good start. Reading some of the wardrobe ideas of past/present contests may give you some ideas.
How about basic slacks with pockets in a cotton twill or stretch twill for washability? They could also be made then in a wool for church or dinner out. Add some Jalie tops with fabric from fabric.com. Make Jalie jeans in several different colors/washes. A basic straight/pegged/slightly A-line skirt could be worn with a tee or button front shirt. A blazer or cardigan can go over any basic item although for everyday you might want to make a blazer out of a washable fabric.

NancyAnn2

UNITED KINGDOM
Member since 1/31/10
Posts: 58
Skill: Intermediate





1 member likes this.



Date: 9/8/12 3:31 AM

I think lots of people have similar problems. The issue is that of not feeling like you have another life, I think. Retired people have the same issues. Think of where you might wear nicer clothes and then start sewing for those types of occasions. There is no law that says you have to look scruffy at home, either. You can make nice trousers and blouses, skirts and shirts, dresses for church. It is almost a matter of confidence that you are worth having some nice clothes and that you won't look ridiculous wearing something elegant and tasteful. I have recently started wearing my better clothes at home, and I feel like a different person. I don't think black and white office wear will be your solution, but there are nice things to buy or sew that will lift your spirits. I live in Britain, where people are expected to dress a bit when they go out, and it has been a good experience for me to try to lift my game a bit!

------
NancyAnn2

stirwatersblue


Member since 12/13/08
Posts: 3941
Skill: Intermediate
Body Type:




Date: 9/8/12 4:23 AM

Oh, you totally need to watch "What Not to Wear!" They dress *tons* of SAHMs, or, as they prefer to call them, Moms on the Go.They look so cute and chic, yet completely playground, crawling-under-the-sofa-after-a-binky friendly.

I work from home and have a house full of dogs, so I get it. And my day-to-day wardrobe is ponte knit or French terry pants and 3/4 sleeve T-shirts (I mean, I don't even make it into jeans most days! LOL). But whenever I go out in public, I step it up. I discovered that the best pieces for me are trouser jeans and creative and interesting jackets. I'm always cold, and they make a great signature wardrobe that's really easy to put together. I have an assortment of solid-colored shells (for the jackets with some kind of print), and a couple interesting print tops (for the solid jackets). This year I've been expanding into drapey cardigans, but they're not as flattering on me as a good jacket, so I'm trying to restrain myself (is 4 restraint? LOL).

Yet some days, I, too, yearn for office wear! Just this last week I had to pass up the most beautiful pair of brown patent leather stilettos, because I could not for the life of me envision any scenario in my life for which they would be appropriate! I consoled myself with buying brown patent nail polish instead! :D

I guess I'm saying the key is finding out what style suits you AND your lifestyle, and figuring out a way to make it all work together.

...Or find more excuses to go out (maybe you need a part time job in a law firm!). LOL

------
~Gem in the prairie

Sandra T

Ontario CANADA
Member since 6/12/05
Posts: 112
Skill: Intermediate





Date: 9/8/12 8:05 AM

I would second the recommendation for Jalie knit tops. Very comfortable to wear, chic and sew together so fast you won't believe you're already done. I've seen reviews where people have started with a jalie top pattern, and just lengthened it to make a dress. I also love their pleated cardigan, which I wear in lieu of a jacket to work often, and looks great with casual pants as well. I recently purchased a double knit straight skirt, and may never wear a woven straight skirt again. Pamela's patterns magic skirt in a double knit would be really comfortable and allow for ease of movement. You obviously know the styles that appeal to you, maybe just making pieces that have similar shape out of more casual (and laundry friendly!!) fabrics is all you need to do.

Karla Kizer


Member since 4/8/02
Posts: 7972
Skill: Advanced



Date: 9/8/12 12:17 PM

A few Jalie tops with matching or coordinating knit skirts? Maybe something like the one that is the free pattern from stylearc this month.

For a versatile weekday-to-weekend wardrobe plan, you might consider reading some advice on a travel wardrobe, since so often we have to pack looks for casual and dressy events, and make everything work together.
-- Edited on 9/8/12 12:20 PM --

------
"Never try to teach a pig to sing; it wastes your time and it annoys the pig." -Robert Heinlein and Ann's father. Thanks for the reminder, Ann.

Where are we going, and what am I doing in this handbasket?

Matthew 25:40 (New International Version)
The King will reply, 'I tell you the truth, whatever you did for one of the least of these brothers of mine, you did for me.'





marymary86

Georgia USA
Member since 7/20/08
Posts: 3626
Skill: Intermediate

1 member likes this.




Date: 9/8/12 12:26 PM

I enjoy Smart Casual pairings from You Look Fab.

It's helped me with the opposite problem - dressing down some of my former office clothes so I can wear them in my SAHW life. For example, I had a black print silk georgette dress. I topped it with a denim jacket and it looked great for going out on a casual date with DH.

Also - could you rock some heels on your job as you won't be standing right next to your husband when you're at work?



------
Mary




61sew4fun

Member since 4/13/12
Posts: 324
Skill: Expert/Couture



Date: 9/8/12 11:08 PM

I am the mother of 8 children, ages 30 to 13, my how time flies! I have worked in the fashion industry all my life and most of my time was at home with my children. Since I create bridal and special occasion garment I would meet clients in their homes or at a local dress shop where I was friends with the owner. I digress. I was perpetually pregnant, nursing, and chasing babies, but I love to dress, which is not very practical when being spit up on, lol. Then I discovered jewelry!!! Just a few nice pieces. A lovely strand of pearls, beautiful stones in posts, as babies pull dangles, (alas!) and I was transformed. Whenever I was feeling dumpy my jewelry lifted my spirits, made me stand up straighter, and just made me feel good. Even if my pearls just peeked out of my sweatshirt, literally, I'd feel empowered. Other mothers would comment on my pearls and tell me they brought a touch of class to the baseball field as we sat around while our kids practiced. All my children teethed on my 50 inch strand of pearls and my 5 grandbabies too, they all loved them.

------
61sew4fun

QuikSew


Texas USA
Member since 5/2/10
Posts: 634
Skill: Intermediate





In reply to marymary86 <<



Date: 9/8/12 11:12 PM

I agree with NancyAnn2. Lots of us may not be SAHM's, but we do have lives outside of our regular jobs. I like to go out and not look like I was painting the house before I left. My home wardrobe consists of elastic waist slacks that are comfortable, stretch, easily washed, and cut with a waistline that flatters, covers, and looks good when I'm out and about. I have learned to stay away from wasting my precious sewing time on items that I don't tend to wear: high waisted pants, pants with wide legs, structured jackets, and button up the front shirts. Also, I don't sew anything that has to be ironed, because I know I'll never iron it so I won't wear it. Slowly I am tossing out the t-shirts that have sayings, printing, or employer logos. This is leaving me with a lot of empty drawers to fill with new, fun shirts. I made several maxi dresses for the summer. These have become my new fave outfits. I can toss one on and head out for lunch with my husband, swing through the grocery store, or even pump gas and look good. With a chunky necklace, I look like I am out doing something important, not dropping off my husband's dress shirts at the dry cleaners.

Good luck, and happy sewing.

------
2012 yardage sewn: 102.75 yds
Jan 2013 - 3.75 yds
Feb 2013 - 5.5 yds
Mar 2013 - 16.75 yds
Apr 2013 - 5.3 yds
May 2013 - 0 yds
June 2013- 0 yds
July 2013 - .75 yds
August 2013 - 12.75
September 2013 - 0
October 2013 - 0
2013 goal - 120 yds Yards to date - 44.8 yds
Printable Version
* Advertising and soliciting is strictly prohibited on PatternReview.com. If you find a post which is not in agreement with our Terms and Conditions, please click on the Report Post button to report it.
Online Class
Serging Ahead with your 5 Thread Serger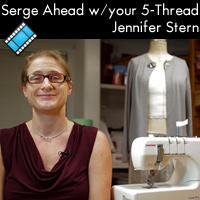 Online Class
Fun with Fitting - BODICE w Darts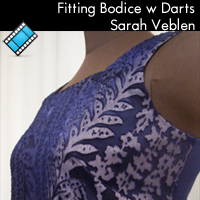 Au Bonheur des Petites Mains 40018

by: Marge99
Review
McCall's 6205

by: ashleyjewe...
Review
Sew Liberated Esme Top Pattern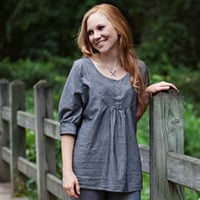 Pattern Details
Petite Plus 151 Pattern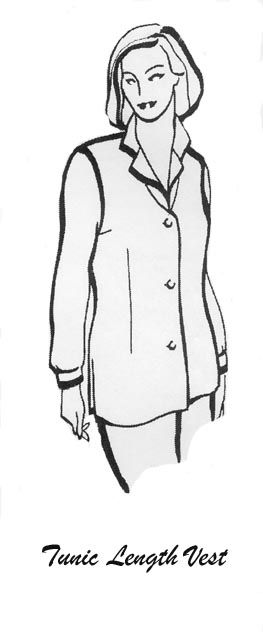 Pattern Details