Mikgirl


Member since 2/24/10
Posts: 306



Date: 9/19/12 3:09 AM

Oh my gosh I just wrote this loooong post, and realized I'm just venting...
So I'm editing it to make it simpler.

I'm a stay-at-at home mom with two kids.
I feel very lucky that I can be with my kids every second of the day.

Then again, one of my stay-at-home mom friend just landed a role on national TV, and I got envious...
I was envious that although we are in the same situation (SAHM with two kids, although hers are older than mine), she has life outside of her family.

Have you felt this way?

Also, I haven't talked to this friend ever since my daughter was born, and we lost touch, one because I got busy with two kids, and second I noticed our diferences and felt like I didn't want to continue our friendship.
We are not in a bad term but if we bump into each other we know there's a tension between us.
I want to congratulate her on her success but feel like she's gonna think "what, you wanna talk to me now that I'm gonna be on TV?"
Should I still?

All the stay at home moms and dads... How are you feeling?
-- Edited on 9/19/12 3:17 AM --

Edited again... I just sent my friend a quick "congratulation" text.
It makes me feel better that I did, no matter how she feels about it.
-- Edited on 9/19/12 3:22 AM --

gramma b


USA
Member since 7/25/08
Posts: 3069

2 members like this.




Date: 9/19/12 8:44 AM

Try to connect with a moms-2-moms group or something.
My DIL and others have a once/week group at rotating homes. They each bring a random dish for lunch and the kids play while they get adult talk. It's been going on thru babies #3. Plus the dads have found new friends as they have BD parties for all.

Also try/form a babysitting co-op. No money involved, just points for hours. If you want to go shopping without kids, you pay the other mom in card points, you earn points by doing the same. I was in one long ago, worked great to get out of the house. The coop meets once/month to discuss issues and visit.

I moved a lot when mine were toddlers, so I was lonely in new cities with no relatives around. But I took the kids to museums, zoos, library, parks and met other moms. Stimulating their little minds without much TV made them creative, early readers, and good at conversation.

Courtney Ostaff

Intermediate
West Virginia USA
Member since 11/23/10
Posts: 664





Date: 9/19/12 11:01 AM

I would definitely find your local Mom's Club, or MOPS (Mothers of Preschoolers). If your town has a kids museum, those are often great places to meet other like-minded people too.

And yes, it's soooo hard to dedicate your life to your kids without feeling like a loser in the job market or like there is something "off" with you in these modern times.



purplebouquet


Advanced
Arkansas USA
Member since 11/16/05
Posts: 1224

1 member likes this.




Date: 9/19/12 11:58 AM

Are you a bit envious of your friend because "she's on TV" or because she has something else in her life besides taking care of her children? Would you be envious if she had a job as an accountant or landscape architect or nurse or any other job that doesn't come with the glamour of TV? Are you both actresses and she had a break and you didn't, which wouldn't have anything to do with your SAHM status? I think knowing why you envy her is important to help you figure out how to be more content. Once you figure that out, you know how to deal with the tension when you see her. If the green monster won't go away, maybe you'll be more at peace if you don't see her anymore altogether. That's a tough emotion to conquer and lay to rest.

Friendships do change for a number of reasons. Sometimes, you get back together, sometimes you don't.

I mostly stayed home with my kids when they were little, except for a few years when I completed my graduate studies. I knew moms who were completely happy staying at home and minding the house and raising the children, but I craved mental stimulation. I went to school at night while my husband watched the children and studied during their naptime. It worked out very well. Since my daughter started 1st grade, I've been back at work part-time. That really has been an almost ideal situation because I have the exchange with other adults, get to use my brain and my education, yet have the flexibility and energy to raise the children. Only the endless summers are tough when I need to leave them at home for longer than I'd like them to. They are teenagers now and a lot more independent, but still. And the other caveat is that I found it really difficult to find meaningful part-time work, but it's all good now.

Others have posted good advice. I'd only add that I find it very helpful to burn off frustration through exercise, so I'd want to encourage not to neglect that.

Claudia

Canadian Jane


Advanced Beginner
Alberta CANADA
Member since 10/30/10
Posts: 1940





Date: 9/19/12 12:05 PM

I am not a stay at home Mom but I am semi retired at 53. I share many of the feelings that you do. In part because I have elderly in-laws who are not well and an elderly father who lives by himself a 3.5 hour drive away. At times I feel consumed and overwhelmed by all that brings.

I am thinking of going back to work just to get a different persepective and some space from those issues. I hate the thought of going back to work though as I am an accountant by trade and that type of work is usually stressful, deadline driven, long hours and at times deathly dull.

I want to stress that I feel extremely blessed to have the life I have I think I just need something else to give me the "distraction" I need from family issues.

So... its not just you. You might just need more - as Purplebouquet said - adult/mental stimulation that doesn't involve kids or family issues.

BTW - sending that message was great. I find that sometimes when my friends talk about the fun they have at work or the success they had with a particular project I feel that pang of envy or whatever it is. I have always found it works better in the long run if I can put my feelings aside and be genuinely happy for the other person and give them the well wishes they deserve. Karma maybe?? Not sure.... Just know that I always feel better when I do the right thing and/or take the high road.
-- Edited on 9/19/12 12:22 PM --

Mikgirl


Member since 2/24/10
Posts: 306



Date: 9/19/12 12:56 PM

Thank you everybody for your thoughts. I guess everyone goes through this.
I do go to parent-participation preschool with my kids, so I get to connect with other SAHM, and I actually got more friends now because of my kids.
I think the stress of being at home with sick kids were getting to me.
Canadian Jane, my Mom was in the same situation as you... Staying home taking care of my father and her mother (my grandma).

Purplebouquet, I was envious of my friend not because I want to be on TV... Haha
It seems like a glamorous world but I have no desire to be in it.
I got envious because she has life outside of her family, and a family that supports her.
My kids, 1 and 3, are such "mamas kids" that I can barely go to the gym a couple times a wek alone.
Yesterday, because they were both sick, they both cried like crazy telling me I can't go to the gym.
My husband works and goes school full time so he can't really help me.
So I haven't even gone outside the house for these few days!!
(therefore I'm sewing like crazy... Finished 4 garments in a week!)

I do feel better now that I slept on it.
I am planning to go back to work once my kids are older.
My time will come, whatever I end up doing.
But I know the kids will grow up too fast, so I will continue to enjoy that I have the privilage to stay home with them!

gramma b


USA
Member since 7/25/08
Posts: 3069





1 member likes this.



Date: 9/19/12 5:25 PM

Kids need to learn not to be so "needy" as toddlers, like learning to comfort themselves going to bed and not have mom & dad return to the room 3 times.
Do try and get out once a week by yourself, just for shopping or coffee or exercise. Announce it's Mommy time, say goodbye, give them a hug, and walk out, ignoring the whining.
My 3 1/2 yr. old GD still will cry when Mommy leaves, so I have to distract her with other activities right away. Learning this is part of being able to let go of mom when nursery school comes, babysitters, etc.
H. should give you a few hours on the weekend to yourself too. Does his school have a daycare that students can use?

Speech girl


Intermediate
Georgia USA
Member since 5/11/03
Posts: 2334



Date: 9/19/12 8:23 PM

Heres my 2 cents. I was a SAHM for 11 years (worked very part time the last 2 of those) and have worked full time the last 2 + years.
Both being a SAHM and working outside the home mom are challenging jobs. Both are 24 hours of work (I tell my coworkers that I am going to my other full time job when I leave work).

You may see only the upside of your friend's job, but it's probably very difficult for her to balance work and home. I know I used to socialize with friends much more before working full time-- now I feel there is barely time for emailing/calling. One of my friends who had been one of my closest barely speaks to me since I started working. I think it's because she hasn't returned to work (she has been looking) and it's uncomfortable for her to talk to me now. It has been a sorrow to me, especially since I don't have much time to make new mom friends. JI get home tired, feeling I gave the best of myself to the kids I provide services to at work, still have my own kids who need attention, dinner that needs prepared, laundry and cleaning that needs done (and often I have brought work home). I miss those SAHM days (even though I was tired and overwhelmed often then too!).

If you have interests that stimulate you mentally, pursue them. I found sewing to be a great challenge.
-- Edited on 9/19/12 8:24 PM --
-- Edited on 9/19/12 8:27 PM --

------
Kim
formerly mikkim
http://girlwithatimemachine.wordpress.com/

tg33


Beginner
IRELAND
Member since 11/11/08
Posts: 1012



Date: 9/20/12 5:24 AM

I see your kids are 1 and 3, this is a hard stage when you feel like you will never have a life outside them. Mine are 8, 7 and 4 so I'm just a bit ahead of you, and while they still take a lot of energy, it isn't the same as when they are little, and they are interested in going to things and reading and stuff.

FWIW, I was never a SAHM except when I was on maternity leave. I would have loved to do it for a few years, but it wasn't possible. For a long time though, it felt like all I did was go to work and come home again, I didn't have the energy to do anything else...

------
Reading from Europe
Printable Version
* Advertising and soliciting is strictly prohibited on PatternReview.com. If you find a post which is not in agreement with our Terms and Conditions, please click on the Report Post button to report it.
Leather 101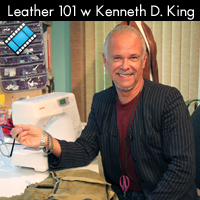 Fun with Fitting - BODICE w Darts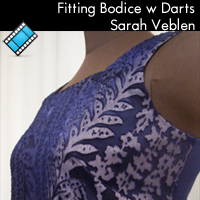 BurdaStyle Magazine 09-2007-117

by: yummymummy...
Review
Paradiso Designs Tiny Handbag Pattern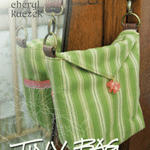 Buy Now
Jamie Christina Lark Paper Pattern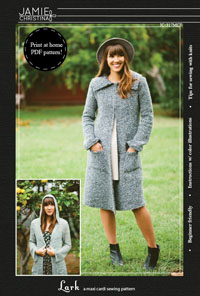 Buy Now
Vogue Patterns 1061

by: shaleenyma...
Review