Lucy in Virginia


Advanced Beginner
Virginia USA
Member since 12/20/07
Posts: 275



Date: 9/21/12 11:01 AM

I have a number of gorgeous vintage '80s blouse patterns with ENORMOUS shoulder pads that so date them.

I would love to be able to alter the patterns to remove the shoulder pads.

Has anyone seen a video or tutorial that helps explain how to do this?

------
Total Stash at end of 2013 -- about 750 yards.
2014 Total Items Sewn -- 1
2014 Total Stash Used -- 2.5
2014 Total Items Embroidered -- 2
2014 Goal: Sew 1 garment per month. Less stash at end of 2014 than at end of 2013.

Machines: Babylock Ellisimo; Viking Platinum 770; Brother 900D
Serger: Baby Lock Evolve

petro


Advanced
France
Member since 6/24/07
Posts: 2717

1 member likes this.




Date: 9/21/12 11:27 AM

I haven't seen any useful tutorials on this. I'd compare the shoulder area and sleeve head with a pattern which fits you well, laying one over the other. To get the Dallas shoulders the shoulder line itself is usually lifted at the shoulder end - so less of a slant, and extended slightly beyond the shoulder point for very exaggerated shoulders. The sleeve head changes when the armscye is changed, so that will be different too.
Alternatively, you could do a toile of that bodice area, ditch the pads, and pin a natural shoulder line, marking a natural armscye line on the bodice. Then you could measure with your tape on its edge along the fitting line of the armscye you just replanned, first the front from the balance mark to the shoulder seam, then the back, balance mark to shoulder seam - and compare these measurements to the sleeve head measured on the fitting line. That will tell you how much it will need to be changed to go into the new armscye - leaving a bit of leeway for sleeve head ease.

------
http://patternpandemonium.wordpress.com/


Nancy K


Advanced
New York USA
Member since 12/28/04
Posts: 8454





Date: 9/21/12 3:16 PM

I remember reading some comment, perhaps in Threads, saying that it isn't worth it. There is a lot to change, shoulder, sleeve and even the surrounding front and back bodice.

------
www.nancyksews.blogspot.com

Elona


Advanced
Member since 8/24/02
Posts: 8698





3 members like this.



Date: 9/21/12 4:13 PM

In Threads Mag 141, page 80, Judith Neukam answers this very question from a reader. She says to find a newer pattern with the sleeve and shoulder you like and overlay it with the old 80s pattern, matching center fronts (and I'd match the waistlines, too, if they're marked on the pattern pieces). Keep the new and old grainlines parallel, and trace off the shoulder and armhole you like. You can use just the top half of the newer sleeve, if you like the cuff of the older one, or you can just substitute the entire newer sleeve pattern, since you're going to be tracing off the newer armhole and using that for your garment.



Lucy in Virginia


Advanced Beginner
Virginia USA
Member since 12/20/07
Posts: 275





Date: 9/21/12 5:51 PM

Quote:
find a newer pattern with the sleeve and shoulder you like and overlay it with the old 80s pattern, matching center fronts (and I'd match the waistlines, too, if they're marked on the pattern pieces). Keep the new and old grainlines parallel, and trace off the shoulder and armhole you like. You can use just the top half of the newer sleeve, if you like the cuff of the older one, or you can just substitute the entire newer sleeve pattern, since you're going to be tracing off the newer armhole and using that for your garment.



This sounds like the easiest way to do it. Thank you so much!

------
Total Stash at end of 2013 -- about 750 yards.
2014 Total Items Sewn -- 1
2014 Total Stash Used -- 2.5
2014 Total Items Embroidered -- 2
2014 Goal: Sew 1 garment per month. Less stash at end of 2014 than at end of 2013.

Machines: Babylock Ellisimo; Viking Platinum 770; Brother 900D
Serger: Baby Lock Evolve

Vintage Joan


Intermediate
Ontario Canada
Member since 7/16/07
Posts: 10878





1 member likes this.



Date: 9/21/12 6:21 PM

I once asked about this, so there must be some threads on here with information about this. ...Going to look...

Ha ha, I have not once but three times (!) started a thread on here with a question about shoulder pads. Here are the two threads that have the most useful information.

thread 1

thread 2
-- Edited on 9/21/12 6:30 PM --

------
my shield and my very great reward ~ Gen. 15:1

Image: many years ago

GlButterfly


Intermediate
California USA
Member since 8/28/08
Posts: 3300





1 member likes this.



Date: 9/21/12 9:23 PM

Sandra Betzina, in a newspaper article years ago, wrote about adjustments needed if eliminating shoulder pads. I've used this on dozens and dozens of blouses and tops because I cannot stand shoulder pads.

As an example, if 1/2" shoulder pads are called for, then you would need to remove 1/2" from the height of the shoulder. Begin at the shoulder armhole, trim off 1/2" , tapering to zero at the neck.

The same amount needs to be removed from the width. Start at the armhole shoulder, mark off 1/2", tapering to the armhole notch.

For the sleeve she suggests trimming off about 1/4" from the top of the sleeve cap.

I've read in another source to also pinch out half the amount in the sleeve, in this case 1/4", lenthwise, beginning at the shoulder dot downward.

For a 1/2" pad there is enough removed from the shoulder that the facing and collar would also need to be adjusted (in the area where you removed the shoulder .)

This proceedure works quite well for regular blousses. If the pattern is a big shirt, then you may have to fiddle a bit more, because of the drop shoulder and general width added to the bodice, the entire garment is affected.

Check also Threads magazine on page 80, #141. Basically Judith Neukam suggests placing a more modern pattern over the older one and tracing that. I'm not sure that this would work with all patterns.

You may want to try one in a muslin first. You wouldn't need to make the entire, full-length blousse.

Depending on how you would like the blouse to look and your own body, you may not need to adjust if the pattern calls for a 1/4", but, again, you would need to test it.



------
That's Gl = for Gloria, not G. I.

a7yrstitch


Intermediate
Texas USA
Member since 4/1/08
Posts: 6184

1 member likes this.




Date: 10/2/12 0:23 AM

Thanks for the links and the suggestions on this. I was just sorting through my patterns and wondering about the sensibility of using/keeping those patterns. There are some really nice features to them.

I've just finished fitting a very closely fit princess seam shell as a reality check on where I'm at. After carefully adding in as a precaution for the 'fitting' process, I ended up carefully taking back out. The McCall's shell pattern fits perfectly out of the envelope - everything, bust size, bust alignment, back, shoulders, hip.

Please tell me to get rid of any of those old patterns with huge shoulders (with the exception of designers like good ole' Issey). I know that the pattern sizing is different from that period anyway.

Right, everyone? I would be crazy to work on adjusting shoulders and fitting a pattern from the 80's when I can use current patterns with no headaches.

I'm thinking, now, that the better thing would be to use elements that I like from the old patterns and superimpose those onto newer patterns instead of going at it the other way arounds.

I could regret this when I'm eighty as those shoulder pads just might come back one day. Oh well, I only wore the thinnest ones anyway.

------
I have no idea what Apple thought I was saying so be a Peach and credit anything bizarre to auto correct.

chgh

Advanced
SWEDEN
Member since 4/8/12
Posts: 20

2 members like this.




Date: 10/3/12 4:48 PM

What about going about it the other way round? What are the features you like on the old patterns? If its the collar, the front etc, use those and overlay them on a modern pattern whith more moderate shoulders instead. Use the middle front/back and the waistline as fokal points. That makes much less headache to alter. I have used lots of patterns from the 80:s and even from the 70:ies this way.

/ chgh

solosmocker


Advanced
New York USA
Member since 1/23/06
Posts: 1672



Date: 10/3/12 9:14 PM

Given that many patterns can be easily had on sale at 99 cents to 3.99 for the big four, is this really worth it? I like Chgh's idea of adding the older details to a modern pattern. And with the resurgence of many 80s details on the runway the past couple of years those details aren't that difficult to find in current patterns.

------
http://lasewist.blogspot.com/
Printable Version
* Advertising and soliciting is strictly prohibited on PatternReview.com. If you find a post which is not in agreement with our Terms and Conditions, please click on the Report Post button to report it.
Online Class
The Contemporary Couture Jacket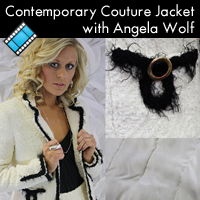 Online Class
Beginners Guide to Sewing Jackets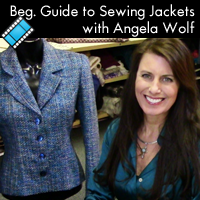 BurdaStyle Magazine 03-2013-110

by: arianamani...
Review
Petite Plus 204 Pattern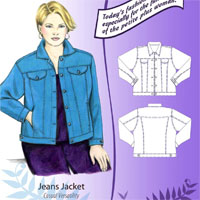 Pattern Details
Jamie Christina Hooded Scarf Pattern (JC307HS)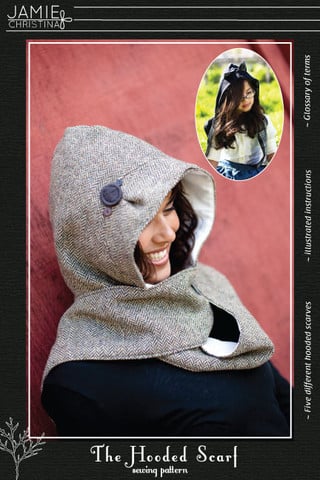 Pattern Details
HotPatterns Fringe Festival Knit Top

by: quitereaso...
Review