davidxy887

Member since 9/28/12
Posts: 23

1 member likes this.




Date: 10/3/12 9:34 PM

Hello,

I'm new to sewing and I would like learn how to alter my clothes from shirts to jackets to jeans to everything and beyond.
I have some questions about alterations.

1. Can I make alterations on clothes that are a few sizes bigger? (I'm small, What if I buy a medium or a large?) or just clothes that are my size but don't fit properly?
I'm asking this question because I was thinking of pants if I reduce the size of them what happens to the pockets? If I slim the sleeves of a shirt what happens with the part that goes under the arm (armpit?). etc.

2. How much can I alter when it comes to men's clothes? (seams, sleeves, etc?????)

3. I found this book called "Altering Men's Ready To Wear" by Mary Roehr. Has anyone read it? Any Reviews?

4. Do you know any other resources like books, dvd's, classes, etc I could use?

Thank you so much for you input and help, I really need it.

David

SewSea76

Rhode Island USA
Member since 4/2/11
Posts: 7
Skill: Advanced Beginner



In reply to davidxy887

1 member likes this.



Date: 10/3/12 9:59 PM

I do some minor alterations on my clothes and I am not an advanced sewer. I think it is a good way to see how clothes are constructed and learn from taking them apart a bit. My shape is a size bigger in my hips than my waist so I take in almost all my pants at the waist, even jeans, and it is not very hard. If they were huge on me and have pockets in the back, the pockets would get too close together so you have to be careful. Altering really big clothes to fit you would depend on the construction and if it would change other features too much to look weird.

When you are first taking apart the clothes to alter them, it seems scary because it looks like you are ruining something nice, but when you realize how much you can fix and how you can make it come out really good, it is not so scary anymore. I can really see which clothes are high quality when I am taking them apart and see the seam binding, construction, etc.

I go to the library and look at sewing books and I've been able to find quite a few. When I see one that I don't want to put back on the shelf, I'll consider buying it, but sometimes just borrowing one from the library will help me learn what I am looking for.

Good luck, I've found sewing addictive and fun and I hope you do too!

Susan

GlButterfly


California USA
Member since 8/28/08
Posts: 4141
Skill: Intermediate



In reply to SewSea76

1 member likes this.



Date: 10/3/12 10:22 PM

This has nothing to do with the topic so I apologize. I absoutely love the photo you use for your avatar. Now back to the discussion.

------
"TOL machines = Too (much) Operator Learning"--poorpigling, January, 2016

hazelnut


USA
Member since 1/7/09
Posts: 2310
Skill: Beginner



In reply to davidxy887

Date: 10/3/12 11:08 PM

I can only help you with Question #3. I have the book you mentioned and gave it a cursory look-over, but mainly referred to the section I needed to review in order to make the alteration, that was needed "immediately" on DH's pants. LOL She uses sketches and line drawings (no photos) in addition to easy to understand text to explain things. I found the book helpful, however the alterations I was hoping to make on my tops cannot be done. ( I purchased the women's alteration book too). I couldn't find anything else available online or in the library when I purchased these, which was approx. 1-2 yrs. ago. Alteration books for RTW seem hard to come by.

BeckyNoSleep


USA
Member since 4/19/10
Posts: 140
Skill: Intermediate



Date: 10/4/12 0:09 AM

In general, I don't think you'll have much success trying to alter down from a Medium or Large to a Small - you are right to identify that you can't just take in the side seams of pants or shirts without affecting other parts. There are a million other fit details (like crotch length on pants) that also vary for sizes, so that you would really have to take the garment apart to get it down to a small. Alteration really is about changing one or two areas of a garment, usually things like sleeve length, pants length, or taking in a bit at the waist. You may have more luck in perusing books about "fit" to see how to execute these small changes.

beauturbo

California USA
Member since 5/2/09
Posts: 5551
Skill: Advanced



In reply to davidxy887

Date: 10/4/12 3:09 AM

I think you are really in luck on altering nice pants, just because you are a guy, and guys suit pants are really made on purpose to be able to take in the waist and back seam of those pants, easy without having to undo the waistband from the pants. And women's pants most times are not. Of course that's not going to change the legs or the pockets at all, but gives you some extra wiggle room there on the waists. Go look at a bunch of nice guys suit pants and thier construction at the back waist there, you will see they got the waistband already split in half there, and it's sewn to the pants in a very easy way to take them in and out. Not sure if Men's suit pants as in each and all sewing patterns are that way or not though, because I've never sewn a pair of mens suit pants, but have taken the waist in or out on bunch of exsiting ones with a split waistband like that though.

If it's something like jeans, mens and women's are just more the same. It is no fun to take in the side seams of those at all, over any front pcokets. I think not worth it and just avoid it if you can. If they have front pockets with revits through them, if you wanted to take in the side seam there, then you would need to use pliers to take out the rivet, which leaves a hole. Then sew seam smaller and yes your pocket would loose width and get narrower. I have done that with a bunch of my jeans once, but probably never again, as just way too much work I think to make it worth while at all, plus you still probably would want to/have to take in the back waist too, I know I did. So I think it's way too much trouble and not very time and effort wise/effective to try to alter blue jeans more than a size or two, if not just at the back waist instead, if you have to start taking in the side seams too. Just my personal opinion, after doing that to a bunch of mine. I think if you loose enough weight to have to do that, better to just celebrate by buying a bunch of new jeans, instead.
Printable Version
* Advertising and soliciting is strictly prohibited on PatternReview.com. If you find a post which is not in agreement with our Terms and Conditions, please click on the Report Post button to report it.
Online Class
Pattern Work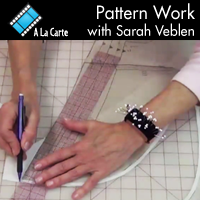 Online Class
All About Buttons and Buttonholes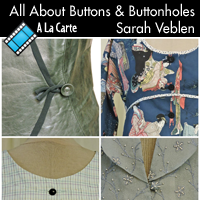 Burda 7866

by: Levone
Review
Kwik Sew ks-children

by: katlew03
Review
You Sew Girl Small Tote Pattern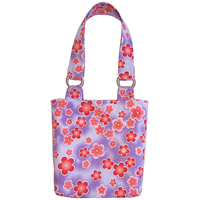 Pattern Details
Fit For Art Tabula Rasa Tee and Tunic
Pattern Details