Leoladysw


Kansas USA
Member since 6/14/12
Posts: 160
Skill: Intermediate



Date: 10/9/12 9:15 PM

Over the years I have found innumerable old 100% cashmere, camel's hair, and vicuna coats at thrift shops. I decided to recycle some of them since they are way out of style or way too small.

I took 5 or 6 of them apart in the last few months, washed the fabric, steam pressed them, and with cardboard templates cut out lots of rectangles in order to try to make a quilt. That is as far as I have gotten.

I am thinking of sewing the squares together into long strips, then sewing the strips into a quilt. Is this a good idea? Do I really need to use cotton batting, or wouldn't it be ok just to use a backing and border?

What do you guys think?

------
Six Elna Lotus/Stella sm [kid's sewing classes]
Elna 33C SP sm, Pfaff 1473 CD sm, Viking 6030 sm, Singer Sphinx 127 sm, Singer Lotus 127 sm, Bernina 830 Record, Nelco J A-38 sm, Necchi Lelia 515 sm
http://leoladyshousecollectiblesandgardens.blogspot

SouthernStitch


USA
Member since 8/24/02
Posts: 11462
Skill: Intermediate
Body Type:






Date: 10/9/12 9:47 PM

I'll let the more experienced quiltersl answer you. But I can't wait to see how this works out for you. Sounds like a very exciting project!

------
Bernina 780, and 530
Viking Opal 690Q
Babylock Evolution
Singer 403a

When life gives you green velvet curtains, make a green velvet dress.

sings2high


USA
Member since 11/25/11
Posts: 613
Skill: Expert/Couture
Body Type:




Date: 10/9/12 9:54 PM

If your fabric is outerwear fabric, no you don't need batting unless you really want it. I had a quilt once made of woolen menswear suiting scraps. It was gorgeous and extremely heavy. It would have been too heavy to sleep under, I think, but my 1973 Chrysler New Yorker had to have it's engine "tucked in" every cold night or it wouldn't start in the morning. So that ultra heavy quilt (which just happened to fit the engine block exactly) was just right for its purpose.
And even if your fabric were lighter, you're the one making the quilt and you don't have to use batting if you don't want to. There is a long tradition of summer quilts made of a top and backing, period.

------
Measure twice, cut once. While this saying is useful in many ways, I have no qualms about editing my posts.

Big Goal for 2015: to be able to say "Oh, I guess it's time to take this dress in...again!"

UFOs completed in 2015: 0
Projects completed in 2015: 4
Projects started in 2015: 3
Stash:
sewn in 2015: 2.5 yds
bought in 2015: 12 yds

CM_Sews

California USA
Member since 9/18/04
Posts: 1945
Skill: Intermediate





1 member likes this.



Date: 10/9/12 10:05 PM

Sounds like you have some fabric rectangles that have more "heft" than the usual quilting cotton, and that's fine.

Since you have rectangles, I'd suggest an offset brick pattern, like this. It's a simple, but attractive design. There are no matched seams (places where 4 corners meet). This makes it a good first quilting project. In your case, because you are using heavy fabrics, avoiding matched corners makes the offset brick pattern a good choice.

And, yes, you can sew the rectangles into long strips (sew the short ends together) and then sew the strips to each other. Your goal is to match a seam on one strip to the middle of the brick on the strip next to it (still, no seams to match up).

Depending on how heavy your fabrics are (compared to quilting cotton) you may find that you don't need batting. However, you can wait until you've pieced all your rectangles together to decide whether or not you want to use batting.

CMC
-- Edited on 10/9/12 10:07 PM --
-- Edited on 10/9/12 10:07 PM --

Leoladysw


Kansas USA
Member since 6/14/12
Posts: 160
Skill: Intermediate





Date: 10/9/12 10:29 PM

That is exactly what I had in mind! Even the colors remind me of my quilt pieces, only they are solids not prints.

I think this idea might end up working real well!

Should I try to plan out the colors or should I just make it a random pattern?

------
Six Elna Lotus/Stella sm [kid's sewing classes]
Elna 33C SP sm, Pfaff 1473 CD sm, Viking 6030 sm, Singer Sphinx 127 sm, Singer Lotus 127 sm, Bernina 830 Record, Nelco J A-38 sm, Necchi Lelia 515 sm
http://leoladyshousecollectiblesandgardens.blogspot

CM_Sews

California USA
Member since 9/18/04
Posts: 1945
Skill: Intermediate





Date: 10/9/12 11:00 PM

Quote: Leoladysw

Should I try to plan out the colors or should I just make it a random pattern?


You can do it either way - "random" where you try not to have the same color next to each other (although sometimes it can't be avoided - and that is fine, it's part of randomness), or planned, for example this brick quilt where the bricks of each color are offset so that you end up with "zig-zags" on the diagonal.

If you have the space, lay out all your bricks and move them around until you like the design. I don't have a design wall, but I have put a flat sheet on the floor (you can also use a blanket or table cloth or any large, flat textile), then arranged my blocks there until I liked the design. Sometimes it helps to arrange, then leave it for a day, then come back and look at it again. You can roll up the sheet with the bricks on it, too, and preserve your arrangement as you work on sewing the bricks together.

CMC
Leoladysw


Kansas USA
Member since 6/14/12
Posts: 160
Skill: Intermediate



Date: 10/10/12 8:36 AM

Thank you CMC! You lhave been real helpful!

------
Six Elna Lotus/Stella sm [kid's sewing classes]
Elna 33C SP sm, Pfaff 1473 CD sm, Viking 6030 sm, Singer Sphinx 127 sm, Singer Lotus 127 sm, Bernina 830 Record, Nelco J A-38 sm, Necchi Lelia 515 sm
http://leoladyshousecollectiblesandgardens.blogspot

lgrande


Montana USA
Member since 1/18/12
Posts: 2383
Skill: Advanced Beginner





Date: 10/10/12 9:37 AM

I love the 'brick quilt' design. I don't think I've seen this before.
So simple yet really, really good-looking...and those colors are perfect.
I actually prefer more simple lines in MY quilts and they are easier as well.
Is this a quilt that you've made? It's so nice.

------
Linda
Everything's within walking distance if you've got enough time. - Steven Wright

Bernina 830LE - Brother Dreamweaver VQ3000 - Bernina B530 - Janome 6600P - Pfaff 1209 - Babylock Evolution - Janome 644 - Babylock Sashiko2 - Babylock BLCS-2

CM_Sews

California USA
Member since 9/18/04
Posts: 1945
Skill: Intermediate





Date: 10/10/12 3:20 PM

I have made a quilt top (eh, not quilted yet) using this design. My SIL gave me a stack of 30's repro fat quarters, and I cut them into 3 1/2 x 6 1/2 bricks (and some 3 1/2 x 4 half bricks), and figured out how many bricks I had in total to determine how many bricks long each row needed to be. I sewed them into strips, more or less mixing them up so that the same fabrics weren't too close. The size and layout was determined by how many fat quarters I had, and how many different fabrics.

Then I draped the strips over my stair railing and moved them around until I was satisfied. I could flip the strips end-to-end if I didn't like how they lined up with the row "next door". There were some fabrics that were next to the same fabric and I made an attempt to distribute those spots more or less evenly over the quilt. Looked just fine.; there really isn't a "rule" about fabrics not touching, I wanted them as "mixed up" as was possible.

Then I sewed the rows together. The most matching that you do is to match the brick seam to the middle of the brick next to it. That way, the seams line up every other row; it does help to pin. But, it's not a super critical match - if you miss it by a little bit, no harm done.

It is a very attractive design, isn't it? When you look at it, your eye travels over the quilt, picking out different bricks that catch your attention. You can make the bricks go horizontal or vertical. It lends itself to simple quilting designs, too; an edge-to-edge pantograph, meandering, stitch-in-the-ditch, simple straight line cross hatching, etc.

You can make the bricks any size. I think they look best when the finished brick is half as high as it is long: 3x6, 4x8, etc.

Eleanor Burns (Quilt-in-a-Day) uses a variation of this technique for her Quick Trip Quilt pattern. You can watch a QiaD episode (#3101) here where she demos the technique. She sews fabric strips into tubes, sub-cuts the tubes, then opens the tubes at different spots to make the colors offset into the "V" pattern. It's an easy technique that gives a very dramatic result. One of these Quick Trips is in my future, I think.

CMC
Printable Version
* Advertising and soliciting is strictly prohibited on PatternReview.com. If you find a post which is not in agreement with our Terms and Conditions, please click on the Report Post button to report it.
Online Class
Fun with Fitting - BODICE w Darts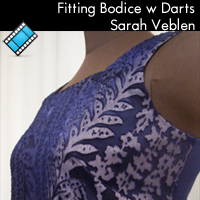 Online Class
Altering Jackets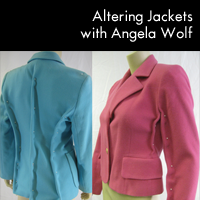 Vogue Patterns 2463

by: nanneke
Review
Macphee sewing workshop #66

by: VintageTem...
Review
Islander Sewing Systems Men's Designer Dress Shirt Pattern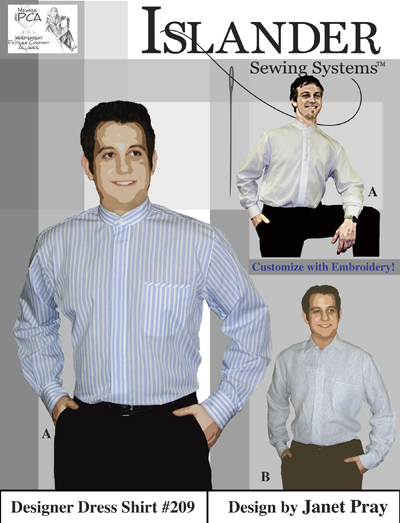 Pattern Details
SewBaby Easy Pieces Pants Pattern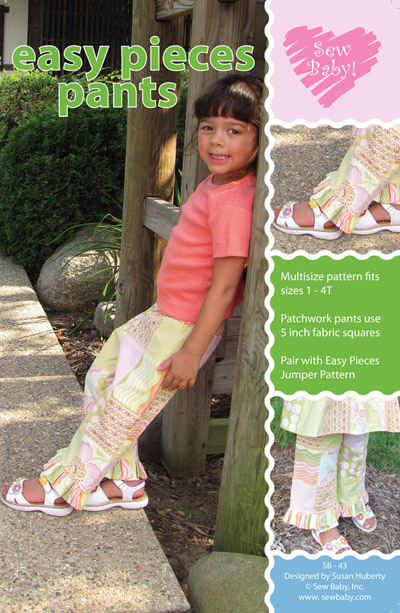 Pattern Details