prostheticsgirl


Ohio USA
Member since 3/6/12
Posts: 59
Skill: Intermediate



Date: 10/30/12 5:10 PM

This request is regards to a dress I recently made and posted a review for. I think the dress looks better in person and the picture angles and flash seem to exaggerate the fit issues. This is kind of good though, because hopefully it will help with the diagnoses. I'm hoping to address these as I would like to adapt this pattern into an unoffical sloper (plus a well fitting shift dress is such a great piece).

To me it appears to wide across the front between the shoulders and maybe a little narrow in the back across the shoulder blades (or is there inadequate fullness in the sleeve bicep), or do I have a hollow chest, then again I think my armpits could be hungry and are eating the sleeves?

https://plus.google.com/photos/104402163102626834135/albums/5803776846396545201/5803776858891901218?authkey=CMe4gfjF1aPCrAE#photos/104402163102626834135/albums/5803776846396545201?authkey=CMe4gfjF1aPCrAE

skae


Member since 4/23/07
Posts: 3595
Skill: Advanced





In reply to prostheticsgirl <<

1 member likes this.



Date: 10/30/12 5:22 PM

here's a little help.



more pictures.
Hope we'll get you some answers

------
Ecclesiastes 11:7,8 Nothing on earth is more beautiful than the morning sun. Even if you live to a ripe old age, you should try to enjoy each day, because darkness will come and will last a long time. (CEV)


prostheticsgirl


Ohio USA
Member since 3/6/12
Posts: 59
Skill: Intermediate



Date: 10/30/12 5:31 PM

Thanks! Not sure how you did that (this is my first time posting in this section) but thank you for the help. Also I should have *oops* but didn't iron the dress for these pictures and am not wearing appropriate ahem undergarments. Yes there is underwear under there, but it is sub-optimal
-- Edited on 10/30/12 5:57 PM --

Re Becca


Member since 9/12/05
Posts: 2217
Skill: Intermediate



Date: 10/30/12 5:39 PM

I think it looks really good, you have almost convinced me to get this pattern (don't have your figure, the tiny waist makes it) and I think its pulling under your arm kind of like you need and FBA.
Not an expert, so I can't wait to see what more expert people have to say.

------
http://beccabeckstuff.blogspot.com/

Damn the muslin, full speed ahead!

Courtney Ostaff

West Virginia USA
Member since 11/23/10
Posts: 664
Skill: Intermediate





Date: 10/30/12 5:41 PM

To me, the shoulders are a little big. I know it's difficult to do this for yourself, but if you could handsew the sleeve on, I think you'll find that your sleeve cap and armscye is a bit big on top.

OTOH, I think the bust is a bit snug, which is exaggerating the shoulder issues. If you let out the bust a tad, I think the shoulder issue would essentially disappear.

I also think it's a bit snug across the upper thighs and and the lower back. Of course, some of that snugness is personal preference. IMHO, I just like smooth lines on those.

prostheticsgirl


Ohio USA
Member since 3/6/12
Posts: 59
Skill: Intermediate





In reply to Courtney Ostaff <<

1 member likes this.



Date: 10/30/12 8:45 PM

I'm only a B cup, so is a FBA likely?

As I stated, I'm not wearing the proper undergarments under the dress and it's not pressed. The skirt and lower bodice fit are fantastic, even if not evident from the photos. Originally the bodice and skirt were larger, but they also looked a bit baggy, and the shoulder issue was still present. This is supposed to be a sleek design without extraneous ease. I watch my diet and work out, so don't want to hide all that work under a sack. In reality it is very fitted but not tight
-- Edited on 10/30/12 8:53 PM --

tinflutterby

California USA
Member since 8/9/11
Posts: 311
Skill: Advanced



Subject: Not sure whats wrong and not sure how to fix it! Date: 10/31/12 2:21 AM

I would measure your bicep and see if the pattern gives enough ease. It looks tight to me. Also does the shoulder seam follow the top of your shoulder which looks like it may round forward a bit. removing extra from the front and adding it to the back of the shoulder may fix the wrinkles under the arm into the bodice.

petro


France
Member since 6/24/07
Posts: 2851
Skill: Advanced



Date: 10/31/12 3:45 AM

It looks good, you may not want to do major surgery to fix the wrinkles, but if being pernickety I'd see if taking a small amount of the length in the back pieces at the waist fixed the wrinkle there. I get these if I don't chop a good half inch off the back of the bodice and skirt back in the centre, smoothing it out to the side seams. If you're sure the bust doesn't need further ease, as in FBA, then I'm thinking that something is up with the area underarm to shoulder on the bodice. It could be that the sleeve is too tight at upper arm as suggested, and pulling at the bodice fabric, but it might just be that there is too much length from underarm to shoulder tip, say the pattern is drafted for a slightly squarer shoulder than you have. Try sliding a pad of cloth under the end of the shoulder seam and seeing if the wrinkles change. From th photo there appears to be more fabric than needed in the length shoulder to front balance mark on the bodice, but perhaps not enough width somewhere in the underarm or sleeve top arm measurement. You have clipped your seam allowances on the sleeve btw? All that aside though, it does look good and I doubt if anyone is going to focus on the slight wrinkle problem.

------
http://patternpandemonium.wordpress.com/


beauturbo

California USA
Member since 5/2/09
Posts: 4409
Skill: Advanced





1 member likes this.



Date: 10/31/12 4:24 AM

I think the arm holes seem too far out and away from your body, and they actually should be cut in maybe on a ready to wear dress you might be more happy with at least an inch or an inch and a half more inwards towards your body. I think maybe because of that, that is why you are getting the tightness and pulling on your sleeves, and the wrinkling there, because up to a point/certain degree just having the arm hole cut close to your body, actually gives you more freedom of arm movement. I think if you lifted your arms, it might show even more.

I actually think, if possibly you had picked a size smaller for the bodice, that might have fit your shoulders and arm holes better, (brought them inwards a bit) and bring the armholes into closer contact with you there, and then maybe the sleeves would hang better, and give more freedom of movement. Try lifting your arms all the way up and then also bring them out in front of you and if you feel you are restricted doing that, and fabric pulling on you, then maybe that might be the case.

If it was a size smaller for the top, you might have to let it out a bit on the sides, or take a smaller seam there, but maybe that might even be better? You would probably just have to try it on some scrap fabric test to see maybe.

I'm sort of a stickler for not ever having restricted arm movement for me, in a arm hole or a sleeve, as it just bugs me, and I actually buy a size 12 pattern most of the time just because I know it will fit my shoulders and arm holes, even though if I actually went by the size in inches on the back of a pattern I would probably be more a 14 or even sometimes larger there. But I just happen to know, just by lots of stuff I have made, the size 12's in the bodice gives me the cut under the arm holes and through the shoulders I like a lot better and more freedom if movement actually.

My chest measurement would be maybe 36 1/2 or 37", so yes that is actually way over what is listed as normal measurement for size 12, but I still don't have to alter it there either. You did not say your measurements and size of pattern so kind of hard to guess what yours might have been.

If you just even made a pretend, temporary pinned tuck/fold in the middle of the shoulder seam even, you might be able to bring the arm hole in closer, and get the very top of the sleeve cap more on the top of your shoulder and test out what that might do then? I'm not sure about the back though, or what that would do to it there then, as you actually have muscles in your upper back in a way that I do not, and I don't have much to compare fitting issues with, except for my own clothes on myself.
-- Edited on 10/31/12 4:46 AM --

Miss Fairchild


USA
Member since 8/24/02
Posts: 7936
Skill: Advanced



Date: 10/31/12 9:32 AM

Measure from the base of your neck out your shoulder to the knob. Measure on the dress from the collar out to the sleevehead and subtract an inch (the collar sits about 1" away from your neck). Compare the measurements. I would bet that your shoulders are about 1 to 1-1/2" shorter than the shoulders on the pattern.

Second, the first glaring thing I saw was the gape in the shoulder area near your neck. If you don't have protruding shoulder blades, which might move this area up, you might want to check the angle of your shoulder. I would bet your shoulder slopes more than you think. To me, it looks like you need to take up about 1" at your neck area, tapering to nothing at the sleeve.

Also, if you look at your right armpit. Those diagonal wrinkles are pointing toward your shoulder, telling you this is where they want to go. If you were to pull up a little on the outside edge of your right shoulder seam, on the front only and without the sleeve in it, these wrinkles will disappear. I am familiar with this problem as my right shoulder moves forward more than my left and the wrinkles on me are very common.

As to the center back, it looks to me like you have a high round back, because this area shows brightest in the photo. It seems to be right across where your shoulder blades are, and that is what is creating the pulling wrinkles at your waistline. I would slash this area across the shoulders and spread it about 1/4 to 3/8" in the CB tapering to nothing at the sides.

When you go to make this dress again, make a half muslin (cut out the main pattern pieces to just the first notch) to see where your shoulders sit in the pattern and make the adjustments to the shoulders. Because everything (except the high round back) hangs off the shoulders, even the fit of the sleeve can be off if the shoulders aren't right.

Other than than, this dress looks stunning on you! Great choice!

------
"Play the cards you are dealt, but choose who is sitting at the table"..AARP magazine

SEE MY ETSY SHOP HERE: http://www.etsy.com/shop/AuntMaymesAttic
My blog: http://auntmaymesattic.wordpress.com/
Printable Version
* Advertising and soliciting is strictly prohibited on PatternReview.com. If you find a post which is not in agreement with our Terms and Conditions, please click on the Report Post button to report it.
Online Class
All About Buttons and Buttonholes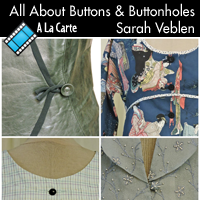 Online Class
More Knits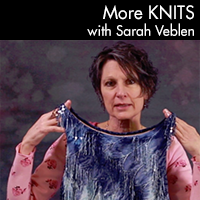 Other Gerties NBBS Shirtwaist

by: sew dooley
Review
Victoria Jones Collection Happi Coat & Hanten (230)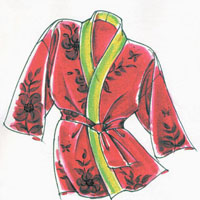 Pattern Details
Sew Chic Clara Bow Apron Pattern (ln102)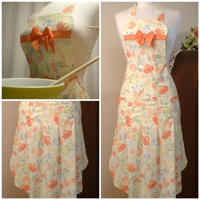 Pattern Details
McCall's 6556

by: Sewchicase...
Review