AdaH


Iowa USA
Member since 11/21/09
Posts: 2500
Skill: Intermediate



Date: 11/29/12 10:04 AM

I have been reading a book about dyslexia called "The dyslexia Advantage". I figured out in my late 20's that my brain works differently but did not know what exactly was different about it. I knew that I could not spell and math was a problem. Short term memory was also a problem. I learned to work around these problems and by the time I hit 40 was in a well paying job that I enjoyed and that I was very good at.

I don't fit all the criteria for dyslexia. From what I have been reading, learning to read is usualy a problem for people who have it and I have been a voracious reader starting in about 7th grade, so am not sure if this is the right answer to why my brain is different.

Dyslxia wasn't something that people thought about when I was in school so I was always in the "slow' group. It took a long time to figure out that just because I couldn't spell very well and math was never going to be my strong suite doesn't mean that I was stupid.

I would enjoy hearing what has worked for you. Techniques you have found helpful!



------
Ada


Michelle T


British Columbia CANADA
Member since 8/24/02
Posts: 4640
Skill: Intermediate





Date: 11/29/12 10:30 AM

My oldest son is dyslexic and a math whiz. But math got hard when he had to do word problems.

There was program on CBC Radio a couple weeks ago talking about a newly developed font Radio Show for people with dyslexia.

For my son we used a template that only allowed him to see one row of text at a time. That made it easier for him to concentrate on a small part at the time.

There are a great many different reasons for a person to have a hard time learning different things in school. I did not learn to read until the 3rd grade. I am not dyslexic, I was never diagnosed with a specific learning disability, I just could not learn to read by the methods they taught in the 1970's.

Grade 4 and 5 were okay.

In the 6th grade I did very poorly in school, why? I could not see the blackboard. Partway through grade 7 I got glasses and wow I could see to do my work.






------
Proud parent of a Dwight International School Honour Roll Student

bessiemae

Ohio USA
Member since 4/15/06
Posts: 275
Skill: Intermediate

1 member likes this.




Date: 11/29/12 11:56 AM

Everyone in my house has some degree of dyslexia. HUGE genetic link. 18 yr old has my typical type of switching numbers and letters, difficulty tracking while reading. Fierce 15 has a particularly insidious type that runs in DH's family which not only reverses letters/number, but also severely hampers reading/processing written language. He does NOT process phonics. However, he has amazing verbal, spatial, and mental math skills with perfect auditory memory. Could read music well before he read words. Just the way he is wired.

18 found compensatory skills and has done exceptionally well in school and is recruited by Ivy League, but has gravitated toward hands-on coursework. Fierce 15's school experiences have been, at best, a mixed bag. He has a 504 Plan ( like an IEP, but for those whose health or learning issues do NOT place them 2 standard deviations from expected performance) which stipulates that he be permitted to do all his work on computer, less stringent grading on spelling ( however, he is a grammar/punctuation fiend!), and extended time on all testing, including ACT/SAT. Unable to use phonics ( sight reader), he reads slowly, so he did his AP English Summer reading back in June....and did annotations in Google Docs.....and re-read it in Aug....just in case. Crazy huge verbal vocabulary and exceptional reading comprehension, but very slow reader.

18 has been accepted into one of the top Chemical Engineering/Polymer Science programs on the planet. No hyperbole, the program is that good. Fierce 15 is edging towards an entrepreneurial career in artisan crafts: glass blowing/ceramics/or high end furniture. His sculpture is breathtaking!

We are the House of Measure Twice, Three,....Maybe Four Times...Write it Down....Measure Again....THEN Cut!




------
Brother Innovis NX650Q; Brother Nouvelle 1500; Brother CS6000i; Brother 1034D; Janome 1000CPX

AdaH


Iowa USA
Member since 11/21/09
Posts: 2500
Skill: Intermediate

1 member likes this.




Date: 11/29/12 4:24 PM

Michelle T and bessiemae I am so glad you responded. I learned there was a name for how my brain woked a few years ago. I am not sure why it was such a relief to find a name to attach to how my brain worked, but it was. I learned to cope with it on my own but the journey was long and difficult.

The book I mentioned has many examples of people who have the same talents as bessiemae's children. So amazing.

------
Ada


elizajo


Louisiana USA
Member since 4/15/05
Posts: 1265
Skill: Intermediate



Subject: Lets talk about dyslexia Date: 11/29/12 5:00 PM

AdaH,
My DD is age 30 and has cerebral palsy. It would have been easy to "label" her early on with multiple disabilities, both physical and learning, but I resisted so that she could be mainstreamed. Turns out that she is dysgraphic, not dyslexic. She has trouble with spelling, handwriting, numerals, and spatial concepts.

With help through the IDEA act in K-12 and 504 plan in college, methods were found to teach her. As a child, she needed a scribe or oral testing until she was about ten. By that time she could manage her own printed scrawl with the letters formed backwards, but never could master cursive due to the connections.

By college, she got extended time for testing in the student resource center, she could request a scribe if needed, but she never did. She also needed some types of problems presented in larger format so that she could work out the spatial concepts easier, ie fractions, graphs, and sentence diagramming. As a side note, she needed help from her college friends for several months getting to class because she would get lost easily. After that she could find her way independently.

Dysgraphia is much less recognized than dyslexia, so it was more difficult to find knowledgeable educators, etc. to work with her. My spellchecker isn't even recognizing it, so I'm either misspelling it or it's that uncommon!

Now she has her masters degree and spends her days running the student resource center for a local college.
-- Edited on 11/29/12 5:01 PM --
P.S. Because of her physical disablity, she worked with occupational therapists. What they did with her overlapped into working with the dysgraphia. She did many hours of directional/spatial training.
-- Edited on 11/29/12 5:03 PM --

------
Elizabeth

Kim12469


Member since 3/27/08
Posts: 2482
Skill: Intermediate
Body Type:


1 member likes this.




Date: 1/24/13 10:54 AM

I just found this thread. I am having my DS, 10, tested for dyslexia next week. I am reading the book too about Dyslexia Advantages. I should have listened to my gut 5 years ago when my DS entered school. I knew something was off. He was a very smart kid with an amazing vocabulary and spatial perception who could not write, say his alphabet or tie his shoes. He still can't tie his shoes well, mixes up his letters and still has trouble with left and right among other things associated with dyslexia. He also has dysgraphia I believe, but with great effort can write legibly. He spends so much time though trying to do those tedious things like spell and write that he misses out on so much learning. He is exhausted when he comes home from school.

I'm actually excited for him to get the diagnosis which I think is a formality as does the private tester we are going too. He already has a 504 for ADHD so we will just add some other accommodations to that. I am finding the school very frustrating though because they want to call him Learning Disabled and quite honestly I don't think he is disabled. I think he is different and just because he doesn't fit in their box of how to learn, they want to shove him there. He is smart enough to have gotten by all this time and even make honor roll last quarter so I doubt he will meet testing criteria anyways.

I'm happy that we have something now to work with instead of him constantly being told he needs to work harder. I can't imagine anyone working harder than he has. Poor kid has been so frustrated! I'm excited to hear about the successes of dyslexics. My DS is very visual and solves difficult math problems in his head. I see him being successful in engineering or architecture or something like that.

------
http://kimsewsilly.blogspot.com/

AdaH


Iowa USA
Member since 11/21/09
Posts: 2500
Skill: Intermediate





Date: 1/24/13 11:37 AM

So glad you are getting DS tested. I often wonder what life would have been like for me if they had tests back in the day and could match the learning style with the teaching style.

One of the biggest things would have been learning that I was not "slow" but learned in a different way. That would have changed the way I thought about myself.

One other thing about being in the "slow" group, it taught me how to get along with a lot of different types of people. All the kids who had one type of problem or another were put in the "slow" group.



------
Ada


JJane


Canada
Member since 10/30/10
Posts: 2778
Skill: Advanced Beginner

2 members like this.




Date: 1/24/13 12:13 PM

I have well above average IQ (allegedly ) and yet school was torture for me, especially University. I have an extremely odd learning style.

I learn next to nothing if all the teacher does is stand at the front of the class and talk/write on the board. When I was growing up, most schools are set up to "teach" in this academic format where the teacher talks and you listen/learn. I spent my high school and university years sitting there and then going home and teaching myself. Mostly straight A's.

I also did not do well in any class where all you did was memorize the material and dump. I had to actually understand how it worked and why and be able to think it through. English / liturature classes were expecially hard for me even though I loved to read. I could not just parrot any one else's opinion - like my professors.

I also thought some things were just so obvious that what is there to say about them - in a ten page essay no less? Writing about some of the topics assigned was like trying to write an essay on the merits of tying your shoes properly. It was torture for me to write a paper. Part of the problem, is that I also tend to think in symbols and feelings rather than words. Sometimes what I am thinking is hard to put into words. Works well for math but for other subjects not so much.

Is this dyslexia or a learning disability? I don't know. I just know that I was lucky in that I loved to learn and was independent and able to do it on my own. I think that if a child is like me and isn't able to teach his/her self they might not fare so well and be labeled as having a learning disability.



------
Canadian Jane, now Jjane, much shorter and easier to use.

bessiemae

Ohio USA
Member since 4/15/06
Posts: 275
Skill: Intermediate





2 members like this.



Date: 1/24/13 12:42 PM



BTDT.

" He needs to work harder" makes me soooo

also, " You obviously didn't read to him/her enough...."

Really???

By all means get the diagnosis. Add it to the 504 or IEP. And embrace the " Learning Disability" label....yeah, it's a "label", but it also comes with added services your child may need in different educational settings as he ages. For us, it's been a godsend.

Our severely effected 15 yr old repeated kindergarten for reading issues. We just call it K1 and K2. For years, he was horribly embarrassed by this....he preferred the taunts of other students to admitting his learning issues. However, now in high school, he is very pleased with his 504 plan. He is quite open about his unique learning challenges and adroit in advocating for himself.

" As a dyslexic, when others get 'lemons', I have 'melons'."

He's in advanced history and english classes. Everything else is college prep. Their term finals were last week. " I was really sweating the character analysis [essay] on that short story we just read. I actually asked to use my extra time. I was there an extra hour. Everyone else finished and left. Just the teacher who hates me and that evil essay. No pressure, right? " His essay earned an A.

Snarky, but....

A few days ago, I was talking w/ 15 re: why he's so secretive with his friends about his music. " You need to open up and share more of your world with them..."

Dad aka Mr Sarcasm, pipes up, " We can hit 'em in the head with a pool cue and they can experience the World of Learning Disabilities! And then they can ALL Try Harder!"

It was really difficult for us to deal with schools and advocate for him, initially, as he is very social, very bright, very funny, very talented.....but could not read or spell. Certain teachers and peers made the journey much more arduous than need be. However, those experiences tempered a steely resolve and resilience in the boy.

Trying Harder means 15 is an Honor Roll student.....he is never disruptive at school because he has to listen so closely to learn.....he's on track to complete his Eagle Scout this year.....he's a standout lacrosse player....he's interning as an outdoor leadership guide.....accomplished jazz guitarist.....award winning artist...not prone to peer pressure. And while he strongly dislikes reading, pretty keen on Audible.com.

Your Mileage May Vary, but Trying Harder, heartbreaking for parents and exhaustive for kids, is a priceless life skill for adulthood. Check out " How Children Succeed: Grit, Curiosity, and the Hidden Power of Character" by Paul Tough. The book is not specifically about learning disabilities, but challenges and tool kids need for success.

Good luck, and let us know!




------
Brother Innovis NX650Q; Brother Nouvelle 1500; Brother CS6000i; Brother 1034D; Janome 1000CPX

bessiemae

Ohio USA
Member since 4/15/06
Posts: 275
Skill: Intermediate





2 members like this.



Date: 1/24/13 12:59 PM

Quote: Canadian Jane

I also thought some things were just so obvious that what is there to say about them - in a ten page essay no less? Writing about some of the topics assigned was like trying to write an essay on the merits of tying your shoes properly. It was torture for me to write a paper.


LOL! Last term, 15 wrote a detailed, citation- heavy analysis of a short story. It was " tight", carefully edited. No word count, so he addressed each point on the rubric and tied it up in about a page and a half. He was sick with anxiety, as when the others turned in their essays, most were 5-10 pages.

He earned an A on that assignment, much to the protests of the more verbose students, whose work was not as highly graded.

"Well constructed brevity," teacher commented.

------
Brother Innovis NX650Q; Brother Nouvelle 1500; Brother CS6000i; Brother 1034D; Janome 1000CPX
Printable Version
* Advertising and soliciting is strictly prohibited on PatternReview.com. If you find a post which is not in agreement with our Terms and Conditions, please click on the Report Post button to report it.
Online Class
Restyling with Exposed Zippers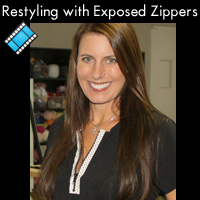 Online Class
The Contemporary Couture Jacket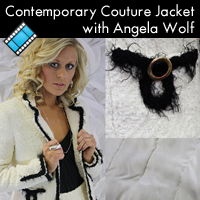 Deer&Doe Plantain T-shirt

by: Muggiesew
Review
Ottobre Woman Magazine 05-2012-03

by: Elizabeth ...
Review
Petite Plus 605 Pattern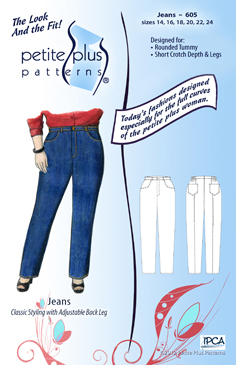 Pattern Details
Sewing Workshop Eureka Top & Skirt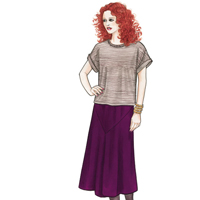 Pattern Details