lisalu


Member since 10/5/08
Posts: 2758
Skill: Advanced Beginner

5 members like this.




Date: 12/2/12 4:40 PM

I want to make a little rant/observation about my own experience and wonder who else has the same experience. I'd especially be interested in hearing the viewpoint of anyone who works in the medical field.

The last two doctors I've had I have ditched, and both for the same reason which is that you CANNOT speak with them on the phone. N.E.V.E.R, No How/No Way. If they have information to relay to you, they have their staff call and tell you as in the following:

Nurse: "Your blood test results are in. Your cholesterol is 250. That is too high so Dr. XYZ is prescribing a statin drug for you to take every day for the rest of your life. Have a nice day."

Me: "Wait! Can I discuss this with Dr. XYZ? I have never been on any medications before and I have questions about this."

Nurse: "No, Dr. XYZ doesn't speak with patients, that is my job. But you need to start on this drug right away because she said so."

Me: "I'm sorry, but that doesn't cut it for me."

So then trying to find another physician I call a very highly recommended doctor and have the following conversation:

Me: "Hello, are you taking new patients?"

Staff Gal: "What insurance are you on?"

Me: "Please answer MY question first. If you aren't taking new patients then what does it matter what insurance I'm on?"

Staff Gal: "Well it depends on your insurance."

Me: "Okay, I will be paying with cash, not insurance. Now I'd like to schedule an appointment to meet with Dr. ABC and talk about general issues to see whether your practice will meet my needs. I will pay for the appointment of course."

StaffGal: "I'm sorry, but Dr. ABC doesn't do 'Meet and Greet' (this is said in a sneering tone of voice.) You must schedule a complete physical in order to meet her."

Me: "I want to meet her first, I don't want to schedule a complete physical (I just had one anyway) unless I decide to choose her as my doctor".

StaffGal: "Sorry, that can't be done".

Okay, then, that answers my question. Dr. ABC is definitely not for me. I'm not trying to see the Great and Powerful Wizard of Oz, for gosh sake, I'm just trying to SPEAK TO A DOCTOR!

Now I have a dentist who I can call or email personally at any time. He will call or answer me PERSONALLY right away, nights, weekends or whatever. If I have a complicated procedure, he will call me PERSONALLY the next day to see how I'm doing.

This isn't an old, small town, horse & buggy dentist either. He is a young dentist in a busy suburban practice. But he is available to his patients whenever needed. His staff makes appointments and handles paperwork, but he is the one who responds to questions and follows up with his patients.

Good Lord, even my veterinarian will talk to me on the phone and do follow up calls when my dogs are sick! Should I, as an actual human patient, expect less from my physician?

Sorry for the lengthy post here, but my question again is why do doctors think they are above and beyond speaking with us mere mortals (aka their patients), while dentists and veterinarians typically see it is part of their job to personally respond to patient questions and concerns?

NottaWadder


Member since 6/17/12
Posts: 409
Skill: Advanced Beginner

3 members like this.




Date: 12/2/12 5:50 PM

There is no doubt that finding a good doctor, and one that you also like, is near impossible. I find that most doctors are ok until you decide to have your own opinion.

I am currently very lucky to have a wonderful rheumatologist and my GYN doc is fabulous too. But it took me a long time to find them and I get scared whenever I think back to other doctors I have really liked who have moved onto other cities or left my insurance.

Anyway, both of my docs above listen to me and let me have a say in my own treatment. Without that, I would be moving on to another doctor. I do not currently have a family doctor because I just cannot find one who does anything but see me, charge me and then send me to someone else. Fortunately our current insurance does not require referrals.

My last family doctor (an internal medicine doc) actually

fired me

because he did not agree with the treatment plan that my rheum doc and I decided on.

I better stop now. I could rant and rave about this topic for HOURS.

------
My machines (down to 2 now, from 5):
Sewing Machine - Quantum 9960
Serger - Baby Lock Ovation

khurtdvm


Member since 8/6/04
Posts: 542
Skill: Intermediate

5 members like this.




Date: 12/2/12 6:05 PM

I'm speaking about this as a veterinarian, so I may be somewhat biased.

But successful veterinarians have learned that they HAVE to have good customer service, or their clients will leave them for the practice down the road. We know that very few of our clients have pet health insurance (although the numbers are slowly changing), and when you are asking people to spend hundreds of dollars out of pocket, you'd better be able to explain to them why it's necessary. I think that dentists have a similar issue, because most dental insurance still requires people to pay out of pocket costs for anything beyond the most basic care (cleanings and occasional x-rays). Most regular doctors, on the other hand, are covered by insurance, except for your co-pay.

This results in two problems - one *can be* that they haven't had to face the reality of giving good service or seeing their patients leave. The other is that their fees are dictated by the insurance companies, and so they have to see more and more patients in a day, just to get whatever $$ are required to pay their overhead and their salaries. (And they accept the insurance companies' dictates because that is a way to guarantee that they will get paid.) To be fair, it makes strictly financial sense to have a lesser-paid nurse do all the patient communication, freeing the more highly-paid doctor to continue seeing patients. Unfortunately, the nurse really isn't the reason you see the doctor. (As an aside, I have encouraged all my friends who leave doctor's practices because of the treatment they've received from the support staff or even the rudeness of the doctor themselves, to write a letter to the practice outlining their reasons for leaving. If you don't tell them that they're horrible at customer service, they'll never change.)

For myself, I will put up with brusqueness from surgeons, because I rarely need them. (Not outright rudeness - I have called them on that.) But as far as the regular doctors that I see - pediatricians for my kids, family practice and gynecologists for myself - I definitely take customer service into account. The pediatrician who cared for my son during a week-long stay in the hospital (pneumonia) gave me his personal numbers when we left the hospital that Friday, in case there were problems over the weekend, since it wasn't his weekend on call. As you can imagine, I subsequently recommended him to several friends who were looking for pediatricians.

------
khurtdvm
http://drclements.blogspot.com

simplystitches

Member since 2/12/06
Posts: 2487

3 members like this.




Date: 12/2/12 6:47 PM

The approach I that I take is to talk to the doctor at the appointment when he schedules me for blood work about results and what they will mean. New meds for results? How? When? Why? I ask it all before the results call so that when I do get the call I know what's what. Plus my doctor is very good about discussing results and possible treatments before he sends me for tests.

On the occasion that I've gotten the call and still had questions I've scheduled another appointment to see the doctor to discuss it. Yes another charge or co pay depending but it's worth it for my peace of mind.

As far as "auditioning" doctors I can see their point. Try asking friends, relatives anybody you know how they feel about their doctor. That's how I found mine and I absolutely love him as a doctor!

Debbie

PattiAnnJ


Ohio USA
Member since 12/3/06
Posts: 9220
Skill: Advanced

6 members like this.




Subject: Why do some doctors think theyre God Almighty... Date: 12/2/12 6:54 PM

Don't worry. Be happy. Obama care will make it all better.

If you want to talk to the Doc, make an appointment.

As for medication, the pharmacist knows more about the actual medicine than the Doc.

------
OLD CHINESE PROVERB: I HEAR & I FORGET; I SEE & I REMEMBER; I DO & I UNDERSTAND.


dresscode


Member since 7/28/04
Posts: 2744
Skill: Advanced

2 members like this.




Date: 12/2/12 7:15 PM

I just tried to make a "new patient with good insurance" appointment with a dermatologist. They said they didn't have an appt until next April. I hung up and called a past derm that I don't particularly like.....appt on Monday.

I have lived in this city five years and have found it to be a slow process getting a team together.

You're right....my dental team ( dentist, hygienist, oral surgeon, and orthodontist are all great.....they call at end of day to see how I am doing and actually talk with each other.

If you have concern about a prescription just wait til next appt. The front office is not a medical staff.....tell the immediate nurse you aren't taking the meds until the doctor calls you back.

-- Edited on 12/2/12 7:17 PM --

poorpigling


Texas USA
Member since 12/28/07
Posts: 11074
Skill: Advanced



In reply to lisalu

Date: 12/2/12 8:33 PM

I am so going to use that line about not wanting to meet ''The Great and Powerful Wizard of Oz.. '' How appropriate.. Can't wait to hear a reply to it..

Its not you we all run into this with Doctors. I love my vet and my dentist.. but not so much my Doctors.. I did like my surgeon though. Although admit I so hated my other specialist I never returned..

Keep looking.. and I too agree the pharmacist gives the best advise and information regarding any medications.. Much more information than your Doctor has time to give you even if he did know about the meds.



ryan's mom


Member since 11/30/04
Posts: 5472
Skill: Advanced

1 member likes this.




Subject: Why do some doctors think theyre God Almighty... Date: 12/3/12 6:56 AM

I can't really answer the question, but just commenting I've become somewhat disillusioned with doctors the past few years. From seeing a horrible report with a zillion typos that changed the meaning of diagnosis and cause (I personally had to type of the corrections which was subsequently added as an addendum to the report) to misdiagnosis of both my daughters which necessitated second opinions both enduring months (or over a year in one child's case) of pain.

There are some very good doctors out there and some that are simply not so good. I wish there could more email interaction between doctor and patient if they don't take phone calls. However, I realize how doctors are very busy, so I'd at least be happy with a nurse practitioner responding to questions. General office staff no, but nurse practitioner yes.

------
Big 4 Pattern size 12, RTW bottom: 6, RTW jacket 8, RTW top (no size fits me well!)
Measurements: 34 HB/36 FB (34C bra)/27.5/36 (and working hard to keep it that way.)
Machines: Sewing: Elna 760, vintage Kenmore Model 33 (1967), Janome Gem Gold 3, Singer Model 99, Singer 221/Featherweight, Bernina 1630. Sergers: Babylock Imagine and Babylock Ovation. Embroidery Only: Janome 300E. Embroidery/Sewing Combo: Brother Dream machine. Coverstitch: Babylock BLCS. Straight Stitch: Janome 1600P.

My blog: www.phatchickdesigns.blogspot.com

lisalu


Member since 10/5/08
Posts: 2758
Skill: Advanced Beginner

2 members like this.




Date: 12/3/12 8:24 AM

Quote:
But successful veterinarians have learned that they HAVE to have good customer service, or their clients will leave them for the practice down the road. We know that very few of our clients have pet health insurance (although the numbers are slowly changing), and when you are asking people to spend hundreds of dollars out of pocket, you'd better be able to explain to them why it's necessary.

Very good point! And as a self paying patient for myself, I also want an explanation for tests and prescriptions that I am not convinced are absolutely necessary.

Why do I want to "audition" (I prefer to think of it as "interview") a prospective doctor? It is because I prefer to take a conservative approach to medications. In the case of the statin script, for example, I'd rather try dietary changes and supplements first, after discussing my actual, personal risk for heart disease with my doctor. That is not something my pharmacist can address, I'm paying my doctor for that analysis.

I don't want a doctor who treats me as a "protocol" (actual word used by the nurse, BTW!) i.e., "Your cholesterol is over 200 so you are on statins. End of discussion."

(I'm not debating statin use here, but just using it as an example.)

And I'll also point out that it is not unheard of for me to ask to meet a doctor prior to selecting him/her for my personal physician. My DIL works for a Pediatric practice that absolutely does that, in fact they encourage it. What is wrong with wanting to meet a doctor to see if his/her practice shares my health care approach and will meet my personal needs? This is someone who will be a partner in health care and in whom I need to have a level of confidence and trust. I am paying THEM to meet MY needs - not the other way around. That is where it seems like the God Complex comes in. Doctors should be working for their patients NOT for the insurance companies!

Sorry, I'm ending the rant. Off to see my very accommodating dentist this morning.... :)

-- Edited on

12/3/12 8:27 AM

--

maryl


Massachusetts USA
Member since 6/24/05
Posts: 537
Skill: Intermediate

5 members like this.




Subject: Why do some doctors think theyre God Almighty... Date: 12/3/12 9:07 AM

Reading these posts, I've just realized that--except for very specialized care--I've given up. I need to see the doctor to order the tests, I listen to the recommendations, and then I research it like crazy online. Then I do what seems best to me.

Since the statin issue was brought up, I'll say that doctors always recommend I go on statins, and I always refuse. I did go on them for six weeks about ten years ago, and immediately got shingles and very, very sore gums. From reading the research online I see that since I'm a post-menopausal woman with no other risk factors (normal weight, normal blood pressure, never smoked etc.) and since the statins would be for primary prevention (never had a cardiac or stroke incident) the research shows no benefit for me being on statins, no matter how high my cholesterol.

But even though I may find a doctor who has also done that research, the protocols they have to follow dictate that they advise statins.

I do understand that many--perhaps most--medical decisions need to be made quickly and trust in a doctor is imperative. So I completely understand everyone's frustration. My only point is that when I do have the time to do the research myself, it won't bother me at all not to follow my doctor's advice.

Printable Version
* Advertising and soliciting is strictly prohibited on PatternReview.com. If you find a post which is not in agreement with our Terms and Conditions, please click on the Report Post button to report it.
Online Class
10 Clever Techniques To Help You Sew Like a Pro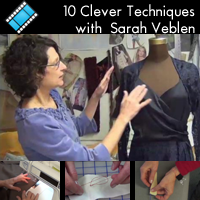 Online Class
Serging Ahead with your 5 Thread Serger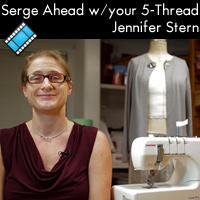 McCall's 6797

by: 3kids1036
Review
9 inch Bent Handle Scissors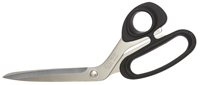 Pattern Details
NECKLINES AND DRAPING - A CD Book by Kenneth King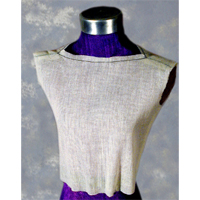 Pattern Details
Simplicity 1233

by: Jill R
Review