DavidTWalker

Member since 12/4/12
Posts: 4



Date: 12/4/12 8:19 AM

Just bought a Juki F400, did I make the right purchase? I am new at sewing and hoping I purchased a good reliable machine

Sauvage


Advanced Beginner
Member since 7/22/09
Posts: 721



Date: 12/4/12 9:06 AM

David, I don't have the F400 but am happy with my lower-end Juki (HZL-e61)--it's really sturdy and puts up with some in-a-big-hurry abuse. There are three reviews for your machine here at PR. Mixed results, but what a lot of features.

Enjoy--it's a big, wide, fun sewing world...I'm still new to a lot of it.

------
Jeanne
2014 yards in inventory: (to be counted)
Yards cut/sewn:58
Yards purchased: 46.3

"People....so much bigger on the inside." Doctor Who, "The Doctor's Wife," 6.04, by Neil Gaiman.

Coconuts


Intermediate
Michigan USA
Member since 12/2/09
Posts: 1365



Date: 12/4/12 1:52 PM

I have the F600 and I'm much more attached to it than anyone should ever be to an inanimate object. The F400 is very nearly the same machine.

Mufffet


Intermediate
Vermont USA
Member since 8/14/05
Posts: 11178





Date: 12/4/12 1:53 PM

You will find whole threads in the Sewing Machine threads on JUKI, the model you have and the ones in that line, as well as many many threads on the F600 itself.
-- Edited on 12/4/12 1:54 PM --

------
"Be kind whenever possible. It is always possible."
--Dalai Lama

I have sewing machines

DavidTWalker

Member since 12/4/12
Posts: 4



Date: 12/24/12 0:33 AM

Just an update on my Juki F400 (this was my first sewing machine purchase). After receiving it and giving it a test run, everything worked fine until the auto threader broke. I tried having it fixed at various local sewing repair shops and encountered a somewhat hostile attitude about the fact I purchased it online and that it was a Juki. I was made to feel like I had not done the right thing by buying it online and not choosing the "right brand" (it not being a Viking, Plaff etc). I did eventually return my machine to the orignal vendor. I am scheduled to get it back next year at some point. My question is this, "Why am I getting a lot of negative feedback when I inform local stores that I bought it online and chose to get a Juki?". I feel kinda sad that I am being demonized for the way I purchased my machine and my choice to get a Juki. I am brand new to sewing and just wanted start a new hobby. So far I have had a very sad experience, and had no idea the type of negative attitude I would get. I apologize for posting an unpleasant msg. but I feel so disapointed about the way I have been treated. I am brand new to sewing and just wanted to start a new hobby. My excitement getting started is now somewhat dimmed and I am almost to the point of selling my machine when I get it back and return all the accessories I have bought so far. Any feedback would be appreciated as I do want to get into this new hobby, just didnt expect to get such a negative reaction to my choices.

Sonoma33


Intermediate
California USA
Member since 5/10/09
Posts: 1851





Date: 12/24/12 3:07 AM

Juki makes excellent sewing machines. You can buy them from a dealer--they don't have to be purchased online, but it is FINE that you purchased online.

Of course, dealers are going to prefer that you purchase from them and not online. That is how they survive. In general I prefer to purchase from my local dealer (not online nor in a big box store) just because I want to support them so they will stay in business, and because they often offer get to know the machines classes, and other support that I can't get when I purchase online. That said, I'm sad you were given a hard time. That is really too bad. I hope your online dealer is a good one, and fixed the machine for you. I hope you continue with your new hobby--it is a good one.

------
Berninas 830LE ♥ Artista 630PQE ♥ 930 Record ♥ Juki TL2010Q ♥ Pfaffs Creative Performance ♥ Passport 2.0 ♥ Singers 221 ♥ 301 ♥ 500a ♥ Kenmore 1040 ♥ Elna 'Grasshopper' ♥ Tacsew T500 ♥ Babylock Evolution

GwenH

Advanced Beginner
California USA
Member since 8/26/09
Posts: 761







Date: 12/24/12 4:54 AM

Wow, don't take it personally. Dealers would have a fit if they knew I bought my "new" machine for next to nothing in a thrift store and my "old" machine is decades old. I agree that they probably just wanted you to purchase from them and maybe even hopeing to get you to do a trade in or something.

I haven't had any interaction with sewing machine dealers, but the ones selling in Jo-Anne's look to me like a well oiled selling machine. If your machine works well for you when you get it back, and you are happy with it, who care's what a salesperson of a competitive brand thinks.

Good luck with your new hobby!

beauturbo

Advanced
California USA
Member since 5/2/09
Posts: 3602





Date: 12/24/12 5:12 AM

That stinks,and people are just weird sometimes, but I think they must wish you bought one of their machines, from them instead? But if that did not happen, I think it's kind of stupid to actually take it out on you later, and punish you for it! That would bug me too.

But as long as you are actually wanting to be paying them to fix something for you, I don't really see what big difference it makes at all either. As you would think they would also want you as a customer too, just anyways.

As why not, as maybe while you were even there, you might need a buy a bunch of thread, sewing stuff, or even a overlocker or just anything else in there. So I do think that is pretty mean and stupid and petty of them, also just no one likes to get treated badly when you go into anyplace, because that does make you feel uncomfortable, and bad. I would not expect them to fix anything for you for free at one place, that you instead really bought some other place though. I think that is expecting way too much. But it does not sound like you were even thinking about that or asking for that at all.

If people ever treat me like that anyplace, I just actually sort of ignore it and go someplace else that at least acts like they actually might like me instead.


Maia B


Advanced Beginner
Illinois USA
Member since 10/27/10
Posts: 4731



Date: 12/24/12 5:52 AM

Juki is a fabulous brand, probably more well-known *worldwide* than Viking, Pfaff, etc. they make industrial machines, and more recently, domestic machines. There's a Singer/Viking dealer very near me that is a regional repair center and sells industrial Jukis and the Juki straight stitches, but doesn't have the Exceed and other models on the sales floor. Sometimes the mix of brands at multiline dealers is interesting...

Not cool that you were treated rudely, but local dealers are hurting like all small businesses these days (though a more welcoming attitude at some dealers might help that). There *are* sometimes folks who buy online and then take their purchase into a local dealer looking for free help, troubleshooting, training etc. Not just sewing machines either. Not that YOU did that, but imagine how after several of those situations, that the staff at a local dealer might get a bit testy.

My fave local dealer didn't bat an eye when I brought a machine I bought used in for a routine servicing, but then, I had bought new from them before, and I was paying for the tune-up.

Actually, the same place gives free mini-classes on techniques. One time, an attendee asked about where to buy a notion being used, which wasn't central to the technique, it wasn't a sales pitch at all, and the shop owner who was teaching answered, "we have these here". Another person openly said, "It'll be cheaper at JoAnn's.". The shop owner was so gracious, as always. I was aghast that someone would attend a free demo of a technique, which wasn't pitching or promoting anything for sale, then make that sort of comment to everyone. And believe me, the price difference was less than $1, less than the gas to get to JoAnn's.

So I'm just saying that local dealers are a bit touchy about Internet and chain store sales. However, they could have just politely given you an estimate for the repair.

Try not to feel discouraged.

------
🌸 Plenty of machines, mostly Berninas 🌸

Maia B


Advanced Beginner
Illinois USA
Member since 10/27/10
Posts: 4731



Date: 12/24/12 6:03 AM

Oh, and I've had various reactions to taking inherited or purchased elsewhere gemstones to local jewelers for setting. From, "where did you get THAT (wrinkled nose like I'm presenting a booger to be set into a ring) to "what a great stone" and they start measuring it and asking what I'm looking for and pulling out options. Guess which approach sells a platinum setting?

------
🌸 Plenty of machines, mostly Berninas 🌸
Printable Version
* Advertising and soliciting is strictly prohibited on PatternReview.com. If you find a post which is not in agreement with our Terms and Conditions, please click on the Report Post button to report it.
Online Class
Leather 101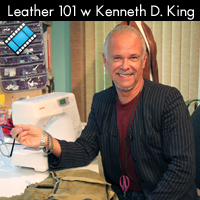 Online Class
Altering Jackets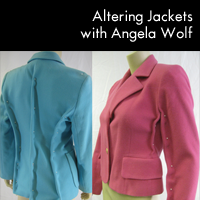 Self Drafted Pattern 300445-1000

by: cowgirlcre...
Review
Self Drafted Pattern 117862-1007

by: French.Sea...
Review
Sewing Workshop Balboa Shirt & Topper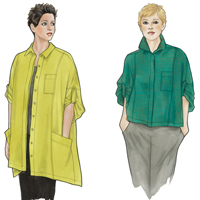 More Info
Stitch 'n' Flip Jacket Construction - A downloadable Book by Shannon Gifford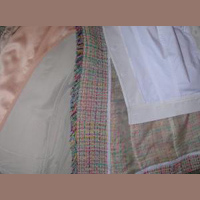 More Info