paulakiss


Indiana USA
Member since 1/14/10
Posts: 115
Skill: Advanced Beginner



Date: 12/6/12 8:31 PM

Help! I am totally IN LOVE with the

Sophia Carry All Bag

. The moment I saw it, I knew it would be amazing in the vinyl I saw on sale on fabric.com on black friday! So I bought the

Black Patent

,

Purple

, and

awesome sparkle purple!

Then it occurred to me: I've never sewed vinyl and I don't even know if vinyl would work with this pattern! All I know about vinyl is that you can iron it on a medium setting with a towel on top of it. And I think you have to use clips instead of pins like with leather. Oh, and I read that you should increase your stitch length so it doesn't become a perferated edge like with stamps, where it will rip...

I've had success with Amy Butler patterns before and love them. But (#1) the seams usually have tons of layers and I am working with a Brother HS2000 and a Brother 1034D serger. I do have a walking foot. But (#2) I have no idea how or if I need to use any of the fusibles. The sparkle purple and regular purple have a mesh backing and feel thick enough that they may not need any stabilizers. The black on the other hand, has no backing and it's on the thinner side. And I was going to make the main part of the bag with the black. ugh!

Any help, tips, advice, or cautions would be sooo greatly appreciated here! Here are some specific questions right now:

-Do you think this will kill my machines? Do you expert sewists think this project is even a good idea? lol.

-If yes, which colors should I use for the main part and the trim?

-What to do about the stabilizers?

I want this bag BAD, so I am totally willing to learn everything about vinyl! And take my time, even though I'm not known for my patience at times. lol. Thanks for reading!

PS. Here are some pics in case the links don't work:

edited to correct black patent vinyl link.

-- Edited on

12/7/12 7:28 AM

--

Sewandwrite


Maryland USA
Member since 5/16/08
Posts: 963
Skill: Advanced Beginner



In reply to paulakiss

Date: 12/6/12 9:41 PM

Here's just

one thread

here on PR about sewing vinyl.

-- Edited on

12/6/12 9:43 PM

--

-- Edited on

12/6/12 9:43 PM

--

paulakiss


Indiana USA
Member since 1/14/10
Posts: 115
Skill: Advanced Beginner



In reply to Sewandwrite

Date: 12/6/12 9:49 PM

Thank you so mu ch Sewandwrite! That thread is really helpful! Still not sure which colors I should use for it though.

SquishSews


Member since 1/18/09
Posts: 451
Skill: Advanced Beginner



In reply to paulakiss

Date: 12/6/12 9:49 PM

I have no advice but eagerly await replies... and now I have to add another Butler to my gotta-get list!

SandiMacD


USA
Member since 2/8/09
Posts: 2563
Skill: Intermediate



Date: 12/7/12 5:39 AM

I saw a helpful TV program on seeing vinyl and laminated cottons. I recall that in addition to what you mentioned that you also need a roller foot. Or place tissue paper under it to get it through the feed dogs. I just got a lunch kit in the mail yesterday and also sewing it for the first time.

------
sewing brings joy and meaning to my life...

unfinishedprojects


Alberta Canada
Member since 8/26/07
Posts: 811
Skill: Advanced
Body Type:




Date: 12/7/12 9:24 AM

I usually use a walking foot with vinyl. Or if I need a specialty foot, I'll wrap the bottom of it with plumber's Teflon tape so it doesn't stick.

You can underline that black vinyl with another fabric, batting, etc. It doesn't have to be a fusible stabilizer.

RipStitcher


Member since 5/28/12
Posts: 3094
Skill: Advanced



Date: 12/8/12 9:52 AM

I did that bag for the maiden voyage of my Horizon... there's some pics on this thread:

Horizon Love Fest Thread

I laminated the vinyl onto the quilting cotton that I used.

By the time I counted up all of the layers, (including the vinyl)... the thickest seam was ***30*** layers thick - the bottom seam of the bag where it goes over the straps. (Have fun with that! lol)

So much depends on how thick that vinyl is that you bought.

If it is thicker, then you can bypass using the stabilizers/interfacing that she used.

With a walking foot, you should be able to conquer this.

The most difficult part (IMO) is doing the side seams with all the piping, etc. But... at that point, your presser foot is up against the backsides of the fabrics you're using... so it won't be sticking to the vinyl sides of the fabric.

------
Video of how the Bionic Gear Bag works is here: www.BionicGearBag.com
Share pics with me on Instagram: RipStitcher
More pics are in my facebook group: Sew Much Nicer Community
Bernina 880 Sterling Edition, Bernina 550qe, Bernina 570qe
Babylock Ovation Serger & Babylock Sashiko
Pfaff Passport

Granddaughter: Bernina 560


paulakiss


Indiana USA
Member since 1/14/10
Posts: 115
Skill: Advanced Beginner



Date: 12/9/12 1:47 AM

Hey there! I've been learning a lot. Thanks for the advice! I'm practicing sewing the vinyl by making

This Bag

out of the sparkly purple. It seems a little simpler. My feed dogs don't seem to be damaging the vinyl thankfully. But, I keep getting loops on the bottom. I'm using my walking foot and it doesn't seem to be sticking. It feels like it's feeding pretty smooth, even sewing the folds for the pleats where the right side of the fabric is against the foot as well as against the feed dogs. I've adjusted my tension and changed bobbins, and re wound a new bobbin. But, I still get loops every few inches. I'm sewing the folds for the pleats, so I need the stitches to look nice on both sides.

Squishsews: I know, isn't that sophia bag adorable! It reminds me of the cool round luggage pieces from the sixties!

SandiMacD: Thanks for the advice! I'm going to do a search on youtube and see if I can find that program! I don't know what a roller foot is but my walking foot is working out pretty well so far I think. I tried the tissue paper and my feed dogs just chewed it up! ugh. I can't wait to hear how your lunch kit goes!

unfinishedprojects: Thanks so much for the advice! I will probably just use regular fleece and a lining fabric. I'll remember the teflon tape technique for when I work with the other vinyl that isn't quite as shiny as this one. All three colors have different textures.

RipStitcher: Oh thank you so much for posting that thread and sharing it with me here! I love love your bag! Lots of wrestling, but it looks like it was worth it! I have some of that heat bond vinyl but I haven't had a chance to use it yet. I can see already that if I make the sophia bag out of this vinyl, I'll probably have to eliminate the piping on the bottom like one of the other reviewers had to do. My machine is nowhere near the same class as yours! Someday maybe I'll be able to get a Horizon! It looks like a great machine. Looks like I will probably use the thinner black patent vinyl for the bag with maybe one of the purples for the piping.

Does anyone have any advice on what I could do to eliminate the intermitten loops on the back of the fabric? On the top, the stitches look beautiful. On the back, there will be 2-3" of perfect stitches and then 2" of tiny loops. Any ideas? Is it the way I'm moving the fabric with the feed dogs maybe?

beauturbo

California USA
Member since 5/2/09
Posts: 4967
Skill: Advanced



In reply to paulakiss

Date: 12/9/12 4:19 PM

Anytime you have your pressure foot jacked up and lifted all the way up by tall layers of fabric, and too tall and just as high as it lifts, and really as tall as when you lift the pressure foot up to remove your fabric, you then have zero top thread tension, on purpose. When you have no top thread tension, you just always get thread loopies on the bottom of the fabric. It pretty much has to be that way.

You should not be on purpose, with your hands, be moving the fabric, as in pulling it, with or against the feed dogs at all. The feed dogs should be able to be, moving the fabric through all by themselves, your hands are to just lightly guide it. Side to side instead. Not back to front at all.

It is true if you instead try to pull and tug the fabric through, with the force from your hands, and fighting your feed dogs, because the feed dogs cannot feed it through the machine by themselves, (as too much fabric/vinyl all in there), then when doing that, the needle can really get bent and deflected, and it can slam into your stitch plate. Not only does that break needles and put scratches and dings in the stitch plate, but also that might really be a forceful enough event to un-adjust your machine. Maybe the lst time it happens, maybe the 10th time it happens, or maybe the 100th time it happens, or maybe not at all, no way of really knowing in advance at all. Except for all those visual and audio clues you might be getting, while you are sewing along and doing something like that, that one of those things is about to or or might happen.

In that case it really might not even be able to make stitches anymore, until it got re-adjusted. Because if and when that happens and the needle goes down, it would not even be near enough to your hook, to even pick up a thread loop and make a stitch. Also it can also make the needle strike your bobbin case, and put scratches or holes in that, that the thread is going to get caught on, with each stitch it tries to make. So best to just avoid all those kind of, unpleasant sewing problems and things, by the way you choose to use something and sew.

I think that is what you were asking about in your your very first post on this thread maybe. As will it hurt the machine to sew the purse, out of that fabric? Patterns and fabrics don't/can't hurt or break machines, but people do occasionally. By their sewing technique and how they use something. Or just by not knowing when to stop sewing on something, if they are approching and exceeding the limits of a machine sometimes. So, if it's too thick to go through there, you can't sew on it, and if it's too thick to go through there, and you try to sew on it anyways, by pulling and tugging on the fabric instead because the machine can't do it, then yes, I guess you can/could break things or unadjust things.

So the loops you are getting on the back of the fabric, probably are because you have too much fabric, and too tall of fabric, in the machine. It does not mean you could not sew that particular purse at all, but might mean you can't sew it out of that fabric, just like all the directions in the pattern tell you to do, without having a problem or hurting your machine. But, since you are the operator of the machine, it's in your control. I'm sure that 30 layers of that vinyl if there really was that, would be a no go there. Even 30 layers of bed sheet fabric would be a whole lot- no one sews like that.

It's up to the operator of something to use good judgement when operating something. Good judgement would to not be using your hands to try and pull and tug fabric through a machine, when the feed dogs can't do it all by themselves. Also maybe to take fabric layers, out on a back porch or something, and just try to pound it down flatter with a hammer maybe. Also to use a plastic jean a ma jag or a piece of folded up cardboard as a jig for when you go over tall to thin places, to avoid skipped stitches probably. But probably the best judgement, would be if feed dogs can't carry the fabric through all by themselves, to just really stop what you are doing. You might be still able to sew though some too tall and thick places safely by just turning the fly wheel by hand and not even using the foot pedal at all too. It's most times kind of difficult to break or hurt a machine that way, most of the time. Not saying it could never be done though.

In case part of the loops on the back of the fabric problem is because needle sticking in the fabric, and or fabric sticking to the sewing machine bed, not all just because fabric is just too tall to sew over, it might help to put a piece of paper on top of feed dogs and under the plastic fabric and then another piece of paper on top of the fabric but under your pressure foot. And try to sew though the paper. You could always try that too. But then you got to rip the paper off afterwards and might even have to pick some out, with some tweezers.


Printable Version
* Advertising and soliciting is strictly prohibited on PatternReview.com. If you find a post which is not in agreement with our Terms and Conditions, please click on the Report Post button to report it.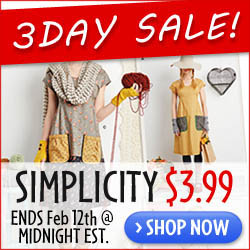 Online Class
Fun with Fitting - BODICE w Darts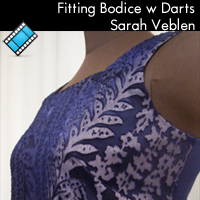 Online Class
Restyling with Exposed Zippers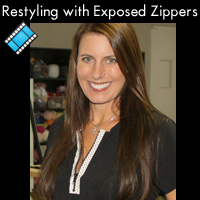 Deer&Doe Blouse Datura

by: devviePuu
Review
StyleArc Gail Knit Top

by: Couturemum
Review
Islander Sewing Systems Apron Chic Express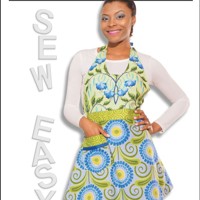 Pattern Details
SewBaby Comfy-Alls and Knit Shirt Pattern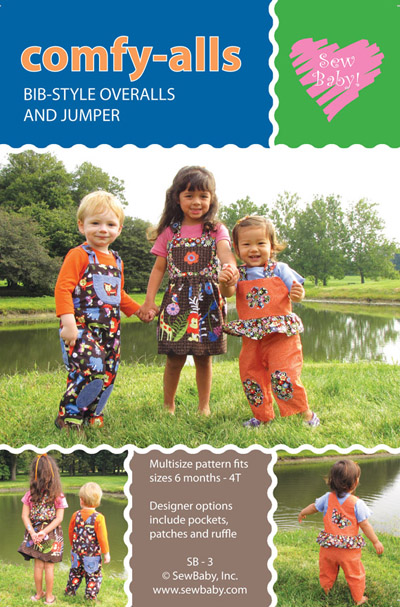 Pattern Details