rmusic1


Advanced Beginner
UNITED KINGDOM
Member since 7/3/10
Posts: 970

1 member likes this.




Date: 12/8/12 12:43 PM

today for the first time I've tried my hand at pattern block drafting. I went to a day workshop as part of my dressmaking course. We used a book called metric pattern cutting for women's wear by Winifred Aldrich.

The book has good reviews on amazon so I had hopes this would be a good introduction. I must confess, I found it really hard. The instructions are best described as "concise" to the point without guidance from a tutor or experience at pattern drafting this would not be something I would recommend for a newbie.

I think part of the issue is that I work best with more pictures. This has only one picture, with numbers all over it, and a whole page of dense lines (I wish they were spaced out more!).

The first (close fitting) bodice block was a struggle, but thankfully the second (loose fitting) was quicker and easier. For those who have done this before, does it all get easier?

jenleeC


Intermediate
Western Australia Australia
Member since 6/4/11
Posts: 1051





Date: 12/8/12 8:24 PM

It does get easier! I did a "pattern making 101" unit as part of fashion design course. Winifred Aldrich was our recommended text but the lecturer tended to give us direct instructions rather than working through the book. Looking at the book now, I can see that her instructions mirrored the Winifred Aldrich methodology but it seemed easier as she would walk us through, one step at a time.

At first we all freaked out - all those lines and number, unfamiliar terms like 'square off' etc - we had no idea and it was all a bit daunting. But after a few classes the methodology seemed to fall into place. After a full year of classes (3 hours a week plus homework) I feel comfortable with the basics, but certainly not proficient!

Now that I have the basics under my belt I can follow the W Aldrich book but I think it would be difficult for a newbie to just pick up the book and start pattern making. For a start, I don't think the order of the book is set out as a 'start here and work your way through' type text book. It is more a matter of dipping in here and there where you are looking for information.

We started with a skirt, rather than a bodice or dress, as this is the easiest. We did lots of manipulation of the basic straight skirt block - flared, pleated, yoke, yoke with flared skirt, yoke with gathered skirt etc. Then we made a basic bodice and did lots of dart manipulation so we got comfortable moving darts around. (I have at least 12 different bodice fronts in my file!) We did a lot of work in half scale as it uses less paper and fabric. It is easier working in the smaller scale so you can practice lots of variations without spending ages doing full size patterns and toiles.

Was the workshop you did part of an ongoing unit, or just a one day introduction?

------
Jenny, Perth, WA

Miss Fairchild


Advanced
USA
Member since 8/24/02
Posts: 7936





Date: 12/8/12 11:38 PM

Gosh! I tried looking at that book on Amazon and you're right--it is intimidating and I've drafted my own patterns for years. No or very few pictures! I really like the Rene Bergh book, Make Your Own Patterns. Lots of pictures and diagrams in that one.

As to whether or not it gets easier, it does. Just remember when you first started to sew and how much the terminology overwhelmed you. This will be come second nature after a while.

------
"Play the cards you are dealt, but choose who is sitting at the table"..AARP magazine

SEE MY ETSY SHOP HERE: http://www.etsy.com/shop/AuntMaymesAttic
My blog: http://auntmaymesattic.wordpress.com/

andye

Beginner
Virginia USA
Member since 5/9/09
Posts: 1885



Date: 12/9/12 0:22 AM

The first chapter is available as a free pdf from the publisher

at present, the following link works
The basic darted bodice blocks. It's not as formfitting as the moulage, and it is,of course, metric. (Nor, iirc, does it give any clear advice on how to build a SBA or FBA into ones patterns).

------
Bernina B330
Feet: 1,2,3,3A,4,5,7,8,10,13,16,18,20, 29,32,35,37,50,64,70,71,82,85,86, 92



GlButterfly


Intermediate
California USA
Member since 8/28/08
Posts: 3136



Date: 12/9/12 1:24 AM

The book that MissFairchild mentioned I also have. It is fairly basic so good to use.

I might also suggest Donald McCunn's How to Make Sewing Patterns. He gives a very good explanation of how to make darts to fit the individual. He also explains how to do dart manipulation without cutting the pattern.

------
That's Gl = for Gloria, not G. I.

jenleeC


Intermediate
Western Australia Australia
Member since 6/4/11
Posts: 1051





Date: 12/9/12 1:52 AM

If you draft a bodice using the Winifred Aldrich (and probably most others) method you draft based on persons individual measurements rather than taking a basic 'all purpose' block/sloper/pattern and then doing adjustments for SBA or FBA.

In class, we first learned the techniques using standard Australian size 8 measurements (around a US4). After than we drafted our own personal block based on our measements. We had many body types in the class - from petite pears like myself, skinny 18 year olds, full busted/full tummy mature ladies, and most everything in between. We all used the same method - just different measurements!

We made a toile (muslin) based on our first pattern draft. This was 'tweeked' just a little until we were happy with the final fit. These changes were then transferred back to our first pattern draft and we then made a heavy card 'block' based on the final pattern draft. There was no need to alter an existing pattern for a small or larger bust, longer torso, petite frame etc. because the starting point was your own measurements.

This is a quite different technique than taking a commercial pattern and altering it for your own personal fit issues (SBA, FBA, tall, short, petite etc.). It is great to know how to do both!

-- Edited on 12/9/12 1:59 AM --

------
Jenny, Perth, WA

SandiMacD


Intermediate
Florida USA
Member since 2/8/09
Posts: 2564

2 members like this.




Date: 12/9/12 3:59 AM

We had an introduction to the block method on a skirt. I can't describe the rolled eyes in the room (most of us well past 50 yrs and well into plus sizes!) as she demonstrated a 10" block on a size 4 dressform and added 1/4" ease to the hip!
It was a hoot but she was an entertaining young girl so we are bringing her back to show us some more.
-- Edited on 12/9/12 4:00 AM --

------
sewing brings joy and meaning to my life...

Quickie


NETHERLANDS
Member since 10/8/10
Posts: 965

2 members like this.




Date: 12/9/12 8:07 AM

When I had the age of about twenty patterns did almost fit right out of the envelope. Now my body has changed a lot. When this started I did take the step to drawing my own blocks. I am so glad I can now. In the beginning, just like the others I had a wet back and hot red cheeks. All the systems, I know of ,have th this idea of lines and numbers that I've seen in the book of Aldrich. There are of course little differences. In the Aldrich book I see now that the construction of the sleeve is much easier than in Rundschau (the German system, that am used to)
Now that uo've overcome that first bodice try if you can do some skirts . That will be easier and you get used to the mathematics that you need. It's just a question of exersising and getting used to . Repeat the blocks you have learned. I don't claim that you have never to tweak anymore , but is not a fraction of what I have to tweak when I us a pattern.
Good luck


andye

Beginner
Virginia USA
Member since 5/9/09
Posts: 1885





Date: 12/9/12 2:15 PM

Quote:
This is a quite different technique than taking a commercial pattern and altering it for your own personal fit issues (SBA, FBA, tall, short, petite etc.). It is great to know how to do both!


Hmm. I may have to look at Aldrich's method again,then.

Oh. I see



Quote:
20–27 dart width measurement; draw a line joining 26–27.



Well that certainly takes care of things, doesn't it? Everybody should know their dart width measurement.

Note that wide and narrow darts tend to distort the armhole.
-- Edited on 12/9/12 2:17 PM --

------
Bernina B330
Feet: 1,2,3,3A,4,5,7,8,10,13,16,18,20, 29,32,35,37,50,64,70,71,82,85,86, 92



rmusic1


Advanced Beginner
UNITED KINGDOM
Member since 7/3/10
Posts: 970





1 member likes this.



Date: 12/9/12 3:01 PM

aha! I can help with the dart width measurement. It puzzled myself and several others in the class. In the book is a chart with commercial (i.e. RTW) size measurements. They are a bit of a headscratcher, as both myself and others were off the scale when we compared our measurements to it.

I wouldn't class anybody as being that oddly shaped (by that I mean some measurements were average, others like shoulder width were very different) but there we go. The tutor told us to go with a set size for the neck circumference and dart width. I used a size 12. Its instructions like this which just made me get frustrated. It is so unclear!

Anyway, practice makes perfect. I hope over time it will get easier.

Edited to add - one additional unexpected discovery during class was to discover my designated shape was actually different then I thought!

Due to measuring the wrong part of my hips (at least, I think this is the cause) I am actually two inches bigger then I thought in this area. For most people this would not be a cause for happiness.

For me however the reverse is true. This makes an elongated pear (didnt know they existed) and not a square. Result? More dress patterns which will flatter my figure. Hooray - I always felt I could carry some dresses off which said they were not for squares and now it is official.
-- Edited on 12/9/12 4:33 PM --
Printable Version
* Advertising and soliciting is strictly prohibited on PatternReview.com. If you find a post which is not in agreement with our Terms and Conditions, please click on the Report Post button to report it.
Beginners Guide to Dyeing Fabrics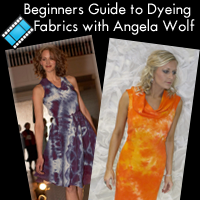 Expert Sewing Techniques for Jackets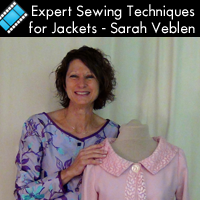 Simplicity 2400

by: collister4...
Review
Christine Jonson Inset Jacket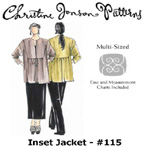 Buy Now
J Stern Designs Womens Jeans Pattern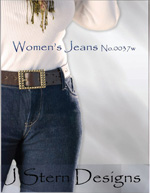 Buy Now
Marfy 1882

by: Achallengi...
Review