DOGLOVER389

Member since 1/11/12
Posts: 514
Skill: Intermediate



Date: 12/11/12 6:49 PM

Hi All,

My ADHD brain needs some suggestions.

I have been copying the patterns I use for the dog coats. The originals would never endure the frequent use.

Copying the patterns also allows me to make size adjustments and to create sizes beyond what is included in the pattern envelopes.

But I can't figure out how to store or organize these patterns. Inserting them into the envelopes from the original patterns is not an option. The envelopes are not large enough to accomodate the copies.

Right now, I have the pieces for a particular style paper-clipped together and separated by size. Each piece is labled with the pattern manufacturer and pattern number, "view" (for the patterns that include more than one style), as well as the number corresponding to each piece and size. I have also included any adjustment information I may have made.

I have piles of copied patterns lying on my makeshift cardboard cutting board.

Sometimes I am great at devising an organizational system, and then there is this mess.

Do you have any suggestions regarding organizing and storing patterns that are being frequently used?

I do find that I refer to the pattern package for sizing information. IE. Simplicity 9520 has several designs, with back lengths varying from 18 - 30," but the sizes are specific to a particular design. Simplicity 2303 offers four different designs, each with a large, larger and extra-large option for each design.

Unlike Simplicity 9520, the 2303 pattern does not provide sizing information for each view. The pattern simply states it is for dogs 80 - 100 pounds. I have been making notes on the copied patterns regarding back, chest and neck measurements. Similarly, Simplicity 2318 shows one dog coat, but actually includes an extra-small, small and medium pattern. The size information (ie. back length) is not included.

In addition to organizing and storing the physical patterns, creating an electronic storage system would be great, too. I have been looking at suggestions for pattern software and have seen others have created spead sheets, but cannot wrap my mind around how to create a spreadsheet that would also include pattern images.

Many thanx,

DogLover389

------
Cut my teeth on a Kenmore 117.58

http://pages.sewing-machine-manuals.com/173/PictPage/1922064294.html

Singer Merritt 9612
Singer 99-13
Singer 15-91; 1955
Singer 237

ShantiSeamstressing


Member since 6/11/10
Posts: 2368
Skill: Advanced Beginner



Date: 12/11/12 6:57 PM

I am a very organized and systematized person, but at the same time, I find that generally the systems that work the best and are maintained for the long haul are the simplest. I don't use a complex and/or expensive method unless a simple and cheap alternative isn't an option. For your patterns, I'm wondering - - how about zip-top plastic bags (brand name starts with a Z and ends with "loc" that is); placed in large plastic totes. That is the possible thought that comes to mind as I read your post.

SquishSews


Member since 1/18/09
Posts: 451
Skill: Advanced Beginner

1 member likes this.




Date: 12/11/12 6:59 PM

I know some folks use hangers and clips (hangers that go in the closet) to hang more permanent pattern pieces...

PattyE


Michigan USA
Member since 9/7/10
Posts: 2572
Skill: Advanced
Body Type:




Date: 12/11/12 7:25 PM

When I have a traced pattern to store (or a Marfy...they don't come in envelopes) I buy the 6 x 9 white envelopes at the office supply. They're about the same size as most patterns and I can write info on the outside and even print a pic on them or staple on a pic.

As far as organizing patterns, I just use the old school cardboard boxes labeled Tops Knits, Tops Woven, Coats, etc. I have them all entered in my Pattern Catalog here on PR...easy to browse.

------
Stash: 206.75 yds. @ 08.06.16

jadamo00


New York USA
Member since 3/13/06
Posts: 1264
Skill: Advanced



In reply to DOGLOVER389

Date: 12/11/12 7:31 PM

Buy a package

COMIC BOOK SLEEVES.

They're the same size as a standard pattern envelope.

Take a piece of typing paper and fold it in half: see, it fits PERFECTLY into the comic book bag. Put your pieces in the folded piece of paper. On the outside of the paper, label or add a photo or whatev.

j.

a7yrstitch


Texas USA
Member since 4/1/08
Posts: 7517
Skill: Intermediate



In reply to DOGLOVER389

Date: 12/11/12 7:52 PM

You didn't mention how many patterns you may be talking about over the next few years. The pieces could be stored with very few folds in an underbed storage bin with sheets of heavy plastic or pieces of discounted picnic table cloths used as dividers.

Likewise, you could make a giant art portfolio from a large sturdy box and scrounge for large gift boxes for 'dividers'.

Currently I have some in use patterns folded over thin huggable type hangers. A scrap of fabric is placed over the spot that I attach a binder clip to keep everything secure.

I have been eyeing the old fashion trouser hangers with the individual arms that swing out and wishing someone made those in a wider size.

Patterns that are in the multiple use - keep in hand's reach process are being treated differently (recent method). I cut a plain file folder to slightly less big than it's original size so that if I folded it in half, it would easily fold into a typical pattern envelope.

I use the sized down file folder (no tabs) opened up flat as a folding template for pattern pattern pieces stacked from one pattern. I fold to fit the template, press, and then flip the file folder closed again. And, a light press. I slip the template out and put the folded pattern in an uncut, full size, file folder with it's envelope.

When the pattern doesn't need to be readily on hand I can easily fold the pattern in half to return to its envelope.

Having recently started sewing knit tops in a lighter knit category, I can see that I will be using patterns multiple times. It is likely that those oft used patterns will stay in file folders. I'll keep the envelope or a copy in the main pattern file.

------
I have no idea what Apple thought I was saying so be a Peach and credit anything bizarre to auto correct.

simplystitches

Member since 2/12/06
Posts: 2487



Date: 12/11/12 8:43 PM

I use 8 1/2"x11" manilla envelopes and write all pertinent info on the top edge and store in a file cabinet. Pattern envelopes are stored in plastic sleeves and kept in a 3 ring binder.

If I have more than one version of a pattern it get's it's own manilla envelope w/info pertaining to that pattern.

Yes, the pieces do have to be folded to store and pressed before use but it's a great storage system for me.

Debbie

AdaF


Maryland USA
Member since 1/14/09
Posts: 256
Skill: Intermediate
Body Type:


1 member likes this.




Date: 12/11/12 9:05 PM

My method for storing all my patterns is to place each pattern and instructions in a regular manila file folder and label them by company and number, then store all folders in a box by number. The envelope I keep in a 3 ring binder (inside sheet protectors), organized by type of garment. That way, If I'm in need of a shirt, I look at all my shirt patterns and dream about what I will make.

But when I am working on a pattern, I tape a photocopy of the envelope to the folder that contains the corresponding pattern pieces and keep it within easy reach with the other patterns I've been working with. I take the envelope from the binder and place it inside the folder until I'm done, when it's time to return the envelope to the binder. Maybe you can store your regular patterns like that.

For keeping track of my stash I use the PR Pattern Catalog. It saves the images of the patterns and I gives me easy links to the reviews for that garment.

------
Ada


Fabric Fast
http://sewing.patternreview.com/SewingDiscussions/topic/82144

2013 Fabric sewn: 32 yrd
Fabric in: 24 yrd
Fabric out: 60 yrd (given away)

And a Year of Pants Challenge (on hold temporarily due to ongoing weight fluctuations)
http://sewing.patternreview.com/cgi-bin/sewingclasses/board.pl?t=66247

plazaglass


Florida USA
Member since 12/22/07
Posts: 251
Skill: Intermediate



In reply to DOGLOVER389

Date: 12/11/12 10:03 PM

Here's my system.

- I put the pattern envelopes in clear plastic sleeves in three-ring binders in number order. I keep the binders handy in my sewing room and they're easy to flip through.
- I store the pattern pieces in kraft envelopes in big plastic bins in a closet. Originals, copies, fabric samples, etc., can all fit in the envelopes.
- I have everything in Bento on my MacBook and copied on my iPad. It lets me include as many images for each record as I want, fields for yardage info, types of garments included, notions, recommended fabrics, links to reviews here on Pattern Review, etc. Easy to browse and search the records as well.

Its a few minutes of work when a new pattern joins the stash, but this system sure is nice to use :)

sew2006


Ontario CANADA
Member since 6/24/06
Posts: 2403
Skill: Advanced



Date: 12/11/12 10:09 PM

When I worked in a garment factory all patterns were traced on bristal board, hung from pattern hangers on a rod much like a closet. Each hook held 1 style, had all pattern pieces per size starting from small to xlarge. They had close to 15 years of production patterns. Each pattern had a style number, fabric used #, size number on every pattern piece. They were organized numerically and had a printed catalogue showing photo's/line drawings over the years. In school we stored our blocks in much the same manner. For patterns I use a lot I take a copy of front/back envelope, trace pattern view and store in clear sheet protectors in a binder. All my original patterns are stored together in plastic bins. When I have spare time I want to scan the envelope fronts to create a digital catalogue on my computer.

------
Janome10001, Babylock ESG3, Brother ULT 2001, White 634D serger, Pfaff 1472, Singer featherweight, Singer 14T957Dc, Bernina FunLock 009DCC coverlock, Brother PQ1500S, Janome CP900.
Printable Version
* Advertising and soliciting is strictly prohibited on PatternReview.com. If you find a post which is not in agreement with our Terms and Conditions, please click on the Report Post button to report it.
Online Class
Altering Jackets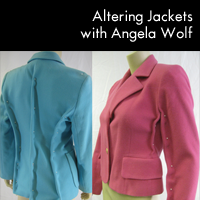 Online Class
Perfectly Fitted Shirt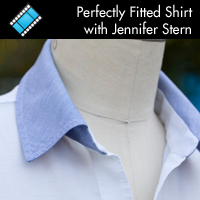 Simplicity 1674

by: katlew03
Review
BurdaStyle Magazine 10-2012-133

by: Moxie
Review
Sewing Workshop Chicago Jacket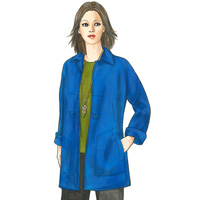 Pattern Details
You Sew Girl Panel Bag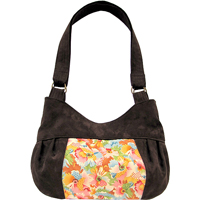 Pattern Details