pamxch

USA
Member since 12/24/02
Posts: 26
Skill: Intermediate

6 members like this.




Date: 12/15/12 9:51 PM

I thought I would put together some links and information to make it easier for other people interested in this machine. I clicked around a lot to find information. My caveat is that I just ordered the machine in the wee hours of this morning and donít actually have the machine yet. And I have never seen it in person.

Juki America homepage: http://www.jukihome.com/

Juki MO-735 Serger and Coverhem machine page on Jukiís website: http://www.jukihome.com/products/mo735.html

There are links to the ownerís manual and sales brochure on this page. I read through both before buying the machine.

From what Iíve read online, the Juki MO-735 is essentially the same as the Bernina 1300MDC, except for lacking Micro Thread Control (MTC) and not having an LCD screen to tell you the stitch settings. I watched many of the Bernina 1300 MDC sergerís YouTube videos produced by Bernina to get a sense of the machine. In particular, there is a 4 part series on the Bernina 1300MDC. They are about 10 minutes long each.

BERNINA Overlocker 1300MDC - Part 1 http://www.youtube.com/watch?v=QEwBj2ZdOiI

BERNINA Overlocker 1300MDC - Part 2 http://www.youtube.com/watch?v=N6nHW-abubU

BERNINA Overlocker 1300MDC - Part 3 http://www.youtube.com/watch?v=d-XnfeHuHz4

Part 3 is where threading for the Coverhem and Chain stitch is demonstrated. The first time I watched it, I thought, no way too complicated. But then I watched again and thought, I can do it.

BERNINA Overlocker 1300MDC - Part 4: Accessories http://www.youtube.com/watch?v=1aFD9k3w7JI

I watched Part 4 to get an idea of how the different presser feet worked. I ended up getting the bundle which includes the 8 specialty presser feet. It does not include the special Cover Hem guide demonstrated at the end of the video.

You can buy the Cover Hem guide from Allbrands for $49.99. I did not see it on the Sewingmachinesplus website. On Allbrands there is a bundle where the item title says it includes the 8 presser feet, but in the description of the product it says a 9 piece accessory package is included, with the Cover hem guide being the 9th piece. I didnít call or email check the discrepancy and confirm you really get the Cover hem guide. I havenít read about anyone using one so figured I could always get it later. (Can you tell I donít have any friends who sew. )

Allbrands has a link to an enlarged threading chart in color.

I ordered through sewingmachinesplus.com. I have to say I am impressed with their speed of order processing. I ordered it at almost 1 am (I drank caffeine a little too late and couldnít sleep). 10 hours later, at 11 am, I already had a UPS tracking number for my order. UPS picked up the order from the warehouse or store only 2 hours after that.

Here is the bundle I bought: http://www.sewingmachinesplus.com/juki-MO-735.php

This is my first time ordering through them so I hope everything else goes smoothly.

My bundle did not include the workbook. It is available from various online vendors for $19.99. The one on Allbrands says it is a photocopy of the workbook. It was difficult to find reviews of the workbook to see if it is worth the money.

The bundle I bought from Sewingmachinesplus includes a $50 gift card for their store. They emailed the electronic gift card a little before I got my UPS tracking number. Another email also includes a 5% off code for a future purchase. You can also google for a coupon. I used one from retailmenot.

I have an old 3 thread serger that I only use to finish edges to prevent fraying. I was just looking to get a stand alone coverstitch machine, but as I read more, I realized I could use an upgraded serger as well. Someday maybe Iíll get a stand alone coverstitch machine, but for now converting a combo machine back and forth will have to do.

Hope this is helpful. If anything I have posted is in error, please correct me. So far my experience is all virtual.

Edited to fix the links.
-- Edited on 12/15/12 10:04 PM --
-- Edited on 12/15/12 10:08 PM --

Warbler


Member since 4/15/07
Posts: 4164
Skill: Advanced

1 member likes this.




Date: 12/15/12 10:09 PM

Fantastic resource!! I got my 735 from a local dealer who is no longer in business but Juki was running a deal a few years ago and bought one at $800 + 8 Foot pack. I think you got a fantastic deal considering the case and thread plus feet. Thanks for putting this information together. I have all the guides printed and place in a binder.

------
Janome MC6600 Bernina 240 Juki MO735 Singer 201-2 Singer 221-1

chenille


Member since 7/4/11
Posts: 552
Skill: Advanced Beginner
Body Type:




Date: 12/15/12 11:31 PM

Thanks for this!
I have that model from sewing machines plus. It was my first experience with an online purchase for something like this. Not to worry, they have great customer support and you can call and get phone help anytime. I downloaded the manual and training guide - PDF's at bottom of the page. I also printed and bound them. The training guide is really good. Look through that, you probably won't need to pay for any other guide.
Congrats on your new serger!

karen149


California USA
Member since 3/4/05
Posts: 3776
Skill: Intermediate



Date: 12/16/12 1:37 AM

I think the only other difference is that the Bernina has a swing-out presser foot.

VivianZ


Member since 12/8/04
Posts: 727
Skill: Intermediate
Body Type:






Date: 12/16/12 11:48 AM

thank-you, thank-you, thank-you for this post. It was some little bit of work, with great resources, so I truly appreciate the effort. I live in a town that has an AllBrands, where I got mine. They really have no knowledge of the machine and can't help a bit. I could show them a few things. The local store is mostly into children's clothes, some quilting and a lot of embroidery. I look forward to exploring these sites.

------
height 5'2" bust 36, waist 31, hip 39.
I have way too many yards to count, and I will never use them up, but I will die trying!

mssewcrazy


Mississippi USA
Member since 3/4/03
Posts: 2603
Skill: Advanced





Date: 12/16/12 2:17 PM

Thanks for the links. I got the 1300 bernina and haven't bonded with it mostly because after I bought it I found a replacement foot control for my old bernina serger and haven't taken the time to learn to use the new one since I am basically a seam finisher with a serger. Learning to use the new serger is on my after Christmas to do list. I got classes with my purchase which had long time intervals between the 3 parts and wasn't sewing that much so would forget what I was shown. The you tube videos will be helpful. I didn't think I'd have as much trouble learning to use the functions since I have used a serger for a long time. I have sort of wished I had bought a more basic mechanical model like my old one. I have a basic coverstitch so probably won't use that very much on the serger. I think my old bernina serger was made by juki and it is wonderful-no tension foolishness or hesitation on heavy tough fabrics or any fabric actually. I think you will be pleased with your juki. Let us know how it goes and I'll see if I can get my book out and join you in learning to use mine before the old serger dies and I'm in no serger distress. I love my old bernina (made by juki) serger and it is the only one I have ever owned since the 1980s. It is developing a short so I know sooner or later I'll have to make a change so I might as well get with the program.

pamxch

USA
Member since 12/24/02
Posts: 26
Skill: Intermediate

1 member likes this.




Date: 12/16/12 3:11 PM

Thanks for all the replys and support! My machine is scheduled for delivery Friday. I can hardly wait!

I forgot about the swing out presser foot on the Bernina but not the Juki, so thanks for bringing that up.

It's reassuring that others have had good experiences with buying from sewingmachinesplus.

Color coded pdf threading chart for Juki MO-735, hosted by Allbrands: http://www.allbrands.com/images2/common/pdfs/howtothreadjukimo735.pdf

Allbrands has a confusing link on the product page which was supposed to lead to the threading chart but just led to the Juki company's website. My first time looking, I assumed the chart had been removed. The second link further down on the product page was accurate.

Coverhem guide on Allbrands site, they call it - Juki A9140C090B0 CoverStitch Hemmer Guide Attachment, 15-25mmW Hems for MO-735, Bernina 009DCC 1300MDC, 2 & 3 Needle 5mm Wide Cover Hem Stitches MO735 - a long title which I had to reread a few times. I still don't understand the last part about the 5 mm, but oh well.

http://www.allbrands.com/products/31897-juki-a9140c090b0-coverstitch-hem-guide-adjustable#tab_product_description

It will take me several months to play with the machine. I usually only sew when the kids are napping. And oftentimes I need a nap too!

sasella

Member since 12/31/12
Posts: 2



In reply to pamxch

1 member likes this.



Date: 1/14/13 4:31 PM

Thank you very much to pamxch for posting those excellent links - I found them very helpful, as this is my first serger/coverlock machine. I also received mine at the beginning of December. I found another excellent video The secret to taming your serger which shows how to set up the tension on each of the threads - it really helped me learn what each adjustment does. I've done a number of t-shirt hems, which is where I chose to start learning how to use my Juki, and the biggest problem I've run into is that I get dropped stitches on the coverstitch. It's always the same needle thread, just a couple stitches, but of course the entire thing can pull out. I've tried rethreading and it's still happening. Could using ordinary sewing machine thread be causing this? I also don't think my coverstitches are quite right yet, they seem pretty loose on the back, so I think I'm going to do the tension exercise again, but with coverstitch instead of overlock, using different colors of thread and see if that helps. Any suggestions on what could be causing this?

pamxch

USA
Member since 12/24/02
Posts: 26
Skill: Intermediate



In reply to sasella

Date: 1/15/13 9:28 PM

Hey, thanks for the link for finding the optimal tension. I'll have to go through this exercise. What setting do you leave the other dials at when you're running one dial through all the settings? Just a middle number? I've just been using the settings the machine was already set up with, basically 4 for all the dials.

I have no insight into the dropping stitches when coverstitching. I am just learning to use the machine myself. So far my coverstitches haven't dropped. (But now I've experienced the problem with coverstitching over seams and am re-reading the solutions.) I've only used serger cones with the machine. Maybe starting a new topic will get the attention of those experienced coverstitchers.

My coverstitches seem fine on the back. I've used it mainly on thin knits with all the tension dials left at 4.

For me, threading for the coverstitch the first time probably took an hour. I kept flipping back between the manual, the Bernina video on YouTube, and the Juki DVD to understand the nuances. Because the Juki DVD is like a silent movie (wordless) and the final stitchout isn't revealed until the end of the threading demo for that section, the first time I accidentally threaded the machine for chainstitch instead of coverstitch. I thought the Juki DVD was pretty good, just sometimes it helped to have another video angle for the thread path, which the Bernina video provided.

If you figure out what's causing the problem(s), please post with an update so I and others will know what to do when it happens to us!

sasella

Member since 12/31/12
Posts: 2



In reply to pamxch

1 member likes this.



Date: 1/17/13 5:00 PM

I put all the tension on 4, apart from the one I was changing, and that worked. When I finished the strip for each needle/looper, I had a good idea what the tension should be on each, so I did one more strip, starting with those settings and adjusted from there. I've mostly used ordinary sewing thread, not serger cones, and I haven't been using the thread nets, so I'm going to try that next and see if it solves the problem. The one t-shirt I hemmed using the cones (so the thnner serger thread) did not drop any stitches at all, so maybe that's the issue.

Printable Version
* Advertising and soliciting is strictly prohibited on PatternReview.com. If you find a post which is not in agreement with our Terms and Conditions, please click on the Report Post button to report it.
Online Class
Serging Ahead with your 5 Thread Serger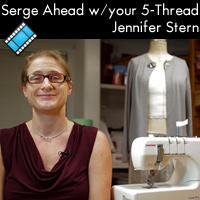 Online Class
Break your Serger Out of the Box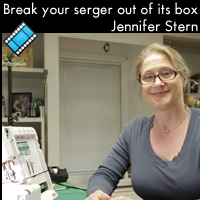 New Look 6571

by: Sheila457
Review
New Look 6755

by: Sheila457
Review
Favorite Things Lounge Around Pattern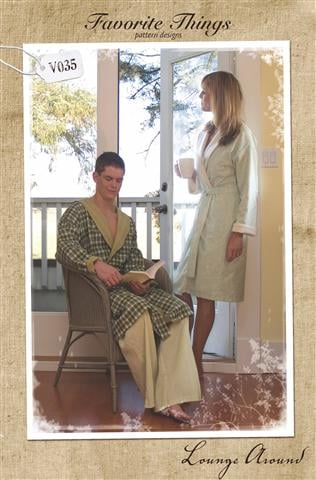 Pattern Details
Victoria Jones Collection Pattern 104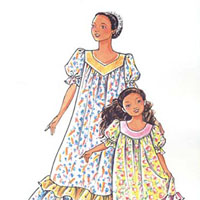 Pattern Details