Kate1230

Beginner
North Carolina USA
Member since 1/17/13
Posts: 2

2 members like this.




Date: 1/17/13 2:55 AM

I bought a Singer Quantum Stylist 9960 almost 3 years ago and it's still in the box. I had every intention of learning how to sew but my Mom became ill and it was just no longer a priority nor did I have the time for it. We're in a new home and I love to decorate and would like to be able to make duvets, drapes, pillows, etc. I'm not sure where to start. Would you all recommend my taking lessons, if so, where? Private or group? I'd like to use my machine but it's a bit intimidating. I've downloaded the manual and printed it out and have been thinking about just using scraps of material and trying to get started on my own. After all, we're women, we're intelligent, we can multi-task, how badly can I screw this up?? LOL, I just don't want to end up breaking my new sewing machine.

Any tips, especially as far as books for beginners go, would be greatly appreciated. I also welcome any feedback and info anyone can send my way.

For those of you who are familiar with this machine, is this too much for a beginner to start with? My mother, who had years of experience was going to teach me and I feel like I just can't let her down now that she's passed away.

Looking forward to hearing from all the talented posters on here. Thanks!

rmusic1


Advanced Beginner
UNITED KINGDOM
Member since 7/3/10
Posts: 952

3 members like this.




Date: 1/17/13 3:23 AM

first of all congratulations on finding pattern review, its a great resource with lots of lovely friendly people to help you learn. I have gained lots from it, and I hope you do too.

On to your question - my response would be it depends on how you learn best. Have you picked up other skills previously by reading books/watching videos? if yes, then there are lots of internet tutorials and books out there to help you get started.

Personally I am a visual learner, and (at least when I was making my very first steps, or should I say stitches) I found it very helpful to have a tutor on hand to ask "why isn't this working, or help!".

Once I gained a bit more confidence and some good sewing habits I've spent more time sewing under my own steam. I still go to classes but know I can try new things with a good chance of success.

Good luck either way, and I am sure you will get a lot of enjoyment from this new hobby.

tgm and Kittys


Advanced Beginner
USA
Member since 3/8/10
Posts: 8074





Date: 1/17/13 4:14 AM

Welcome to Pattern Review! I hope you will like being a member & find as I have it is a wealth of information.
I am sorry your Mom passed on, my heart felt sympathy to you.

I would suggest you go to the Sewing Machine portion of this forum & look under Singer posts some active members have your vary machine & someone may help you with it there.

There are few sewing lessons where I live, unfortunately. I have found watching sewing shows on TV & tutorials helpful to me. I am more of a visual & hearing learner myself. I also like sewing magazines that break things down & explain step by step . ...I like Stitches, Sew News & sometimes Threads the best. One of my first books was Sewing For Dummies, I still refer to it. Many like Reader's Digest Guide to Sewing, the earlier edition. I have that also & use it sometimes.

I hope this helps you a little. Do not be afraid to take the sm out of the box & see what you think. That is the first step to knowing the machine & see if you like it.

Best Wishes to you. ....People are here to help we are all learning.

This is the Singer postings........... Calling All Singer Owners!
-- Edited on 1/17/13 4:42 AM --

------
Home of the adorable Baby & Mittee girl >^,,^<

Oh my..here we go again, no job...Sighing allot..




quiltingwolf


Intermediate
Member since 12/15/02
Posts: 6649





Date: 1/17/13 7:02 AM

I'm sorry for your loss. I'm sure your mother would have love to pass down her love of sewing to you if she had been able.

That is a nice machine you have but not to daunting. What kind of sewing interests you? Making garments, quilting, home dec, all of the above? There are so many resources online for a beginner sewer. But my advice is if you have this option is to take beginner class, some community colleges offer them, Joanns and some quilt shops if you are interested in quilting and some even have classes for clothing also. Sewing is kinda of like math once you get the basics down you can make anything. Good luck.

------
quiltingwolf.blogspot.com

Julkane


Intermediate
Pennsylvania USA
Member since 9/14/07
Posts: 700

1 member likes this.




Date: 1/17/13 9:02 AM

I agree with quiltingwolf; you need to take a class to just learn the basics. If you have already had a class in school on basics then you can forgo it. You do not want to become so frustrated that you do not continue your sewing journey. If classess are not available or convenient in your area, look for a sewing group. Once you make one small item, you will just take off. I have been sewing for 50 years and still occassionally take classes and sew with others often. To this day, I always learn something from the others I sew with.

------
Elna Excellence 740, Pfaff Quilt expression 4.0, Janome 300E, Brother 8500D, Babylock Ellageo, Janome 900CPX CoverPro, Brother 5234 Project Runway Serger, Singer Treadle, Singer 66, Singer 99

http://juliannasjourney.blogspot.com/

NottaWadder


Advanced Beginner
Member since 6/17/12
Posts: 386



Date: 1/17/13 9:59 AM

I do not have much advice for the best way for you to learn, but I can tell you that I personally think your 9960 is a great machine. I have it, and while I do already know the basics, it is a pretty straight forward machine with some great extra functions. There is room for you to grow into it without outgrowing it too fast.

------
My Singer crew:
Sergei - Serger 14T968DC (set up as coverstitch)
Stella - Serger Stylist II 14J250 (set up as main overlock)
Quincy - Quantum 9960 (my main SM)
Newest addition: Stevie, my very first Featherweight! (221 Centennial)

LuceLu


Advanced Beginner
New York USA
Member since 8/4/06
Posts: 1560

4 members like this.




Date: 1/17/13 10:28 AM

Take the free Sewing Machine 911 class on Craftsy.

Then check out Threads online site and join, there you will have access to the beginning video sewing series. If you get stuck, post here or there and we can help. Also YouTube has great tutorials. See if there is an ASG or BurdaStyle sewing group in your area and join one. Soon you will have a place to go to show off your stuff and bring any problems at a live meeting. There is also a Google+ Sewing Community that has been started. I took a community ed class when I first learned to sew and also took a couple classes at Joanns that were offered by the sewing machine dealer on sewing with knits, zippers, etc.

Get yourself one good complete basic sewing guide like Reader's Digest or Singer's pictorial guides. These are great for looking up things you see in pattern instructions. I would also add a book on home dec sewing-- Singer has one out that they sell in Joanns. Home Dec is usually pretty straightforward. Start out with napkins, table cloth or simple pillow or curtains. You should be able to master many techniques with these kind of projects --mitered corners, zipper insertion, piping, tucking/pleating, applique etc.

Once you get to drapes, you need to learn about the pinch pleating. It is lots of measuring and you may need to rig up a wide table surface. Pam D'Amour (The Decorating Diva) has some good videos too. She often teaches at expos so if you can get a class with her you will love it.

KLK7

Beginner
Member since 10/12/12
Posts: 35



Date: 1/17/13 10:47 AM

I also have the 9960. I agree that it is not too much machine for you. It is pretty easy to use because the computerized LED screen menus are easy (assuming you like to use computers).

Techniques, reading patterns, basic sewing, etc. have little to do with the machine. I have taken classes at Joann's and a local sewing shop. I vastly preferred the local shop but Joann was much cheaper. Sometimes you get what you pay for.

PattiAnnJ


Advanced
USA
Member since 12/3/06
Posts: 7394



Date: 1/17/13 10:49 AM

I also wish to offer my deepest sympathy for your loss.

Lessons would be a definite plus for anyone wanting to learn a new venue.

Unless this is a private lesson, you will be required to know how to operate your own sewing machine. A Singer dealer may be the place to go as they should know the "ins and outs" of their own product.

In the meantime, it wouldn't hurt to take the machine out of the box and become familiar with it before lessons. Best way to learn the basics of operating this particular model is to sit down at the machine with scraps and as you read, apply! No skipping. No going by pictures only. Page one through maintenance. Once finished, you should be more comfortable with lessons or classes.



-- Edited on 1/17/13 10:59 AM --

------
"Improvise, adapt and overcome." - Clint Eastwood/Heartbreak Ridge

Mufffet


Intermediate
Vermont USA
Member since 8/14/05
Posts: 10958





3 members like this.



Date: 1/17/13 11:25 AM

Welcome to PR, and so sorry about your Mom. I know she would be so proud of just your first post!Your machine, as it happens, is one of the best reviewed machines here on PR.

I myself do not think you need a class to learn to sew, but if there is one near you and it isn't too much out of your way time or distance, a class provides not only instruction but company in the sewing venture!That can be fun!

Yes, I too suggest the Sewing Machine 101 class on Craftsy as a beginning because understanding the machine is really a basic, and getting comfy with your machine is a wonderful start.

I recommend a book called Sew Everything Workshop It has patterns in it, is binder format so stays open, and is just a great beginning book - both introductions to machine and sewing and projects that resonate with today's new sewing beginner.

Keep posting here on PR and believe me people will help!

Sew Everything Workshop
-- Edited on 1/17/13 11:27 AM --

------
"Be kind whenever possible. It is always possible."
--Dalai Lama

I have sewing machines
Printable Version
* Advertising and soliciting is strictly prohibited on PatternReview.com. If you find a post which is not in agreement with our Terms and Conditions, please click on the Report Post button to report it.
Altering Jackets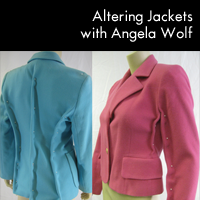 Sew a Designer Unlined Jacket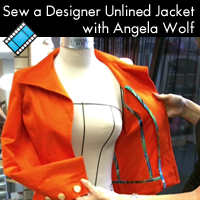 Simplicity 3803 (circa 1965)

by: sugarduck
Review
Sewing Workshop Chopin Blouse Pattern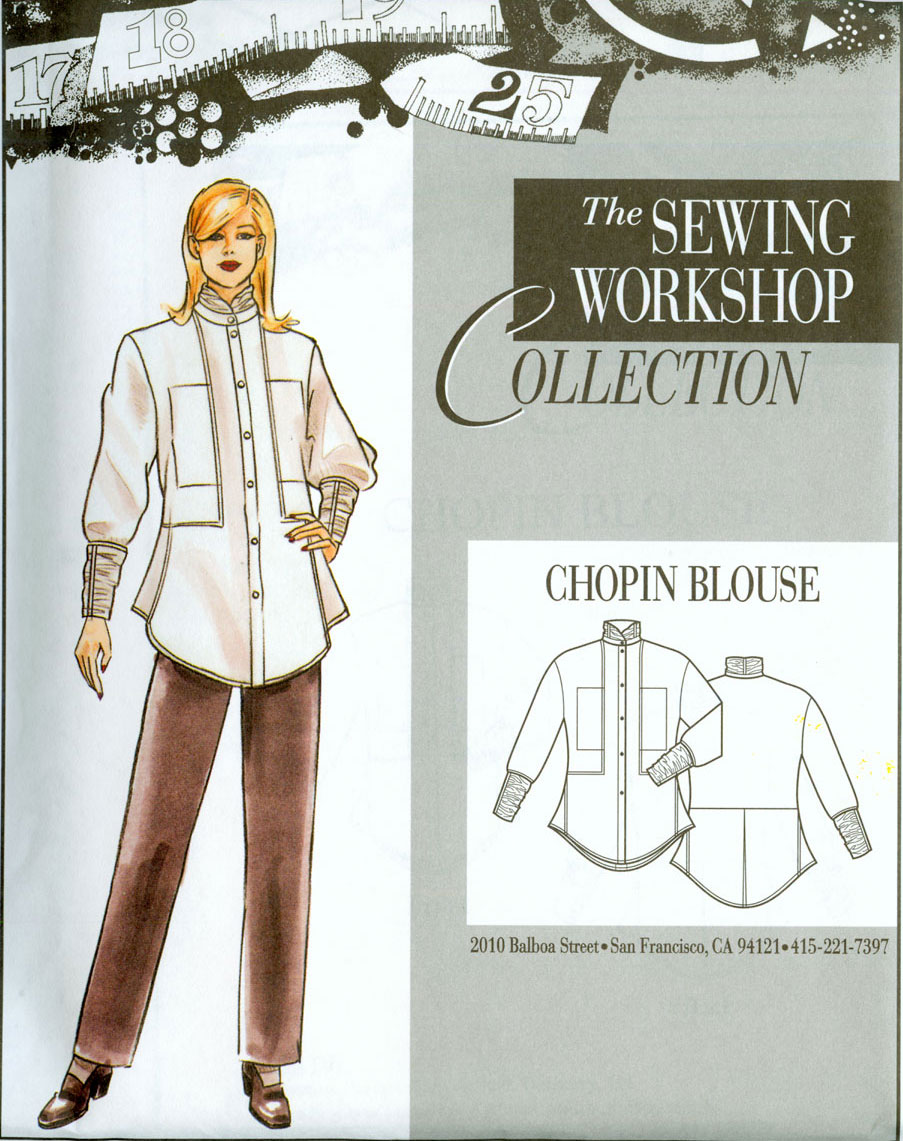 Buy Now
Petite Plus 605 Pattern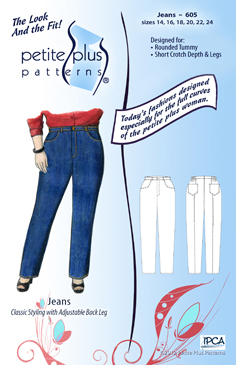 Buy Now
Self Drafted Pattern 230862-1002

by: CraftAddic...
Review