Julkane


Pennsylvania USA
Member since 9/14/07
Posts: 702
Skill: Intermediate

1 member likes this.




Date: 1/18/13 11:16 AM

Well I am finally really happy with my FMQ on my Pfaff Quilt Expression 4.0. I have experimented and finally gotten the settings correct to achieve a good result easily every time. Basically I needed to change pivot height to -3 to get a good stitch. I have posted my settings and routine on my blog if you need more detail.

My Blog

Settings:

click here

-- Edited on

1/18/13 11:17 AM

--

------
Elna Excellence 740, Pfaff Quilt expression 4.0, Janome 300E, Brother 8500D, Babylock Ellageo, Janome 900CPX CoverPro, Brother 5234 Project Runway Serger, Singer Treadle, Singer 66, Singer 99

http://juliannasjourney.blogspot.com/

JJane


Canada
Member since 10/30/10
Posts: 3480
Skill: Advanced Beginner





In reply to Julkane

Date: 1/18/13 1:25 PM

Thanks for sharing that. For those of us with the same machine (and just venturing into FMQ) it is really good to have info like this. It would never have occcured to me to change the pivot height for example. And you are so right... the manual is "sparse" to say the least...

Now this may sound like a really dumb question but: do you use a quilting needle for FMQ?

Julkane


Pennsylvania USA
Member since 9/14/07
Posts: 702
Skill: Intermediate



In reply to JJane

Date: 1/18/13 1:57 PM

I use a 90/14 Organ needle. It really eliminates thread shredding for me while I FMQ.

------
Elna Excellence 740, Pfaff Quilt expression 4.0, Janome 300E, Brother 8500D, Babylock Ellageo, Janome 900CPX CoverPro, Brother 5234 Project Runway Serger, Singer Treadle, Singer 66, Singer 99

http://juliannasjourney.blogspot.com/

Cat n Bull


North Carolina USA
Member since 2/17/06
Posts: 5493



Date: 1/18/13 3:17 PM

took a picture with my phone of the settings so I can go upstairs and try them out later!

I have Princess set up on the counter for embroidery, and I need to quilt the fabric for my grandson's bag before I can put it together. I was dreading trying to learn a new machine's FMQ style, this really helps so much!

Thanks!

------
Cathryn

Cat n Bull


North Carolina USA
Member since 2/17/06
Posts: 5493



Date: 1/19/13 9:00 AM

Hey Jul...I used Betty (my QE4) to fmq last night!

I didn't like the pivot height so tight, so I raised it up to -1, and I lowered the tension down. I was using Isacord in the bobbin and Masterpiece in the top.

I used a size 14 quilting needle. I had no skipped stitches, and everything seemed to go pretty smooth!

I am not sure about the tension though. I could see the bobbin thread a tiny bit on the top, but I am not sure of it was just because I had bright orange in the bobbin and turquoise blue on top, on mostly black fabric.

The back stitches looked great, no blue showing.

So do I need to raise or lower my upper tension if there is bobbin thread peeking in the corners of the stitches?

I felt like Betty was really handling the FMQ well. Compared to Princess, it seemed about the same, but I think Betty felt a bit more sure of herself. It's hard to describe, but Betty feels "tighter" to me. Maybe it's just me. Or maybe it's because I have never turned off the auto presser foot lift on Princess either! I am definitely going to try that.

The only thing that I didn't like as much about Betty FMQ was the disengaged IDT on her was loud! At first I thought it was something clanking in my bobbin case, and once I realized it was just the IDT I was able to (pretty much) ignore it.

I was FMQ the cut out pieces of the bag I am working on, they were PERFECT to practice on! I just did a meandering stitch, I think it's called stippling. I made them pretty tight because I want the bag stiff.

I ALWAYS buy the softest batting to get the nice drape, I was wishing I had some leftover stiffer stuff to make this bag.

------
Cathryn

Julkane


Pennsylvania USA
Member since 9/14/07
Posts: 702
Skill: Intermediate



In reply to Cat n Bull

Date: 1/19/13 10:54 AM

Quote: Cat n Bull
I was using Isacord in the bobbin and Masterpiece in the top.

I am not sure about the tension though. I could see the bobbin thread a tiny bit on the top, but I am not sure of it was just because I had bright orange in the bobbin and turquoise blue on top, on mostly black fabric.
So do I need to raise or lower my upper tension if there is bobbin thread peeking in the corners of the stitches?

The only thing that I didn't like as much about Betty FMQ was the disengaged IDT on her was loud!

I ALWAYS buy the softest batting to get the nice drape, I was wishing I had some leftover stiffer stuff to make this bag.

OK glad you had a pretty good experience with FMQ on Betty. I have not named my girls but I like that you have so I am considering it.

If there is bobbin thread showing ontop your needle thread tension is too high. The thread tensions always confuse me greatly after all these years. When I FMQ I have had the opposite issue of the needle thread showing on the underside so that is why I have to increase upper thread tension. This is all dependent on types of thread being used but I also think the pivot height may make a difference also. Honestly I have had no success using different threads in the bobbin and upper. Here is a thread tension article I just found.

Thread Tension

I did not notice any noise with the disengaged IDT but will pay attention the next time I FMQ. Were you using the Sensormatic foot or the Spring Free Motion Foot?

When making a purse or bag that needs some stability I use Soft and Stable. I really like sewing with it and it is easy to quilt.But you definitely have a formed bag when completed.

-- Edited on

1/19/13 11:25 AM

--

------
Elna Excellence 740, Pfaff Quilt expression 4.0, Janome 300E, Brother 8500D, Babylock Ellageo, Janome 900CPX CoverPro, Brother 5234 Project Runway Serger, Singer Treadle, Singer 66, Singer 99

http://juliannasjourney.blogspot.com/

Julkane


Pennsylvania USA
Member since 9/14/07
Posts: 702
Skill: Intermediate



In reply to Cat n Bull

Date: 1/20/13 12:45 PM

Well I did some FMQ last night and I really do not have any noise with the disengaged IDT, that I notice. That being said, I happen to think the QE4 is way noisier overall than my Elna 740.

------
Elna Excellence 740, Pfaff Quilt expression 4.0, Janome 300E, Brother 8500D, Babylock Ellageo, Janome 900CPX CoverPro, Brother 5234 Project Runway Serger, Singer Treadle, Singer 66, Singer 99

http://juliannasjourney.blogspot.com/

Cat n Bull


North Carolina USA
Member since 2/17/06
Posts: 5493



In reply to Julkane

Date: 1/20/13 1:05 PM

My Creative 4 is a NOISY machine, all around. Betty is quieter sewing, but louder FMQ'ing.

I haven't finished the bag pieces yet, I was babysitting and by the time the evenings come around I want to vegetate, not sew.

I will reduce the tension next time. I have been so spoiled by Princess's auto tension! It is a pain for me to have to tweak it, but I will have to put on my big girl pants and deal.

As far as the pivot height adjusting goes, when you FMQ at higher speeds the presser foot just floats over the fabric, it is only at lower speeds the foot comes down. How does that affect tension?

I HAVE been spoiled by Princess's auto tension, this is all new to me!

edit: I forgot!

I use the sensormatic foot. I have the spring foot on Princess for embroidering. I don't think I will use the spring foot for FMQ. It's big and bulky and I like the simple small sensormatic foot.

-- Edited on

1/20/13 1:07 PM

--

------
Cathryn

Julkane


Pennsylvania USA
Member since 9/14/07
Posts: 702
Skill: Intermediate



In reply to Cat n Bull

Date: 1/20/13 8:07 PM

Heck I don't know if the tension is affected by the pivot height.......that may all be in my head! My Elna has auto tension but I still have to tweak it for FMQ also.

I tried the springfoot on the QE4 but prefer the sensormatic. I use the springfoot on my Elna for FMQ and like it. Anyways, on any machine I seem to get a better stitch when I go faster but, alas, I am not very good at a fast speed. I cannot FMQ on my Brother 8500 due to its auto tension and never could get the Janome 4900 to FMQ either. So I am extremely happy to have 2 machines that I can FMQ on but I actually prefer the QE4 now.

------
Elna Excellence 740, Pfaff Quilt expression 4.0, Janome 300E, Brother 8500D, Babylock Ellageo, Janome 900CPX CoverPro, Brother 5234 Project Runway Serger, Singer Treadle, Singer 66, Singer 99

http://juliannasjourney.blogspot.com/

Cat n Bull


North Carolina USA
Member since 2/17/06
Posts: 5493



In reply to Julkane

Date: 1/20/13 10:04 PM

I worked on the bag pieces today, and I actually prefer Betty for FMQ also!

I also worked on constructing the bag, and I DEFINITELY prefer sewing on Princess. Simple quilt piecing is no big deal for Betty, but for more challenging things, Princess does reign supreme.

I am liking having two machines now, A LOT! It's still a pain to have to switch them out in the cabinet, but that's just me being lazy.

I don't have any place to set them both up for sewing. My counter I put Princess on for embroidering is too high to comfortably sew on.

I lowered the tension and did not notice any difference really. There is still a tiny dot of orange bobbin thread on the front. I am not worried about it though. I will experiment with different fabrics and threads and see if it's still a problem.

I still can't get a decent consistent stitch length with FMQ. I need LOTS of practice! I tried really hard to focus on having some sort of plan before I switched directions. I am REALLY not an artsy kind of person. I don't doodle or draw, this is very very hard for me! I do best with a stencil, or some definite pattern to follow.

I didn't break any needles this time with abrupt drastic directional changes! That was a first for me!

------
Cathryn
Printable Version
* Advertising and soliciting is strictly prohibited on PatternReview.com. If you find a post which is not in agreement with our Terms and Conditions, please click on the Report Post button to report it.
Online Class
Clone Your Favorite Garment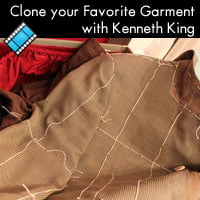 Online Class
Fun with Fitting - BODICE w Darts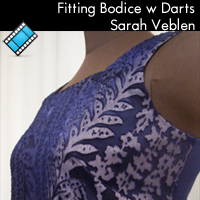 McCall's 6282

by: feltont
Review
Sew Chic Abby Apron Paper Pattern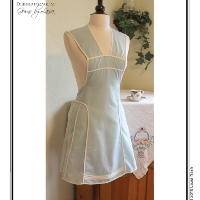 Pattern Details
Islander Sewing Systems Details Express Shirt (Size 1X-4X)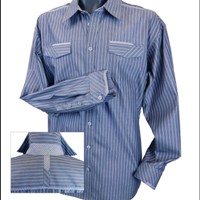 Pattern Details
StyleArc Barb's Stretch Pant

by: yorkshire ...
Review