kowgiirl.up

Intermediate
Oregon USA
Member since 12/28/12
Posts: 212

1 member likes this.




Date: 1/22/13 12:51 PM

I've been trying to learn about sewing jeans and have seen lots of posts all over the place about sewing muslin.
I must be as thick as a brick but I don't get what the heck it is and why the heck I need to use it.
Is it a waste of time or not?


------
Runs with scissors
Universal Deluxe Zig Zag from the 60's
Singer Quantum Stylist 9960
Singer Treadle 127 Egyptian
Juki MO 735

andye

Beginner
Virginia USA
Member since 5/9/09
Posts: 1908



Subject: Muslim~ what the heck is it? Date: 1/22/13 1:06 PM

Muslin, besides being a grade of cotton cloth, is a cheap fabric that you can use to experiment with, and adjust the fit before cutting expensive fabric.

------
Bernina B330
Feet: 1,2,3,3A,4,5,7,8,10,13,16,18,20, 29,32,35,37,50,64,70,71,82,85,86, 92



CM_Sews

Intermediate
California USA
Member since 9/18/04
Posts: 1811

2 members like this.




Subject: Muslim~ what the heck is it? Date: 1/22/13 1:08 PM

Ah, your confusion is completely understandable. There are two definitions of "muslin", which sometimes intersect -- but not always.

1. Muslin, a type of plain cotton fabric. It may be white (bleached) or natural (a sort of beige color). It can come in different widths and weights, but most often you'll find it in a weight that most resembles quilting cotton.

2. Muslin ("a muslin") - a test garment that you sew to test the fit and fitting of a garment you intend to sew. You sew a muslin from inexpensive fabric (often cotton muslin fabric, but you can use any fabric). To get an accurate sense of fit, you should use a fabric that most resembles your expensive fashion fabric. If you are sewing "a muslin" for a T-shirt, for example, you should use a knit fabric. If you are sewing "a muslin" for jeans, then you want to use a fabric that has about the same weight as denim.

ETA: Note that it's muslin, with an "n". Muslim has an entirely different meaning.

CMC
-- Edited on 1/22/13 1:10 PM --
-- Edited on 1/22/13 2:35 PM --

Maia B


Advanced Beginner
Illinois USA
Member since 10/27/10
Posts: 4793

1 member likes this.




Subject: Muslim~ what the heck is it? Date: 1/22/13 1:11 PM

Muslin is a lightweight, woven, cotton fabric, bleached or unbleached. It's often used to make "a muslin" which is a mock-up/practice version of a garment. A "wearable muslin" is sort of a trial run with a pattern, of less expensive fabric (not necessarily muslin) than you eventually plan on using.

Making a muslin gives you the chance to tweak your pattern before cutting into your project fabric. Ideally, make it from something cheap, but as close as possible to the properties of the project fabric.

Unless you know how a pattern will work for you, it's usually worth doing, to correct fit issues before you cut into your $$$/good fabric.

A Muslim is an adherent of Islam, a major world religion, but I guess your autocorrect did that. 😉



------
🌸 Plenty of machines, mostly Berninas 🌸

DonnaH


Intermediate
Texas USA
Member since 10/1/03
Posts: 1385





In reply to kowgiirl.up <<

2 members like this.



Subject: Muslim~ what the heck is it? Date: 1/22/13 1:15 PM

Your spell check (or fingers) changed the word in your thread title! (It should be Muslin - Muslim is the religion.)

Anyway, A muslin is a trial of a pattern. The UK folks call them toiles. And you don't necessarily use muslin (or toile) when you make one! Best done in fabric w/ a similar weight and drape to that of you final fashion fabric - but much cheaper. You cut it out and sew it up to the point where you can try it on.

With some dresses, you may only do the bodice. You don't usually bother with the hems of finishes, and sometimes people use contrasting thread on the longest stitch length (easier to take out and sew again).

When it is one you (or a helpful friend) mark and/or pin the places to correct the fit. In my case I've needed to add - and sometimes that means only adding to one piece, so I can take it apart and reuse the pieces that are OK.

It's recommended to only fix one thing at a time (adding/changing a dart, adding/removing ease or length, doing adjustments for narrow/wider shoulders or a different size bust or sway back) - because you can't be sure how it will affect the fit. Then sew up another muslin.

You transfer all the changes to you paper pattern (most of us trace onto paper or plastic), so that what you end up with is a pattern that will fit you. After a while you will learn that you always need certain adjustments w/ certain brands of patterns - and you can do those before your first muslin.

I have also used my final muslin as the lining for the project.
-- Edited on 1/22/13 1:17 PM --

ElizabethDee


Advanced Beginner
New York USA
Member since 12/27/06
Posts: 710

2 members like this.




Subject: Muslim~ what the heck is it? Date: 1/22/13 1:29 PM

"muslin" can refer to a particular plain cotton woven fabric typically used to test patterns and to refine the fit if a pattern. If you are British you might know this fabric as "calico."

"Muslin" can also refer to the aforesaid mockup/test/fitting version itself. In this case it is a synonym for what British speakers call a "toile."

A really good explanation and demonstration of how to use a muslin can be found in a 4-part YouTube series by Hotpatterns. I can't post a link, but you can find it by searching YouTube for "Hotpatterns p&s 24/7 a- line and pencil Skirt" (yes, there is a space after the a- in "a- line).

Don't be put off that the YouTube videos are about a skirt, and not jeans. The principles are identical, and you'll have a sense of whether or not you want to make a muslin.

Some people never sew muslins, some always sew muslins, it's up to you. I have to do a lot of altering, so I usually do make a muslin. Also i feel more confident about cutting into pricey fabric if if I have gotten the pattern to work for me ahead of time.

Good luck.

kowgiirl.up

Intermediate
Oregon USA
Member since 12/28/12
Posts: 212





Subject: Muslim~ what the heck is it? Date: 1/22/13 4:55 PM

Quote: DonnaH
Your spell check (or fingers) changed the word in your thread title! (It should be Muslin - Muslim is the religion.)





I fat-fingered the keyboard.
At least it got everyone's attention

Thank you all for the replies and now I get it.

------
Runs with scissors
Universal Deluxe Zig Zag from the 60's
Singer Quantum Stylist 9960
Singer Treadle 127 Egyptian
Juki MO 735

EleanorSews


Advanced
Michigan USA
Member since 7/26/07
Posts: 4687
Board Moderator



Date: 1/22/13 5:13 PM

The topic title has been corrected. It now reads 'muslin" with an "n". There's not way to easily edit al the posts and correct it excvept one-by-one. I think you've all clarified it so we're good. Thanks to all who tactfully handled that part of it.

------
"We don't see things as they are, we see them as we are." Anais Nin

"Attitude is the difference between an adventure and an ordeal." unknown

PattiAnnJ


Advanced
USA
Member since 12/3/06
Posts: 7634





In reply to EleanorSews <<



Date: 1/22/13 5:49 PM

Quote: EleanorSews
The topic title has been corrected. It now reads 'muslin" with an "n". There's not way to easily edit al the posts and correct it excvept one-by-one. I think you've all clarified it so we're good. Thanks to all who tactfully handled that part of it.


Even the "experts" make typos! I have now experienced a touch screen keyboard and they are not only awkward/slow going for a touch typist, the weirdest spellings can appear..

------
"Improvise, adapt and overcome." - Clint Eastwood/Heartbreak Ridge

jenleeC


Intermediate
Western Australia Australia
Member since 6/4/11
Posts: 1105





In reply to ElizabethDee <<

1 member likes this.



Date: 1/22/13 7:03 PM

The terms 'calico' and 'toile' are used in Australia as well as the UK. I like using the term 'toile' for your test/mockup/fitting version as it clearly differentiates between the garment and the fabric that is used to sew the garment. I think it is less confusing than using the same word for both.

In Australia (not sure about the UK), muslin fabric is a very fine gauzy cotton generally used for swaddling babies or straining soups/sauces etc! I think in the USA it is called baby muslin. Maybe someone can confirm this?

I think it is interesting to see how different sewing terminology is used in different countries. As this is an international site it is good to know the various words that are used. Another that springs to mind is serger/overlocker.

------
Jenny, Perth, WA
Printable Version
* Advertising and soliciting is strictly prohibited on PatternReview.com. If you find a post which is not in agreement with our Terms and Conditions, please click on the Report Post button to report it.
Altering Pants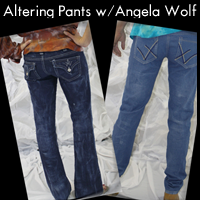 Expert Sewing Techniques for Jackets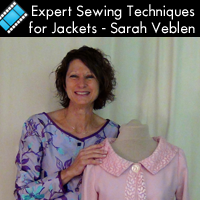 Vogue Patterns 7997

by: mimi g.
Review
Japanese Pattern Books Drape Drape 1

by: Cation Des...
Review
PerfectFuseTailorUltra Black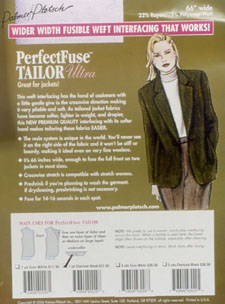 Buy Now
Jamie Christina Hooded Scarf Pattern (JC307HS)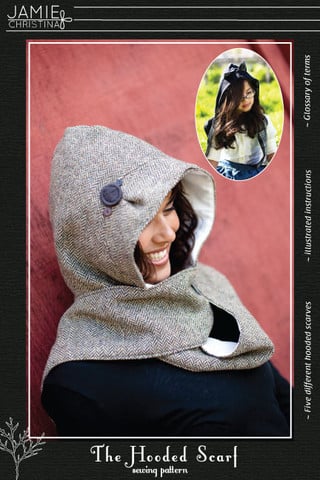 Buy Now