RipStitcher


Advanced
Member since 5/28/12
Posts: 2863



Date: 2/3/13 11:29 AM

I found a display Serenade for $900 - I'm going to get it for my drag-around machine so I can leave my other two behemoths at home when I go to classes, sew-ins, etc.

I want to make a list of accessories - the dealer will give me 30% off and order what I want. So I guess I gotta figure out what I want, eh?

If any of you have bought extra accessories for this machine, I'd love to hear your experiences.

More than anything, does anyone know if any accessory meant for a Pfaff 9mm with dual feed machine will work on this machine?

------
Video of how the Bionic Gear Bag works is here: www.BionicGearBag.com
Neglected personal blog is here: www.RipStitcher.com
Share pics on Instagram: RipStitcher

Tool junkie at heart!

Bernina 880 Sterling Edition & Bernina 550qe

Next up:
Babylock Sashiko
Babylock serger
& a new-new Sewmobile - see my last #sewmobile in Instagram

Canadian Jane


Advanced Beginner
Alberta CANADA
Member since 10/30/10
Posts: 2120





Date: 2/3/13 12:10 PM

I don't have one but ....Maia has the Quest Plus which I believe is the model just prior to the Serenade. Maybe you can send her a PM and ask. Does anyone mention anything in the machine reviews for either machine?

I recall Maia saying how much she loves hers. I think you are getting a great machine. I wanted to look at one but my one and only BL dealer in my city wouldn't carry them for some reason. Grrrrr....



RipStitcher


Advanced
Member since 5/28/12
Posts: 2863



Date: 2/3/13 3:50 PM

Well... they're being discontinued - if they are not already discontinued.

The machine is a real odd-ball in the Babylock lineup... it's definitely looks adopted into the family.

The dealer told me yesterday that this machine was made by Juki (or I'm guessing by whomever it is that makes Juki - same dif) .. and it just doesn't fit in their line.

It's the only machine in the BL line with any sort of dual feed built-in... so its obvious it was meant to compete with other brands that have this.

It has over 500 stitches.. along with that dual feed gizmo.

I mostly wanted a class machine with some sort of dual feed (other than a walking foot option - don't really like those) , knee lifter, cutter and a gazillion stitches.

So it is interesting that these were put out for Babylock, Pfaff and Singer.

It's just difficult to find an accessory catalog online. I really want to see if just about any Pfaff foot fits it.

------
Video of how the Bionic Gear Bag works is here: www.BionicGearBag.com
Neglected personal blog is here: www.RipStitcher.com
Share pics on Instagram: RipStitcher

Tool junkie at heart!

Bernina 880 Sterling Edition & Bernina 550qe

Next up:
Babylock Sashiko
Babylock serger
& a new-new Sewmobile - see my last #sewmobile in Instagram

Melinda In Tulsa


Intermediate
Member since 9/15/03
Posts: 552



Date: 2/4/13 3:24 AM

Hi Rip, I have the Serenade (I actually bought 2, sent the 2nd one to my oldest DD in NM. They came out in March of 11 and I bought them in May 2011. I love mine. I bought the 1/4" foot w/guide and the edge stitching foot. They also have a stitch in the ditch foot but I think it is a waste of $$ since it is a single hole foot and you can't move the needle like you can with the edge stitch foot. I'm planning on ordering some more feet pretty soon, just in case they might get hard to find later.

As far as a class machine, I'm gonna warn ya, it's a heavy machine. Is it doable? yes. It's not nearly as heavy as the Ellisimo but it does weigh about 25 pounds. For $900, I'd grab it in a heart beat. I got a great price on mine since I bought 2 at the same time and I paid $1225 each. (I'm a regular customer at my dealer's!)

I've never posted an official review on my machine simply because I'm a quilter. Never used the button hole features, never will. But I'm very pleased with it, especially since it sorta replaced my Pfaff 7570. (still have her). The Pfaff (7570) feet will work on the Serenade but don't fit the ankle very good (too tight) but you can easily change out the ankle to use the Pfaff feet.

It takes a class L bobbin, my dealer said it was the same bobbin that fits the older Esante's. I think, (would have to go look in my notes) that any of the *J* feet work with it, altho not necessarily with the PDQ.

I know a few people have expressed displeasure with this machine but I don't understand why, she's a real work horse. Also alot of people don't like the boxy appearance, but I do. Have you taken a test drive yet?

edited to add: Your dealer should be able to give you an accessory catalog that tells what fits what machine. I have one.
-- Edited on 2/4/13 3:26 AM --

here are 2 pages of available accessories: http://www.babylock.com/accessories/?at=3&compat=BLSNPage 1 of 2
-- Edited on 2/4/13 3:36 AM --

------
Melinda

We had to get rid of the kids, the dogs are allergic

Babylock Unity, Symphony, Serenade, Imagine Wave, BL Coverstitch, BL Emore, BL Embellisher, Juki TL2010Q, Pfaff 7570, Kenmore 385.1915, Kenmore 158.1914, Kenmore 158.1430, Brother PE 150, 1938 Singer Featherweight, 1896 Singer 27 Treadle...Member of SMAD


Maia B


Advanced Beginner
Illinois USA
Member since 10/27/10
Posts: 4798



Date: 2/4/13 3:38 AM

I have just a couple Pfaff feet I use on my Quest Plus, but not sure which group letter to steer you too. I think they came from my 7510, or I bought them to use with my 7510.

The QP came with a ss plate, extension table, canvas cover, and about 14-15 feet. There was a set of 9 extra feet I wanted included with purchase, but I was told (incorrectly!) that they weren't available. When I did see them, the set was over $200! So I figured that I'd just buy the few of those I'd really likely use.

These machines certainly seem like the "red-headed step-child" (no offense-I mean it as I understand it-the one who is always overlooked, forgotten, dismissed) of the Baby Lock line. When I ordered a bobbin case and foot for my QP-I got the wrong things-parts for the Quilter's Choice Pro and some other model. If a model is still on the website, however, you can get actual part numbers for accessories for that model.

It's pretty heavy-26lbs just the machine, iirc, somehow seems a lot heavier, so I wouldn't care to take it to class too often, but you can judge for yourself.

Lotta machine for the price, IMO, and no skimping on quality.

------
🌸 Plenty of machines, mostly Berninas 🌸

Julkane


Intermediate
Pennsylvania USA
Member since 9/14/07
Posts: 702





Date: 2/4/13 8:53 AM

Make sure you stitch on this machine before you decide to buy. I bought a Quest Plus in 2011 and unfortunately, gace it up for adoption about 3 months later. It has a different feel to it. I just could not bond with it and was sorry I bought it. I had also bought extra feet at the time and should have waited. It was heavy and bulky and I did not use it for classes. To be fair, I think I got a lemon and it had to be repaired 3 times in that short period of time. Since you are accustomed to TOL machines, I am not sure you will fall in love with the Serenade.

------
Elna Excellence 740, Pfaff Quilt expression 4.0, Janome 300E, Brother 8500D, Babylock Ellageo, Janome 900CPX CoverPro, Brother 5234 Project Runway Serger, Singer Treadle, Singer 66, Singer 99

http://juliannasjourney.blogspot.com/

RipStitcher


Advanced
Member since 5/28/12
Posts: 2863



Date: 2/4/13 9:52 AM

Yeah... it *does* have a different feel. Not nearly as smooth or quiet as any of my other machines.

As for the weight, well, that doesn't bother me as far as toting it around to classes and such. My other machines are *huge* and more than anything, I don't want something to happen to either of them. So I would prefer to leave them at home.

I'm glad to have found a solution to being able to get more feet for the Serenade (with the use of that Pfaff ankle that ButterBean posted about).



------
Video of how the Bionic Gear Bag works is here: www.BionicGearBag.com
Neglected personal blog is here: www.RipStitcher.com
Share pics on Instagram: RipStitcher

Tool junkie at heart!

Bernina 880 Sterling Edition & Bernina 550qe

Next up:
Babylock Sashiko
Babylock serger
& a new-new Sewmobile - see my last #sewmobile in Instagram

Butter Bean

Advanced Beginner
Texas USA
Member since 11/2/11
Posts: 175





Date: 2/4/13 1:16 PM

Ripstitcher,
I was going to tell you about that ankle plus you can order extra feet from sewingpartsonline look under babylock presser feet section for quest plus (BLQ2 feet and or singer/pfaff/ babylock will be next to the ones that fit) and also singer L-500 parts section. I ordered the edge joing foot it's under the singer parts section it's a good foot to have better than the stitch in the ditch with the single hole. If you look at my review for the Singer L-500 it will have the pfaff ankle # that works with the pfaff 9mm feet (J series) to use on the Serenade.

The Serenade comes with a lot of feet already 15 to be exact (blind hem/button sewing/buttonhole/cording/darning-embroidery/free motion open toe/ gathering/general purpose/ hemmer/ open toe/ overcasting/1/4 quilting/ satin/ straight and zipper) and a straight stitch plate and extension table plus it has more memory and folders for favorite stitches. I would have purchased it but it was too expensive at the time. Now i see they are discontinuing this machine. My Singer is a nice machine I bought it refurbished for $674 then I purchased all the extra feet, extension table and straight stitch plate (so i probably spent another $250 to make it like the Serenade which at the time was about $1800 about 6 months ago. I think it's a great deal but I have the Singer version and I like for the most part but I am having trouble with the tension at times but I am starting to realize that it seems to be thread brands I haven't been able to really tell for sure but I know it sews terrible with coats and clark dual duty USA poly wrapped mercerized cotton does well with mettler metroscene and Gutterman 100% poly.
**** If anyone knows of a good cotton to try please let me know.
My Singer does not sew as smooth as my Janome but it does sew nice when the tension is right. The tension seems to be erratic. I also had trouble with the thread cutter at first but did what sewingsilly under Singer L-500 boards suggested and it works as I stated in my review so keep in mind some issues you may have. But maybe the Serenade will do better I don't know. I wish mine had the Favorite Stitch Memory Folder that the Serenade has.

Please read all the reviews for the Pfaff Smarter/ Singer L500 and Serenade so you will not be surprised if you start to have a problem. Also the needle up/down constantly resets itself to up when you lift the needle up so before you start to sew again you have to remember to reset it to down again. It has lots of quirks, but it's pretty and has a really small free arm. I'm having a lot of problems with the tension on the fabric facing the bobbin side it's not consistent. One minute it works fine the next minute it looks terrible. I really want it to work right because I purchased a lot of accessories for it and it does have some nice things that the Janome doesn't do. A lot of people have not liked this machine so just really think about it. I like it but somedays when it's not working right I get frustrated with it. But keep in mind mine is the Singer not Baby lock.

Again if anyone knows a good brand of cotton thread to try in this machine please let me know.
Butter Bean



-- Edited on 2/4/13 1:33 PM --

RipStitcher


Advanced
Member since 5/28/12
Posts: 2863



Date: 2/4/13 1:22 PM

Thanks so much, Butter Bean.

I got the part number for that ankle from an old post of yours on here - 98-694886-00 . So that's cool. :)

Are you positively sure that its the "J" series feet that fit this thing (with that ankle being used)? I thought someone else said it was the other way around... with G's and some J's working (but maybe I'm all wet on that).

So where is this singer L500 board? Got a link for it?

------
Video of how the Bionic Gear Bag works is here: www.BionicGearBag.com
Neglected personal blog is here: www.RipStitcher.com
Share pics on Instagram: RipStitcher

Tool junkie at heart!

Bernina 880 Sterling Edition & Bernina 550qe

Next up:
Babylock Sashiko
Babylock serger
& a new-new Sewmobile - see my last #sewmobile in Instagram

Butter Bean

Advanced Beginner
Texas USA
Member since 11/2/11
Posts: 175





Date: 2/4/13 2:01 PM

I don't know how to link on here but if you type in Singer L-500 and Singer Quantum L-500 and Pfaff Smarter C1100 in the advanced search and click on boards ( there are different posts under each section) Or go to search boards and put my name in Butter Bean under messages and my posts should pop up.

So far I have used the flat felled foot the bilevel foot, rolled hem on my machine and they worked fine.
Yes the " J "series Is what I got from the Pfaff dealer and they fit on that ankle. I got the flat felled hem / bilevel foot/ teflon foot / Decorative trim foot/ beading/ rolled hem/ invisible zipper and piping they all have a "J".There was one foot I ordered that did not fit but it had up to "G" on it I think it was the 5 groove pin tuck. I had to take it back. They can have other letters on the package too but it has to have the "J".

Pfaff also sells the bobbins #820779-096 (fits ACDEFG) on the package they are light blue. Also Singer carries the bobbins on their website. I hope this helps I have the numbers to these listed feet if you need a specific one or all of them. Just let me know.

It seems to me that a lot the PR members who bought them do not have them anymore they have moved on to different machines. I think sewingsilly still has hers, I have mine and Pj3g has hers. (Singer L-500). Portland maine had the Pfaff Smarter he did a lot of quilting and hated the needle up/ down not staying down and sold it.

Butter Bean
-- Edited on 2/4/13 2:05 PM --
-- Edited on 2/4/13 2:17 PM --
-- Edited on 2/4/13 2:30 PM --
Printable Version
* Advertising and soliciting is strictly prohibited on PatternReview.com. If you find a post which is not in agreement with our Terms and Conditions, please click on the Report Post button to report it.
Fun with Fitting - PANTS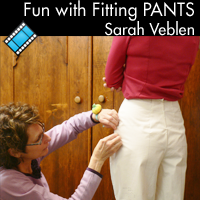 Blueprints to Blue Jeans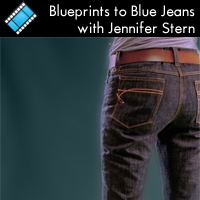 Self Drafted Pattern 0000

by: Terri A
Review
Christine Jonson Travel Trio Three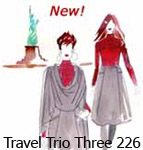 Buy Now
SewBaby Totpacks Pattern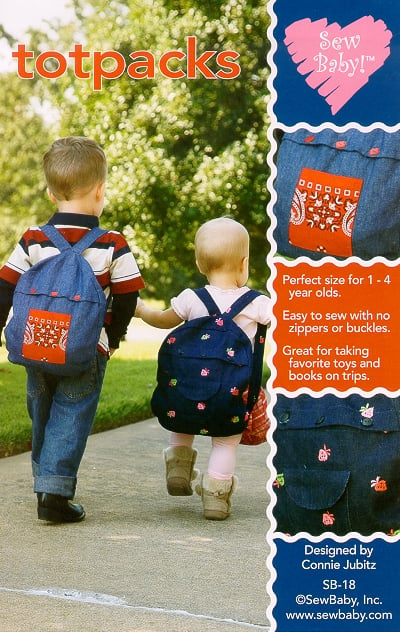 Buy Now
Simplicity 1802

by: Currently ...
Review