GBK


GERMANY
Member since 12/24/07
Posts: 900
Skill: Intermediate

2 members like this.




Date: 2/9/13 5:57 AM

I searched for discussions on the BL Enlighten and flatlock seams as well as rolled hems/lettuce edges on the boards but without real success.

Therefore, I'd be grateful for any advice, tips, and experience sharing you may have for me in that regard!

Background:

I own a Bernina 1150MDA. Since I'm seriously unhappy with the quality of the overlock stitches and how cumbersome it is to get acceptable ones (my machine could be a lemon but no dealer was able to fix it), I've been test-driving a

BL Imagine

for more than 2 hrs. I brought many scraps of fabric, all leftovers from completed (or tossed

) projects.

I LOVED, LOVED, LOVED how easy peasy it is to achieve perfect quality overlock stitches. I LOVED, LOVED, LOVED the convenient AirJet threading.

BUT: I was very disappointed about a number of other things my Bernina is actually very good at. No matter what knob the dealer dialed, no matter what scrap we were using:

- The flatlock seams are ''medium''. We did not manage to get the fabric to lay flat next to each other; there's always a little bulky overlap.

- The rolled hems are poor: there were threads poking out on every sample. My Bernina produced beautiful rolled hems on the very same fabric. (Unfortunately poor overlock seams.)

- The attempt to do lettuce edges was a disaster: the edges did not curl a bit, there was a hardly noticeable ''wave'' every 2 inch or so; the edge rather looked as if it was the failed attempt of a plain rolled hem.

I did not like the rather dark light the BL Imagine has and will therefore test-drive the

BL Enlighten

next week: this should resolve the light issue at the minimum. Perhaps the BL Imagine I test-drove was a lemon in the flatlock seam/rolled hem department. But as far as I understand, the BL Enlighten is in many ways similar to the Imagine and thus, I wonder if there's any advice, tips, tricks from experienced BL Enlighthen owners my dealer may not be aware of? As I neither have the space nor the budget for two sergers, I'd be very happy if I were able to find out how to produce beautiful flatlock seams and rolled hems/lettuce edges with the BL Enlighthen.

Thanks so much for your advice!

-- Edited on

2/9/13 5:58 AM

--

------
Happy Sewing!

Rosews13

California USA
Member since 1/17/10
Posts: 1252
Skill: Advanced

1 member likes this.




Date: 2/9/13 1:31 PM

Guten Tag oder Abend, whichever is accurate when you read this! I am German born and am intrigued with the fabric stores in Berlin that you have reviewed. Actually a field trip in July might be in order for my daughter and I since the air prices are so reasonable from LAX to Berlin. If I do that, it would make you quite an enabler, don't you think?

Not that I couldn't find anything else to do in Northern Germany. We could take a train to Hamburg and then to Amsterdam and to Hannover. Rent a car and drive south a little to show my daughter where I was born and then east through the beautiful countryside, up to Magdeburg and back to Berlin. Then I would throw my clothes away and fill up the suitcase with fabric and fly home. Sounds like a nice field trip to me!

Now on to your dilemna.......I have the Juki MO734de that is the same machine as your Bernina, since yours is made by Juki. I am so surprised that it makes poor overlock stitches.

What does it do wrong? How strange that techs could not fix it. I'm a Pfaff girl and have had 3 Pfaff sergers since 1987, the last being TOL computerized 4874 which I bought from a friend. I could not get used to the things you have to do to a computerized serger to tweak it and get the stitches you want that are different from the ones most people use. I was considering a Babylock before the Juki but after trying a computerized Pfaff serger, I decided I wanted to be in complete control of all my settings. I had taught some serger classes to my sewing guild group and several had Babylocks. We wanted to use decorative threads, etc. and no one had a clue what to do and neither did I.

I know many people on this board have Babylocks they love and will be able to give you insight and tips. Hope you get the answers you need. And again, I can't believe you can't get the Bernina to work for you. That was not an inexpensive machine!

Good luck!

JanyceR


Colorado USA
Member since 2/3/07
Posts: 2075
Skill: Advanced



In reply to GBK

2 members like this.



Date: 2/9/13 1:44 PM

I, too, am surprised you cannot get a good overlock from your 1150MDA. I have one and it makes a beautiful stitch, overlock, flatlock, and rolled hem.

The ugly rolled hem was the deal breaker for me with a Babylock Imagine. I bought one in 2007 to replace my aging Bernette 234DS that had been faithful for 17 years. I sold the Babylock within a month because the rolled hem was exactly as you describe it. I could not get a good one, no matter what I did. I also found it difficult to use decorative threads, I was so used to tweaking the tensions to get the look I wanted.

I hope someone has an answer for you - on either machine!

------
Bernina 880, Bernina 630, Bernina 820, Bernina 1150MDA, BLCS-2



GBK


GERMANY
Member since 12/24/07
Posts: 900
Skill: Intermediate



Date: 2/9/13 4:25 PM

Dear Janyce, dear Rosews, thanks so much for your response! Though I am even more skeptical now that I'll be thrilled by the BL Enlighten ...

My 1150MDA's hickups with the overlock stitches:

1. generally, it is difficult to get the balance of the widths of the cutting knife and the ''overcasting'' threads: if it's not a polar fleece or thicker knit, the loops do not encase the fabric but are beyond the edge.

This cannot be fixed by tightening the tension but just minimized by using the mct feature to its maximum but still there is too much ''air''. And this is with the cutting knife being in the widest position already!

I went to two dealers with the machine and they were not able to fix it. One even said something along those lines ''why bother, it's on the inside of the garment so nobody will see''. Who need dealers like that ...

2. it's not sewing straight on (stretchy) knits which is the main reason why I bought a serger. The machine sews a curvy seam like a ''paranthesis closed'' sign: ) It does sew straight with woven fabrics which makes me confident that it's not me operating the fabric in an odd way. Also both dealers did not get it right.

The seams are not wavy but nevertheless, I played with the differential and with the pressure of the foot but nothing worked out. I did 'one adjustment at a time'' but it did not help.

I feel that the feed dogs pull the fabric unevenly but the dealers both said they are not so all I'm left with is a serger I dislike to use as the results are cumbersome to achieve and of rather poor looking quality. That's why I had hoped for a BL being the remedy. Thanks for mentioning decorative thread: I've never dared to think of it but for sure it's a good reason for being able to dial every disk separately.

Any help, advice, tip, or trick is greatly appreciated!

++++++++++++++++++++++++++++++++

Rosews, welcome back (soon)!

I love to enable and am glad you found the reviews helpful. I could and should review even more as there are a number of fabric stores in Berlin (one carrying some Onion patterns), and I'm even discovering more as I stroll around. Not to forget the Maybachufer-Markt which got reviewed already twice on PR (if not more often) but I may write a review anyway, adding some more information.

If you go to Hannover, you may want to pop in the store close to the station that carries fabric but also an independent German pattern line (forgot the name, will add here later). If you drive South of Hannover and don't mind going as South as Kassel, I'd recommend a trip to Alfatex: they carry quality fabric including many of the ones Burda uses for their magazine patterns.

Re: your travel dates: If you come in July, you would have just missed the Dutch fabric market in Hannover which happens to be on June, 29 this summer:

Holländischer Stoffmarkt

Of course you could also shop fabric markets in Amsterdam, too. And buy MyImage and Knipmode magazines ...

Another thought: if you're interested in trying out some other independent German pattern makers that draft primarily patterns for knits and felted wool (e.g. Schnittquelle, Garconne, Pattern Company) but shipment prices to the US may have put you off, you may want to order them while you're in Germany. Felted wool is rather inexpensive at the Maybachufer-Markt (around 10-15 €/m) if you like that kind of fabric.

LBNL, I could recommend the best Currywurst in Berln and other great places for food and/or strolling around. Just let me know what you're after in Berlin.

Oh, I love to enable ... will send you a PM to ensure you get all the enabling information you need.

-- Edited on

2/9/13 4:33 PM

--

------
Happy Sewing!

beauturbo

California USA
Member since 5/2/09
Posts: 5546
Skill: Advanced



In reply to GBK

Date: 2/9/13 7:09 PM

I don't think you can always judge a whole particular make and model of any kind of machine just by whom is using it at the moment and the results at the moment they are getting most times.

Probably lots of other factors going on there, like how much they used it before, and how much time spent with it, ways of threading up, changing tensions, fabrics, needles and thread matches, stitch lengths, sewing techniques and just all that kind of stuff. No matter whom sews on anything, results from all that kind of stuff, can change each and everytime even.

Of course if they wish to sell you something, the better that all works out for them, and right in front of you, each and every time, I think the more likely that would make you pleased and more likely to buy a machine just right then and there.

I think you expecting to get hints and tips to make someone else sew out something that looks better to you, is kind of going about it backwards though. Instead, maybe even say you wish to play with the machine all by yourself, and just use the book even, and possibly you might even get better results than doing it the way someone else might even sitting in front of it. You never know.

I think all top of the line machines from anyplace, have been pretty much tested make and model wise and proven that way to sew out things good, if all conditions are meet each time, as if not there would not even be any pretty brochures on them or anything, showing all the very nice sewn out samples on them or projects.

But a whole make and model of machines, are the same thing, no matter where they are, and if at some places things sew out just looking better in some demo to someone than at some other place, and things are more different between them, then it's not that the machines are different, just all those other factors and even the human person even sewing on them are different each time instead.

So my guess would be everyone that has one, and likes how all their stuff sews out and turns out (which is probably a huge amount of people and most of them) is doing some different things, than were going on and happening to you than when you were sitting in front of it just then, they just would have to be.

clotheshorse


British Columbia Canada
Member since 3/24/10
Posts: 839
Skill: Intermediate



In reply to GBK

3 members like this.



Date: 2/9/13 10:04 PM

I have the Enlighten and have been very happy with it. You can purchase an Inspiration Guide with it that shows how to do all the different stitches and techniques with various fabric types. I have had very good results with rolled hems on my machine but you could try putting a piece of Solvy (water soluble stabilizer) on top. I have done that on some fabrics with good result. For the lettuce edging you need a lightweight fabric and you need to stretch it. Your differential feed needs to be at the lowest setting.

Rosews13

California USA
Member since 1/17/10
Posts: 1252
Skill: Advanced



In reply to GBK

1 member likes this.



Date: 2/10/13 0:30 AM

Please help me understand....You increase tensions on both loopers and it does not decrease the loopiness of the stitch, is that right? Without the MTC you would either increase tensions (first choice), or increase cutting width. With MTC you would move the stitch finger to the left to reduce the amount of "air." So that does not solve the problem and you increase tensions in addition and that does not help either? Is that correct? You are doing this on a jersey or thin knit and tensions as tight as possible on the loopers still does not eliminate the "air' and the looper threads are still off the cut edge of the fabric? If this is the case, it seems to me that you need those tensions recalibrated. It's easy for a tech to do. They go inside the machine under the lay in tension area and, according to my Pfaff tech, adjust a screw. My Pfaff tech was going to walk me through doing it on my Pfaff 4874 by phone if I found the tensions not set right for my use of knits and sheers after he serviced it. When I sent the machine to him I told him that I don't use my machines for wovens as much as for knits and asked him to do his testing on knits. When I got the machine back he said he didn't have any knits to test it on. Have you ever gotten a machine back from service with the little sample under the presser foot being a knit not a woven? Not me! The sample is ALWAYS a woven. I don't think the techs have a clue how to sew with knits or make sure the machine's stitches are adjusted properly for knits.

What kind of thread are you using? Have you ever tried thread nets? You shouldn't have to with serger thread and properly calibrated tension.

Regarding the curvy seam, you may be having the same problem I had. The Juki and Bernina presser foot is the same exactly and is very poorly designed. Until last week I was not happy with my Juki and started a thread on it. I thought the feed dogs were pulling the fabric to the left and my thin fabrics were getting stuck uon the foot and not advancing to the knife. I got a great solution from a Bernina 1150 owner and it worked! No more weird pulling to the left either. I will look for and post the link but want to post this first before I lose it in the process.

We can pm about Germany.

Here is the link to the other thread

link

-- Edited on

2/10/13 4:49 PM

--

-- Edited on

2/10/13 6:29 PM

--

SandiMacD


USA
Member since 2/8/09
Posts: 2563
Skill: Intermediate

1 member likes this.




Date: 2/10/13 5:50 AM

Ah, the perfect machine! Alas, I know what you mean about the rolled hem threads poking through. Just had a BL serger class with all models. Many of us had this problem. We were told the solution is to use wooly nylon or decrease stitch length. I did that with pearl cotton and looked OK. Have never used regular serger thread and not had pokies though. But most BL owners I know compensate by using wooly nylon.

My flatlock tunnels a bit. Was told to steam iron flat. But I really don't use flatlock so not a problem for me.

The lettuce edge depends a lot on the fabric type. If the differential feed is set correctly I have had some beautiful lettuce edges.

You may want to sign up for a BL dealer Serger Seminar. The kind of class where they bring in an Educator and supply the sergers and let you try them out.

The BL Educators have the knowlege base on details that some sales people lack. Most people are sold on the features you mention so the machines sell themselves. But if those other features are critical to your serging, perhaps scheduling time with a BL Educator will give you the information that the sales people have been unable to resolve for you.

-- Edited on

2/10/13 6:00 AM

--

------
sewing brings joy and meaning to my life...

Sewmissy2

Member since 12/5/10
Posts: 125
Skill: Intermediate
Body Type:


3 members like this.




Date: 2/10/13 10:42 AM

On the Imagine or Enlighten (Baby Lock sergers) the best rolled hems are done on medium or light weight fabrics..heavy weights do not roll well on any serger. The poky outies are just the fibers of the threads coming out between the stitches, which means you need it to fill in better. Try reducing the stitch length. And the very best rolled hem comes when you use the Maxi-Lock Stretch or Wooly Nylon type thread in the upper looper.

To thread the specialty threads, you have to make a "thread cradle" because the specialty thread is too soft or too thick to go through the air threading tubes. Cut a nice long length of regular thread and double it. Feed the two ends into the upper looper threading port and hold onto the loop end with your right hand so it does not go all the way through. Press the air threading button or lever. You should see the ends of the thread shoot through the upper looper. Now put the Maxi-Lock Stretch end through the loop and pull it through that loop maybe 8 inches. Hand pull the regular thread where it is coming out of the upper looper until the Stretch thread is all the way through.

Now your rolled hem will be gorgeous! If you use regular thread for a rolled hem it will not fill in as well, but will work if you are matching your fabric closely.

I LOVE the way the Baby Lock Imagine and Enlighten change over to a rolled hem just by turning the stitch length over to the rolled hem side and changing the stitch selector. No tensions to change and no plate to change.

Give it another try..maybe your sales person did not know how to demo it well.

------
Designer 1, bought in 2000
Simplicity 350 serger, bought about 1997
3 Tajima Neo single head embroidery machines
Digitizer by profession
Embroidery software: Tajima DGML by Pulse (commercial) also know Designer's Gallery and Floriani for home use.

GBK


GERMANY
Member since 12/24/07
Posts: 900
Skill: Intermediate

1 member likes this.




Date: 2/10/13 6:20 PM

Many thanks

for your responses which reassured me of many things I'm doing and what to expect from a serger and from dealers.

I will now test-drive the BL Enlighten (date was fixed long time ago) and see how it works. In parallel, I will contact Bernina and ask if they can either recommend a really skilled tech in my area or see if I can send my machine in so they take a good look and possibly do a repair or adjustment or what's necessary to get it in shape. If so many of you don't have the issues I'm experiencing with the overlock stitches, I should overcome my frustration with the Bernina, try to find a capable technician, and give it a last chance.

In case the BL Enlighten disappears from my radar due to its ugly rolled hem, I plan to attend a craft fair where both Bernina and BL have booths where you're supposed to test-drive machines; in Germany, dealers rarely offer courses how to acquaint you with your machines or sergers: most dealers will have a 1:1 for an hour or a bit longer but that's it. And not necessarily all would know the machine too well ... So I find you Ladies to be very lucky that most of your dealers seam to offer courses and are quite customer-oriented. I hope Bernina and BL send their most capable and skilled staff to the fair!

Thanks again for your kind help!

_____________________

@Rosews13: I read your Juki thread with great interest. I'd also say my Bernina pulls the fabric towards the left but I'm only rarely experiencing fabric being ''eaten'' by the machine, even thin and stretchy ones. However, I'll try Belinda's match trick to see if it makes a difference to the )-shaped seams I'm getting (can only do it in a couple of weeks; have no access to my serger right now).

------
Happy Sewing!
Printable Version
* Advertising and soliciting is strictly prohibited on PatternReview.com. If you find a post which is not in agreement with our Terms and Conditions, please click on the Report Post button to report it.
Online Class
Beginners Guide to Sewing Jackets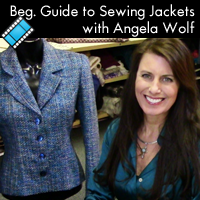 Online Class
Expert Sewing Techniques for Jackets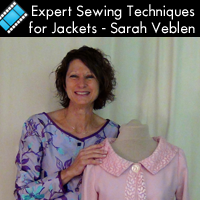 Simplicity 3519

by: Stuggy
Review
Christine Haynes Emery

by: BeckiP
Review
SewBaby Petal Jacket Pattern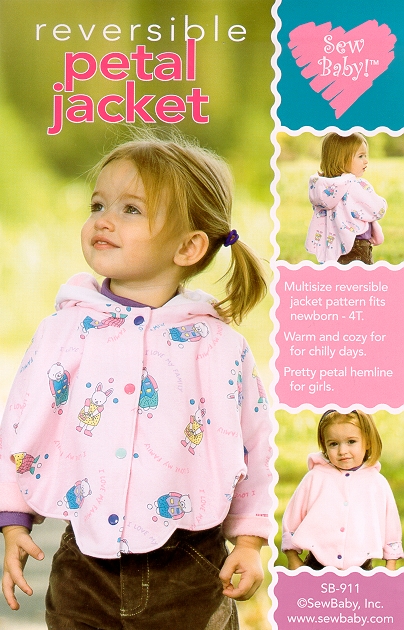 Pattern Details
Beginner Sewing Lab 103 - A downloadable Book by Shannon Gifford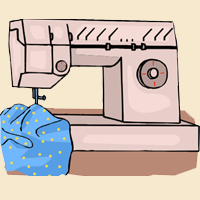 Pattern Details