westmoon


United Kingdom
Member since 9/7/11
Posts: 803
Skill: Advanced Beginner

1 member likes this.




Date: 2/20/13 9:38 AM

Does anyone else find their appetite for making things far outruns their actual abilities. I look through e.g. Burda and every single time, if I pick out 5 patterns that I really like and that I would love to make up, they will all be 3 dots (intermediate level sewing) or higher. I don't doubt I could grind my way through the pattern and sew it together somehow, but I very much doubt the outcome would look anything like the picture in the magazine or be something I'd be willing to be seen wearing! A lot of this problem is because my personal style and tastes run to very clean, classic, tailored looks and there's not too much of the clean, classic and tailored among patterns designated as "easy".

Does anyone have any experience of this learning curve? Is it better to grind through some more difficult but, to me, more desirable patterns and learn as I go, expecting that the outcome will most likely be unwearable as a way to learn? Or is there some kind of learning pathway I could follow. Like, if I want to make a tailored jacket, is there some marginally easier thing I could make that would teach some useful skills? (I don't know -- make a tailored shirt to learn to put collars on, for example?) Or does anyone just share my frustration?

(Before anyone suggests it, I live right out in the sticks and nobody teaches in person garment sewing classes within a 100 miles. I have bought and am beginning to use Craftsy.)

-- Edited on

2/20/13 9:39 AM

--

------
http://sewingnovice.blogspot.co.uk/
One woman. One sewing machine. One giant stack of fabric. What could possibly go wrong?

gramma b


USA
Member since 7/25/08
Posts: 4100

4 members like this.




Date: 2/20/13 10:20 AM

Believe it or not, long-time sewists still come up with "wadders."
It's the pattern or the fabric or our changing shapes, or just one of those days. You'll always be learning, plus with all the sharing available now, compared to our books-only info of past, we can have information overload.

Master some basic tops like a T, then into a button collar or placket shirt. Try one of the flutter front sweater cardigans before an unstructured, unlined blazer-type.
Many of us still don't do pants due to fit issues, but having basic RTW ones in neutrals with sewn tops/scarves will give you many outfits. Pick up one of the many Tips books that offer easier, faster ways than the standard outdated pattern instructions. (I use a couple from Nancy's Notions.)

Perhaps you could advertise for a free experienced sewing friend to share in the area? Brit ladies nearby ? befriend this Newbie!


Pinkytoo


Nevada USA
Member since 6/23/06
Posts: 3047
Skill: Advanced



In reply to westmoon

2 members like this.



Date: 2/20/13 10:23 AM

First of all - put down the Burda!!!!! While I love many of their patterns, especially from the magazine, they are NOT for beginners. Sometimes they aren't even for advanced couture sewers! The instructions are often incomprehensible and you have to know what you are doing before you even start.

I'd suggest just what you have said - pick up a pattern that you like but that has a skill you need to acquire - like collars on a shirt. Look thru the reviews here and see if any review says "had really good instructions for sewing the collar." Once you have mastered that - and by mastered I mean make something that is wearable in public, even if it takes doing it over 5 times, move on to the next skill/pattern/project. Just make sure you feel really comfortable with one skill before you attempt the next. The easiest way to get frustrated and throw your whole project in a heap and burn it, is to take on something that has too many skills to learn at once.

If you like clean, classic and tailored - find a good pencil skirt pattern and make as many skirts as you need to until it fits perfectly. Then you will have a base to work from, and start adding things like welt pockets and godets or inserted pleats.

------
Sewing is my therapy!

Annie- oh


Colorado USA
Member since 2/7/04
Posts: 1831
Skill: Intermediate

6 members like this.




Date: 2/20/13 10:27 AM

Well, Robert Browning said, "...man's reach should exceed his grasp."

Change the pronouns, and that's a great statemnt for us sewers. Or any creativity.

------
I try all things. I achieve what I can. "Moby Dick"

We stand here confronted by insurmountable opportinities. Pogo

jannw


Washington USA
Member since 9/3/06
Posts: 8552
Skill: Intermediate



In reply to westmoon

4 members like this.



Date: 2/20/13 10:33 AM

Do you have a good basic reference book like The Reader's Digest Book of Sewing or such? If so, make samples. You can use old sheets or scrap fabrics and make five collars or plackets, set in zippers from those instructions. That will get you comfortable with the process, save the good fabrics and you will have a reference point for when the pattern instructions are lacking.

I'm not familiar with the British books, but I really like sewing books from the 40's and 50's, as I find that their instructions and illustrations seem to make more sense to me than some of the newer books that seem to concentrate on "time saving" techniques.

------
2009-113.25 yds
2010-115.5
2011-80.25+30+donated
2012 86.3 yds..
2013 21.0
Everyone who sews seriously has a stockpile of fabrics, because it is natural to purchase more than can be sewn in any one season" Singer, Timesaving Sewing, 1987



DonnaH


Texas USA
Member since 10/1/03
Posts: 2536
Skill: Intermediate



1 member likes this.




Date: 2/20/13 11:42 AM

I agree with "put down the Burda"! Sometimes I wonder if I am reading a machine translation, it makes so little sense. The best ones are the ones that have almost no instructions (1. Sew fronts together 2. sew shoulder seams, etc.).

I recommend looking at patterns with either more instructions - and/or that some of the bigger bloggers are doing as sew alongs. Try something that says "Learn to sew" - I think most of them let you know which skill you are building.

Colette Patterns is a good company for beginners. Great instructions, and they have even had sew alongs for specific patterns (the Juniper jacket was the most recent, I think). Their official blog also has good tutorials. And they have started adding extra instructions (basically the sew along in a booklet) as an add-on product. There are also numerous unofficial sew alongs for their patterns. Someone was going to try to do every one of the Colette patterns!

My "overruns" tend to be more about time, lol. I want to make that, and that, ooh, and one of those... And just don't have the time - I'm not very fast, lol.

Mufffet


Vermont USA
Member since 8/14/05
Posts: 13744
Skill: Intermediate

7 members like this.




Date: 2/20/13 11:57 AM

I say PICK UP the Burda. I like their envelope patterns. They are drafted so much better than any big 4 pattern. With a sewing book and the envelope instructions you can make a garment that actually is drafted for a human body and is true to the measurements. It is better to start with quality than with something that is from a pattern which isn't good in the first place. Don't try Burda magazine quite yet though. I haven't ever traced one off, but I love the envelope patterns.

------
"Be kind whenever possible. It is always possible."
--Dalai Lama

I have sewing machines

PattiAnnJ


Ohio USA
Member since 12/3/06
Posts: 9220
Skill: Advanced

1 member likes this.




Date: 2/20/13 12:06 PM

There some standards in the Palmer Pletsch line. They include fitting suggestions as well. You can view the line

here.

I also have found sewing can go a lot smoother if you sew 10, 20 or 30 minutes at a time and not rush through the process. If interested, you can probably find this

book

at the library, the 1/2 price book store or order it from Amazon

------
OLD CHINESE PROVERB: I HEAR & I FORGET; I SEE & I REMEMBER; I DO & I UNDERSTAND.


sew2006


Ontario CANADA
Member since 6/24/06
Posts: 2403
Skill: Advanced



In reply to westmoon

3 members like this.



Date: 2/20/13 12:35 PM

When I took a college level course our teacher said we should make 5 samples and hand in the best one. If you want to try sewing a shirt for example you can make a sample of a collar, pocket, cuff before ever cutting the garment. For fit especially for more tailored garments make a muslin. Use a solid color, cut out all major pieces and baste together to try fit. For this type of trial you are not finishing the insides, using interfacing and pockets/cuffs are skipped. It's just a way to try sizing on. A second aproach would be to try making a wearable muslin. This would be a garment sewn completely with seam finishes with the expenctation of wearing it, but using less expensive fabric. I agree with other posters to skip the Burda magazine until you build up a bit more confidance with similar patterns with better illustrated instructions. Some sewing tools to make sewing easier: sewing machine with a speed control, stitch in the ditch foot, wash away basting tape, good iron, press cloth and press as you sew each step. Best way to build sewing stills is to go outside your comfort zone little at a time.

Even after sewing for close to 20 years things don't always go easily. I really like the short cap sleeve on New Look 6324. I used a remnant of light yellow fabric to make it. The fabric had aged in my sewing room for a while and yellow is a nice to have not must have color for me. Took much more tweeking than a simple top should but using a fabric that wasn't my favorite gave me more freedom.

------
Janome10001, Babylock ESG3, Brother ULT 2001, White 634D serger, Pfaff 1472, Singer featherweight, Singer 14T957Dc, Bernina FunLock 009DCC coverlock, Brother PQ1500S, Janome CP900.

bakertoo


Washington USA
Member since 12/26/08
Posts: 650
Skill: Intermediate
Body Type:


2 members like this.




Date: 2/20/13 12:54 PM

I agree with the two previous comments. The Palmer Pletsch patterns are really terrific for anybody because they include great pattern adjustment advice and drawings of how to go about the process. I have used what I have learned from their patterns on so many other pattern companies.
And I also make a samples out of some muslin or other ugly fabric I have on hand, of problem areas I encounter in the pattern. It really helps me, and its true, can be a little time consuming if you just want to make and wear the garment! Sometimes I think I would make a good sample maker-I sometimes enjoy the process of putting the problem garment together more than wearing the end result!
I guess I might also say that a pattern with fewer pieces might be a good place to begin also. That could help you, or anybody, envision the end result better, and make any fitting part easier to understand.
Good luck, and I hope you enjoy your endeavors in sewing!
Printable Version
* Advertising and soliciting is strictly prohibited on PatternReview.com. If you find a post which is not in agreement with our Terms and Conditions, please click on the Report Post button to report it.
Online Class
Break your Serger Out of the Box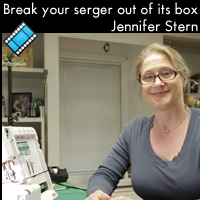 Online Class
Understanding Knit Fabrics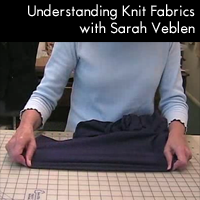 Marfy 3367

by: elmere
Review
No Pattern Used No Pattern Used

by: princesslu...
Review
Sewing Workshop Tremont Jacket Pattern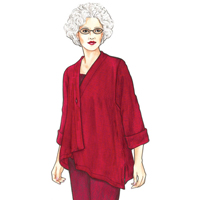 Pattern Details
SewBaby Fleece-Easy Baby Wardrobe Pattern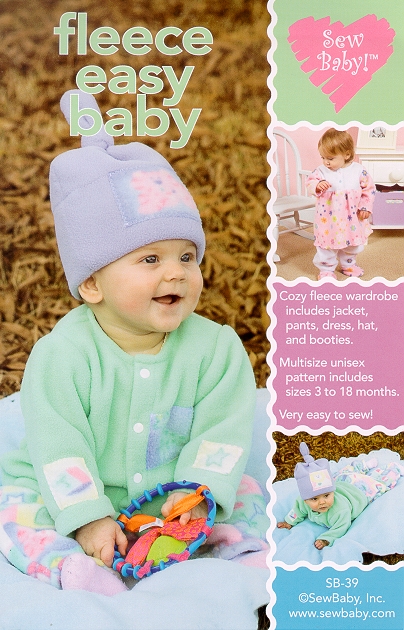 Pattern Details