rmusic1


Advanced Beginner
UNITED KINGDOM
Member since 7/3/10
Posts: 1013



1 member likes this.




Date: 3/1/13 6:50 PM

I'm half way through a dressmaking course. A major component of this is designing my own dress, right from inspiration through to toile and final product.

A great opportunity to learn. Also a great opportunity to dither! My theme is "inspired by Christian Dior". Looking at the photos I have compiled so far of his work, I appear to be attracted to two extremes. Either a very tailored, sculptured look. Or lots of draping and pleating with strong design lines.

Both are going to require work to execute. I am quite willing to be adventurous, but I do not have stacks of time to learn multiple new techniques above what I have achieved already.

So for those who have drafted patterns before, which is going to be (in your opinion) the more straight forward. A tailored or a draped dress?

One last thing. I am not trying to copy a Dior dress! it has to be practical for daily use, as I really dont want the final dress to hang in my closet for only "special" occasions.

meleliza


Intermediate
Member since 5/4/11
Posts: 763

2 members like this.




Date: 3/1/13 9:50 PM

It sounds like a really fun course! Ok, so you don't have limitless time to learn everything new, so how about identifying a few key things you've already learned and building on them?

As for the shape, it's hard to imagine Dior as a loose drapy form. Isn't highly structured the point of the New Look? The tiny waists, the full skirts, All the engineering? And for me, a tailored shape is much easier than a loose drapy one. However, I think it depends on the body you're dressing. Is the dress for you personally? If so, start with the elements of Dior that could work for your shape. Or take inspiration from some other element that you like and find a way to make it work for whatever figure you have.


------
Melanie

rmusic1


Advanced Beginner
UNITED KINGDOM
Member since 7/3/10
Posts: 1013





Date: 3/7/13 4:01 PM

Maybe I should have been a bit more specific. I dont think I helped by my phrasing! The Dior designs I like are either really structured, e.g some of the coats/shaped dresses. Or there are some dresses made out of much more draped fabric, but still with strong style lines.

To try and help illustrate, there are some photos at the bottom of this page on my blog. Hope this helps.

I've made a coat and jacket already, so have some experience in more shaped tailoring. But dont really have as much experience with draping.

stirwatersblue


Intermediate
Kansas USA
Member since 12/13/08
Posts: 3582



Date: 3/7/13 5:30 PM

I have drafted (or draped, or both) most of the dresses I've made, but it's a different sort of clothing (historical costumes), so I'm not 100% sure on what you're asking.

Are you trying to decide if it's easier when starting from scratch to 1.) Draft a flat pattern based on a body block, versus draping muslin on a dress form to create the shape? Or 2.) Trying to decide between a structured, tailored style (like the Dior coats), or a flowy, drapey style (like the ballgown in this photo: http://sewwherenext.files.wordpress.com/2012/01/photo-on-2013-03-05-at-22-46-2.jpg?w=510&h=382)

I have a feeling you're asking the latter. If you're already pretty experienced with more structured pieces, then you might learn more by working on the softer, flowy pieces. I know I tend to stay in my comfort zone way too much--I am an absolute pro at drafting a bodice for myself and then sewing it up in linen... but know I should really branch out to some more challenging fabrics and projects.

Since the point of your dressmaking class is for you to *learn*--not for you to prove you're a skilled dressmaker to your teachers--perhaps you should choose the project that will teach you the most new skills.

Good luck!!

------
~Gem in the prairie

rmusic1


Advanced Beginner
UNITED KINGDOM
Member since 7/3/10
Posts: 1013



1 member likes this.




Date: 3/7/13 5:49 PM

hi stirwatersblue

As usual you've done a good job of following my drift. I do want to learn as much as I can (despite some rather disappointing lack of encouragement from tutor!) and agree its good to stretch yourself.

On the other hand I want it to be something I can achieve. I thought this dior dress for example had some really quite lovely draping. I was thinking of playing with different fabric layers - but am worried of being over ambitious given that I havent got loads of time to draft the whole thing and make it work.

If it was just me on my own, I wouldnt be quite so worried. I'm one of those people when I set my mind to it I solider on (stubborn!) but I thought it was good to do a reality check.

I'm sewing up my drafted blocks tomorrow (close fitting, loose fitting bodice, sleeve and skirt). The first steps towards drafting my own dress. Fingers crossed they fit! otherwise its back to the drawing board, literally.

DonnaH


Intermediate
Texas USA
Member since 10/1/03
Posts: 1387





Date: 3/7/13 6:25 PM

Quote: rmusic1
... it has to be practical for daily use, as I really dont want the final dress to hang in my closet for only "special" occasions.


I think this is the key to your decision.

Look to your own closet, especially the "front" - what do you wear on a daily basis? Structured, tailored pieces (whether a dress, top, suit, whatever)? Flowy, drapey pieces? Do you favorite tops/dresses have lots of pleats, tucks, or the like?

Go with whichever is what you tend to wear more often. Yes, there will be some new/different details, and yes, hopefully, it won't be exactly like something already in your closet, but if the new dress is more in line with what you love to wear, you are more likely to wear it!
stirwatersblue


Intermediate
Kansas USA
Member since 12/13/08
Posts: 3582





Date: 3/7/13 7:03 PM

Quote: rmusic1

I thought

this dior dress

for example had some really quite lovely draping.


That's beautiful! And I think totally within your skill level.

What about working on structured pieces (your comfort zone) with unusual details--kind of like the fishtail flounce on that Vogue pattern you posted about for your sister's wedding? Or adding a draped/pleated neckline feature to a simple sheath? This will allow your to stretch, without completely reaching outside your skill level (or timeframe!), plus it will give you something you're likely to wear (as the last poster suggested), since it combines a couple of your favorite influences--the structure and tailoring you normally wear/make, plus the interesting little details that always call to you. And it will end up being something you truly designed from scratch... a big accomplishment from when you began a couple years ago and were intimidated by your classmates' artistic experience.

------
~Gem in the prairie
Printable Version
* Advertising and soliciting is strictly prohibited on PatternReview.com. If you find a post which is not in agreement with our Terms and Conditions, please click on the Report Post button to report it.
Fun with Fitting - PANTS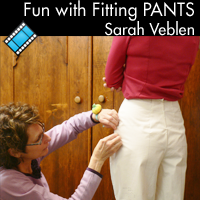 Clone Your Favorite Garment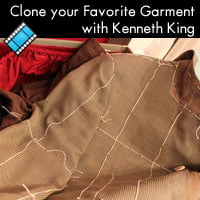 Vogue Patterns 8634

by: norsk
Review
Self Drafted Pattern 207640-1002

by: sewingsill...
Review
PerfectFuse Medium White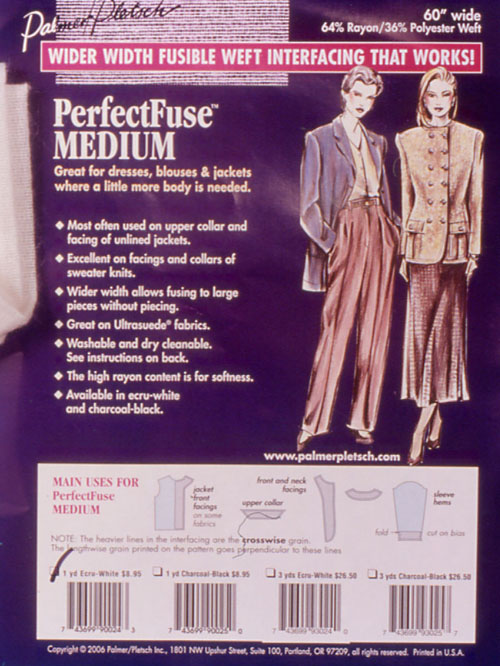 Buy Now
Petite Plus 150 Pattern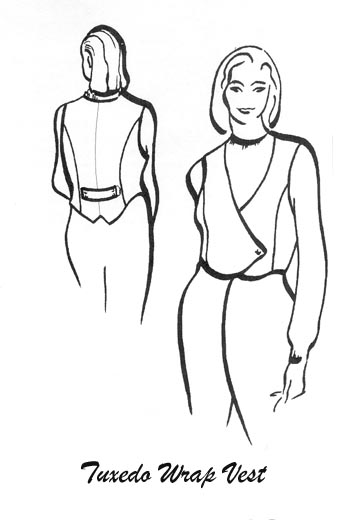 Buy Now