Margasweet


Member since 2/15/05
Posts: 837
Skill: Advanced Beginner

2 members like this.




Date: 3/7/13 2:00 PM

... while visiting DD when she lived briefly near Geneva, Switzerland, about 4 years ago. Only a few chocolatiers had it, and not all the time. Luckily I got a taste-- heaven. Rich, full chocolate taste, not too sweet. They said it was ground up cacao beans, dates and oranges... had to be refrigerated and wouldn't keep very long. The texture was sort of a cross between fudge and truffles. There must be more ingredients, and I'm sure the technique matters a lot. I'd love to make some, or at least have a try at it. I've looked online and not found anything that sounds remotely like it.

Anybody have a recipe or something similar?

Thanks!
Marguerite

------
2007 fabric in: 7 1/2 yards; sewn: 7 yds +1/2 yd
2008 fabric in, 23 yards; sewn 20 yds; given away 6 yds -3 yd = -2 1/2 yd
2009 fabric in 41 1/4 yds, sewn 29 yds, given away 22 1/2 yds ; totals -10 1/4 = -12 3/4 yd
2010 fabric in 91 1/2 yds, sewn 27 yds, given away 1 1/2 yds; +63 yd = +50 1/4 yd
2011 fabric in: 55 yd.; sewn: 21 yd; given away: 20 yd +14 yd = +64 1/4 yd
2012 fabric in: 60 1/4 yd., sewn 25 1/4 yds, given away 16 yds, thrown away 3 yds scraps; UFOs completed: 7 ; totals +16 yd = +80 1/4 yd
2013 fabric in: 28 yds; sewn 25.7 yds.; given away 5 1/2 yd.s; projects 8, UFOs 4 -3 1/4 yd = +77 yd
2014 fabric in: 40.5 yd; sewn 33 yd; given away 12 1/2 yd; projects 7, UFOs 10; fabric totals this year -5 yds, since 2007 +72 yds

2015 fabric in: 15 yd
2015 fabric sewn: 10 yd.
2015 fabric given away:
2015 projects: 5 (2 gift bags, tablecloth, 2 gauze chemises)
2015 UFOs: 1 (journal cover)
2015 upcycles: 1 (velvet shirt cuffs=zippered bag)
started:

gramma b


USA
Member since 7/25/08
Posts: 3245



Date: 3/7/13 5:53 PM

Would love a favorite recipe too, something preferably organic type you can mail for Easter (early this year) before it would melt?


ryan's mom


Member since 11/30/04
Posts: 5138
Skill: Advanced



Subject: Recipe request-- fresh chocolate from Geneva Date: 3/8/13 7:31 AM

Unfortunately, true chocolate is not a recipe per se and is more like a raw ingredient. I used to work with a lot of chocolate and did candy making. I even own a chocolate tempering machine I haven't used in years!

That being said, I do "make" my own healthy chocolate by using three ingredients: cocoa powder of choice, Coconut Secrets brand coconut nectar (low-glycemic sweetener), and pure virgin coconut oil. Stevia is optional. I use Tropical Traditions oil because it has amazing flavor and smell.

I mix 2 Tb. + 1 tsp. of cocoa powder, 2 Tb. of just-melted coconut oil (melts above 76 degrees F), and 1 Tb. of coconut nectar with a little stevia powder. Mix it until smooth, refrigerate for maybe 10 minutes of so (could put it on wax paper to make things easy), and enjoy! I add almonds but anything could be added. The taste is a very dark, rich chocolatey flavor. It is so rich in chocolate flavor that you can't eat too much of it. Seriously, you can't (and I'm a chocolate lover! )

Unfortunately, this recipe cannot be stored outside of a fridge if your house is warm. Coconut oil melts at temps around 76 degrees or above. It is solid below that point. I love this recipe though, AND it is healthy. Cocoa for the antioxidants, coconut oil for it's amazing health benefits, and a low-glycemic, minimally processed sweetener so it doesn't produce a big insulin spike.

I make this almost every Saturday night to enjoy with my glass of wine. It's like a little bit of heaven on earth lol.
-- Edited on 3/8/13 7:34 AM --

------
Big 4 Pattern size 12, RTW bottom: 6, RTW jacket 8, RTW top (no size fits me well!)
Measurements: 34 HB/36 FB (34C bra)/27.5/36 (and working hard to keep it that way.)
Machines: Sewing: Elna 760, vintage Kenmore Model 33 (1967), Janome Gem Gold 3, Singer Model 99, Singer 221/Featherweight. Sergers: Babylock Imagine and Babylock Enlighten. Embroidery Only: Janome 300E. Embroidery/Sewing Combo: Brother Dream machine. Coverstitch: Babylock BLCS. Straight Stitch: Janome 1600P.

If you think your sewing is better than everyone else's around here, get out of my way b****. I hate sewing snobs.

My blog: www.phatchickdesigns.blogspot.com

Margasweet


Member since 2/15/05
Posts: 837
Skill: Advanced Beginner





In reply to ryan's mom <<



Date: 3/8/13 10:02 AM

Thanks! I'll try your recipe on Sunday. I have some organic coconut oil (bought it awhile ago and haven't figured out how to use it)... can I get coconut nectar at Whole Foods? Otherwise, maybe I'll use some raw honey from a friend's hive.

I've been thinking about grinding up some raw cacao nibs with a couple of dates and a little piece of vanilla bean; the orange is what has me stumped. Do I use the whole orange, minus the seeds? Or just the orange rind? Or just the pulp?

------
2007 fabric in: 7 1/2 yards; sewn: 7 yds +1/2 yd
2008 fabric in, 23 yards; sewn 20 yds; given away 6 yds -3 yd = -2 1/2 yd
2009 fabric in 41 1/4 yds, sewn 29 yds, given away 22 1/2 yds ; totals -10 1/4 = -12 3/4 yd
2010 fabric in 91 1/2 yds, sewn 27 yds, given away 1 1/2 yds; +63 yd = +50 1/4 yd
2011 fabric in: 55 yd.; sewn: 21 yd; given away: 20 yd +14 yd = +64 1/4 yd
2012 fabric in: 60 1/4 yd., sewn 25 1/4 yds, given away 16 yds, thrown away 3 yds scraps; UFOs completed: 7 ; totals +16 yd = +80 1/4 yd
2013 fabric in: 28 yds; sewn 25.7 yds.; given away 5 1/2 yd.s; projects 8, UFOs 4 -3 1/4 yd = +77 yd
2014 fabric in: 40.5 yd; sewn 33 yd; given away 12 1/2 yd; projects 7, UFOs 10; fabric totals this year -5 yds, since 2007 +72 yds

2015 fabric in: 15 yd
2015 fabric sewn: 10 yd.
2015 fabric given away:
2015 projects: 5 (2 gift bags, tablecloth, 2 gauze chemises)
2015 UFOs: 1 (journal cover)
2015 upcycles: 1 (velvet shirt cuffs=zippered bag)
started:

GBK


GERMANY
Member since 12/24/07
Posts: 900
Skill: Intermediate





Date: 3/8/13 10:11 AM

Orange peel, perhaps peel glacÚ could have been involved. And of course some Cointreau.

------
Happy Sewing!

tourist


British Columbia CANADA
Member since 7/23/07
Posts: 6548
Skill: Intermediate





Date: 3/8/13 10:20 AM

margasweet - coconut oil (especially the "virgin stuff that still smells like coconut) is amazing to use to stir fry things like mushrooms that will pick up the flavour. We love a mushroom and asparagus stir fry as a side dish. My DD likes to use it to cook fish. When you scoop it out of the jar you can use the stuff stuck to the spoon on your hands.

There are many raw brownie recipes online that will make a similar goodie to the one you describe. They are quick and easy to make in the food processor. Now I want to try making them with a bit of orange peel in them. Thanks for the idea!

------
http://bgballroom.wordpress.com to follow the progress on my next ballgown.

ryan's mom


Member since 11/30/04
Posts: 5138
Skill: Advanced





Date: 3/8/13 3:00 PM

Yes, honey is fine and will work. The only reason why I use coconut nectar is because (according to what I have read) it is a much better alternative to most agave syrups which may be more like high fructose corn syrup. Coconut nectar, however, is low glycemic just like agave. I think the original recipe mentioned honey or agave. Either way, it's delicious! Use more or less sweetener to taste.

And btw, I use pure, virgin unrefined organic coconut oil as my facial moisturizer and also put a little on the dry areas of my hair after washing and conditioning. My skin and hair has been looking and feeling fab lately. I also eat it a portion size off the spoon on occasion too. It's so good and good for you.
-- Edited on 3/8/13 3:00 PM --

------
Big 4 Pattern size 12, RTW bottom: 6, RTW jacket 8, RTW top (no size fits me well!)
Measurements: 34 HB/36 FB (34C bra)/27.5/36 (and working hard to keep it that way.)
Machines: Sewing: Elna 760, vintage Kenmore Model 33 (1967), Janome Gem Gold 3, Singer Model 99, Singer 221/Featherweight. Sergers: Babylock Imagine and Babylock Enlighten. Embroidery Only: Janome 300E. Embroidery/Sewing Combo: Brother Dream machine. Coverstitch: Babylock BLCS. Straight Stitch: Janome 1600P.

If you think your sewing is better than everyone else's around here, get out of my way b****. I hate sewing snobs.

My blog: www.phatchickdesigns.blogspot.com

ryan's mom


Member since 11/30/04
Posts: 5138
Skill: Advanced



Subject: Recipe request-- fresh chocolate from Geneva Date: 3/8/13 3:02 PM

Coconut nectar is one of those things that would likely be sold at a Whole Foods store. If not, larger grocery stores might sell them in their health food section. Mine does.

------
Big 4 Pattern size 12, RTW bottom: 6, RTW jacket 8, RTW top (no size fits me well!)
Measurements: 34 HB/36 FB (34C bra)/27.5/36 (and working hard to keep it that way.)
Machines: Sewing: Elna 760, vintage Kenmore Model 33 (1967), Janome Gem Gold 3, Singer Model 99, Singer 221/Featherweight. Sergers: Babylock Imagine and Babylock Enlighten. Embroidery Only: Janome 300E. Embroidery/Sewing Combo: Brother Dream machine. Coverstitch: Babylock BLCS. Straight Stitch: Janome 1600P.

If you think your sewing is better than everyone else's around here, get out of my way b****. I hate sewing snobs.

My blog: www.phatchickdesigns.blogspot.com

minggiddylooloo


Member since 5/17/05
Posts: 2515
Skill: Intermediate
Body Type:




Subject: Recipe request-- fresh chocolate from Geneva Date: 3/8/13 3:08 PM

ryan's mom, I have been trying to incorporate more coconut oil into our diet but find it a little bit of a hassle to deal with it in its solid state. Do you have any tips on how to store it or make it easier to scoop out of the jar? It takes me forever to scrape the stuff out of the container. I'm not usually an impatient person but this stuff drives me nuts.

------
I'm finally a blogger!
sewming.blogspot.com

ryan's mom


Member since 11/30/04
Posts: 5138
Skill: Advanced





In reply to minggiddylooloo <<



Date: 3/8/13 8:50 PM

Maybe run it under warm water? Or if you have time, put the bottom of the jar in a cereal bowl with warm water so the oil in the jar gets a little softer?

I don't have a problem with it being hard in the summer, but it does get hard in the winter. Sometimes I leave it out on the counter near the stove and it softens a little. Have you tried scooping some of it out into little plastic Gladware-like containers that hold about a half cup? These would be great to put in warm water for a few minutes or even in the microwave on the thaw or low setting for maybe 30 second or something.

I scoop out coconut oil and put it into a small container and store it in my bathroom for hair and skin moisturizer. Of course, with it being in the bathroom it's usually not hard and just right for application, especially with 2 or 3 people sometimes taking a shower ahead of me. It's cozy warm by the time I get in there.

During the summer months, I have the opposite problem. Our AC is not even throughout the house because we don't have central air, just window units. I don't turn it on until it gets warm either. My oil is mushy or downright runny and needs to be popped in the fridge for a bit. I know how you feel about waiting! :)

------
Big 4 Pattern size 12, RTW bottom: 6, RTW jacket 8, RTW top (no size fits me well!)
Measurements: 34 HB/36 FB (34C bra)/27.5/36 (and working hard to keep it that way.)
Machines: Sewing: Elna 760, vintage Kenmore Model 33 (1967), Janome Gem Gold 3, Singer Model 99, Singer 221/Featherweight. Sergers: Babylock Imagine and Babylock Enlighten. Embroidery Only: Janome 300E. Embroidery/Sewing Combo: Brother Dream machine. Coverstitch: Babylock BLCS. Straight Stitch: Janome 1600P.

If you think your sewing is better than everyone else's around here, get out of my way b****. I hate sewing snobs.

My blog: www.phatchickdesigns.blogspot.com
Printable Version
* Advertising and soliciting is strictly prohibited on PatternReview.com. If you find a post which is not in agreement with our Terms and Conditions, please click on the Report Post button to report it.
Online Class
Bust Adjustments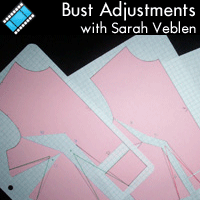 Online Class
10 Clever Techniques To Help You Sew Like a Pro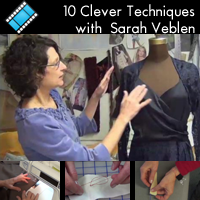 Butterick 5929

by: Jenny80
Review
StyleArc Coco Jacket

by: Vancouverg...
Review
Islander Sewing Systems Three Pattern Collection Pattern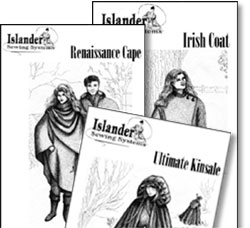 Pattern Details
Favorite Things The Classic Shirt Pattern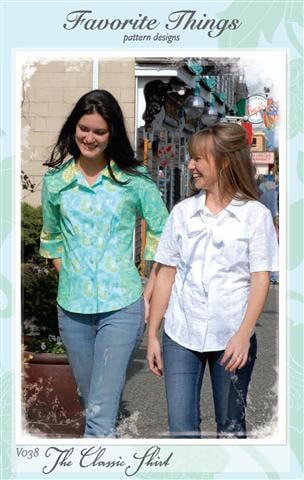 Pattern Details