rag doll


Intermediate
AUSTRALIA
Member since 1/31/06
Posts: 560



Date: 3/16/13 7:59 AM

Hi, I'm in Australia and our Local Guild branch are going to display 4 garments at the local fabric store in hope of 1) new members for our group and 2) encouraging the younger people to sew.

Does anyone have any experience in this area as far as patterns are concerned.

We are making them up strictly for demonstration purposes so no fitting is required.

I think our object is for someone to look at the garments and think " I can make this" and the garment to be appropriate for ages between perhaps 15 and 30 years and achievable to sew.

Any ideas will be welcomed.

These garments are for our Autumn/Winter season.

Thanks
Sue
-- Edited on 3/16/13 8:14 AM --

------
Brother QC1000, Brother PQ1500, Bernina Virtuosa 160, Pfaff (old), Babylock BLCS, Bernette 1100D, Bernette 334DS

GBK


Intermediate
GERMANY
Member since 12/24/07
Posts: 900





Date: 3/16/13 8:28 AM

Admittedly, I lack of experience teaching sewing and am sure, many experts will comment.

My perspective comes from the sewing workshops and get togethers I attend where all age groups and all levels (absolute beginners, intermediate, advanced ...) meet. Based on that, skirts may be a good option: flattering almost all women regardless of age group or body shape, simple skirts require less than a yard of fabric, sewing and fitting skills not too demanding, and last but not least very versatile with lots of room for creativity. I don't own it but was told that this book is very popular among young sewists for inspiration: many come from crafty activities and a skirt can be a canvas for expressing themselves through embellishment.

------
Happy Sewing!

Karla Kizer


Advanced
Member since 4/8/02
Posts: 7738

1 member likes this.




Date: 3/16/13 8:41 AM

You have a wonderful pattern source in StyleArc. (We North Americans are very envious.) Another independent source for young designs that are very well drafted - Sewaholic. The Cambie dress and Renfrew top have many reviews - all good.

------
"Never try to teach a pig to sing; it wastes your time and it annoys the pig." -Robert Heinlein and Ann's father. Thanks for the reminder, Ann.

Where are we going, and what am I doing in this handbasket?

Matthew 25:40 (New International Version)
The King will reply, 'I tell you the truth, whatever you did for one of the least of these brothers of mine, you did for me.'





clothingengineer


Connecticut USA
Member since 5/7/10
Posts: 513





1 member likes this.



Date: 3/16/13 9:01 AM

Since you are in Australia I would go with StyleArc. They are very fashion forward and well drafted. I would avoid something really simple for the sake of it being simple since if they are bored with the final garment they will not have the same motivation. It has to be fashion-forward too for them to be interested. Since you are headed into the cooler months the Heidi Hooded Cardigan would be a good choice, as is the Elle Pant, Fay Skirt and Cate's Cousin Top. For display purposes you could pair the Fay Skirt with the Cate's Cousin Top and the Heidi Hooded Cardigan with the Elle Pant and the Posh Top under the cardigan.

------
-- Anne
clothingengineer.com

HanPanda


Intermediate
Member since 4/27/08
Posts: 1012

1 member likes this.




Date: 3/16/13 9:25 AM

As a beginner, I remember being mighty afraid of anything structured or fitted, or that had a ton of seams or lining in it. Loose top, good. Purse, cool. Skirt, neat. Dress, possibly! Jacket or fitted top or lots of buttons or pockets....really scary. XD

------
2014 resolution: keep track of sewn yardage!! I'm subtracting fabric given away from my yardage in. Yeah!
In: 93 yards
Sewn: 62.5 yards

I'll try anything once :)

Please excuse my typos...sometimes it is harder to go back and edit on mobile than it is worth!

rag doll


Intermediate
AUSTRALIA
Member since 1/31/06
Posts: 560



Date: 3/16/13 7:55 PM

Thanks ladies for the suggestions. I think they are spot on. I have a lovely collection of Stylearc patterns and know what you are saying. The only problem is that I need to use KwikSew or Simplicity as we are going to be given the patterns from the store where the display is to be held.

I should have mentioned that at first.

I can always find similar in the big four from your suggestions.

------
Brother QC1000, Brother PQ1500, Bernina Virtuosa 160, Pfaff (old), Babylock BLCS, Bernette 1100D, Bernette 334DS

Sew4Fun


Advanced
AUSTRALIA
Member since 6/23/04
Posts: 4875





4 members like this.



Date: 3/16/13 8:17 PM

Here's my two cents for FWIW.

If it were me I'd use a Simplicity pattern rather than a Kwik Sew pattern. Now I love KS patterns and I think they are the best when learning to sew, but I remember the biggest turnoff for me as a 18-30yo sewer was dowdy looking pattern envelopes. In this age group you want to sew RTW looking clothes. Plus at this age it can be very hard to see past the pattern envelope.

If it were me I'd probably use the SuedeSays and/or Cynthia Rowley patterns. Mostly because the pattern envelopes should appeal to this age group but also the clothes are simple and have lots of RTW appeal. I agree with the earlier comment that simple clothes are the way to go.

Examples:

Admittedly this one is New Look but I assume if the store sells Simplicity they also sell NL. This skirt would be relative simple to make, but you could really amp it up if you use a cool fabric and metal zippers.


Make a party dress using View C from this pattern. Sew the dress with a lace insert at the back and an exposed zipper.

There are lots of others too. I think the main criteria is, simple to sew but with lot sof hanger appeal, therefore very RTW with lots of details, plus an appealing pattern envelope. HTH

------
Belinda. Melbourne, Australia
http://sew-4-fun.blogspot.com/

wendyrb

Advanced
Member since 12/30/11
Posts: 3260



Date: 3/16/13 9:55 PM

Simple and basic.

I teach 14-year olds to sew via PJs. Mostly they love picking out fabric with contrasting prints for the inseam pockets on the side. They're fearless about thread color. Many of these patterns are unisex, so you can appeal to guys too. Every pattern company should have a selection of PJs. The students love making and wear them to death.

However, here's a few with a bit more fashion to them:

* Simplicity 7229 with a straight hip yoke plus a draw cord waist that sits below the belly button for pants, crop pants and a skirt. Options to use stripes in different directions. Says 1 Hour.

* New Look 6165 for knits, but can be stable ones. Also unisex elastic waist, but for girls it can finish with a rushed folded band. Pants, shorts, skirt.

* McCall's 6567 Skirt with uneven hem variations. Elastic waist and easy fit, for knits.

Simplicity is likey to have similar? Sorry, I buy few of their patterns.

Display pieces other than garments-

* Pillow case- At school, I do those with the burrito method. That seems so clever, even magical to them that it all unrolls out finished. The methods should be fun for them. "Home Dec" also means guys can join in.

* Canvas bags- Again, guy friendly and lots of room for creativity. Much less scary to make a zip pocket or a button closure on a bag than on a garment.

I wish you success and would love to hear how it goes.

------
Always keep your words soft and sweet, just in case you have to eat them. Andy Rooney

Pfonzie- my honey Pfaff Creative Performance, Bernina 930 and 830, Evolution serger.

JTink


Intermediate
Member since 4/20/08
Posts: 6136

3 members like this.




Date: 3/17/13 9:30 AM

I teach classes at Joann Fabrics and it can be a nightmare. We are limited to Simplicity patterns only. If you choose to work with Simplicity, please make sure you(the instructor) make the sample garment/item, strictly by the instructions. One of the reasons we have folks signing up, they want to learn how to read the directions. I have found wrong info given in many of the Simplicity directions we have offered. Stupid things that should have been caught through quality control and proof reading.

I made a dress last month for the display wall and the directions had you hemming the dress shorter than the lining. When someone is just learning and you are trying to teach them how to read the pattern, it's hard to have to explain that the directions are wrong. They feel very deflated and usually say "what happens if I'm doing this at home and don't have someone there to tell me there is a problem"...good question.

Another thing: We get people coming into class who have never even threaded a sewing machine, but have told us they know how to sew. We have a 101 class for the absolute beginner, but some don't feel they need that. They want to start making clothes right away....big mistake.

I agree with the PJ Pants. Easy for most.

Also, be mindful that what works for a 15-20 year old doesn't always look right on a 30 year old. Example: We are offering Simplicity skirt 2226 View C. It's precious for someone young and slender(because it's a bit poufy). The one woman who wanted to make that skirt was late 30's, over 6 foot tall and carried a lot of her weight in her butt and thighs...It was not a good look.

rag doll


Intermediate
AUSTRALIA
Member since 1/31/06
Posts: 560





Date: 3/20/13 7:33 PM

lol.......I hope you managed to talk your 6' tall lady out of that pattern. !!!

------
Brother QC1000, Brother PQ1500, Bernina Virtuosa 160, Pfaff (old), Babylock BLCS, Bernette 1100D, Bernette 334DS
Printable Version
* Advertising and soliciting is strictly prohibited on PatternReview.com. If you find a post which is not in agreement with our Terms and Conditions, please click on the Report Post button to report it.
Restyling with Exposed Zippers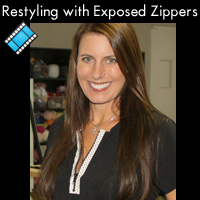 Fun with Fitting - PANTS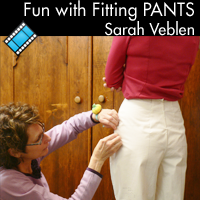 Simplicity 7030

by: Cation Des...
Review
J Stern Designs Khaki Pants Pattern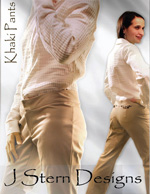 Buy Now
BRUSH FRINGE JACKET, a CD book by Kenneth King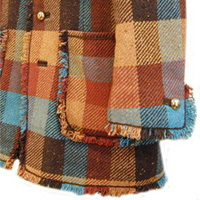 Buy Now
McCall's 8574

by: Trinity.
Review