LaurenLuvSkirts

District of Columbia USA
Member since 3/16/13
Posts: 14
Skill: Advanced Beginner



Date: 3/18/13 3:52 PM

Hi,

I keep reading on sewing tutorials to serge material. What is a serger? Is serging absolutely neccessary? What can I do in place of serging if I don't have a serger?

------
-Lauren

HanPanda


USA
Member since 4/27/08
Posts: 1339
Skill: Intermediate
Body Type:


1 member likes this.




Date: 3/18/13 4:10 PM

Hey Lauren! I JUST got a serger (been sewing for five years) and was having this conversation with my boyfriend last night!
You definitely do not NEED a serger to sew. It's a nice device, and especially depending on what material you're sewing, it can speed up or make your sewing easier. In one motion, a serger sews a seam, finishes an edge, and trims excess fabric. Many Sergers also do rolled hems, gathers, and some will do a cover stitch.

That's probably a little bit of French for someone who is new! I'll try to explain.

When you look inside your RTW (ready to wear) clothing, you'll notice the seams are made with what seems like a million threads. It's usually between three and five, depending on the manufacturer. Two of those threads wrap around the edge of the fabric, which holds the fabric in place and prevents fraying as you wear and wash the piece.

Serged seams also stretch very well, so sewing with knits can be easier.

A rolled hem is a small hem that folds part of the fabric under and encases the whole thing in thread. It is especially used on delicate fabrics that are not traditionally hemmed (folded up and sewn).

There are many things a regular machine can do to make up for not having a serger! You can sew with a stretch straight stitch or a zig zag stitch on stretchy or knit fabrics. You can finish your edges by cutting with a pinking shear (which looks like a zig zag cut like the crazy scissors kids use) which cuts down on the fraying. You can also sew a seam with a straight stitch, and then sew in the seam allowance with a zigzag stitch, which will also prevent fraying.

Some things machines do that a serger cannot do. For example, a regular hem, a normal straight stitch, decorative stitching, application of pockets on a flat piece of fabric (front of a shirt or the back of jeans, for example), attaching bias tape or trim....

I hope this helps!! Let me know if you have other questions <3

------
2015 In: 36 yards
2015 Sewn: 25.5 yards
2014 In: 99.75 yards
2014 Sewn: 80.5 yards

I'll try anything once :)

Please excuse my typos...sometimes it is harder to go back and edit on mobile than it is worth!

j Renee Design


Wisconsin USA
Member since 7/26/10
Posts: 877
Skill: Intermediate
Body Type:






In reply to LaurenLuvSkirts <<



Date: 3/18/13 4:22 PM

No, absolutely not. I learned to sew at 13, and bought my own sewing machine at 17, but didn't pick up a serger until I was about 25. They make sewing knits easier (but you can still use a sewing machine for that!) and create an easy seam finish, but they are by no means necessary.

For knits, you can just sew using a narrow zig zag (I use a 1.0 width and 2.5 stitch length) and slightly stretch while sewing. If you're just thinking of a serger for seam finishes, there are a ton of them out there - pick up a basic sewing book like Vogue Sewing or Singer Sewing Essentials and there will be a chapter on seam finishes. :)

------
Jess
Sewing, Knitting, Living: http://www.sometimessewist.wordpress.com

2013 - Bought: 181, Used: 96, Stashed: 85
2014 - B: 108, U: 132, S: 62 1/4
2015 - Carryover: 62 1/4, B: 23 3/8, U: 29 3/4, S: 55 7/8

LaurenLuvSkirts

District of Columbia USA
Member since 3/16/13
Posts: 14
Skill: Advanced Beginner



Date: 3/18/13 4:31 PM

Thanks for your answers. So, I can just use a straight stitch-zigzag combo in place of sergers?

------
-Lauren

HanPanda


USA
Member since 4/27/08
Posts: 1339
Skill: Intermediate
Body Type:




Date: 3/18/13 4:47 PM

Yup! You can also cut pattern pieces, zig zag all the edges, and then sew the pieces together. I would highly recommend purchasing a pair of pinking shears too--you can get a decent pair of Fiskers in sale at JoAnns. I found them extremely valuable if you use a lot of fabrics that have a tendency to fray.

------
2015 In: 36 yards
2015 Sewn: 25.5 yards
2014 In: 99.75 yards
2014 Sewn: 80.5 yards

I'll try anything once :)

Please excuse my typos...sometimes it is harder to go back and edit on mobile than it is worth!

JKimes


Member since 11/4/05
Posts: 639
Skill: Expert/Couture

1 member likes this.




Date: 3/18/13 4:53 PM

I agree with the other posters--you do not *need* a serger to sew. When I do higher end clothing--bridalwear, lined jackets, Chanel-style jackets, my sergers sit unused.

BUT if you want to do lots of knits, and more ready-to-wear quality faster a serger will make things easier and faster.

I say get up to speed on your 'regular' machine and figure out what you enjoy sewing. Then decide if you need a serger, too.

Juliette

------
Juliette near Austin, TX
Bernina 830LE
Bernina 350PE
Babylock Evolution
ElnaPro 905DCX
BabyLock Melody


PattiAnnJ


Ohio USA
Member since 12/3/06
Posts: 8199
Skill: Advanced

2 members like this.




Date: 3/18/13 5:33 PM

I doubt if many serger owners would be willing to give up their serger.....not unless it is a really crappy model.

There are many tutorials that show how to use a serger as well as how to use a sewing machine.

Do it your way, then visit a sewing machine dealer and let them show you how to use a serger.

You may decide a serger is faster than machine sewing a seam and then overcasting/zig-zagging the raw edges.

BTW, I think it was the Japanese who came up with the home serger and understanding Japanese, or French is not a prerequisite for using a serger.


-- Edited on 3/18/13 5:54 PM --

------
"Improvise, adapt and overcome." - Clint Eastwood/Heartbreak Ridge

"Isnít it a shame in todayís world you canít tell the truth. If you tell the truth youíre abrasive. If you lie youíre charming." - Bob Huggins/College Basketball Coach

B


Minnesota USA
Member since 12/5/03
Posts: 706
Skill: Intermediate

4 members like this.




Date: 3/19/13 1:41 AM

I have heard it said that you don't need a microwave to cook, either. That doesn't mean I would care to go back to no microwave.

I sewed for decades without a serger or a computerized sewing machine and was able to make almost anything I chose to make. But I do love to use a serger and now would find it hard to do without it.

I made the dress below my name with a treadle back in the day. There was no zig-zag either, but it turned out fine. There were no unfinished edges inside the dress, either!
-- Edited on 3/19/13 1:45 AM --

------
Janome serger 634D, Brother PC6000, Singer 500A, Kenmore Mini-Ultra, vintage Bernina 600, White Rotary treadle, New Homestead A VS treadle

EleanorSews


Board Moderator
Member since 7/26/07
Posts: 5245
Skill: Advanced
Body Type:


2 members like this.




Date: 3/19/13 8:10 AM

I agree with JKimes about getting up to speed on your sewing machine and figuring out what you want to sew before you look at a serger. As she pointed out, different types of items have different needs. I'm making a pure silk crepe de chine slip dress for a friend and there is more hand work on the finishing and the seams are pinked just to avoid the "bulk" of serger seam finishes on such delicate fabric.

Also, in HanPanda's post, it seems thread as if a serger is the only way to do a rolled hem on a machine. Not so. I own a 30+ yr old Pfaff plus my mom's Singer and both have a foot for making a rolled hem on the sewing machine. Ad that brings me to another point. Get to know your sewing machine well and get to know what stitches it will make and how to use them. Get to know what sewing machine feet you have and how to use them. You will be surprised what you can do.

------
"We don't see things as they are, we see them as we are." Anais Nin

"Attitude is the difference between an adventure and an ordeal." unknown

Miss Fairchild


USA
Member since 8/24/02
Posts: 7936
Skill: Advanced





In reply to LaurenLuvSkirts <<

1 member likes this.



Date: 3/19/13 8:21 AM

After many years of sewing, over 50, I finally broke down and bought a serger and only because I wanted to learn what the hulaboo was about. Mind you, had I not had this "revelation", I'd still be sergerless. And no, I don't find one "absolutely necessary". However, one of my sewing machines takes forever to do an overedge stitch to finish seams and I thought the serger would help with that, which it does. And I wanted a professional finish on seam allowances because I was doing work for an alterations shop.

But there is a strong learning curve for a serger--thread breakage, needle breakage, tension adjustments (a big one!)-- and if you're new to sewing, I'd suggest, like the others, to get to know your sewing machine first. Buy several feet and learn how they work. A zipper foot has many uses besides just installing zippers. There is a book called Encyclopedia of Sewing Machine Techniques that has many techniques for using sewing machine feet. Also, learn how finish seams such as flat fell, French, Hong Kong, etc. You don't need a serger to do these.



------
"Play the cards you are dealt, but choose who is sitting at the table"..AARP magazine

SEE MY ETSY SHOP HERE: http://www.etsy.com/shop/AuntMaymesAttic
My blog: http://auntmaymesattic.wordpress.com/
Printable Version
* Advertising and soliciting is strictly prohibited on PatternReview.com. If you find a post which is not in agreement with our Terms and Conditions, please click on the Report Post button to report it.
Online Class
Sewing Basics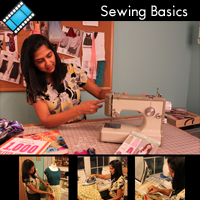 Online Class
Perfectly Fitted Shirt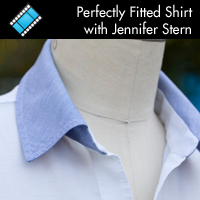 Self Drafted Pattern Shingo Sato technique

by: arianamani...
Review
Christine Jonson Tie-Back Top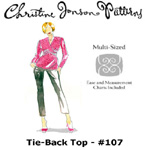 Pattern Details
You Sew Girl 90mm Barrel Purse Pattern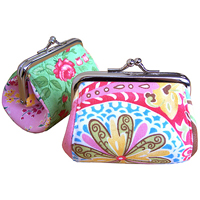 Pattern Details
Vogue Patterns 8278

by: Kendrasews...
Review