meleliza


Member since 5/4/11
Posts: 804
Skill: Intermediate



Date: 3/30/13 2:16 PM

I'm working on Collete Crepe and I really should just toss it in the trash, but I've put it a fair bit of work on this awful pattern and I can't seem to let it go. I altered the back many times over, fixed the waist, changed the wierd sleeves, dropped the bust dart, etc. All of which came out fine and looks not too bad. Then we come to the wasit darts.

I have tried many shapes. I have shortened stitches, I have shortened and lengthened the darts. I have tried an S curve, I have stitched very carefully off the edge. Finally they looked OK in the muslin, but when I got to the actual fabric, I find I'm starting all over again. No matter what I do, the fabric still folds, puckers, or dimples at the bust point.

If I end the dart where it's "supposed" to end, 1" or more from the bust point, it looks like the fabric wants to fold more, but if I do that, it gets pointy. If I shorted the dart away from the bust point as you "should" for a larger bust, I have a boxy shape at the end of the dart.

The fabric is cotton lawn, so nothing difficult there. My full bust measures 41" but my underbust measures 32". So, I think part of the difficulty is that sudden steep change. But I'm convinved part of the problem is the pattern.

I had planned to wear this for Easter, but since I guess that won't happen. No idea what I can wear instead. Now I'm frustrated and angry and I really ought to throw this - and every other Colette pattern I have - away.

It seems like I've tried every suggestion out there for darts - but maybe there is still one more thing I haven't tried yet?

------
Melanie

LauraTS


California USA
Member since 7/10/06
Posts: 2222
Skill: Advanced Beginner



Date: 3/30/13 2:58 PM

Do you need the waist dart? Could you replace it's shaping by taking in th side seams instead?

------
I've moved! Visit my new sewing blog at http://chiralcraft.wordpress.com

Do you sew from KnipMode? Join us at http://groups.yahoo.com/group/knipmode_english/


beauturbo

California USA
Member since 5/2/09
Posts: 4083
Skill: Advanced





1 member likes this.



Date: 3/30/13 3:19 PM

I don't think you really "need" a dart there at all. Also only one shows as the top is wrap style and one side covers the other. I think on the one side that shows, you could actually just neglect to have a dart there at all, and instead just fold your fabric into a fold there, the same depth of the bottom of that dart, and live with and wear just a loose open ended fold of the fabric there instead and all would still look much the same when wearing the dress, style element wise. Especially if you were standing back a few feet from it, or it was a busy print. Done that way, you avoid any bust point, and I think the dress would be done and wearable and still look just fine most likely. Something to maybe think about possibly if you want to wear the dress, and have it actually be done and wearable like right now or an hour from now, or such.

Sometimes I think done and wearable is way more important than trying to do something just perfect or just like in some pattern instructions, plus your fabric is not their fabric and your body is not the one they tried that dress on either.

p.s. to do that, you don't even need to unpick that whole dart, particular if you already got it sewn into a waist seam. You could just unpick the whole top part of it, and then let only the bottom fold part of it, remain sewn into in the waistline seam. Maybe try that and see if you like it any better or not. Or just put it on, and make you own little fold someplace at the waist area to match your skirt were it gets sewn onto it there.
-- Edited on 3/30/13 3:25 PM --

meleliza


Member since 5/4/11
Posts: 804
Skill: Intermediate





Date: 3/30/13 4:38 PM

You make a good point. Done and wearable has its advantages for sure. I have pinned it togehter without the darts, but it looks a little sloppy. And I'm just not sure I'll actually wear it sloppy, however much work I put into it. Maybe it's better to know when to throw in the towel and stop wasting my precious few sewing hours.

That being said, I might try some gathers instead of the dart to see if that helps. Taking the sides in does not help, as the excess fabric is all at the front.

The original waist darts are extremely long - a problem for many of Gertie's sewalong readers too -- and I wonder whether that affects the fit of the entire bodice? After all, if you shorten a dart, where does the extra fabric go?

Bottom line, I surely do not recommend this pattern.

------
Melanie

arianamaniacs


Austria
Member since 6/11/04
Posts: 1571
Skill: Advanced
Body Type:






Date: 3/31/13 8:00 AM

When you shorten a dart, it means it was taking too much room away. Your body fills up the extra room.

------
Please excuse any typos, ipad keyboards are hard for me.

KiwiWendy


International AUSTRALIA
Member since 8/24/02
Posts: 3088
Skill: Advanced

2 members like this.




Date: 3/31/13 8:51 AM

maybe sew it as a tuck instead of a dart?

------
Sydney, Australia

becca a


USA
Member since 11/6/04
Posts: 853
Skill: Intermediate
Body Type:


1 member likes this.




Date: 3/31/13 11:07 AM

Maybe two or three smaller darts under the bust would work better than a single waist dart for such a steep curve.

NhiHuynh


Member since 1/4/11
Posts: 818
Skill: Intermediate
Body Type:






2 members like this.



Date: 3/31/13 11:09 AM

I've been admiring your finish garments on your pattern reviews and think that the dress in your avatar could be your solution. The Simplicity 1880 (the other version than you made) has a similar front as the Crepe. Your got a nice fit using the 3 waist darts or pin tucks (i can't tell from the pics). According to your measurements you do have a bit of fabric to take up. When this is the case more darts and places to absorb it is better. This is exactly what you said in you blog post about the Peony. Trust your instinct and do be afraid to change the style lines if you need. Good luck.

------
I finally have a blog. www.detectivehoundstooth.com :)

Debbie Cook


USA
Member since 4/11/02
Posts: 9762

1 member likes this.




Date: 3/31/13 12:02 PM

I agree with the suggestion to divide the one underbust dart into two. You could also rotate some of that dart into the side bust dart, if you think it won't make *that* dart to wide to sew smoothly to the end point. Underbust gathers would look nice on this bodice too. Or, you could go for the most drastic fix and make princess seams from the side/underbust darts.

------
--
"I base my fashion sense on what doesn't itch." — Gilda Radner
http://stitchesandseams.blogspot.com

wendyrb

California USA
Member since 12/30/11
Posts: 3531
Skill: Advanced
Body Type:


2 members like this.




Date: 3/31/13 4:34 PM

Lots of good suggestions here. I share your measurements, so I hear ya about the fit issues. My best success with a wrap bodice has been with the McCall's 5974.

Palmer Pletsch wrap dress

It was a best pattern here in 2010 and has 74 reviews. You can see the fit on a great variety of body types and ones similar to us. The pattern avoids the waist dart. Perhaps you can apply their principle of the combo tuck/dart to your current project. And also, give it a try for your next wrap dress.

The pattern has 3 partially-sewn waist tucks (released darts) for the bust fit with no other darting. The tuck/darts are not at a right angle to the waist; rather they are on an angle aligned with the line of the wrap neckline and point toward the bust. Each wrap front is symmetrical, with same fit on both sides. The tuck is actually a partially stitched dart- wider at the cut edge and narrower as it moves toward the bust. The partial stitching controls and smooths the fit in the midriff area- no poofing out. The extra room releases where you need it- approaching the bust apex. With 3 tuck/darts, the fullness is distributed so there is no point or boxy affect.

To improve the dress for me, I did an FBA and divided the extra width evenly among the 3 tuck/darts. On my second version, I lowered the wide waistband a little. My bust point is lower than in my youth and the band was really too short waisted for me. I added a back waist band to the dress so it was continuous with the front. It looks slimming compared to the long wrap around sash belting that bulked up my relatively shapely waist. With a 41" bust and 32" measurement at the bra band, I feel the proportion is better. It was one less fluffy thing. I get a lot of compliments on this dress.

HTH and let us know if you can soldier on to resolve this fit conundrum. Best, ~ Wendy ~



------
Always keep your words soft and sweet, just in case you have to eat them. Andy Rooney

Pfonzie- my honey Pfaff Creative Performance and Pfaff Passport, Bernina 930 and 830, Evolution and Enlighten sergers
Printable Version
* Advertising and soliciting is strictly prohibited on PatternReview.com. If you find a post which is not in agreement with our Terms and Conditions, please click on the Report Post button to report it.
Online Class
Expert Sewing Techniques for Jackets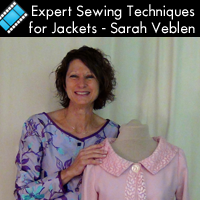 Online Class
Restyling with Exposed Zippers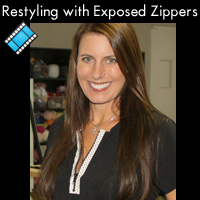 BurdaStyle Magazine 02-2015-107

by: MrsCharism...
Review
McCall's 7026

by: AmandaRene...
Review
Sew Liberated Brynna Dress Pattern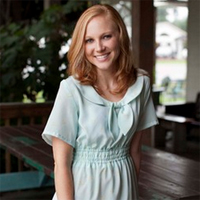 Pattern Details
You Sew Girl Evening Bag Pattern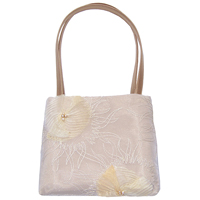 Pattern Details