solosmocker


Member since 1/23/06
Posts: 2272
Skill: Advanced



Date: 5/9/13 1:33 PM

While traveling through NH last Sunday I noticed that my fave store, Fabric Fix, had their highway sign thanking their customers for their thirteen years of business. The store was totally empty. What happened here? I remember speaking with the owner about a year and a half ago and was told they had lost nearly every vendor that they bought from in NYC in the Garment District. How sad! I am really bummed out about this.

------
http://lasewist.blogspot.com/

a7yrstitch


Texas USA
Member since 4/1/08
Posts: 7266
Skill: Intermediate



In reply to solosmocker

Date: 5/9/13 4:06 PM

That is sad and marks a time of change for you.

I had a wonderful shop that was worth the occasional two hour drive and they closed about six years ago. I lived off of my stash during a slow sewing period and then started buying online last year.

I am grateful for the online resources but it is just not the same experience. I wonder how a newbie can ever learn to judge fabric when it is not all laid out before them. No draping in front of the mirror to check for movement and appearance of pattern and color against the body. No walking the fabric to the front door or windows to verify the color in natural light.

No laying out a fabric to study the fabric repetitions and where they start on the yardage.

It must take a truly passionate person to own and operate an independent fabric store. As sad as it is for us to lose our local independent stores, it must be crushing for them to have to close their businesses and start over.

------
I have no idea what Apple thought I was saying so be a Peach and credit anything bizarre to auto correct.

rmusic1


Member since 7/3/10
Posts: 1176
Skill: Advanced Beginner
Body Type:




3 members like this.




Date: 5/9/13 5:50 PM

this thread has made me wonder what my sewing life would be like without my fabulous local fabric shop. It honestly would not be the same, they give me lots of advice and I have lots of choice.

I like natural fibres, and they have a good range of both natural and synthetic fabric (I know some people focus more on the price than the content). I feel very lucky to have this shop so nearby.

Long live the great independent fabric store!

rosehatten


Maryland USA
Member since 9/15/05
Posts: 210
Skill: Intermediate
Body Type:




In reply to a7yrstitch

Date: 5/9/13 7:28 PM

"I am grateful for the online resources but it is just not the same experience. I wonder how a newbie can ever learn to judge fabric when it is not all laid out before them. No draping in front of the mirror to check for movement and appearance of pattern and color against the body. No walking the fabric to the front door or windows to verify the color in natural light."

7Yr, you are So Right on this. It's so hard to adjust to not having a local fabric store, as I did growing up. I subscribed to FabricMart's fabric swatch club, which is helping me get familiar with the newer fabrics, but a 3 inch swatch is just not the same as picking up that bolt.

Rose

Kwaaked

Member since 9/25/12
Posts: 1356
Skill: Beginner

2 members like this.




Subject: Wheres my Fix? Date: 5/9/13 9:01 PM

Everyone forgets that the indie and local sewing stores are not the norm any longer.

How do newbies cope? They know nothing else, or had/wanted to adapt so early they had to learn what fabric does, what the content means, etc. same way one did with a local store, through trial and error, just it's through the mail now instead of person.

It is also much easier to simply find the color/type you want then being overwhelmed with everything in front of you, and a click of the button is much easier then having to ask anyone or search yourself. Taking a risk is easier at $5 a yard then it is at $15 a yard, and you can find quality fabric at all price points online, where in person is not always so easy. Price not being a concern, I just bought linen for a third of the price JoAnns has it and it's a much better quality.

I don't miss the stores. I also don't know of any store in my lifetime that had mirrors, and there aren't any in the box stores around me. There are as many reasons to shop online as there are to regret the demise of the stores, and you'll likely find as many that are happier to shop online as there are those that will in person.

It's not the normal view on here, but not all newbies think of the loss of stores as a set back or a problem.



solosmocker


Member since 1/23/06
Posts: 2272
Skill: Advanced

2 members like this.




Subject: Wheres my Fix? Date: 5/9/13 9:58 PM

Are you kidding? Give me some overwhelm! I'll take that feeling in a fabric store any day but honestly I haven't felt overhwelmed in a fabric store in years. Experience will do that to you. I can see where a newbie could feel overwhelmed when surrounded by something so unfamiliar as real fabric. I'm also not looking for easy here. Easy doesn't tell me how a fabric drapes or looks against my face when I hold it up to my cheek in a mirror. I am sorry, Kwaaked, that you never had the experience of shopping in a great mom and pop fabric store or in a town that had four or five of them and they all had mirrors!. It is an education, one you won't get playing roulette on line with your fabric purchases. I have no problem shopping on line for fabric and do so fairly often. But how does that work out for someone who doesn't know organza from organdy or silk velvet or rayon velvet from velveteen or even knit velvets? How does one accumulate these skills? You can't get it from a book completely or online either. You have to be able to feel, drape, and see the textile.

I totally get that newbies do not mourn the loss of theses stores. How could you when you don't know the difference? But be assured, you have missed a big chapter in your sewing learning experience. It's sad and will take far too many clicks to help you catch up, if ever.

-- Edited on

5/9/13 10:01 PM

--

-- Edited on

5/9/13 10:03 PM

--

------
http://lasewist.blogspot.com/

carolhope


Member since 3/7/06
Posts: 176
Skill: Advanced



In reply to solosmocker

Date: 5/9/13 10:02 PM

I am bummed out too! I have been shopping there for years. In fact, I have been planning a trip up there sometime in the next few weeks to load up on the wonderful $2 a yard knits that I have been using for pjs for my whole family. I used to buy 15-20 yards at a time. But, no more, I guess. So very sad! Think I'll go and have a good cry.

beauturbo

California USA
Member since 5/2/09
Posts: 5196
Skill: Advanced



Date: 5/9/13 11:52 PM

I'm really glad I learned to sew when there were fabric stores all over the place. I can see how if that did not happen to someone though, they might not ever know the difference. But then it would be more like back in the early 1900's or even 1920's maybe when less stores anyplace, more rural areas and a lot of sewers even maybe had to order their fabric just from a Sears or Wards Catalog someplace sometimes and have it delivered instead, and just by the picture, line drawing and description of it there. So in that way, internet fabric shopping is probably nothing new, and more just a continuation of that even and even going in the backwards direction instead!

But, I do think it would be just terribly hard to know what to order or even what you want to order or not, without handling anything and just from a photo of some fabric, and description, particular if you did not know all those fabrics from them being in your hand first, and had never felt them in your hands, or draped them over you. Also just way more prone to making shopping error choices with a pattern in mind first, that maybe the actual fabric once you had it, you decided was not going to work for the pattern you had in mind.

When I see fabric on line, I can somewhat imagine what it might feel like, look like under lighting, or drape but that is only because of all those fabrics I had actually been touching and aware of their properties by feel first, and just someplace else in person previous.

What would actually get me to buy all my fabric over the internet instead, probably nothing at all, as long as I still had some stores near me, where I really could see, touch and feel actually. But, what would be useful and help a great deal I think, but computer technology and costs of it are not low enough to do it yet, would be instead if I could put on some kind of 3D gaming glasses apparatus, hooked into a computer and so could actually see the fabric under varied lighting sources even if just simulated (just like I can for machine embroidery designs in some of my quite high level digitizing programs) and also if there was a tactile and sensor laden glove I could put on, that was also hooked into the computer, to give me at least a artificial intelligence way of "feeling" the fabric, with my hand and maybe also it's drape, weight and characteristics. Words on a computer screen, do not ever give me that in the same way as real life at all- and I do know fabrics, so it's not lack of that at all. Also depending on where all those fabric selling websites are even getting their fabric descriptions from probably matters. Something that comes with the fabric, from the manufacturer and made in someplace and then translated down several languages, seems not to be even a very good description of it, a lot of the time to me.

Kwaaked

Member since 9/25/12
Posts: 1356
Skill: Beginner

3 members like this.




Subject: Wheres my Fix? Date: 5/10/13 0:19 AM

I did grow up with mom and pop stores, although they did not have mirrors. I did not say I didn't grow up with them.

I was stuck to what old women ordered. Including colors, prints and fabric types. As a teenager/child this made finding anything remotely fashionable hard. I don't have this issue now since I am not at the mercy of someone else ordering, just at the mercy of what is out there.

How do you learn? Yes, a book can tell you the difference between organza, organdy and silk. You can learn the weaves and quite a bit more from books. Believe it or not, RTW also offers quite a bit of education since they do include tags of content and it isn't hard to find something just like it online.

I'm sorry that it is hard for others to understand that there are those that don't miss this way of shopping. Maybe you were lucky and grew up in a city where you had a ton of selection. I didn't. I learned more online about fabric then I did in person, and yes I did grow up when I could go to a store. Until I started ordering online, I never saw voile, silk charmuese or silk velvet and a ton of other fabrics.

Even looking here, it doesn't seem like you take any less of a chance in person with all the complaints about quality of things in the stores. There are many complaints that something looked good at the fabric counter and made up fell apart or pilled. How is that any less of a roulette game then ordering online? If you don't have access to them in a local store to begin with, how did you learn about fabric selection before?

The idea that someone may never catch up because of a different way of learning something is harsh and off putting to those that may read it and never have access to these stores. But reading, I'm not sure what I did miss exactly, except being told that I'll never be up to someone else's level and a pat on the head that my sewing education is lacking because of it.

solosmocker


Member since 1/23/06
Posts: 2272
Skill: Advanced

2 members like this.




Date: 5/10/13 6:46 AM

Quote:
I was stuck to what old women ordered. Including colors, prints and fabric types.

Why do you think all fabric ordered in fabric stores is by "old women"? Perhaps it was in your experience but, and I am sure others will back me up on this, there is a wonderful legacy of the Jewish "rag merchant" who often ran these stores with their families and who did the buying from their many contacts in the garment industry. I know this having worked in the garment industry. When I think of the four favorite fabric stores I've patronized over the years, they were all run by men with the ordering by men. If you read about the wonderful fabric stores in the Garment District in NYC, it is men who are often doing the managing, selling and owning. This is not unique. It's sad that you did not seek out fabric stores beyond what was available to you in your town. You definitely would have found inspiration and variety with a bit of effort.

Quote:
it doesn't seem like you take any less of a chance in person with all the complaints about quality of things in the stores. There are many complaints that something looked good at the fabric counter and made up fell apart or pilled.

My point exactly. Experience handling quality fabrics will prevent you from purchasing the "garbage" that is currently out there in the marketplace. You would learn the difference of a good ponte from a bad ponte. I have read from many experienced sewing bloggers about fabrics purchased on line that just weren't what was expected. Most fabric available today is manufactured offshore. That was not previously the case and that was not that long ago. I suggest you read "Overdressed" by Elizabeth Cline for more enlightenment on the subject. You are right that quality has suffered as manufacture has gone off shore. This does not relate to whether an item is sold on line or off.

I think what is missing from this conversation, Kwaaked's in particular, is passion. Those who have it know what I am talking about. It is the glorious high of seeing color and texture and in your mind creating garments faster than you can imagine them. Overwhelming is not an issue. This is what is missed as these small venues disappear. This is what makes many of us sew. It is a passion for beautiful blends of color, weave, and texture that excites us to creativity. a totally tactile in the present experience. I just don't get this feeling from a computer screen.

Please do not assume that a love of fabric has anything to do with a distaste for on line shopping. As said earlier, I shop on line often, for fabric and much else. Shopping online is not an experience limited to a certain demographic. In this day and age why would anyone even think that? We have come much farther than that at this point.

Bottom line, I will miss the wonderful shopping experience I had at these stores. I will miss the bespectacled ladies who could give you high quality information, who understood your passion, and who couldn't wait to show you the most beautiful new fabric that had just arrived. I will miss the Mr. and Mrs. Levine's of this world, who gave color to this shopping experience and made many great memories for me. I will miss that Mr. Levine could get me anything I wanted with a call to the garment district. I will miss those flatteries I felt when the ladies at the Fix admired my latest bag. I will miss that they really, really were interested in what I was going to make. I will miss Mrs. Levine always throwing in that bit of extra and being quite generous about that. I will miss the conversations with staff about what serger to buy. I even miss the stinky cat that roamed Levines and kept the mice at bay. Buying fabric in a store like this, one that colored a city for decades, is an experience that I will treasure and miss. I wouldn't trade the experience for anything.

-- Edited on

5/10/13 6:48 AM

--

------
http://lasewist.blogspot.com/
Printable Version
* Advertising and soliciting is strictly prohibited on PatternReview.com. If you find a post which is not in agreement with our Terms and Conditions, please click on the Report Post button to report it.
Online Class
Break your Serger Out of the Box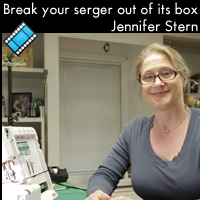 Online Class
Fit the Tee to a T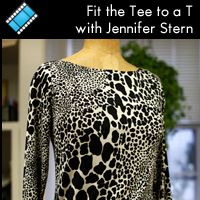 Butterick 5925

by: Jan Crews
Review
Fit For Art Band Variations and Pockets for the Tabula Rasa Jacket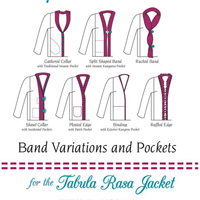 Pattern Details
Fit For Art Sporty Details Expansion Pattern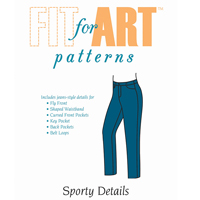 Pattern Details
McCall's 6284

by: Stitchmake...
Review