kdbobo


New Jersey USA
Member since 7/28/10
Posts: 44
Skill: Intermediate

1 member likes this.




Date: 5/18/13 3:49 PM

Hi y'all!

So, a couple of years ago I bought this bee-yoo-ti-ful border print sateen--a snow-white color with huge, gorgeous pink and red flowers along the selvages. I found it super cheap at my local sew n'vac--like 5 yards of it!--snatched it up and ran off home, giddy about the fantastic summer-dress-of-some-kind I would make.

However, once I started trying to decide on a pattern, I realized I had a problem: The border, as is usual, ran along the selvages. So in order to have it function as a border print, I'd have to cut cross-grain.

That might be ok, except: the fabric is a stretch sateen. So it's a) got some Lycra in it, and stretches a good bit along the crossgrain and b) not super lightweight, either.

This fabric's been sitting in my stash for ages because I cannot think what to do with it. I'm afraid to cut it crossgrain because of the stretch and the heft of the fabric. Any ideas?

beauturbo

California USA
Member since 5/2/09
Posts: 5551
Skill: Advanced



In reply to kdbobo

1 member likes this.



Date: 5/18/13 4:25 PM

I have seen a whole lot of straight skirted, more sheath style sleeveless dresses made of heavy twill weave,cotton sateen lately, with the border of the print on the bottom hem. In all the stores right now. Even when the actual fabric has some lycra or such in it for extra stretch too. In the stores they are most times lined with some non stretchy woven polyester or such. So when they do that, they are just ignoring any stretch in it, and once they got that non stretch woven polyester lining in it, and you try them on in the dressing rooms there, you got no stretch while wearing it anymore either. So that is a very common thing in the dresses made of that, in the stores now. You could do it the same. Just don't use a pattern for only knits though.

If you want to keep more stretch in it though, then you would have to cut in the right way lengthwise direction way to get that, or on the bias or some other way, and then not line it, or instead line it with something that has a bit more stretch to it.

HawkeMorningStar7


California USA
Member since 6/21/05
Posts: 1671
Skill: Intermediate



Date: 5/18/13 5:03 PM

This is a GREAT question as I have some pieces of lovely border print, border design along selvedge BUT and this is with my knit pieces that have

only

a cross wise stretch or a woven where stretch is crosswise. So in both cases stretch would go

down

the length of body to incorporate design at hem

If pattern is a pure woven I suppose as you said I can line with non stretch lining.

Bit I have some nice knit patterns that use a border design. I spose my single stretch crosswise stretch knit is useless for this purpose.

A bit lame how the fabric designer made fabric this way IMHO

------
.....Behold, a wonder did appear;
Amazement was my bliss.......

beauturbo

California USA
Member since 5/2/09
Posts: 5551
Skill: Advanced



Date: 5/18/13 6:45 PM

I don't think they got much choice in how they make a border print actually. If it's a border print, it has to go up and down direction wise along the selvage edge, even if it is a knit. If they print it more horizontal going cross wise along the width of the fabric, and they do sometimes, I guess then it would be called more a panel print or a scarf print or maybe just some fabric with a really huge repeat on it.

If it's a 4 way stretch knit fabric you might still have some stretch no matter which way you cut it, but if it only stretches crosswise then I guess not. But I still kind of like it printed more border print wise, than even a panel print wise going with the stretch most times. Just because when I buy something that is more "panel printed" there is a pre-determined length to that printed panel.

They don't know what I want to make of it, or how long a panel I might need from shoulder to hem or waist to hem, so maybe the whole panel or repeat just kind of very much limits me to what I could even make of it. Printed along the salvage edge instead, at least means that I got the total width of the knit fabric to work with, which is going to be maybe 54" or 60" inches wide across to work with instead.

So I do just cut my knit things going in the other direction there instead, to make use of a knit border print if wanting it horizontal on me, at least for that part of it most times. That most times works fine for me, if really no negative ease needed in that part of the skirt of something. So good for that, but would not be good for a tight tube dress or a more body con bandage style knit dress, if you really instead needed the stretch of the fabric right there.

The other time is does not work good for me that way, is if the knit had really bad stretch recovery or is really heavy in weight. Then because it was cut in the opposite direction from the stretch on part of it, just even it's own weight and stretch, that normally goes across me, then going up and down wise instead, might make it bagged down and hanging a bit funny and get an uneven or rippled hemline, but most of the time not.
-- Edited on 5/18/13 6:47 PM --

HawkeMorningStar7


California USA
Member since 6/21/05
Posts: 1671
Skill: Intermediate



In reply to beauturbo

Date: 5/18/13 11:26 PM

Yes it can get a bit tricky.

My knit has even very little cross wise stretch so I may probably use with a woven pattern.

Ideally knit border prints should stretch equally in both directions.So you can have border at hem but still stretch around body I haven't found too many like that.

------
.....Behold, a wonder did appear;
Amazement was my bliss.......

wendyrb

California USA
Member since 12/30/11
Posts: 4182
Skill: Advanced
Body Type:




In reply to kdbobo

1 member likes this.



Date: 5/19/13 5:06 AM

Beauturbo did give you some useful tips of how to bend the fabric to your inclinations. This is a fun design challenge! I suggest putting your fantastic summer dress impulse on hold for the moment; try looking at your border print with fresh eyes.

First, turn the cloth so the fabric is oriented lengthwise. Hold it against yourself, or pin it to a dress form if you have one. Since the fabric has some "heft" maybe it would make a beautiful jacket with the border running along the center front openings. Or, even a coat.

Check Sandra Betzina's Duster

You'd need to rethink the over-laid button placket. I'd make it an underlay with hidden buttons to keep all that out of sight.

How wide is the border? Maybe it would work as a pant? Patterned pants of all kinds are everywhere. Your fabric has body and the stretch would now be going around you.

Oh, another way to work a top- put the border on the front and back yoke, maybe the sleeve too. If the sleeve pattern is too wide to fit on the border, add a center seam from cap to wrist. Run the print along that, butting them together. You've got lots of yardage for playing.

The summer dress can work. Cut a gathered skirt with the border starting at the waist and the snow-white towards the hem. Stretch won't matter if the skirt has fullness. The bodice can be snow-white cut with the stretch around you.

Just some thoughts to start shaking loose new potential for fabric you love. Good luck and let us know where you're headed.

------
Always keep your words soft and sweet, just in case you have to eat them. Andy Rooney

Pfonzie- my honey Pfaff Creative Performance and Pfaff Passport, Bernina 930 and 830, Evolution and Enlighten sergers

B


Minnesota USA
Member since 12/5/03
Posts: 716
Skill: Intermediate



Date: 5/19/13 8:58 AM

I was thinking of using it down the front of a jacket or dress, also. But it would depend on whether the print has a definite up and down, as a house, for instance, wouldn't look good sideways.

Gathered skirts, rather than anything snug, would probably work just fine unless the fabric stretches very much. Using a pattern for wovens sounds like a good idea if you have a lack of stretch going around your body.

------
Janome serger 634D, Brother PC6000, Singer 500A, Kenmore Mini-Ultra, vintage Bernina 600, White Rotary treadle, New Homestead A VS treadle

sewbehind


Canada
Member since 6/30/05
Posts: 877
Skill: Beginner
Body Type:




Date: 5/19/13 10:37 AM

I have seen people use the fabric as it was intended to be used with the stretch going around the body and then cutting the border off and using it as desired. (perhaps on the bottom of it for a skirt or dress, for example) You simply attach the border at the bottom of the fabric, so that most of the fabric has the stretch around the body and then at the bottom where a skirt would be more A-lined, there is no stretch.

Helen

kdbobo


New Jersey USA
Member since 7/28/10
Posts: 44
Skill: Intermediate



Date: 5/21/13 7:49 PM

Thanks, everyone! I'll pick something and give it a go--maybe if it's something not too big it won't stretch too much. Will report back when I do.
Printable Version
* Advertising and soliciting is strictly prohibited on PatternReview.com. If you find a post which is not in agreement with our Terms and Conditions, please click on the Report Post button to report it.
Online Class
More Knits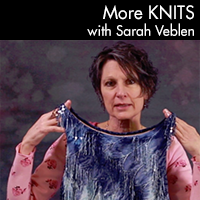 Online Class
Understanding Sheer Fabrics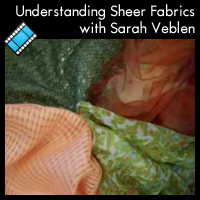 New Look 6301

by: BiKe
Review
Simplicity 2617

by: HOWsMom
Review
Islander Sewing Systems Details Express Shirt (Size 1X-4X)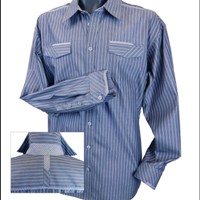 Pattern Details
SewBaby Snap Happy Diaper Covers Pattern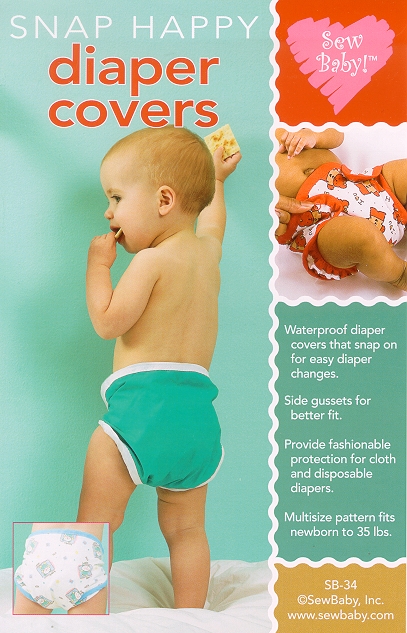 Pattern Details