Georgene


California USA
Member since 10/5/02
Posts: 2292
Skill: Expert/Couture



Date: 12/30/02 1:03 PM

Last night's chat with Peggy Sagers about jackets had a lot of Q and A about fusibles and interlinings.  Peggy has a definate point of view about tailoring methods vs. the new fusibles.  A lot of her ideas on the subject are also covered in a previous PR chat

Interfacings and Stabilizers

.

Any feedback and questions on this subject?  It seems to be a sore point for many, what parts to fuse, don't fuse at all, or what?

Do you still like a more structured jacket?  Do you feel that tailoring techniques have evolved, and the old ways of shaping a jacket are arcane and good riddance? It would be great to hear some of others' experiences with this issue.

Deepika


Founder
Going to PR Weekend!

Massachusetts USA
Member since 11/28/01
Posts: 13293
Body Type:




Date: 12/30/02 2:55 PM

Georgene,

Nan submitted a very neat article on interfacings. Its pretty detailed and I am sure it will answer a lot of our questions. I will be sending it out in a couple of weeks.

------
- Deepika
Founder, PatternReview.com
Blog: http://www.deepikablogs.com

AnneM


Contest Committee
Member since 7/30/02
Posts: 7463
Skill: Intermediate



Date: 12/30/02 3:53 PM

Actually, I don't think Georgene has question so much as is interested in different view points.

I don't really have a viewpoint to give. I don't have enough experience. I just follow the pattern directions. It is mostly facings and button holes that I have interfaced.

At some point (I already have the fabric) I want to make myself a herringbone blazer. That will have to be structured. Other than that I am currently leaning towards softer outlines.

------
With a great wardrobe that's still in the flat-fabric stage.

Nan


Member since 8/24/02
Posts: 119
Skill: Advanced



Date: 12/30/02 10:28 PM

Georgene, This is a great topic--I'll have to read the chat manuscript. I have taken a class from Peggy and have her 3 tape set, which is good. I enjoyed her class on patternmaking too.
I do quite a bit of tailoring, and I almost never use the old techniques--such as padstitching. I am a firm believer in selecting the right interfacing for your project, though...Textured weft and similar types of interfacing (sewing place or from Nancy ERickson) really allow for a lovely drape but provide support and structure, which I find essential when making welt pockets, etc. I have been using this extensively with many different fabrics and I can get a nice Armani-type look, and a long-wearing jacket.
I do use fusi-knit occasionally too--mostly on stretch fabrics. I like armo-weft for collar support if the collar needs it--but I've found that often the textured weft (on the facing and the collar piece, or undercollar and upper collar) provides enough support. I also like whisper weft though its getting harder to find it in nice quality. I have been buying that from Mary Ellen Flurry.
There are many other nice interfacings out there, but I try to limit myself to keeping 4 around, plus cotton batiste and silk organza. I love to underline with organza, and its great for summer jackets in lieu of most interfacings. If you cut the organza slightly larger on the sides of your pattern pieces, and then sew it right sides together BEFORE construction, you'll get a type of faux hong kong finish which finishes the inside of your jacket nicely.
I'm finishing up an outfit for NY Eve in between cooking (black-tie dinner for 23, but thankfully, I had the foresight to make it semi-potluck); I'm looking forward to reading the chat transcript as a treat on NY DAy.
Happy New Year's to all.
Nan

SouthernStitch


USA
Member since 8/24/02
Posts: 11898
Skill: Intermediate
Body Type:






Date: 12/31/02 0:35 AM

Very interesting topic - I don't do any tailoring yet, but definitely want to read the archive on that chat. I do want to get into jackets soon. For regular garments, I tend to keep just 3-4 interfacings on hand, all fusibles, usually nonwovens. I did get a fusible knit which was silky in texture and I loved it, and used it on much more than knits, too. I read the archived chat on interfacings, and I have to agree with Peggy - I refuse to get overwhelmed with interfacing choices, and some of the time just don't even use one, and i have had success.

Question here - is fusi knit the product you use to fuse to pattern pieces before sewing? I am asking because I have a loosely woven fabric which drapes beautifully, but is sort of see through. Should I underline with a regular lining, or fuse something to the fabric, and if so what product would be best to try? I don't want to lose the drape of the fabric, but it is sort of too loose and drapey - I am sort of scared of it. I'll probably be doing a dress or blouse out of it.

Mary T

------
Bernina 780, and 530
Viking Opal 690Q
Babylock Evolution
Singer 403a

When life gives you green velvet curtains, make a green velvet dress.

Georgene


California USA
Member since 10/5/02
Posts: 2292
Skill: Expert/Couture



Date: 12/31/02 2:36 PM

Well, I am old school here, so I don't know about fusi-knit.  If you look at Peggy Sagers' website Silhouette.com she sells a fusible that she recommends for everything, including fusing the entire garment.  I am interested if anyone else has done this.  It seems that Nan has a wide experience with interlining techniques. I look forward to her newsletter article!

Old school would be to use a silk organza interlining and bastestitch the silk as a backing all around the seams, but not at the hem.  To 'marry' the 2 fabrics (which have to be cut scrupulously on the same grain) so you can treat them as one,you need to couch the 2 layers together with a giant stitch thru out the  garment, then do your basting at the seamlines.

Well, obviously this really a pain, and a lightweight sheer fusible would be the way to go.  Interlining with silk organza is only for the devoted/meticulous/obsessed, and really for when you're working with a very expensive fabric I would think.

There are many different qualities of silk organza also, and the fine soft drapey sort I believe is called 'super organza', and used to come only in black and white. (You can tell I don't do much of this any more) I like Nan's idea of using cotton batiste also, that could be nice for a crisper cotton fabric.

I found a really interesting site with a lot of interlining alternatives, but it's located in England.  Still, I think that the info is very valid, and one could be more educated after doing some reading at this site. Check out

The English Couture Company

for a window on another world.

Nan


Member since 8/24/02
Posts: 119
Skill: Advanced



Date: 1/1/03 8:02 PM

Mary,Fusi knit is a fusible with stretch. It is one of the few nicer fusibles which you can routinely find at Joanns, Hancocks, etc. I don't think it would be the best for fusing to your pattern pieces to make them more stable. Any old fusible (including the cheapie pellon at Joann's or Hancocks) would do for that--and I would never use pellon on any garment.
Fusiknit is what you want to use if you need fusible on a fabric with stretch.
For underlining to reduce see through, I would probably recommend something different. Does your pattern need drape, or would it be better with a bit more crisp fabric? I'd pick my underlining accordingly. It doesn't need to be fusible. I did buy some wonderful, very lightweight woven fusible available in various skin tones at a sewing show once. I think the sewing place (one of the patternreview partners) sells it; look through their interfacing section and see if you find it.
I think, Georgene, that Peggy likes fusi-knit for underlining. Some people prefer other fusibles b/c they "breathe" better (if I remember correctly fusiknit has some poly and nylon). I have found that the textured weft works great for underlining. (Nancy ERickson sells hers with a different name).
Both batiste and organza are wonderful for underlining, and for that matter, interfacing too, depending on the garment and the technique.
REally, like most things in sewing, its worthwhile to test, and it is a matter of individual preference. It is instructive to look at better RTW if you have access to it--just take it apart and see what they do. Once of my fellow ASG members did this with one of her Doncaster jackets. WE got some great tips from this.
Nan

SouthernStitch


USA
Member since 8/24/02
Posts: 11898
Skill: Intermediate
Body Type:






Date: 1/4/03 11:34 PM

Nan, I realize that I mistyped. I am not looking for something to fuse to the pattern peices. I meant something to fuse to the fabric peices before sewing. It just seems to me that it would be easier to do that than sew in a lining. I have Connie Long's book on the way about linings, so hopefully that will help. I have always avoided even RTW with alot of lining as I live in the deep south. I have always saved the lined clothes for winter wear only. But, I realize I need to grow up in my sewing, and tackle different fabrics. However, I don't want to ruin them. Thanks for your help! Mary T

------
Bernina 780, and 530
Viking Opal 690Q
Babylock Evolution
Singer 403a

When life gives you green velvet curtains, make a green velvet dress.

Gigi Louis


Member since 4/4/02
Posts: 7876
Skill: Advanced



Date: 1/5/03 10:15 AM

I nearly always use fusibles - they've certainly come a long way in the last few years. I figure if it's good enough for a $3000 Chanel jacket, it's good enough for me.

I have used fusible tricot for completely underlining jackets. It works beautifully to cut down on the wrinkling with linens. For more textured fabrics I do prefer the Textured Weft from HTC (the same as the fusible underlining that Nancy Erickson sells). It adds some sponginess to the fabric while maintaining drape. Sometimes I will also use silk organza as an underlining. It really takes just a few minutes to hand-baste it to the fashion fabric.

I'm not against doing things the old-fashioned way - I think if you enjoy the handwork then why not? I for one just don't enjoy it and even if I did I just don't have the time. Now, Rennie and I both have the same industrial blindstitch machine (TacSew) and she has mentioned that she uses it to padstitch lapels which I think is a super idea. Honestly, I hadn't even thought of doing that but then I generally don't make jackets with lapels.

I too really try to limit what I keep on hand in terms of interfacings. I keep some silk organza, muslin, textured weft, light and tailor-weight weft-insertions and fusible tricot. I also use a ton of Sheer by Palmer/Pletsch. It's a weft-insertion interfacing that gives a light, crisp hand and does not need to be preshrunk. It works well for many of my projects where I used to use fusible tricot.

Nan


Member since 8/24/02
Posts: 119
Skill: Advanced



Date: 1/5/03 12:07 PM

Mary,
I honestly don't think a fusible will replace a lining...Yes, it can enhance the durability and drape of your garment, but it does not provide the clean finish inside like a lining. Also, lining is typically more "slick" than your fashion fabric which eases putting your garment on (very nice for jackets, for example.)
However, you could consider silk organza to provide the dual function of a lining and support for the garment. You can either construct the silk organza like a lining, or you can underline your garment with the silk organza. To clean finish your seam edges, you could serge finish, or attach the silk organza RS together with the fashion fabric. (I think I described this in an earlier post). If you want to do this, cut your silk organza slightly bigger (3/8") at each side seam, then sew it to the fashion fabric RS together at these side seams. When you turn and press the organza will slightly "wrap" the edge of the fashion fabric, providing a lovely finish (kind of like a Hong Kong finish). If your pattern pieces are large you'll need to baste the organza to the fashion fabric down the middle so it won't slip as you construct your garment. Also, baste down the center of any darts. Let me know if you wan't more info on this technique. Its a very nice way of finishing sheer fabrics, and the silk organza is marvelously "breathable".
Nancy ERickson has written quite a bit on this technique based on a Chanel jacket she bought, this one was constructed with a bit more detail in the seams, but the principle is the same. I highly recommend her group, though, if you are interested in learning these type of techniques in more detail. (nayy)
Nan
Printable Version
* Advertising and soliciting is strictly prohibited on PatternReview.com. If you find a post which is not in agreement with our Terms and Conditions, please click on the Report Post button to report it.
Online Class
Bust Adjustments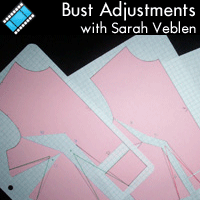 Online Class
Pattern Work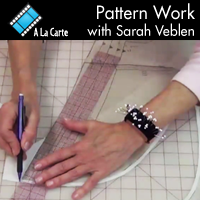 New Look 6470

by: SewWil
Review
Christine Jonson Taper Pant & Wide Leg Pant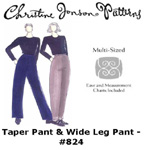 Pattern Details
You Sew Girl Beauty Case Pattern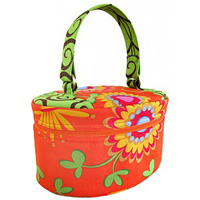 Pattern Details
Figgy's Scirocco Dress

by: MayenDesig...
Review