demoiselle


Member since 6/21/11
Posts: 568
Skill: Advanced Beginner



Date: 6/20/13 5:01 PM

I am a fairly new sewer (having been taught in a costume shop as a teen, then not sewn for years). I decided a while ago to brush up on my skills and happily made a couple skirts that I can get away with wearing.

I bought "Fit for Real People" and have been skimming it sporadically. I love the "tissue fit" idea, rather than always making a muslin. However, I am flummoxed about how I can try on and adjust the tissue patterns (heck, even the muslins I make) with just my cat home to lend a hand. Hubby might be roped in, but he's starting his own business and can't spare a lot of time for being a sewing assistant now!).

Do you tissue fit? Do you work alone? If so, how do you manage?

I'm asking right now because I'm happily making a muslin of my very first top (Simplicity 8523 - the sleevless V-neck). Having just completed the body (but not the interfacing), I'm delighted that my first attempt at darts hit just the right spot (yay!), but to make the front look right I'm going to have to shorten the pattern. The back looks even more in need of adjustment (from what my mirror tells me) -- and I can't even pin it myself. It makes me wish I'd tried tissue-fitting after all.

Anyway, getting the darts on my first top right is great and I figure I'll celebrate that.

Any advice on how to tissue fit on your own or how to make adjustments on muslins while alone would be appreciated.

Thank you so much for your time and advice.

------
Yes, I started a blog.
http://demoiselledesigns.wordpress.com/

Char in KS


Kansas USA
Member since 7/9/10
Posts: 290
Skill: Advanced Beginner



Date: 6/20/13 5:45 PM

I don't have "Fit for Real People" so I don't know much about the tissue fitting.

I am basically in the same predictament as you, except I live alone with just a house bunny. I have been taking the muslin off to pin it. Then I put it back on and see how the difference or if I need to change it. I do use my camera to get pictures of the back for me to look at better. I like using safety pins instead since I am doing this by myself.

Vivienne


Member since 6/29/04
Posts: 1225
Skill: Intermediate
Body Type:


2 members like this.




Date: 6/20/13 6:13 PM

I compare the tissue to my best fitting, most similar RTW garment.

Lol - good luck with the tissue around the cat!

------
Cheap fabrics, like cheap shoes, are a false economy.


aprilla

Member since 6/2/12
Posts: 367
Skill: Beginner

2 members like this.




Date: 6/20/13 6:26 PM

I do it alone. Husband is NOT a good judge, doesn't see problems even when pointed out and (without saying so) thinks if there's problems I should just go and buy whatever garment it is I'm attempting to make :)

I also use safety pins, try on inside out and do some rough pinning then take it off to do more pinning (to resemble basting) and try on again, see how it worked.... repeat and repeat.
Now and again, esp if I think I'm *there* I'll do a machine basting stitch and try on again, pins in hand...

WhooHoo on the darts!!

ps If tissue fit is using the paper pattern, this hasn't ever worked for me. I tried but I think I cannot make it fit 'close enough' for fear of tearing it


-- Edited on 6/20/13 6:28 PM --

DonnaH


Texas USA
Member since 10/1/03
Posts: 1678
Skill: Intermediate

1 member likes this.




Date: 6/20/13 6:43 PM

I only "tissue fit" by holding the piece up to my body - help to check the width of the shoulder, and sometimes the back waist, but not much else, lol.

But then I'm still working on the idea of muslins. Don't always transfer enough info back to the pattern.

JeanM


Virginia USA
Member since 6/25/05
Posts: 204
Skill: Intermediate





In reply to demoiselle <<

1 member likes this.



Date: 6/20/13 7:50 PM

Down to just a cockatiel and fishtank (from bird-fish-cat-dog-dog)...and two boys and DH, none of whom is much use with pins (DH thinks one can just cut the flat shape and sew it up, tahdah, shirt...?!?). No sewing buddies either (quilters or those who only sew things like tote bags or scrunchies, and one who sews children's clothes because there isn't much fitting to do).

I have a couple of challenges with tissue fitting, the fragile nature of the paper and the frustration of having to purchase another copy if I make a giant mess of it (not so bad if it's one I can replace for $2-$3, but rotten if it is an indie pattern).

So I trace on swedish tracing paper and fit the traced pieces. It does take a few minutes to trace the pieces, but I can pin or sew the tracing, make a full front or back piece (also nice if I am sewing stripes!), retrace if I mess it up or want to start with a different size. There was a thread discussing other options for a tracing medium (thin plastic, examining table paper, freezer paper, soil separator cloth, are a few of the options).

Also, I have a couple of mirrors (no easy camera option here but others use them).

Lots of pins, and patience, and work top down.

I'm seriously considering a duct or paper tape dummy (but those males in my house..., sigh).



ValerieJ


Pennsylvania USA
Member since 6/14/06
Posts: 556
Skill: Advanced Beginner



Date: 6/20/13 8:56 PM

I don't tissue fit for the reasons you've identified-no fit buddy. DH panicked at the thought of pinning a hem. I find the suggestions for adjusting patterns to be very useful, but I muslin and then make changes. A full-length mirror and digital camera with tripod might be your best friends.

marymary86

Georgia USA
Member since 7/20/08
Posts: 3686
Skill: Intermediate

10 members like this.




Date: 6/20/13 9:01 PM

DH can't get past "locate bust point" (which in all fairness, he does quite well).

:D

He is handy at taking photos though. I taught him how to put a pin at my center back and then take pictures from behind as I hold the tissue in place.

I'm making progress but wouldn't it be wonderful to be able to find fitting buddies here on PR?

------
Mary




stirwatersblue


Member since 12/13/08
Posts: 4111
Skill: Intermediate
Body Type:


2 members like this.




Date: 6/20/13 9:06 PM

I fit on myself--heck, I *drape* on myself--with extremely *MINIMAL* but CRITICAL help from DH. It doesn't take him more than about 10 seconds to "put a pin HERE, where I'm pinching." Realizing not all SOs will do this, but he has also become VERY good at noticing fit issues in a brief, brief glance. On my current WIP muslin, when asked to pin a shoulder strap, he also pointed out a wrinkle/drag line!! ("You usually care about things like this.")

One thing I have JUST discovered is that binder clips make excellent one-handed pin-substitutes. It's similar to how bridal shops use alligator clamps to approximate fit. You could get a package of small spring clips or Wonder Clips, or maybe even binding clips, and those might work even better (I just happen to have a large supply of binder clips hanging around here).

Lastly, it helps to be at least remotely flexible--if you can reach the spot with a Sharpie (even if you can't pin it), you can mark darts or places to trim/pinch out, etc. Also, many telltale wrinkles will remain in a muslin even after you take it off, and you can use them to help you remember what needed to be pinned, etc.

------
~Gem in the prairie

demoiselle


Member since 6/21/11
Posts: 568
Skill: Advanced Beginner

1 member likes this.




Date: 6/20/13 10:42 PM

Thank you for all the suggestions!

I think I am going to keep reading through Fit For Real People so that I can start getting an idea of how to recognize "problems" and what kinds of adjustments fix them. I'm not sure I'll be ready to "tissue fit" for some time, because I don't have the best fine motor control and I am sure to tear the tissue. :-( Plus, I got a number of patterns from Daytona Braids & Trim, and they are out of print, so once I've cut them out once I won't be able to easily find replacements!

Since last posting, I put the neck interfacing in on my top and it has stabilized the top half of my top, which is good. I doubt the arm interfacing will do as much. However, we will see.

As it is, the back is the problem area: the fabric is baggy, and I can't tell for sure if the back is too wide near the bottom, or if I just am short waisted (that's my hunch) and I need to take the original pattern up a bit so that the "shirt tails" don't get caught on my rear and bunch up.

I'm doing this shirt because it's the simplest and most basic "staple" I could find, but the downside is that--aside from the dart at the bosom--it is not fitted at the waist. As my hips are bigger than my bust and I didn't want to taper to a triangle shape, I used the smallest size (fits the bust perfectly) and will now have to adjust the length to flatter.

If I can get hubby to take some pictures when I get a bit farther along, I'd love feedback. I really want to get better!

------
Yes, I started a blog.
http://demoiselledesigns.wordpress.com/
Printable Version
* Advertising and soliciting is strictly prohibited on PatternReview.com. If you find a post which is not in agreement with our Terms and Conditions, please click on the Report Post button to report it.
Online Class
All About Buttons and Buttonholes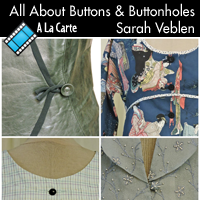 Online Class
Sewing Basics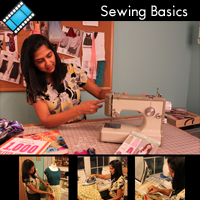 My Image Magazine Winter 2012-M1253

by: Kathhhhhy
Review
Butterick 6630

by: WinterQuee...
Review
Pamela's Patterns Unmentionables Worth Mention Pattern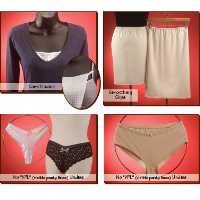 Pattern Details
Sewing Workshop Riviera Shirt Pattern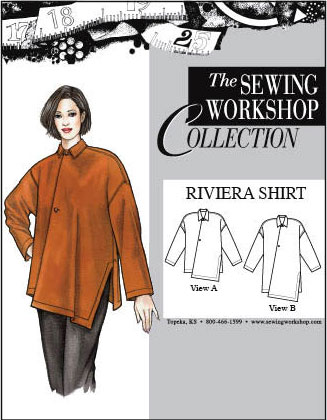 Pattern Details