cerulean


Illinois USA
Member since 1/6/06
Posts: 2933
Skill: Advanced Beginner
Body Type:




Date: 7/29/13 1:45 PM

Recently, I thought that I would try the skirt and shirt from the first issue of Ottobre Woman (2/2006). Iím doing their skirt #7. I was then reminded why I have avoided fitted waists such as this. When I go up in size enough to fit the tummy, I have a huge excess (3- 4Ē maybe?) in the back waist. The skirt pattern is a very plain yoked skirt with a zipper in the back and no darts in either the yoke or the skirt. The yoke is a plain curved piece.

It almost looks as if my back is a size or two smaller than the front (in comparison to the skirt). Even then, I have a lot of excess at the waist. The looseness is more at the center back. The hip is about right.

My question is two fold. Whatís the easiest/best way to fit the skirt pattern for long run use? And what would be the easiest/ best way to make this project wearable? As it is, I can only wear this by holding it up with both hands. It would make going out to dinner very difficult.

Thanks so much

Barb



loti


Florida USA
Member since 5/27/04
Posts: 3634
Skill: Advanced





Date: 7/29/13 2:02 PM

Hiya Barb - Your first step will be making sure that the side seam is straight up and down on both sides, in the pic the waist is tilting towards the back. I suspect you'll need to remove some excess from the front as well as the back.

When there's so much of a difference between your waist measurement and hip, it is difficult to avoid putting in darts. That's why many of the pattern companies have notes on the patterns that say "skirt sits 2" below waist", because that way, they close the gap on the difference.


The instructions below assumes that the hip fits, that's it's not too large, otherwise, start the fitting by narrowing the hip (or take in the side seams), and get that right first before working on the darts.


Second - Pinch out the excess at the waist, front and back as best you can. The front will be easier two small darts until that side seam is straight. On the back, if there's no zipper at the center back you can pin one big dart, to get a feel for how much excess there is. If there is a zipper at center back, then try and pinch out two darts on either side of the zipper.

Third - Take the skirt off, measure the dart depths at the waist on the front, and even them out. So for example you might have the right dart depth measures 1" and the left 1/2", add them together, divide by two. This will be the depth of each dart at the waist. Take your skirt measure across the top waist band front, divide by 4, and that will give you your dart placement. Do the same for the back.

Baste the tucks front and back about an inch down. Try it on again.

Now, have a look at the tucks and how the skirt fits. Your next step will be determining depth of the dart. Pinch out the fullness under the tuck. Take it off, make the darts on the front finish at the same point, same for the back darts. Baste from the tuck to the end of the dart.

Try it on again.



What type of fabric is it? Does it have any spandex?
-- Edited on 7/29/13 2:21 PM --

------
"A girl should be two things: classy and fabulous.Ē
Coco Chanel

Stash Sewn in 2011 148.5 Yds
Stash Sewn in 2012.... counting...

http://adonising.blogspot.com

Brine


Member since 11/21/04
Posts: 224
Skill: Intermediate



Date: 7/29/13 2:08 PM

I looked at the picture on-line and it appears to me that the darts are there. They have been incorporated in the yoke, and that is why it is curved. You probably would need to make the yoke more curved (so the top part of the yoke fits your waist) and possibly add some short darts to the skirt below the yoke as well in order for it to fit. It all depends on how deep the yoke is and where you curve out.

------
Brine

cerulean


Illinois USA
Member since 1/6/06
Posts: 2933
Skill: Advanced Beginner
Body Type:




Date: 7/29/13 3:25 PM

Brine Ė You are probably right. The darts have probably been ďfolded outĒ to make a curved waistband. Iím not that experience with fitting so I will have to figure out how to recreate darts and take in more. I can see how it make be that I will need to add some dart to the lower skirt section.

Loti Ė Great step by step directions. If I have to add back darts, how do I do how far from the center to place them.

Itís not a stretchy, stretchy fabric, but, it seems that there is a bit spandex to keep down wrinkles. (I have to admit, this is mystery bargain stuff so Iím not really sure with it.)

Barb

loti


Florida USA
Member since 5/27/04
Posts: 3634
Skill: Advanced





Date: 7/29/13 4:26 PM

Quote:
(I have to admit, this is mystery bargain stuff so Iím not really sure with it.)



Been there lol!

The back darts should be mid way between the center back and the side seams, just like the front darts. Try that to see how it looks, we are all shaped differently but that's a good place to start. You may look at it once they are basted and decide if they should be a little more to one side or the other. Also if the dart is really deep, you might want to split the dart into two smaller ones to get a nicer contour.

Once you have it perfect, you can transfer the adjustments to the pattern for your next try. I had trouble with contoured waists as well but once I draped it was clearer what needed to be done with the waist/hip area. My issue was a flat bottom, you can see it here.

On the contoured waists, sometimes it's not possible to salvage the waist band piece, and you just have to sew the dart in, I have made many a sacrifice to the muslin gods but at least you'll be closer the next time around.

All the best!

------
"A girl should be two things: classy and fabulous.Ē
Coco Chanel

Stash Sewn in 2011 148.5 Yds
Stash Sewn in 2012.... counting...

http://adonising.blogspot.com

cerulean


Illinois USA
Member since 1/6/06
Posts: 2933
Skill: Advanced Beginner
Body Type:




Date: 7/29/13 5:13 PM

Thanks, Loti! Itís great to see you again.

Itís kind of sounding as if I should start this one again in muslin, right? I could probably recut the back waist yoke, but, Iím thinking that Iíll be safer experimenting with darts on something more expendable.

Loti probably knows that Iím on my 3rd try, but, I have a feeling that this could be a good one. Iím wanting to use this on one of my fancier suitings eventually Ė after I find a good jacket to go with it. But, this is my first step.

Thatís a great pattern and it has the general mood that I was originally wanted. The side pockets are a fun touch! I like the tops too!

Thanks for the tip about placement and making two darts. I have a feeling that they may be unusually big waist darts. I had a couple of people tell me that it might be a ďflat bottomĒ issue, but, I keep feeling like the trouble was higher up (sway back?)

Thanks for the help!

Barb

Printable Version
* Advertising and soliciting is strictly prohibited on PatternReview.com. If you find a post which is not in agreement with our Terms and Conditions, please click on the Report Post button to report it.
Online Class
Clone Your Favorite Garment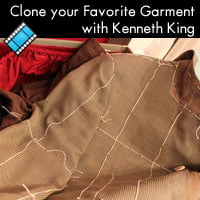 Online Class
The Contemporary Couture Jacket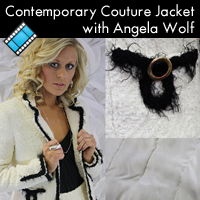 Vogue Patterns 8496

by: FreyaStark
Review
Sew Liberated The Emmeline Apron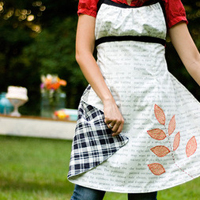 Pattern Details
Sew House Seven Rose City Halter Dress Paper Pattern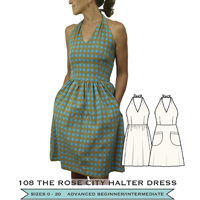 Pattern Details
Simplicity 2560

by: Passion4Se...
Review