patternaddict

Intermediate
Indiana USA
Member since 4/19/10
Posts: 152

1 member likes this.




Date: 7/31/13 10:53 PM

Here's a question for y'all ... when you make a garment, how long do you wear it? (Until it goes out of fashion? Until you get tired of it? Until it wears out? Until you gain/lose weight and it no longer fits?)

While I will, of course, sometimes make something which just doesn't work for me, so I'll wear it a couple of times and put it away, I'm finding that my closet is stuffed with clothes, because if I like something, I wear it forever. (And hand-made clothes rarely do ever wear out!) And I have to keep sewing, because my sewing room is even more stuffed with stash!

simplystitches

Intermediate
Member since 2/12/06
Posts: 1663





In reply to patternaddict <<

2 members like this.



Date: 7/31/13 11:14 PM

Yes to all of the above!

I finally got to the point where everything was overflowing. Closets, drawers and storage bins. I finally has to say enough and get rid of something, anything!

Because of limited closet and drawer space I have to do a seasonal switch fall and spring. At that time I go through what's being stored and decide if it goes or stays. If I didn't wear it all season, why? If I can't come up with a good reason it's gone. Same applies to things I'm bringing out for the next season. I may look at something and decide I just don't really like it that much anymore or I'm tired of it.

Yes that means I go through the same seasonal clothing twice a year, as it's coming out and as it's getting put away. Since I started doing that it's been much more under control.

The hardest part is I had to be ruthless the first go around.

Debbie

Kwaaked

Beginner
Member since 9/25/12
Posts: 1098

2 members like this.




Date: 7/31/13 11:22 PM

When it looks worn. I sew so I don't wear anything pilled, pulled, faded or the like.

Amy-may


Intermediate
Illinois USA
Member since 6/7/05
Posts: 1229

2 members like this.




Date: 7/31/13 11:56 PM

I have WAY too many garments - I should be more ruthless when swapping wardrobes out in the spring and the fall. My excuse this spring was that I'd just lost several pounds and didn't want to get rid of all the loose stuff...just in case. Now, having not only stayed smaller, but have gotten even smaller...the really loose stuff has got to go. (Joined the gym in January only lost about 7 pounds, but started running which rearranged how some of the weight sits, training for a 1/2 marathon in October... Long story short, my bottom half has changed quite a bit!)

Anyway, what I wanted to say that was useful - I do not pack away garments I have made and like when the seasons change. Too often I've had the brillant idea to re-use a pattern with/wo the sleeves etc, but to not be able to easily put my hands on the garment to consider any fitting/style changes that should be taken into consideration before remaking. I leave the stack of out-of-season-I-made on the closet shelf just in case I want to refer to it. My stack includes the worn or too big if I think I might re-use the pattern.

Vireya

Intermediate
Australia
Member since 12/10/05
Posts: 1005

10 members like this.




Date: 8/1/13 4:24 AM

Maybe I'm unusual, but if I like something, I wear it no matter what the "fashion" is. My oldest dress I made myself was made when my son was 7. He will be 28 this year. One of my nieces says it is her favourite, and she was just a baby the first time she saw me in it.



aprilla

Beginner
Member since 6/2/12
Posts: 367

1 member likes this.




Date: 8/1/13 5:23 AM

This has been on my mind since I started sewing. Not that I've made much but if/when/as I do, what happens with all the clothes?!! I have wondered what do all you great (and prolific) sewers do, how you manage things... Easy to understand if you are a person who wears clothes and/or has a social life, but I'm a jean/pant & top (usually jumper/sweater) person 360 days a year and keep clothes until they don't fit or fall apart. I do love clothes but am not a fashion follower, and tend to wear the same clothes year 'round.

Luckily I've started with a bare minimum wardrobe due to a move and a drastic pruning, as in two ok jeans but NO trouser that fit! but already have made a wearable pant/top outfit, 4 (well 3 really) pants, a dress and a skirt (will never get worn) ... granted I need some tops but then I will be feeling totally claustrophobic with clothing. Yet I'll still want to sew garments, it's quite a dilemma.

The thought of getting rid of a coat (for example) because I really want to make one just hurts! But was considering a one-in one-out rule could help me....

Lately I've been wondering if my daughter-in-law would fancy being my model, but not sure it's a good idea considering my lack of skill and our opposite tastes. Hmmmm, maybe though, I do like sewing and she likes dresses!
I did also wonder before starting a project lately, if I make it what then could I do with it if I took it apart again... my problem being no need or expected use. Maybe I need to change my mindset :)

I look forward to the posts - and maybe solutions! - here :)



patternaddict

Intermediate
Indiana USA
Member since 4/19/10
Posts: 152



Date: 8/1/13 9:05 AM

I also do spring/fall swaps, though most of my skirts work for any season with a different top, so those don't get swapped.
Amy -- Congratulations on the weight loss. I gained quite a bit of weight a few years back, and if I hadn't, I would have even MORE clothes. And now ... I'll admit that one of things that is keeping me from wanting to lose the weight (along with too much fondness for chocolate!) is that my clothes won't fit. I do keep telling myself that losing 5-10 pounds would do wonders for my health, and not decimate my wardrobe.

Vireya -- I am completely fashion-neutral too. I sew a lot of vintage, so by definition I can't be fashion concious.

Aprilla -- if you like to sew, you CAN wear nice clothes, even if you dn't have to. Unless your job has you in a uniform, or you dig ditches for a living, you can do like Mrs. Cleaver and wear dresses and pearls to wash the dishes! (I work in an office where we don't have to dress well -- most of my co-workers usually wear jeans or slacks -- but I have the clothes and like to wear them (even though I'm holed up in a cubical all day) so I do.

nicegirl


Intermediate
District of Columbia USA
Member since 5/10/06
Posts: 1727

3 members like this.




Date: 8/1/13 9:26 AM

I make all of my clothes except jeans and suits. I found the biggest thing that allowed me to let go of things was having taken photos and done pattern reviews. It's much less emotional to put sewn clothes into the Goodwill pile when I have a record of them.

I have a *huge* wardrobe, but I do still try to ruthlessly cull. If I haven't worn it in a year, I have to have a good excuse, like simplystitches. If it is looking worn--pilled, faded, etc.--or dated it goes.

Right now I am working on using current projects to replace pieces. I find knit dresses with shoulder coverage very useful for traveling to visit my family, and I have a couple of pieces I've been keeping mostly for that. I am totally over them. So I am making myself get rid of these useful-but-unloved workhorses when I finish a project that serves the same purpose.

------
http://theslapdashsewist.blogspot.com
=================
2007: purchased 115+, sewed 105+
So close to parity, yet so far

Trying again in 2008
Yards purchased: 133
Yards sewn: Somewhere around 95

2009? I give up

LisaInAlabama


Beginner
Member since 7/10/13
Posts: 1001

1 member likes this.




Date: 8/1/13 10:56 AM

The very few things I have made for myself to wear, I still love and wear and won't get rid of even if they are so out of style people laugh. Store-bought stuff goes out when the closet is full.

------
Beginner, maybe Advanced Beginner
I've been doing machine embroidery for 10 years, but I'm always a beginner because I'm always trying to things I don't yet know how to do!


UFOs completed in 2014: 5
Projects started recently completed in 2014: 23

marec


Intermediate
Member since 5/11/08
Posts: 4513

1 member likes this.




Date: 8/1/13 11:00 AM

My closet is really small compared to those found in modern homes. So, that limits my wardrobe. I am pretty ruthless now in sending stuff on. If I don't love something, it is gone. I do shift clothing from everyday status to barn/riding clothes, and then out to charity or the landfill.

When I began sewing, I didn't keep many things after a year as my technique improved and I became more discriminating. I now can finish a project and know immediately if it will stay with me, go to barn clothing, or be sent on.

I shift between sewing basic stuff like tees and pjs, then move to special projects. That keeps my closet from filling up as the special projects take far more time.

If my closet wasn'tsmall, I'd be in trouble as I have some things I have kept for a long time.

------
my blog: http://kf-biblioblog.blogspot.com/
The more I learn, the less I know.
Printable Version
* Advertising and soliciting is strictly prohibited on PatternReview.com. If you find a post which is not in agreement with our Terms and Conditions, please click on the Report Post button to report it.
Sew a Designer Unlined Jacket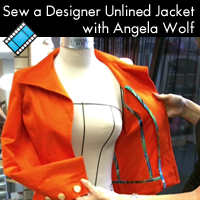 Fit the Tee to a T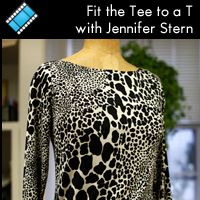 Butterick 4817

by: HeatherB
Review
Paradiso Designs Xine Basket Bag Pattern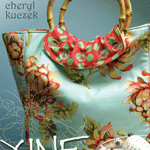 Buy Now
Favorite Things Hushabye Baby Pattern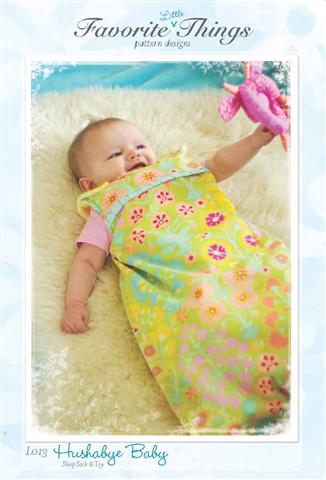 Buy Now
Vogue Patterns 8543

by: rmusic1
Review