jenniferisnice

Advanced Beginner
Georgia USA
Member since 1/10/13
Posts: 19





Date: 8/14/13 9:57 PM

Hello, everyone!

This is my first post on this forum, and I hope someone can offer a bit of guidance. It's about Sewaholic's Cambie dress, which has been made up so beautifully by so many people. The trouble is that I can't seem to make one. There are so many fitting issues with it. But after many Internet searches, it appears I'm the only one with so many Cambie woes.

Basically, none of the sizes fit me. I tend to make patterns based on finished measurements, and for the Cambie that means a size 2 should fit me nicely. Trouble is when I made the size 2 muslin, it wouldn't even zip up the back - way too small. So I made a size 4 muslin, and while it will zip up the back it's so tight as to be physically uncomfortable.

I keep re-taking my measurements to assure myself that I haven't spontaneously gained three inches in my bust or waist, and they're the same as they have been for a while. I can make a size 6 muslin, but according to the finished measurements I would be swimming in it.

There is also the issue of the waistband always being too big for the bodice or too small for the skirt. It's happened like that with both muslins. The darts are also in the wrong place, and the bigger the bodice size the further away the darts get from the bust apex. It seems like such a poorly drafted pattern, but with all the blog posts about what an easy breezy dress this is to make I have to figure it's something I'm doing wrong.

Has anyone ever run across a pattern that they just couldn't get right? Is there such a thing? I'm not a pear shape by any means, but other non-pears have made it fit well. I even double checked the seam allowance in the instructions to make sure it wasn't something other than 5/8 inch.

I would hate to toss this pattern, because it can make a beautiful dress. But I'm so frustrated right now.

I would consider myself an advanced beginner and have made dresses that according to the Internet should give me far more fitting issues than the Cambie. So I'm confused and pouting now.

What is going on here? Does anyone have any encouragement or similar tales of woe?

Thanks.

Julia C


Advanced Beginner
Nevada USA
Member since 7/1/07
Posts: 1149





Date: 8/15/13 10:11 AM

I would go by the body measurements to make this. Most of the independent patterns fit much better than the big4. Going by the finished measurements does not take into account either wearing ease or design ease.

MissParayim


Advanced Beginner
Member since 3/22/12
Posts: 132





1 member likes this.



Date: 8/15/13 10:48 AM

You may need a different size for front and back, depending on how you're built. I have a broad back, and had to add some width to the back when the front did not need as much tweaking.
I don't recall the lines between sizes to be so far apart that the difference between a 4 and 6 would mean going from uncomfortably tight to swimming in it. Have you tried reducing the seam allowance on your size 4- maybe at the zipper area? If 5/8" isn't working, maybe 1/2" or 1/4" would give you more breathing room. That's part of the reason pattern companies give you such a large seam allowance to start with.
There's nothing wrong with trying the size 2 darts on a size 6 bodice if you think the size 2 dart placement is perfect. I think I've blended pattern sizes in one way or another on just about everything I've made because my measurement's and body shape don't perfectly line up with one size for any pattern company. That's normal!

------
www.missparayim.com

JOshiro


Intermediate
Member since 5/14/05
Posts: 237





4 members like this.



Date: 8/15/13 11:28 AM

I've had similar experiences - sausage-skin when I used my measurements and the pattern's suggestions to pick a size. I remember once finding a discrepancy so astonishing that I concluded that the designer must be very slender to think that middle-age women want t-shirts with negative ease on their abdomens.

These days, I lay out the pattern sheet, lay over a garment that I know fits reasonably similarly, and pick my size that way. If I'm lucky enough to have a pattern that I know fits well, I lay that pattern piece over it instead.

If you took your measurements and compared them to the finished measurements, you may have forgotten to account for ease - the extra space that you need to move around in a woven fabric. Sorry that you are making so many muslins. Maybe in the future, you could trace onto pattern paper and do a quick tissue fit.

Darts are often in the "wrong" place - and Sewaholic drafts for a B cup, which may not work for you. Learn to move darts, and remember to keep the tip 1 to 1.5 inches from the bust apex. Make sure you're wearing a well-fitting bra before deciding on how to move the darts.

Don't know about the waistband not fitting - if it's too small for the skirt, you realize you can adjust the gathers or pleats to change the skirt, right? But it should fit the bodice.

Make your next muslin (if you still feel like going on with this) and give yourself extra space by adding 1" to each side seam allowance. (This gives you 4" to expand, if you pick the wrong size.) Take photos and ask for help on the fitting forum, lots of ladies with eagle eyes can help pinpoint where to start.

Good luck. It's frustrating, I know, but this is how you learn. Don't give up!

jenniferisnice

Advanced Beginner
Georgia USA
Member since 1/10/13
Posts: 19







Date: 8/15/13 1:43 PM

Thanks for the advice. As for the waist band, the weird thing is that the size 4 waistband is too long for the size 4 bodice, but too short for the size 4 skirt. I had the same problem with the size 2 muslin I made. I have been using the Cambie Skirt A, which does have darts, but if I made those any smaller to accommodate the shorter waistband, then the skirt would be too small.

I've made several dresses that the Internet claims should have more fitting issues. I was worried about trying Colette's Peony dress because of all the rumored dart issues and people talking about how difficult it was. But I found the adjustments fairly easy. I just shortened the bust darts by an inch and moved the waist darts over an inch toward their respective side seams. So I can make that one up, but I'm having so much trouble with the Cambie.

I definitely want to give the Cambie another go, but it will probably be a few months. I just need to sew something I already know well right now.

jenniferisnice

Advanced Beginner
Georgia USA
Member since 1/10/13
Posts: 19







In reply to MissParayim <<



Date: 8/15/13 1:57 PM

Hello! Thanks for your advice. I should probably try reducing the seam allowance, especially at the zipper. I just basted it in so that wouldn't be difficult. I've done that on other patterns.

I guess I've just seen it made up on so many blogs and people have written about it being a simple dress so I decided it would probably be a cinch for me, too. I should know better by now!

Also, on an unrelated note, I'm actually really excited that you replied to this. I've seen your blog before. I found it when looking up pics of finished Vogue 8280 dresses. I, too, love the Old 97's.

Also, we live in the same city. Actually, I just moved back. Can you recommend any places that might have classes? I would like to learn more about tailored shirts and pants.

Thanks, again!



MissParayim


Advanced Beginner
Member since 3/22/12
Posts: 132





Date: 8/15/13 3:05 PM

Awesome!!!! They are my favorite band!

I'm afraid I haven't poked around for classes too much recently. I took a couple of classes at Whipstitch fabrics, but unfortunately the store has closed :(
I've been frustrated with it. On more than 1 occassion, I've googled for it. I've even looked into adult/continuing education classes of all the local colleges and universities. Just about everything is geared at quilters, home dec/crafty sewing, or people brand new to garment sewing. Not to knock that, but it's not what I'm looking for (someone to hold my hand and explain exactly what adjustments I need to do, and exactly how to do them).
SCAD, of course, has a degree program with classes that sound right up my alley, but that's not an option for me, right now (come on, lotto numbers!!!!).

------
www.missparayim.com

jenniferisnice

Advanced Beginner
Georgia USA
Member since 1/10/13
Posts: 19







In reply to MissParayim <<



Date: 8/15/13 6:28 PM

I've tried googling and looking at community colleges, as well, to no avail. It's weird that Atlanta is so lacking in these kinds of classes. My boyfriend is in Phoenix, Az., right now, and the Maricopa community college system has tons of sewing and pattern drafting and costume design programs. And Phoenix isn't exactly a hotbed of fashion and entertainment. Frustrating!

NhiHuynh


Intermediate
California USA
Member since 1/4/11
Posts: 789





Date: 8/19/13 3:27 AM

I'm so sorry to hear about all your woes. I haven't sewn up this particular pattern but I can offer some general pattern advice.

Finished measurements is a good way to determining your size. Maybe you should take some quick measurements of the pattern (minus seam allowances, darts etc) to make sure the measurements match the back of the pattern. A quick way to determine your waist size is to muslin just the waistband and "try it on". This way you don't have to waste the time and fabric of sewing up the whole garment.

On the waistband matching the bodice and the skirt. Assuming the waistband is not a rectangle, could the waistband be upside down? You can also double check the measurement by walking the seams on paper before sewing it up. Then you know if the discrepancy is due to the pattern, your cutting or your sewing.

On the darts, the darts should be further out (and probably lower) as the sizes get larger. What you probably don't see on the pattern is a different bust circle for every size. I think most patterns leave it out because it's confusing to the end user. Every waist and hip marking should be different for each size. I normally just see the marking in 1 spot.

Hang in there.

------
I finally have a blog. www.detectivehoundstooth.com :)

sewpelican

Intermediate
Queensland Australia
Member since 8/18/11
Posts: 243





1 member likes this.



Date: 8/20/13 3:38 AM

Have you thought of emailing Tasia, owner of Sewaholic patterns? She would be very willing to assess your problem and give assistance. After all, it's her livelihood. She has a newsletter a few times each week with lots of hints and ''how to'' advice.


------
Joan
Sunshine Coast QLD
Printable Version
* Advertising and soliciting is strictly prohibited on PatternReview.com. If you find a post which is not in agreement with our Terms and Conditions, please click on the Report Post button to report it.
Online Class
Altering Jackets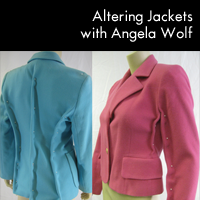 Online Class
Beginners Guide to Sewing Jackets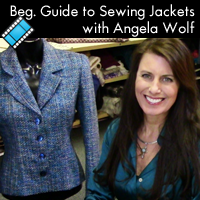 Vogue Patterns 8541

by: MissLadyAu...
Review
Sewn Square One Paper Bag Pant Pattern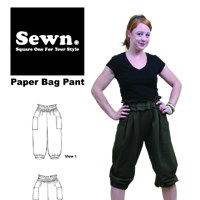 More Info
Fit For Art Sleeve & Cuff Variations for Tabula Rasa Jacket Pattern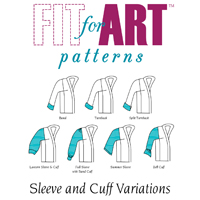 More Info
Vogue Patterns 8489

by: RebeccaMar...
Review