ScarlettKitsune


UNITED KINGDOM
Member since 8/7/13
Posts: 1
Skill: Intermediate



Date: 8/29/13 11:17 AM

Hello everyone,

As you can tell, I'm a bit new to the site as a participant so I'm unsure if this is the best place to post.

I've been trying hard to find the perfect coat pattern with a draped, waterfall type hem, something that looks like this one?

Does anyone know of a pattern that's anything like this?
-- Edited on 8/29/13 11:19 AM --
jacquiJB

DENMARK
Member since 5/5/06
Posts: 425
Skill: Advanced Beginner



In reply to ScarlettKitsune

Date: 8/29/13 1:34 PM

That's really cute. I haven't seen any pattern exactly like it, but you could "franken" it. You could use, for example, McCalls 5712 or Vogue 8625 for the bodice (with adjustments made for the collar), then add Vogue 8696 as the skirt. You'd have to fiddle a bit, since 8696 doesn't have a seam at the waist, but I'm sure that can be overcome.

You may find other patterns which will work better for the bodice and skirt; these are just the ones that are in my collection that came to mind.

Good luck. I'll be looking to see your finished coat! :)
lakaribane

Haiti
Member since 7/23/07
Posts: 2781
Skill: Advanced Beginner
Body Type:




In reply to ScarlettKitsune

Date: 8/29/13 2:20 PM

I agree with JaquiB that you wil have to frankenpattern it.

First, you garment photo: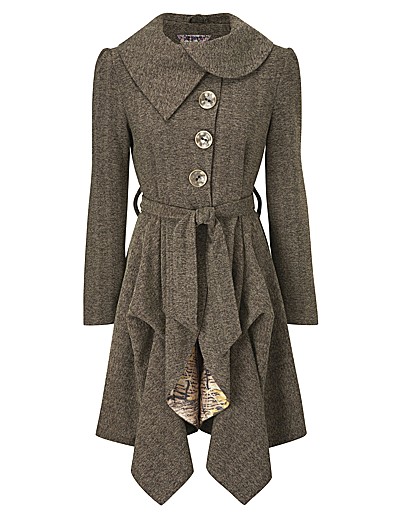 I am prettysure there is a jacket pattern with EXACTLY that collar, maybe even a McCall's wardrober? But I will have to check at home.

My suggestion is to add a circle skirt to a jacket pattern with a waist seam. But you don't round the edges as for a real circle skirt, you leave at least the front points. And you have to pick them up like on those wedding dress skirts.

Don't forget to do a toile/muslin in a cheap fabric of similar weight!
------
Morphology: Petite at 1m53 (5'), Burda size altered 19 or altered 38, Big 4 size 10 or 12 depending on ease;
Alterations: Petite, Narrow Shoulders, Slim Arms, Narrow waist, Increase Back Crotch Depth. Considering: Forward Neck/Rounded Upper Back, Slight Swayback;
Style: Feminine, Colorful, Fitted, Clean lines;
Favorite Garment type: Dress;
Favorite Colors: Purple, Navy, Brown, Shocking Pink, Coral, Aqua;
Favorite Fibers, Weaves or Patterns: Cotton, Linen, Cotton Silk blend, Seersucker, Swiss Dot, Lawn, Denim, Stripes, Chevron, Window pane Plaid, Bias;
Blog : http://fashionmate.blogspot.com
Pinterest : http://pinterest.com/lakaribane/
limer


Member since 11/15/10
Posts: 134
Skill: Beginner



In reply to lakaribane

Date: 9/3/13 4:33 PM

Do you mean McCalls 5525 for the collar?


It's out of print. But OP, you can maybe get it on ebay!


To OP:
M6800 gives a hem not the same as what you want, but it may work if you can't find anything else:



Link to McCalls 6800.