avatrx


Advanced Beginner
Illinois USA
Member since 12/16/05
Posts: 538



Date: 9/21/13 11:03 AM

I bought some very inexpensive woven - medium weight fabric on a clearance of the clearance and now I may know why it was so inexpensive.

I'm using it primarlly as a muslin fabric for a blazer style jacket, so fit is more important than actually being able to use it, but here is my dilemma.

In trying to establish a grainline - I tore the fabric on the crosswise grain. that seems to be OK. I have photos on the site listed. however - the selvages don't even come close to lining up. Is that typical? I opted to tear down one side of the selvage and that seems to follow the selvage line. Still, no matter how much I tear - I can't get a good rectangle, which tells me both grainlines are off.

I never paid much attention to grain before, but after having a couple pairs of pants hang funny - I"ve been trying to do it right.

Since the horizontal grain 'looks' OK, do I need to lay the tissue on that way as opposed to the normal way? I'd have to do it in sections. I've posted photos of the problem. The fabric is approx 60" and I could get most of the required pieces on if I did it that way. If I have to do it crosswise - I do have enough fabric - it's just that I'd have to do more steps. (create a new foldline and then reference that fold line.)

I'm thoroughly confused. I've read alot of blogs on this (thanks Pat for those links) - but this fabric just doesn't make sense.

What am I doing wrong? Am I not thinking this thru?

thanks for any and all help.

I don't have a photo posted that shows what happens when I match up the selvages but the crossgrain is WAY off after tearing. I'll take a photo and post it.

is it possible that this is just REALLY BAD fabric? I thought that if you ripped crossgrain and lengthwise grain - you should end up with something square where fabric would line up in both directions. maybe I'm wrong about that.

my dropbox folder link to photos:
https://www.dropbox.com/sh/xgcokqfw8wsy85h/ct-XTnDAJE
-- Edited on 9/21/13 11:46 AM --

LynnRowe


Advanced
British Columbia CANADA
Member since 3/9/09
Posts: 9251





3 members like this.



Date: 9/21/13 11:54 AM

My advice: stay away from cheap crap, even for muslins. You've already spent more time than the junk fabric warrants, between trying to work with it, and posting on here, and your frustration and anxiety.

Go buy a bolt of medium-weight unbleached cotton muslin.

You can't tell if the fit is good and correct, or what areas need adjusting, if the fabric you're using is off-grain garbage.

Cheap fabric, imo, is always an expensive exercise in futility.



------
I heart Panzy, Pfaff Creative Performance, the sewing machine love of my life!
And Baby (Enlighten serger), Victor (BLCS), Rupert (Pfaff 2023-knits expert) Ash (B350SE-Artwork), Kee (B750QEE-Panzy's BFF), Georgie (B560-Kee's baby sister) and the Feather-Flock!

Most of all, I heart Woo (HimmyCat). Until we meet again, my beautiful little boy. I love you.

Elona


Advanced
Member since 8/24/02
Posts: 8416





4 members like this.



Date: 9/21/13 12:37 PM

A lot of factors can cause problems with grain: the warp and wedt threads coild be of different weight, densities, or even different materials which can behave differently during manufacture. And during the manufacuring process itself, the fabric is subjected to heat and tension that can permanently screw up the grain, badly enough that nothing will straighten it.

I agree with Lynn: You have spent enough time on this fabric. Chuck it and get some good stuff.

(Personal note: After decades of sewing, when I lay out a new, prewashed fabric, I first line up the selvedges so that they are parallel. Then I shift the uppermost selvedge edge to the left or the right until there are no wrinkles at the fold line. At that point, I consider things to be on grain, and that's all I do.)

Sibilance7

Intermediate
Member since 8/10/11
Posts: 570





2 members like this.



Date: 9/21/13 1:04 PM

I do what Elona does. I figure the important part of being on grain is having the fabric hang straight, so if I determine grain by eliminating wrinkles in the folded fabric, I've achieved the primary purpose of cutting and sewing on grain.

------
My blog: www.feministstitch.com

I sew on:
Olivia, my Pfurple Pfaff Creative Performance
BabyLock Evolution


AnneM


Intermediate
Massachusetts USA
Member since 7/30/02
Posts: 7067



Date: 9/21/13 7:21 PM

In theory you might be able to straighten the grain with some serious tugging. Might work better with wet fabric and help. Then again, as Elona said, it might not work. There is always a danger of the fabric going back off-grain next time it is washed but since you are using this for muslin it is probably worth a try before you throw the fabric out.

I expect if you do a search you can find more explicit instructions on straightening the grain other than "tug".




------
With a great wardrobe that's still in the flat-fabric stage.

PattyE


Intermediate
Member since 9/7/10
Posts: 1610





Date: 9/21/13 7:24 PM

I do the same thing! It works like a charm.

Miss Fairchild


Advanced
USA
Member since 8/24/02
Posts: 7936

1 member likes this.




Date: 9/21/13 7:40 PM

The biggest key for me is what Elona stated: Go with the fold. If the fold, which lines up on a thread, isn't correct, then either pitch it or do something else with the fabric.

My biggest challenge was making very simple curtains for a client out of a fleece-type fabric. The selveges didn't line up, but I knew that the fold was correct, simply because the fold ran down a thread that was on the straight grain. She apparently bought the fabric at the Big W store near her, and I was having fits because I knew that if I didn't get the grain right, the curtains wouldn't fit over her window. (Think of curvy.)

My advice to you is don't always count on selveges being accurate. For me, a dinosaur roamer who started sewing back then, this was very, very hard to accept. Selveges were the things that told us newbies, that all was right in the world. It was from this experience that I began to challenge this thought, and realized that selveges can be so off grain, one would need a curved ruler to keep up.

So my advice to you is if you can still make the item, taking into consideration the wonky-ness of the fabric, then choose your battle. But in the next event, stay away from the cheapie fabrics. They are sold cheapie for a reason.
-- Edited on 9/21/13 7:42 PM --

------
"Play the cards you are dealt, but choose who is sitting at the table"..AARP magazine

SEE MY ETSY SHOP HERE: http://www.etsy.com/shop/AuntMaymesAttic
My blog: http://auntmaymesattic.wordpress.com/

beauturbo

Advanced
California USA
Member since 5/2/09
Posts: 3436



Date: 9/21/13 9:55 PM

I would say that probably the more expensively made some fabric was to even make and create and the more reputation they had in the name to protect , the better they probably were about that, but expensively made and just what you pay for it is not always directly related either. If I was actually paying $20 a yard or something for real Liberty Cotton Lawn or real Swiss cotton organdy though, and planning to pull a thread to maybe mark some pintucks or something, then if it was really wonky like that, I would not expect that and be getting kind of upset.

But in todays world and if not real expensive stuff, it seems to be a real problem on just lots of even any kind of woven fabric sometimes. Even worse if it then has some print, printed over it. So, I think everyone has had to kind of lower their expectations even on things being sold real stretched skewed now too sometimes.

Yours though, looks way worse for that, than a bunch of other fabrics I see a lot. So I too, think that yours is really pretty horrible compared to some others in that one respect.

I do the same as all those other people that shift their salvages up and down. As long as it folds right then, and I can actually see when that happens lengthwise, fold is still on the same thread, now that is good enough for me. Or just what you have to live with most of the time. I do wash and dry fabric first, in hopes it might return to more natural state, but if I still don't like it, I don't try to straighten it by force and pulling and tugging, just since I do fear it going back to how it was later on after it gets wet and dried again. Particular if there is some synthetic fiber in it. So if I was doing that, then I would re-wash and dry even several times, and then even re-check, to just even see what it was like after that too. So I just don't do that.
-- Edited on 9/21/13 10:13 PM --

BrendaR

Intermediate
Virginia USA
Member since 6/13/13
Posts: 522



Date: 9/22/13 1:28 AM

I've been exposed to a number of opinionated experts, and I've grown to be skeptical of most. The old Bishop method advocated tugging and pulling to straighten the grain. Like others have said, it seems likely that the grain might return to it's pre-tugged state, so I don't do that. (I never force fabric to do something it doesn't want to). Secondly, neither the fold nor the selvedges are reliable indicators of grainline. If you've ever watched a roll of fabric being put onto a bolt by machine or by hand, you'll see that the fold is just something that happens because of physics...and it can creep around some...and the selvedges naturally are aligned differently on the inside and outside layers (and the more yardage on the bolt, the more the selvedges appear not to "match."). Selvedges also shrink sometimes! Fabric can also twist somewhat as it is being doubled over and folded (kind of like a DNA spiral). Machine rolling can stretch the grainline so that it appears to match up coming off the bolt, but it can make a mess of the grainline. If after cutting off the selvedges and ignoring the fold the thing still looks like a trapezoid, I don't think it will work for fitting/draping if you are making right and left. If you are only doing one side, it might work well enough, and it might still be usable for tracing off a pattern.

petro


Advanced
France
Member since 6/24/07
Posts: 2550



1 member likes this.




Date: 9/22/13 2:52 AM

The way you tug grain straight uses two people. I was taught this, but in the days when most fabric came in either 24 or 36 inch width, so it was easier. You each hold the piece at the selvedge edge and tug diagonally in the direction you need to straighten it. A series of gentle tugs, rather than one hefty haul is the way. It used to work pretty well, but now, wider widths being common, not so easy.
Printable Version
* Advertising and soliciting is strictly prohibited on PatternReview.com. If you find a post which is not in agreement with our Terms and Conditions, please click on the Report Post button to report it.
Bust Adjustments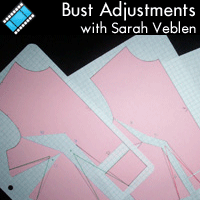 Restyling with Exposed Zippers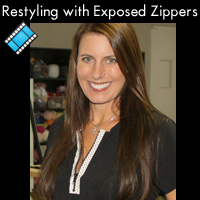 Vogue Patterns 1549

by: becca a
Review
Vogue Patterns 2902

by: elodieji
Review
Bluegingerdoll The Peggy Skirt Pattern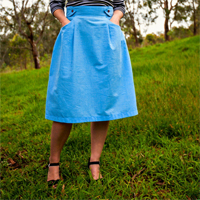 Buy Now
HANDBAG CONSTRUCTION - A CD Book By Kenneth King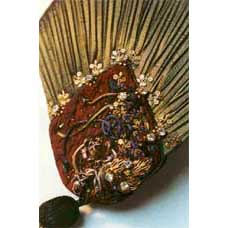 Buy Now