Member since 12/31/69

12 members like this.




Date: 9/29/13 9:22 AM

I have seen this off and on for a while and cetainly not just on this site but it seems a lot more recently. That could be a result of where I go to surf sewing info but it still bugs me.

What's up with those who say over and over "I don't do blogs" like it's a disease or something they don't want to touch? Really. I have seen some wonderful, thorough reviews about which people comment they"don't do blogs" and refuse on what seems some moral level to click for even more quality info. There have been discussions here on this and some of the comments amaze me.

I blog, as do many posters here. I write here and elsewhere what I think are very thorough reviews. There are links in my reviews to much more detailed and text heavy info back to my blog. Keep in mind that my comments here are not directed at PR, just using that as an example. I have found this attitude on other sewing forums just as much if not more. I have had people respond to me that "could I just post all that info here?" instead of links to the blog, again, because "I don't do blogs." If I were reviewing a project here or or on other forums, which I do, I can assure you it is thorough. Otherwise I wouldn't bother. I write reviews in the manner that I like to read them, again here and elsewhere.

Here's a hypothetical: I am thinking of vacationing in Lake Tahoe. I do a search on Lake Tahoe and come up with a wonderful site by the Chamber of Commerce with great info. There are links to the local hotels and inns. But because I am one who doesn't go further to seek additional info as in "I don't do blogs", I refuse to click on the link. Get my point, now?

In this age of techno everything I can understand people making choices to maybe not spend all their time on social media and drawing the line somewhere. There would be no time to sew if we didn't. I totally understand that. But to expect that specific info that already exists on the web, is linked to, needs to be added on the currently viewed well written page is a bit much. I'm not sure whether I find the request just laziness, rudeness, or even a fear of links.

Let's keep this topic general as it is not aimed at PR, as I have clearly said. This is based on what I have experienced on several forums and it certainly isn't aimed just at me, but also at other good bloggers. So what's up, people?


-- Edited on 9/29/13 9:23 AM --
-- Edited on 9/29/13 9:25 AM --
-- Edited on 9/29/13 9:32 AM --

kittykate


Intermediate
Ontario CANADA
Member since 12/18/02
Posts: 1204

12 members like this.




Date: 9/29/13 9:35 AM

Because bloggers don't permalink their review. Not just PR, it's a complaint everywhere.

For PR especially we want to know if the PATTERN works. Personal website posts can be heavy on the finished project.




JTink


Intermediate
Member since 4/20/08
Posts: 6209





11 members like this.



Date: 9/29/13 9:46 AM

My two cents: I'm an old dog that finds it difficult to learn new tricks. I didn't know what a "blog" was up until about a year ago and still not quite sure how they work. They seem to be a type of diary. I've ventured into several, but only if I feel they are "safe"(generally folks on PR). I don't go to any of them on a regular basis. I wanted to leave a comment on one of them, but found I had to "sign in" to do so. Not understanding the blog process to begin with, I wasn't going to sign in. I have no clue how to even set one up.

I have found on a few of the blogs I've visited(per being directed by a review), they tend to be more wordy and "personal". If I'm reading a review, I want mostly the facts, not a line or two thrown in about something that doesn't pertain to the subject. Example, one blogger would be typing about the project and find it necessary to interject a comment about a TV program they were watching at the same time. If I'm going to be directed to a blog for more info pertaining to a review, I want that info, not an account of what's on TV.

Computers scare me. Just the breach that happened here on PR recently(hacker), caused a hot flash or two I'm not computer savvy and not terribly adventurous, with tech things.

jannw


Intermediate
Washington USA
Member since 9/3/06
Posts: 8552

36 members like this.




Date: 9/29/13 10:04 AM

First, let me say that I do read blogs and enjoy the info....but,
here and on some other sites I "don't do blogs" for the following reasons..

1. This is Pattern Review, not your personal advertising agency. I've found way to many reviews with just the bare minimun info and "see blog"...therefore increasing readers, ads, $$$ and whatever.
2. Too many blogs I've clicked on have taken me to pages of advertising, different pages than the review info, crashed my computer and other fun stuff, such as loud music!! One even had a cat crying sound which I thought was one of mine.
3. Before I retired, I used to read reviews in the 15 minutes or so that I waited for the bus. Going to a blog takes way more time than a person might have at the time
4. If you can't/won't share all the pertinet info with us on your review, why bother??? Just blog it and stop making us readers feel like second class citizens..not good enough to get all the info unless we jump through hoops

Those are my main points...maybe I'm just crochety as I've stopped reading blogs that are blatent ads also.

------
2009-113.25 yds
2010-115.5
2011-80.25+30+donated
2012 86.3 yds..
2013 21.0
Everyone who sews seriously has a stockpile of fabrics, because it is natural to purchase more than can be sewn in any one season" Singer, Timesaving Sewing, 1987



Miss Fairchild


Advanced
USA
Member since 8/24/02
Posts: 7936





22 members like this.



Date: 9/29/13 10:19 AM

Hello and welcome to Pattern Review. I see that this is your very first post and your being a newbie, I firmly believe you need to "wander around a while" before a conclusion is drawn. Mind you, I'm not firing back at you because you did say your topic wasn't aimed at PR. But those of us, especially me, who don't like to be linked into social media for one reason or another, (no matter that we may be unequipped, as JTink pointed out that she isn't techno-savvy) choose not to "do blogs". I don't "do" Facebook, Twitter, Instagram, yadda yadda, for a number of reasons--privacy being the first. It was only recently that I decided to start a blog, which isn't entirely related to sewing, but was more of musings for my Etsy shop. And even then, I've had some privacy concerns. Many sites offer free apps, but you must have active cookies in order for them to place them on your computer, which then could cause a privacy issue. If you pay for the same app, there is more of a privacy barrier.

I'm an "old dog FoPR" and along with others who don't have the time or want to post on a blog, I find that my reviews are all that I do here; I don't do them on my blog. I choose not to be on the computer day in and day out, I don't own a cell phone with Internet access (and it's not a Jitterbug, either); I like my peace and quiet and I much prefer to sew. That's not to say I don't follow a blog or two.

Technology being what it is, (and I've had lots of hands on experience with seeing it take over our society as I'm a retired Computer Science professor and have set up several computer labs,) I'm against oversaturating the masses with products that "they" say are good for me, but in the end, aren't. Facebook has been a problem for many people; people wouldn't say the same things face-to-face with someone that they use FB to hide behind. And society as a whole has seen many changes, which I won't go off-topic and get into here.

Hang around a while, there are some nice "non-blogging" people here, from whom you might learn a thing or two.
-- Edited on 9/29/13 10:22 AM --

------
"Play the cards you are dealt, but choose who is sitting at the table"..AARP magazine

SEE MY ETSY SHOP HERE: http://www.etsy.com/shop/AuntMaymesAttic
My blog: http://auntmaymesattic.wordpress.com/

Vintagelover

Member since 9/29/13
Posts: 119

16 members like this.




Date: 9/29/13 10:36 AM

I too am on other sewing sites and many non sewing sites. As for the blog thing I can understand the "don't do blogs" comment. I may be an enigma, blogs don't generally interest me. I have been given suggestions to follow sone blogs and they were fantastic. But I have to say some seem odd and there is way more than sewing stuff going on that doesn't seem important to me. I can go without computers without any issue. Most days I am busy sewing or going about my business without facebook, blogs, instagram, twitter, the phone etc. Too often people rely on every one liking the same thing in technology. I like doing my own thing and think it is perfectly reasonable for people not to do blogs.

michelle_01


Intermediate
Georgia USA
Member since 3/23/04
Posts: 250

9 members like this.




Date: 9/29/13 10:41 AM

I agree with Bunny. I love sewing blogs and I love when reviews have links to blogs. The blog usually has additional info not included in the PR review. Plus you can find other things that have been sewn, just not reviewed. Yes, I include blog links in my reviews. I do this b/c the PR format- FOR ME- is not user friendly and is limiting. Its much easier for me to post a blog entry. In fact, I usually blog about it, then do a PR review if I have more time. And much more of my sewing is on my blog.

The thing is, not everyone has the same preferences. Jut like I like blogs and blog links, there are many who don't. So just don't click on the links if you don't like them. I figured the blog criticism came about for the reason that jannw mentioned. I think either some people are very computer savvy and are nervous about any links that direct you somewhere else. Or they feel that someone has an ulterior motive by adding a blog link. Most people who blog just want to share their sewing. And aren't out to trick you into clicking on a bad link or taking your money.

BTW, Bunny isn't new. I clicked on her website link in her profile and recognized her instantly. She many have just needed to start a new profile for some reason or another. Either way, whether or not someone is a newbie doesn't make their opinion less valid.





JennaF


Intermediate
Member since 5/10/10
Posts: 530

11 members like this.




Date: 9/29/13 10:45 AM

I love it when there is a through review here on PR & blog link with more info at the end. That's what I try to achieve. I try to keep my PR review to "just the facts ma'am" while my blog tends to hold more commentary & ramblings.

------
http://www.seamstressintraining.blogspot.com

ThreeThreads

Beginner
New Mexico USA
Member since 8/22/13
Posts: 114





4 members like this.



Date: 9/29/13 10:49 AM

Quote:
I'm an old dog


[/QUOTE]on a few of the blogs I've visited(per being directed by a review), they tend to be more wordy and "personal"[QUOTE]

As an older dog--not quite yet an elder dog--I certainly understand, and concur with, these feelings. As a newbie, tho, I'll look at a blog, and note the URL if it seems worth checking into again; but, there aren't many of these. Not about to set up a blog; can't imagine I'd have much to say that would be of interest to anyone.

Re social media, nah, I don't do any of that either--for privacy reasons and that above. Will do when I have to, I guess. Was researching on-line for a paper, found a horrible typo*, tried to email site of origin, but they don't do email--FB is the only way to contact them. Alas for them, guess that typo will be there forever.

*"side change" for "side chains"; has to do with organic chemistry.


------
Just a thought: If your watch had a second hand, wouldn't it really be a third hand?

Doctor Sister


Advanced Beginner
Minnesota USA
Member since 11/5/06
Posts: 338

8 members like this.




Date: 9/29/13 11:07 AM

I'm confused about what the complaint (if there is one) is. Is it that people put a link to their blog on their pattern review.
Or that they really aren't posting a pattern review but just saying, check my link, I'm too lazy to copy and paste?
I read some blogs and enjoy them. But I've clicked on some blogs that were not to my liking. (I'd say horrible but maybe others like them). I've also followed some blogs for a short while and found nothing of interest. So I drop them off my bookmarks.
Blogs are personal and no one needs to look at them unless they want to.
About the reviews. I agree the basic information should be on PR. And I'd love it if all the reviews were long, informative, and funny. But they aren't. Some have very limited info but that happens whether they link to a blog or not.
So I'm confused. The option to click on the blog is there. and we are free to click or not.
Sis
Printable Version
* Advertising and soliciting is strictly prohibited on PatternReview.com. If you find a post which is not in agreement with our Terms and Conditions, please click on the Report Post button to report it.
All About Linings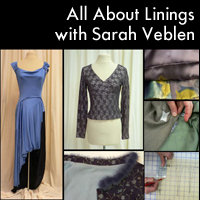 Altering Jackets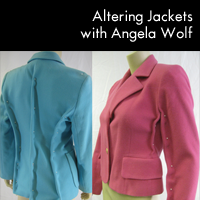 Self Drafted Pattern 281988-1007

by: SavageCoco
Review
Self Drafted Pattern 295093-1001

by: RebeccaMar...
Review
Jamie Christina Lark Paper Pattern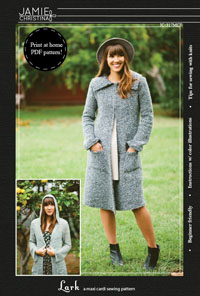 Buy Now
Sewing Workshop Tamari Apron Pattern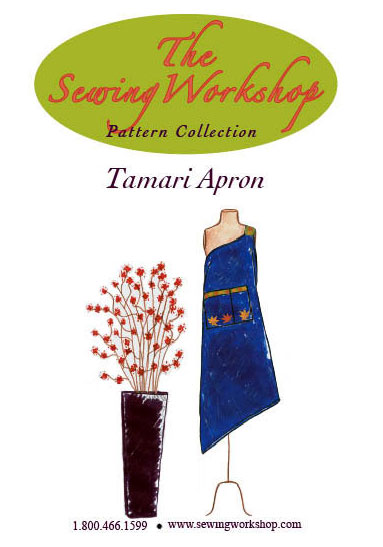 Buy Now