Kraehi

Beginner
MI USA
Member since 3/1/14
Posts: 1



Date: 3/1/14 10:06 AM

Could someone help? I'm still unsure with what I am doing when it comes to using a sewing machine. I'm trying to sew flat nylon webbing. The needle is a 14 and the tension (after a suggestion from One friend) has been turned up from 4 to a bit over six. I am wary on messing with the tension more without a more experienced hand.
This is my result at 4 (bottom side), at a little over six it's neater looking, but there was little change between 5-6.
Practice 1

I am also keeping the speed controlled (I'm not flooring it) so I'm stuck. This is the machine: Brother XL2600I http://www.amazon.com/dp/B000F7DPEQ/ref=cm_sw_r_udp_awd_Tlxetb1JF4MT6

Above was my post to friends on Facebook. (I have also done re-threading several times to be sure) A few suggestions was to instead, tighten my bobbin (drop in, no case) and now I am just wary and confused. I am trying to finish a project in 2 weeks, but I can't sew by hand much more. Any help is appreciated.
-- Edited on 3/1/14 10:10 AM --

tourist


Intermediate
BC CANADA
Member since 7/23/07
Posts: 6283





Date: 3/1/14 10:15 AM

You might need an even bigger needle for this. I have sewn this stuff and it is a pain! Of course, be sure your bobbin is in its holder the correct way and your needle is well inserted into its slot. Oh - and be sure your presser foot is all the way down. I have found mine sometimes pop up when sewing over really thick stuff, which will definitely cause your nests.

------
http://bgballroom.wordpress.com to follow the progress on my next ballgown.

HanPanda


Intermediate
Member since 4/27/08
Posts: 948



Date: 3/1/14 10:33 AM

I'd also suggest opening the machine up and cleaning out any stray tufts of dust or fabric threads. Sometimes those can get between the bobbin and the feed dogs, and I've found before that dusting that out can make a big difference :3

------
2014 resolution: keep track of sewn yardage!! I'm subtracting fabric given away from my yardage in. Yeah!
In: 85 yards
Sewn: 46.5 yards

I'll try anything once :)

Please excuse my typos...sometimes it is harder to go back and edit on mobile than it is worth!

stirwatersblue


Intermediate
KS USA
Member since 12/13/08
Posts: 3221

2 members like this.




Date: 3/1/14 11:53 AM

Those are some awfully big thread nests! More than I'd expect from tension fussiness. One thing to make sure of: Whenever you start sewing, hold both the thread tails (needle thread, bobbin thread) in your left hand for the first few stitches. Sometimes they can get yanked down through the stitch before they can lock together in the fabric, causing all sorts of ugly messes. (Some newer machines make this practice almost unnecessary--I can get away without it on my 5-year old Viking--but given the photo you've posted, it might be a good idea in your case.)

Do you have adjustable presser foot pressure? That might make it easier to sew the nylon. Also, some kind of tear-away stabilizer (I know, sounds weird to recommend stabilizer for something as sturdy as webbing, but bear with me) might help the machine get a better stitch going. I would try something like parchment paper, or even printer paper in a pinch. Make it a bit longer than your webbing, so you can start the stitches on the paper, and then continue stitching onto the webbing. Sometimes you can sneak up on it that way, and trick your machine into behaving.

Good luck!

------
~Gem in the prairie

HelenM01

Member since 10/7/12
Posts: 132

1 member likes this.




Date: 3/1/14 12:18 PM

Usually a nest of thread underneath means the tension on top is too loose. I understand your worries about cranking the tension up too tight, but here is the absolute worst thing that can happen: The thread will break, and maybe the needle, too. That's it. your machine will not implode, explode or spew flaming lava, I promise!

The bobbin area could also be the culprit. If the bobbin is not seated properly or if the bobbin is badly wound or if some part of the bobbin area is broken.

Wind a new bobbin. If your machine does not automatically control the winding speed, make sure you maintain a steady pace.

Replace the bobbin, reset the tension to normal and rethread the machine. Do a short test seam on any fabric, ideally something heavy like denim or canvas. Pull and hold the thread ends out of the way, do not let them get sucked into the feed dogs.

Examine the stitches. Skipped stitches are bad, and may mean a machine malfunction. If there's bunching, try turning the tension up. If you just can not get good stitching on this test fabric, then you won't get good stitching on the webbing. Either you machine isn't able to handle that kind of fabric, or it needs a check up.

On my old Singer, there's an annoying little spring that gets out of whack. When it's out of whack, the thread nests on the bottom, even at the highest possible tensions.

If you can get a nice test seam, move on to a scrap of webbing. Keep the thread ends out of the way and, turning the flywheel by hand, sew a few stitches.

Try to feel what is happening. If the needle is struggling to pierce the fabric, you might need a bigger needle, one labeled for heavy duty fabrics. If the needle struggles to come back up, you might want to lubricate it with a bit of beeswax or plain bar soap.

Check the bottom for nesting, again. If it's nesting, adjust the tension. If it's ok, try sewing a test seam.

If your machine does not have the chops for sewing webbing, chances are you can still use the machine to sew if you turn the flywheel by hand instead of using the pedal.

HelenM01

Member since 10/7/12
Posts: 132



Date: 3/1/14 12:40 PM

Oh, forgot to say, by new bobbin I mean a new, different bobbin from the one that's nesting now. Sometimes bobbins are defective, and a bad bobbin can cause problems too

PattiAnnJ


Advanced
OH USA
Member since 12/3/06
Posts: 7267

2 members like this.




Date: 3/1/14 12:41 PM

I don't know what your friends have suggested, so we may be repeating those suggestions.

Use a topstitch needle.

Thread with the presser foot up.

Keep the tension at that recommended in the manual for this machine.

Make sure the bobbin thread is feeding in the correct direction from the bobbin spool and has not jumped out of the tension feed.

Test on a single strip of webbing then go to the double layer.

If the double layer is still birdsnesting, then the layer is too thick and the presser foot is not low enough to engage the top thread tension.


------
"I don't give them Hell, I just tell the truth about them and they think it's Hell." — Harry Truman

"Improvise, adapt and overcome." - Clint Eastwood/Heartbreak Ridge

beauturbo

Advanced
CA USA
Member since 5/2/09
Posts: 3332



Date: 3/2/14 5:55 AM

I think it looks like kind of thick webbing, to sew double layer like that, with that machine. And it looks like not only you have got all those loopies on the back, but it's skipping stitches and not forming stitches half the time too.

It might be threaded up wrong, or it could just be so thick, that when it's under your pressure foot, the pressure foot is lifted up all the way. In that case you might not have any top tension, probably no matter what # you put the dial at. If the pressure foot is jacked all the way up, then it does not really matter what # the dail is, you still have no tension, just since then machine thinks you want to take fabric out of it instead.

I think you should stop sewing on the webbing, just for a test, and just sew on some thin fabric, until you get it working there good first. Then on the webbing, I think you should use the very longest straight stitch you can get, and just have your top tension device set at the middle #. And also, when doing that, if it seems the machine is struggling at all, or your pressure foot is close to being jacked all the way up, it might be a good idea, to not use your foot control, and just turn the wheel carefully by hand instead even, just on the double layers of it there.

I think that might be a bit more kind to the machine, and less likely to break a needle that way, and also less likely to have the needle hit the stitch plate forcefully or even your bobbin case, while trying to sew through that.


-- Edited on 3/2/14 5:59 AM --
-- Edited on 3/2/14 6:15 AM --

crankyoldlady

Intermediate
Member since 11/14/08
Posts: 173

1 member likes this.




Date: 3/4/14 10:28 PM

It is quite possible you are asking the machine to do something it is not capable of doing.

Fannie Rebecca

Intermediate
MA USA
Member since 7/14/04
Posts: 35



Date: 3/6/14 10:47 PM

Also, try sewing a line or two on an ordinary scrap of cotton cloth.

If the machine can sew a line of even stitching then it should require only minor adjustments which have been suggested here already such as a bigger needle or stabilizer.

If your machine cannot sew on the scrap of woven material, there is something wrong with the way you threaded it or some of the other ideas in this thread.

Take out the instruction book and check you have followed each step to thread it correctly. Also remove dust and lint when you see it with a small brush or the tiny cannister vacume cleaner attachments made for cleaning a computer. Never blow the dust away because it will get deeper inside the machine.

I had thread nests on the bottom of all my attempts as a beginner. I learned to insert the bobbin correctly and I have had no trouble since. Good luck
Printable Version
* Advertising and soliciting is strictly prohibited on PatternReview.com. If you find a post which is not in agreement with our Terms and Conditions, please click on the Report Post button to report it.
Altering Jackets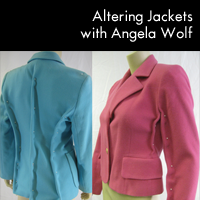 Sewing with Slippery & Drapey Fabrics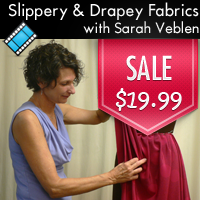 Vogue Patterns 8731

by: norsk
Review
Sewing Workshop Nikko Jacket Pattern

Buy Now
Sew Liberated Clara Dress Pattern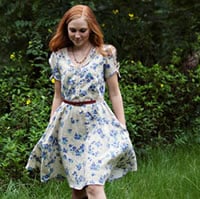 Buy Now
Self Drafted Pattern 177593-1006

by: montanachi...
Review