michellep74


Washington USA
Member since 7/19/07
Posts: 3324
Skill: Intermediate
Body Type:


3 members like this.




Date: 3/19/14 2:54 PM

Welcome! My name is Michelle, and I'll be your contest manager for the Barganista Fashionista contest this year.



Prizes:
First Prize: $100 Gift Certificate from Schmetzneedles.com

Second Prize: $75 Gift Certificate from Schmetzneedles.com

Sponsored by


Follow PatternReview's board Bargainista Fashionista Contest on Pinterest.



Are you a snoop-shopper, inspired by retail fashions, but averse to retail prices? Do you love creating your own custom discount version of retail style? Then the Bargainista Fashionista/Bargainisto Fashionisto contest is for you!

Contest rules:
Create a garment or outfit inspired by a retail fashion that you have seen in a store, on line or in a magazine. The garment or outfit must clearly be inspired by the original piece(s), but does not have to be an exact copy.

You may sew for yourself or someone else.

One entry may consist of a single garment (top/shirt/blouse, trousers, jacket, blazer, skirt, dress, etc), a coordinated set (shell and cardi/topper, trousers/skirt with jacket) or an outfit (dress with or without topper, top/bottoms, top/bottom/topper, etc). Disparate pieces do not count as one entry (eg: a wardrobe of tee shirts/multiple trousers in every color do not count as one entry).

For this contest, there are some special review requirements. There must be a calculation of the percent saved on your entry. Do this by including:
� Price X = Retail Price of your Inspiration Piece - if you can�t find the exact price of the garment, a comparable garment from the same retailer will suffice (eg: if you�re inspiration piece is a Banana Republic pencil skirt from 2 seasons ago that you ripped out of a magazine, you can look at the price of this season�s pencil skirts)
� Price Y = Your Bargainista Price � Calculate the cost of fabric, lining and notions. Labor/time is NOT part of this calculation.
o Since everyone will be using thread, you do not need to calculate the cost of your first spool of thread (eg: if your garment is heavily topstitched, requiring multiple spools, add any over the first into the cost).
o If you are sewing from stash, vintage or gifted fabric, you will need to calculate a reasonable value. For example, if you are sewing a dress with cotton batiste from stash and don�t know what you paid, look at the cost of similar quality cotton batistes that you would consider buying for the project at the places that you would shop for fabric.
o Notions � It is assumed that all bargainistas/os will have interfacing, small notions like a hook and eye, and basics like zippers or buttons in stash. You do not need to count these. You MUST count notions that are design elements such as fancy or exposed zippers, buttons that are fancy or especially coordinated, trims that add to the overall look and design of the garment or outfit.
� Z Percentage Saved � the formula is 1 - (Y/X) = Z But if algebra is not a language you speak, there is a handy step-by-step wiki (http://www.wikihow.com/Calculate-Cost-Savings-Percentage) and also a free online calculator (http://www.kiwitax.co.nz/calc-percentage-saved.aspx)

A minimum of two entry photos must be included. There must be at least one photo of the entry and one photo of inspiration - not just a link to inspiration. If it's a picture ripped from a magazine, it can be scanned as a jpg. If you sew just one piece or a coordinated set, you may wear additional retails or previously sewn garments for your photo(s). You must clearly point these out in your entry notes (eg: Bargainista skirt with retail shirt).

Special Voting Criteria: Voters are asked to consider two most important criteria when voting in this contest:
1. The Fashionista/o element � Does the Bargainista version compare to the original inspiration piece? Can you see how the retail piece(s) inspired the bargain piece(s)? Is it as well or better executed than the retail version?
2. The Bargainista/o element � Is the barganista/o version a significant savings over the retail version?


General Rules for all Contests
All reviews must be entered for submission by 11:59 PM Eastern Time on the last day of the contest. It is suggested to start your review as a Work In Progress (private or public) so that you can get any bugs ironed out prior to the deadline.
2. Patterns MAY be muslined prior to the start of this contest however; fabric for contest garment may NOT be cut prior to the start of the contest. Fabric may be pretreated before the start of the contest.
3. Items intended for sale, or for which you were or will be paid to make, do not qualify for any contest, but items made for charity are welcome.
4. Unless otherwise stated in the rules, all reviews written for a contest entry must include a picture of the entry, preferably on a live model.
5. Interpretation of rules is subject to the discretion of the contest manager and the contest committee.

Contest Eligibility: ***Rule #1 is changed for 2013
1. Any member of Pattern Review, either paying (FoPR) or non-paying, who is a registered member on the site before the contest begins is eligible to enter.
2. Any member of Pattern Review, either paying (FoPR) or non-paying, who's been a registered member on the site for 90 days prior to the end of a contest is eligible to vote in a contest.
3. Any member who's won first place in a contest on Pattern Review that ended in the previous four-month period is ineligible to win another contest (during that four-month period).

The first, second and third place winners will be decided by member vote. Prizes will be awarded to the first and second place winners.

Prizes for the contest

TO BE ANNOUNCED

Voting guidelines:

Each member can vote on up to five entries.

Voting will begin 2 days after contest closes and will close 7 days after voting starts.

Because of the high quality of the garments we're seeing entered in PR Contests, we're setting forth some guidelines that may help you choose when voting. Consider how well the entry fulfills each of the following criteria in order to narrow down your votes:
1. Does the garment clearly reflect the pattern's line drawing?
2. How well does the garment fit the criteria stated in the contest rules? How well does it fit the spirit of the rules?
3. Are the construction methods, including but not limited to seam finishes, lining techniques, etc, well suited to the design? To the fabric?
4. Is the fabric choice well suited to the design? Are the lining and interfacing choices appropriate?
5. Is the review complete and well written?
6. Taking into account the stated ability level of the entrant, how well does the garment fit?
7. Creative points. You may choose to give extra credit here for an entry that reflects additional creativity (embellishment, fabric choice, etc.) while staying within the nature of the original pattern.
8. Complexity of the project. Relate this to the skill level of the participant. If a participant is a beginner then a princess seam may get the same complexity level as an underarm gusset gets for an advanced sewer. This is purely subjective, but a complex garment might garner more points than a simple one if a tie-breaker is needed.
-- Edited on 3/21/14 1:05 PM --
-- Edited on 3/21/14 1:06 PM --
-- Edited on 3/24/14 1:46 PM --

------
--Michelle

***
Blog: http://happilycaffeinated.blogspot.com/


michellep74


Washington USA
Member since 7/19/07
Posts: 3324
Skill: Intermediate
Body Type:




Date: 3/19/14 2:56 PM

This post will be the collection point for rule and question clarifications.

If there are any questions regarding rules, clarification or any other issues that arise, I will add the question and answer here. That will save you from having to scroll through numerous pages of discussion for answers!



Quote:
Question: I own a pair of RTW pants that I dearly love. Can I try to copy that with a self-drafted pattern? Would that be an eligible entry?



There are no limitations on patterns - commercial, indie, self drafted, free download, magazine, "frankenpattern", "rub-off" of RTW.... it's all fine.

The rules allow for copying an already-owned garment as long as it fits the other criteria, too. We never said you couldn't already own the garment!



Quote:
If I use the inspiration for the neckline and coloring but change the fabric would that qualify. The fabric change would make it easier to wear and wash for me.



Yes, the main requirement is that the inspiration be obvious; your garment doesn't need to be an exact replicant of the RTW garment.



Quote:
Michelle, I have a question: if you use a pattern as a base for your design, do you include the cost of your pattern in your calculations?



I actually asked the contest committee about this, and while they weighed the pros and cons of doing so, they felt that there were too many different factors involved in pattern cost. For example, in the US, we have many of the Big 4 patterns available at a very low price ($0.99 - $3.99) at JoAnns and Hancock, but those sales aren't available in Europe. Conversely, if I order a StyleArc pattern from Australia, do I need to factor shipping into pattern cost? Or what about a TNT pattern that someone has already made 6 times but is modifying for the contest?

You can see that there are a lot of variables, so they decided that the simplest way to handle it was to NOT include pattern cost.



Quote:
Once price is calculated would i need to convert the price (in pounds) into US dollars? I use pounds but i thought as a US based site you might want it in dollars?



The overall "savings" that you'll be calculating is a percentage, so while I think it would be helpful to voters/readers for everyone to use the same currency, I don't think it's completely necessary.

If you'd like to convert your costs/prices to US dollars, Google has an easy-to-use currency converter:

Google currency converter



Quote:
Is it ok to recycle for the fabric? I want to make a denim jacket and am thinking of looking in the op shop to see if I can buy some old jeans to use for the fabric as it will be nice and soft and faded.



Yes, recycled fabric is fine. Just count the cost of the source garment as the cost of your fabric when doing your calculations.



Quote:
I know the rules say you can sew the garment for someone else, but I just wanted to make sure that sewing for a child would be okay. I know most of the contests are geared toward sewing for adults.



Yes, you may sew for a child for this contest.



Quote:
Can you use a Vogue designer pattern if you can find the garment online and it's price?



Yes, absolutely.



Quote:
I am thinking about copying a jacket that has decorative stitching, kind of like quilting, all over the fabric. Can I do that to a piece of fabric before April 1st, if I don't cut it? It seems like that may go beyond pre-treating the fabric.



It sounds like the quilting/decorative stitching is a fairly major design feature and goes beyond pre-washing/pre-treating fabric, so we'd ask that you not start on the quilting part until April 1st. You can, however make a muslin and start working on your fit.



Quote:
Does the item have to be something currently in the shops?

I've always wanted a horrockses dress. (the 1950's ones) but could never afford to get a genuine vintage one. Of course I'd have to work out how much £4-£7 was equivalent to these days (it was before decimalization). Or should I go by how much it would cost to buy from a vintage shop?



I would just go by the price at a vintage store. Remember, you're comparing the savings by sewing vs. buying the garment today.
-- Edited on 3/26/14 2:35 PM --

------
--Michelle

***
Blog: http://happilycaffeinated.blogspot.com/


Aafke

Netherlands
Member since 12/5/12
Posts: 120
Skill: Intermediate



Date: 3/19/14 4:16 PM

This sounds like a great contest! And I have a Pinterest board full of inspiration so I'd better start choosing something...

MrsCharisma


Member of the Year
Member since 2/1/13
Posts: 4197
Skill: Intermediate
Body Type:




Date: 3/19/14 4:28 PM

How fun! I love the price comparison part!!! I probably won't enter this one but am looking forward to the creations!

------
www.sewcraftychemist.blogspot.com
Singer Talent 3321 | Kenmore 1503 | Brother 1034D

My Big 4 Sizing: Medium | Tops 14/16 | Pants 18 | Skirts 16/18.

My Measurements: 36 HB | 39.5 FB | 34 W | 44 Hip



michellep74


Washington USA
Member since 7/19/07
Posts: 3324
Skill: Intermediate
Body Type:




Date: 3/19/14 4:49 PM

I won't be eligible as the contest manager, but I am planning to sew along. I, too, have a pinterest board full of inspiration.

I'll check with the contest committee/Deepika about opening a PR pinterest board for this contest. This contest seems like it would lend itself really well to pinterest.

------
--Michelle

***
Blog: http://happilycaffeinated.blogspot.com/


with love Heidi


Member since 11/26/12
Posts: 584

1 member likes this.




Date: 3/19/14 5:13 PM

Oh, I've been looking forward to this one and I've just Realized I've got the best project for it too!

Pinkytoo


Nevada USA
Member since 6/23/06
Posts: 2993
Skill: Advanced





In reply to with love Heidi <<

2 members like this.



Date: 3/19/14 5:30 PM

What Heidi said. We will be in our "next" home on April 1st so I should have the sewing room set up by, oh, 8 a.m. on April 2nd...


------
Sewing is my therapy!

Sew Whatever


UNITED KINGDOM
Member since 5/24/10
Posts: 1086

1 member likes this.




Date: 3/19/14 5:34 PM

oh and my.
okay I don't actually do maths well. But DH does.

I think for me, the longest part of this will be research. I haven't much of a clue what clothing costs on the high street because I don't really go there!
and I rarely pay market price for fabric.

So, I will have a think on this one.

It is a great idea though! And I will definitely watch with interest if I don't manage to join in.
Sandy

------
Sandy in the UK
A practitioner of the Chop, Chop, Sew, Sew method of sewing
(otherwise known as Make It Up in Your Head!)

DonnaH


Texas USA
Member since 10/1/03
Posts: 1760
Skill: Intermediate



Date: 3/19/14 6:15 PM

Definitely time to start scanning Modcloth for inspiration dresses!

I mostly use Pinterest for tutorials rather than inspiration for things to make.

I did just see a top at Target that reminded me of a top in the New to Me contest, but being Target, probably won't have much $ saved, lol.

jannw


Washington USA
Member since 9/3/06
Posts: 8552
Skill: Intermediate

2 members like this.




Date: 3/19/14 6:43 PM

I received a couple of pieces of silk in my last FabricMart bundle. That should put me around the $2 mark if either is large enough to work!! Now to find an inspiration piece!!

------
2009-113.25 yds
2010-115.5
2011-80.25+30+donated
2012 86.3 yds..
2013 21.0
Everyone who sews seriously has a stockpile of fabrics, because it is natural to purchase more than can be sewn in any one season" Singer, Timesaving Sewing, 1987


Printable Version
* Advertising and soliciting is strictly prohibited on PatternReview.com. If you find a post which is not in agreement with our Terms and Conditions, please click on the Report Post button to report it.
Online Class
Expert Sewing Techniques for Jackets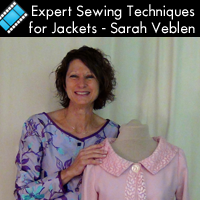 Online Class
Sew a Designer Unlined Jacket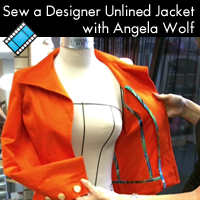 Vogue Patterns 2960

by: tanyamaile
Review
Sew Chic Starter Skirt Pattern (ln1000)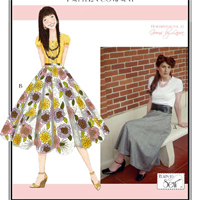 Pattern Details
Christine Jonson BaseWear One - Leggings, Top and Yoga Bodysuit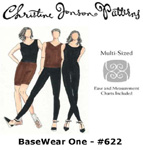 Pattern Details
Vogue Patterns 8840

by: VirginiasD...
Review