Hello contest forum readers, my name is Linda and I am very happy to be your contest manager for this amazing contest! I look forward to sewing along with all of the amazing ladies and gents who are going to participate in the:
Outerwear Contest
June 1 - 30 2014
Can you ever have enough jackets, raincoats, ski wear... well you get the idea! This contest is designed to encourage you to sew a garment that is meant to be "Outerwear".
Our members in the Southern Hemisphere will think this Outerwear Contest is perfect timing, and those of us north of the equator may want to sew something for those cool, wet evenings we are likely to see in the summer! Going on a trek in the Himalaya's? This contest will be perfect for you! Need a stylish raincoat to wear to church or the theatre? Again, this will be the perfect contest to enter!
For this contest "outerwear" is defined as being something worn over other clothing to protect one from the elements. Coats- raincoats, ski parka's, slickers, jean jackets and poncho's are all eligible. Ski pants, rain pants are also okay. Capes are allowed, as are vests (as long as the vest is a not a fashion vest- we are thinking more ski vest and would even allow a fishing vest). Suit jackets would NOT fit in this contest. Accessories will not be eligible for this contest. Beach coverups are not considered outerwear for this contest. The garment may be for an adult or for a child.
The Contest Manager and the Contest Committee will have the final say on the eligibility of a garment. Please ask the Contest Manager before you begin if you are unsure of the suitability of your entry.
Rules
1. Sew an item of clothing for an adult or a child to be worn as outerwear. Eligible examples- coat, raincoat, parka, jean jacket, cape, poncho. Ski pants, slush pants, ski vest. Non-Eligible Examples- Suit jacket, beach coverup, cardigan.
2. Combinations of multiple patterns or self-drafted and commercial patterns are allowed.
3. First and second place winners will be selected through a vote open to members of PR. Quality of construction and evaluation of how well the entry meets the guidelines of this contest should also be taken into consideration when voting.
4. Photos are an important part of Contests at Pattern Review. A good Review of Outerwear will include photos of the front, back and interior finish. Photos on a live model are encouraged.
5. The contest begins June 1st 2014. While the pattern may be tested before the contest begins, the actual fabric for the contest garment may not be pinned or cut until the contest starts.
General Rules for all Contests
All reviews must be entered for submission by 11:59 PM Eastern Time on the last day of the contest.
1.It is suggested to start your review as a Work In Progress (private or public) so that you can get any bugs ironed out prior to the deadline.
2. Patterns MAY be muslined prior to the start of this contest however; fabric for contest garment may NOT be cut prior to the start of the contest. Fabric may be pretreated before the start of the contest.
3. Items intended for sale, or for which you were or will be paid to make, do not qualify for any contest, but items made for charity are welcome.
4. Unless otherwise stated in the rules, all reviews written for a contest entry must include a picture of the entry, preferably on a live model.
5. Interpretation of rules is subject to the discretion of the contest manager and the contest committee.
Contest Eligibility:
1. Any member of Pattern Review, either paying (FoPR) or non-paying, who is a registered member on the site before the contest begins is eligible to enter.
2. Any member of Pattern Review, either paying (FoPR) or non-paying, who's been a registered member on the site for 90 days prior to the end of a contest is eligible to vote in a contest.
3. Any member who's won first place in a contest on Pattern Review that ended in the previous four-month period is ineligible to win another contest (during that four-month period).
The first, second and third place winners will be decided by member vote. Prizes will be awarded to the first and second place winners.
Prizes for the contest
TBD
Voting guidelines:
Each member can vote on up to five entries.
Voting will begin 2 days after contest closes and will close 7 days after voting starts.
Because of the high quality of the garments we're seeing entered in PR Contests, we're setting forth some guidelines that may help you choose when voting. Consider how well the entry fulfills each of the following criteria in order to narrow down your votes:
1. Does the garment clearly reflect the pattern's line drawing?
2. How well does the garment fit the criteria stated in the contest rules? How well does it fit the spirit of the rules?
3. Are the construction methods, including but not limited to seam finishes, lining techniques, etc, well suited to the design? To the fabric?
4. Is the fabric choice well suited to the design? Are the lining and interfacing choices appropriate?
5. Is the review complete and well written?
6. Taking into account the stated ability level of the entrant, how well does the garment fit?
7. Creative points. You may choose to give extra credit here for an entry that reflects additional creativity (embellishment, fabric choice, etc.) while staying within the nature of the original pattern.
8. Complexity of the project. Relate this to the skill level of the participant. If a participant is a beginner then a princess seam may get the same complexity level as an underarm gusset gets for an advanced sewer. This is purely subjective, but a complex garment might garner more points than a simple one if a tie-breaker is needed.
Get the Badge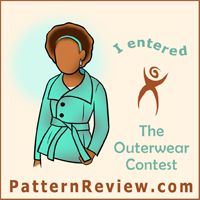 -- Edited on
5/16/14 10:46 AM
--
-- Edited on
5/22/14 4:11 PM
--
------
Sewing is more than my hobby, it is my art.
My new Blog: http://itssewcreative.blogspot.com/