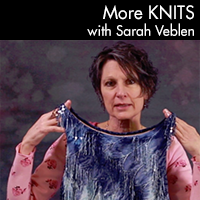 | | |
| --- | --- |
| | Scheduled Class. Access Never Expires! |
Starts: May 21st
Chats:
May 28th 8:00 PM



Cost: $19.99 Plus $40.00 for Kit (Regular: $54.00)
Add to Cart
Add to WishList
The selection of knit fabrics that is available to sewers just keeps on growing! And for those of us who enjoy working with knits, this is great news. But how do you keep up with this expanding variety of knit fabrics? Join me now in exploring more than 25 knits that were not covered in
Understanding Knit Fabrics
.
Some of the fabrics covered in this 9-lesson class are variations of "tried and true" knits. Some are interesting fibers such as silk, bamboo, and Tencel. Others are examples of the advancement in high-tech knits and eco-friendly knits. Plus, there are several sweater knits. Every swatch description includes basic information as well as garment and needle suggestions.
It is strongly recommended that you have taken Understanding Knit Fabrics prior to this class. Basic, introductory information on knits, such as how to assess knit fabrics and how to size knit fabrics, is not included in More Knits. The kit is an integral part of the class and is required. The class kit contains:
Samples (4" x 4") of more than 25 knit fabrics
Half-scale tank top pattern
Small cut of knit fabric for half-scale garment
Fold-over elastic trim to finish neckline of half-scale garment
Class is a combination of PDF downloads and message boards where you can interact with other students and the instructor. Now comes with Videos! See sample below
Assessing structure and drape in knit fabrics.
Determining a fabric's length of grain.
Sewing on knits with spaces or holes.
Sewing fabrics with sequins.
Assessing other types of fabric ornamentation.
Assessing the amount a zigzag stitch will stretch.
General tips on applying fold-over elastic.
Three tips when creating a fold-over elastic shoulder strap.
Making a join in fold-over elastic.
Figuring out how to apply other types of elasticized trims.
Add to Cart Add Class & Video to Cart for $0.00 more
Instructor: Sarah Veblen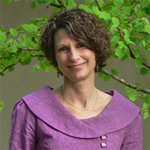 Recent Reviews